Are you ready to learn how to throw a Christmas in July party? With a few simple ideas and tips, you can be celebrating Christmas even when it's 100 degrees outside!
The best part about Christmas in July is that it's a fun way to celebrate one of the best and most festive holidays of the year. Why not make this special day happen more often to keep the spirit of Christmas going strong?!
Below are a few simple ideas that you can link together to create an epic holiday party. Piece them together and use what you want or feel free to add in your own!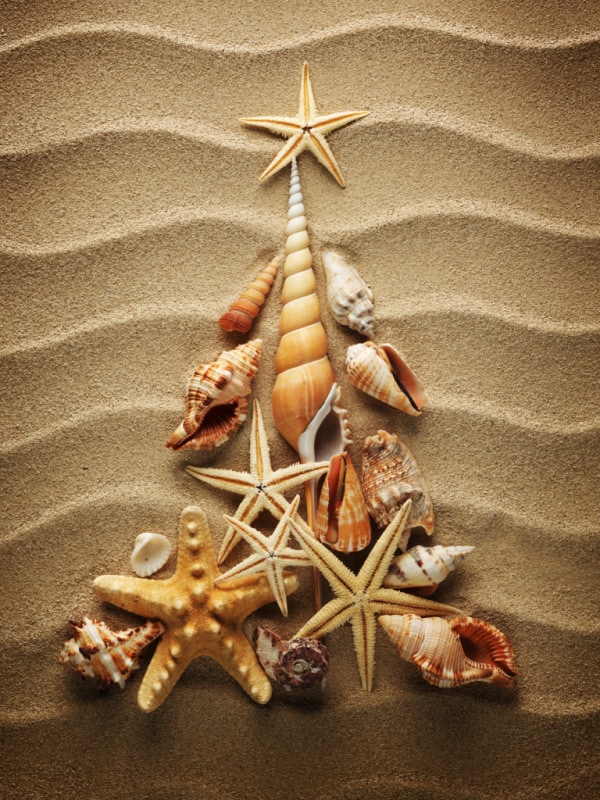 HOW DO YOU CELEBRATE CHRISTMAS IN JULY?
The great part about a Christmas celebration is that it doesn't have to happen only during the month of December. Some people think that it's the truth but those people would be incorrect.
Because when you're talking about the magic of Christmas, you can easily have that same thought process and feeling during the middle of the year as well.
And if you want to have an entire celebration for Christmas during the month of July, go for it! It's the PERFECT way to break up the year and bring in some festive fun!
Below you'll find some simple and fun ways to start planning on a July Christmas celebration.
CHRISTMAS IN JULY PARTY DECORATIONS
The best part about Christmas for so many people is the fun decorations. Being able to decorate the home is a breeze if you already have a bunch of Christmas decorations leftover from the holidays.
Just grab a few boxes and put them out. You can easily put back up the Christmas tree if you'd like or get a mini one that you can just place on the table for later.
Some people prefer putting up all the decorations again while others don't want to do any. And since it's your July Christmas celebration, you can do whatever you want.
You can easily set the tone for a fun holiday Christmas party in July by adding decorations, no matter how big or small!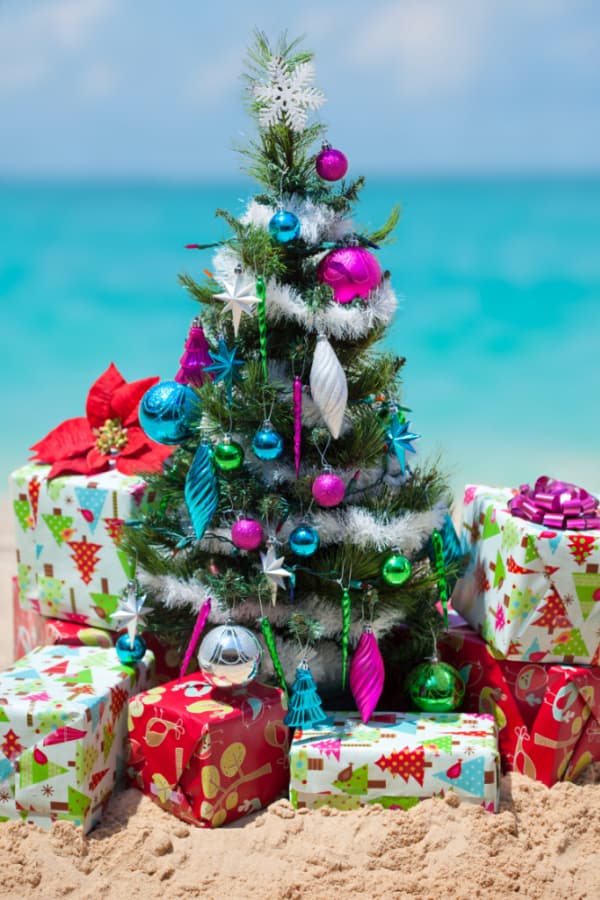 FUN FOOD IDEAS FOR CHRISTMAS PARTY
Don't forget the fun holiday and festive food! You can easily cook up all your favorite holiday dishes and comfort food that people look forward to eating every year. The more foods that you can make, the bigger the holiday feast!
Some favorite Christmas recipes include:
Baked ham
Fruit cake
Christmas cookie and Christmas candies
Speaking of sweets and treats, have fun having a Christmas cookie decorating party or even setting up a Christmas cookie swap. It's always a good time for baking so keep that in mind as you're prepping to enjoy.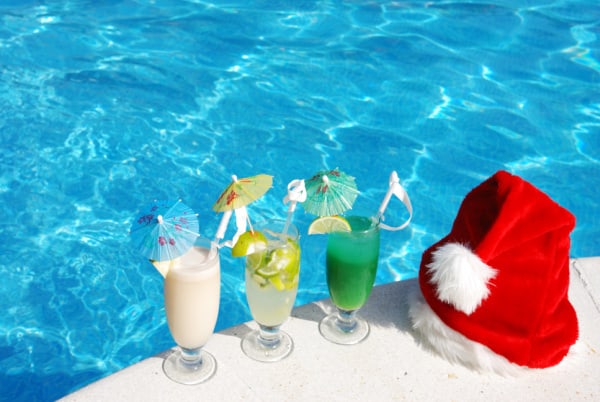 CHRISTMAS COOKIE PARTY
Holiday parties are a great way to get in the holiday spirit. And if you're wondering how to work in a cookie party into the timeframe, this all just depends on how much time and effort you want to put into it.
If you want to make homemade cookies to decorate, bake them up and let them cool first.
But if you're looking to save on time and energy, buy some plain sugar cookies from the store and just decorate those instead. (You can also decorate cupcakes as well!)
And if you're feeling really motivated, you can always bake up some Christmas candy as well. It's a fast and easy way to get everyone in the Christmas spirit.
This is a fun activity to have going on during the Christmas in July party for people to join in on!
HOST A FUN HOLIDAY HOMES TOUR
Recruit a few people in the neighborhood to join in on the fun and have a holiday celebration inviting others into their homes. This doesn't have to be a HUGE deal so make certain that everyone knows not to stress.
But if there were a handful of houses that wanted to put up a few holiday decorations and have a plate of cookies and hot chocolate, it could be a fun way to have everyone feeling like it really was Christmas!
This is a great way to extend the life of your holiday party as well and make it a fun "party hopping" theme!
WHO SHOULD YOU INVITE TO THE CELEBRATION?
The more people, the better! You're going to want to have your family and friends, as well as any co-workers you really like! There may be neighbors who would enjoy celebrating a winter holiday in the summer.
Don't forget to invite others who love Christmas as much as you. The bigger the list, the bigger the party!
CHRISTMAS IN JULY PARTY INVITATION IDEAS
Of course! Everyone loves receiving party invitations in the mail and this is a fun and easy idea! There are a few different ways you can handle the invitations.
Make your own invitations using some awesome and EASY online editors. I love using Picmonkey and Canva. They are easy for beginners and have simple tutorials. You can create the CUTEST cards and postcards that are personalized and won't be found anywhere else.
Buy up Christmas cards at the end of the season when they are dirt cheap. Use these cards as invitations to your Christmas in July party.
Order custom invitations from Etsy if you want something really special.
GIVE THE PARTY A FUN THEME
Another huge reason that people love Christmas is that it's time to show off your holiday best. Having a theme for your party can be as simple as everyone wearing their favorite ugly Christmas sweater!
Themes give people the chance to dress up and really get into the holiday spirit! Here are some holiday party themes to consider for your big bash:
Christmas Around the World–have everyone bring a holiday dish from a different part of the world
Tropical Christmas Luau–set up outside by the pool
Christmas Movie Theme—pick your favorite holiday movie and go from there
Candy Cane Christmas—everyone dresses in red and white and you decorate with candy canes
Twelve Days of Christmas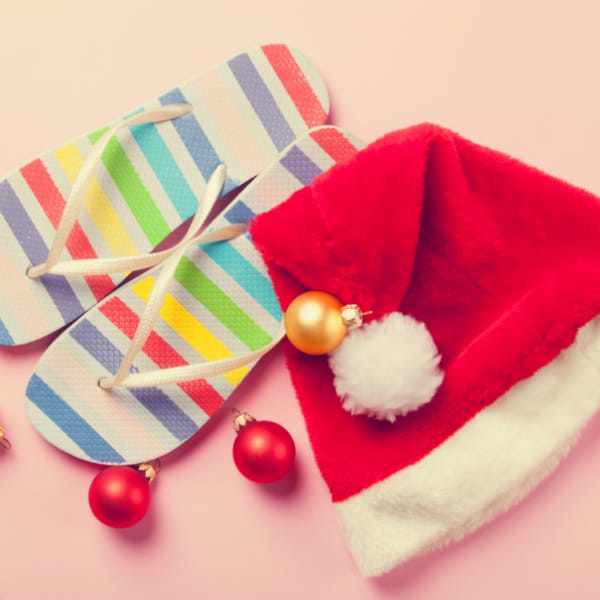 FINAL PARTY TIPS
The other great part about throwing a party is that this idea can work in so many different ways. This can be something that can be done at your work, in the neighborhood, or even as a fun volunteer effort at the local nursing home in your area.
As long as people love to celebrate Christmas, that's all you need to plan a fun holiday party!
Make certain that if you're the one planning the party that you don't forget to have fun, too. It's supposed to be a time of happiness and easy-going fun so make certain that your plans are that way as well!
MORE FUN CHRISTMAS IDEAS
While you are here be sure to check out these other Christmas ideas!
Be sure to PIN this for later and SHARE on Facebook!