This gingerbread cookie recipe for Christmas is not difficult to make. You are going to love the taste of this gingerbread cookie, perfect for the Christmas season! There is no beating this combination – soft & sweet on the inside with a hint of spice and crispiness all around the edges.
HOW LONG DO GINGERBREAD COOKIES LAST?
For leftovers, you can store them in a cool dry place. Like, on your countertop. Just put them in an airtight container. You can store them at room temperature for up to 4 days.
Here is a list of airtight containers you can use:
For gingerbread cookies you want to make now and serve later — no worries, you can also store them in your freezer. Just don't forget to cool them to room temperature first before doing so.
And when you freeze your cookies, you would want to double wrap them so the cookies won't get freezer burn. Wrap them in plastic wrap first then foil for the outer. Freezing gingerbread cookies can be up to a month or 2.
When you are ready to eat them, you can either thaw them first before reheating in the oven or reheat them directly out of the freezer. But, keep in mind, when you reheat them straight from the freezer it will take a longer time in the oven for them to be completely hot in the center.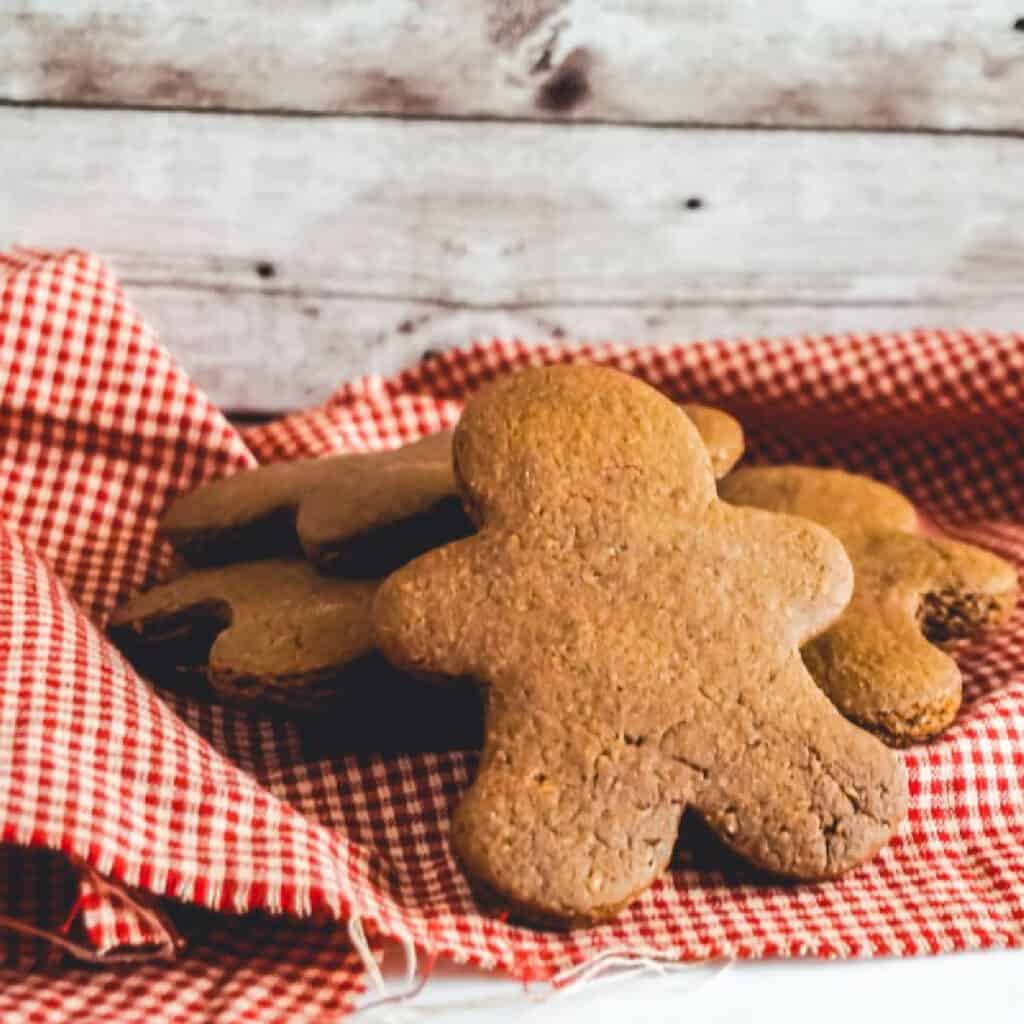 WHAT DO GINGERBREAD COOKIES TASTE LIKE?
The taste of gingerbread cookies varies on the way it is made. There's so many ways to describe the flavor of these Christmas cookies but the main thing is that it is DELICIOUS. It is soft inside but the crispiness on the edges of the cookie is what holds its form. It's the perfect balance of sweet with some spice.
Typically, people use molasses to make their gingerbread cookies. It's what gives these cookies that distinct flavor. Molasses is dark, sweet, and syrupy. It is a byproduct produced when sugars are extracted from sugarcane and sugar beets.
Just a brief process on how to make molasses. They first get the sugar cane or sugar beets crushed. Juice from the crushed sugar cane or sugar beet is extracted. Then, the juice is boiled down to form sugar crystals. These crystals are removed from the liquid. Molasses is the thick, brown syrup left after the sugar has been removed from the juice. They repeat this process several times, and each time a different type of molasses is produced.
If ever you do not have any molasses, a good substitute would be brown sugar. Since brown sugar also contains molasses this can be used to make gingerbread cookies as well. However, it might not have the sweetness that this recipe has.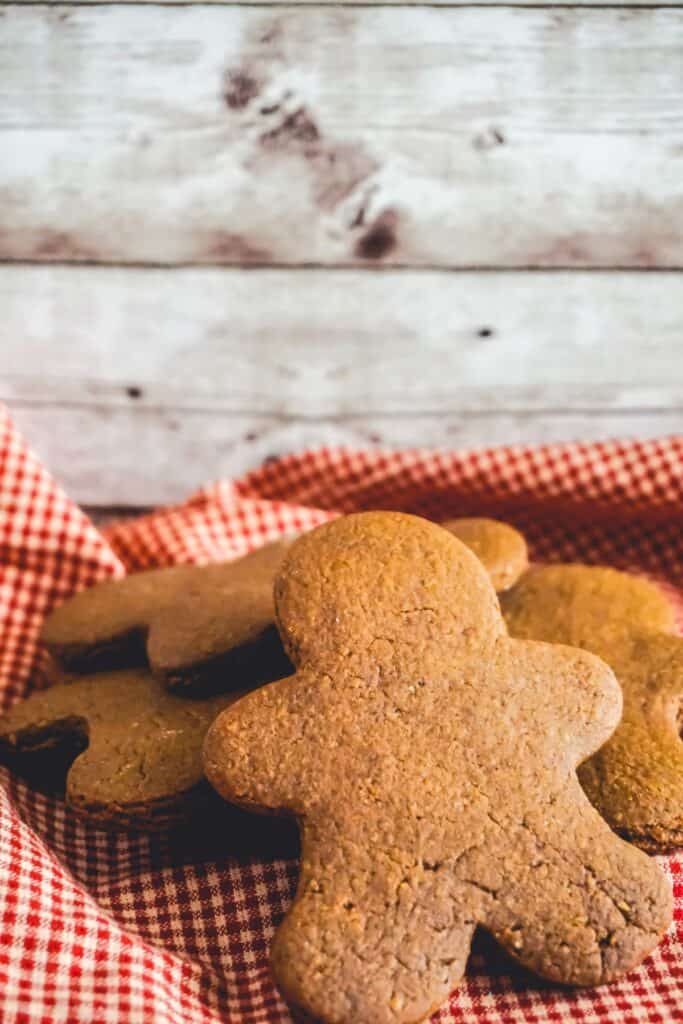 SHOULD I USE COOKIE CUTTERS FOR MY COOKIES?
Personally, I think it's easier to use cookie cutters rather than shaping them on my own. And with a cookie-cutter, all of them will be equally cut. It will save you so much time too.
Kids love a gingerbread cookie in the shape of a person. Cookie cutters are inexpensive and can be used over and over year after year.
But, if you don't have one right now, you can also draw a gingerbread shape on a piece of paper and cut it out. Then, with that paper, you can easily trace it onto your dough with a knife. Anyway will do as long as you get to enjoy this gingerbread cookie recipe for Christmas.
INGREDIENTS NEEDED TO MAKE GINGERBREAD COOKIES
Here are the ingredients you'll be using for this gingerbread cookie recipe for Christmas. You might already have these in your cupboard but if not, they are easy to get at any grocery store.
Brown Sugar
Molasses
Flour
Baking Soda
Baking Powder
Ground Cinnamon
Ground Ginger
Ground Cloves
Salt
Ground Allspice
Butter
Egg
EQUIPMENT AND TOOLS NEEDED FOR THIS RECIPE
This list of equipment and tools will help you get the best results for this recipe.
Oven
Gingerbread Cookie Cutter
Whisk / Spatula
Large Bowl
Cooling Rack
HOW TO MAKE A GINGERBREAD COOKIE RECIPE FOR CHRISTMAS
Once you have everything on the list of ingredients, we can start making those cookies!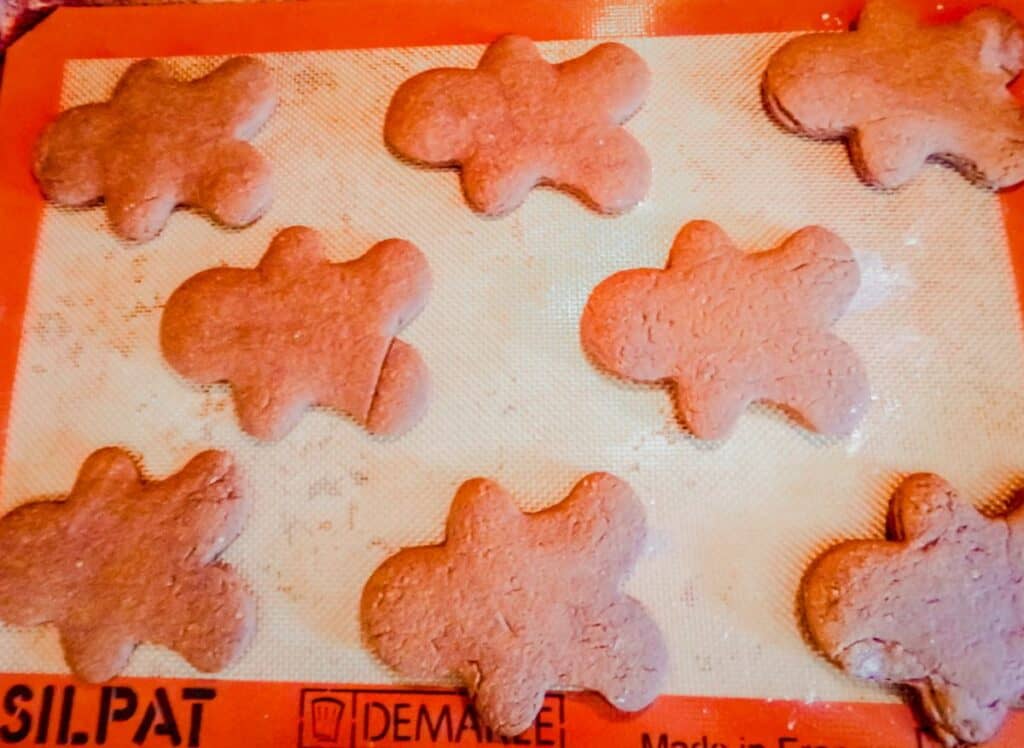 STEP ONE: MIX DRY INGREDIENTS
Grab yourself a large bowl and put in the brown sugar, flour, baking soda, baking powder, ground cinnamon, ground ginger, ground cloves, salt, and finally ground allspice. Mix everything together and form a hole at the center.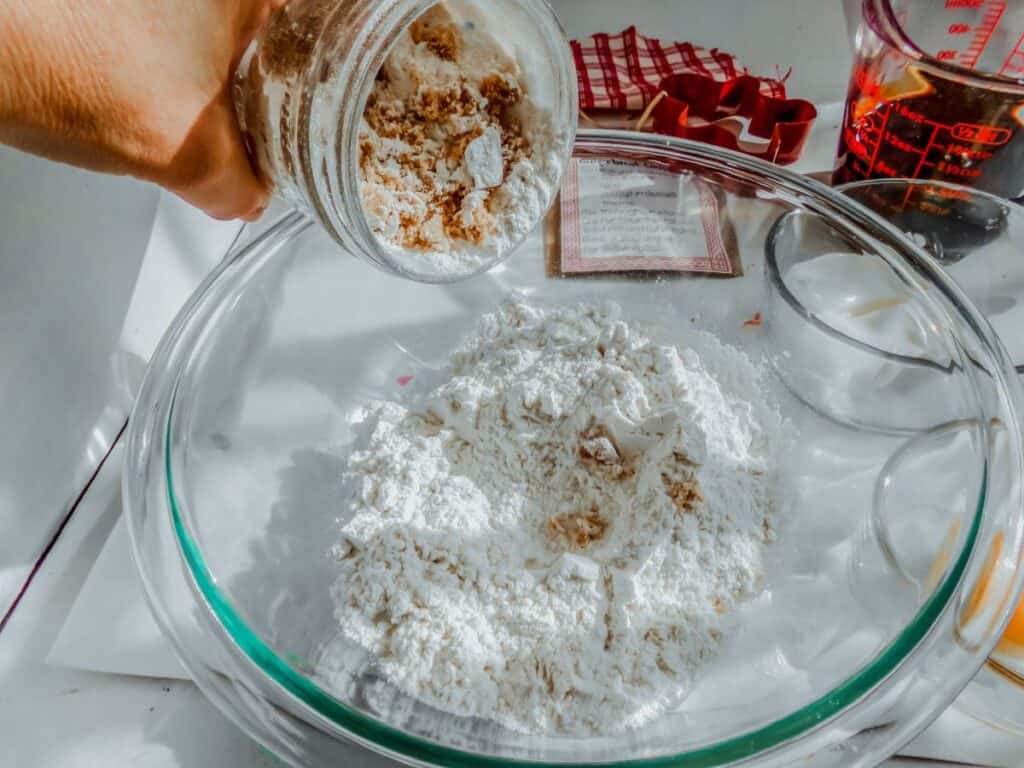 Then, add the butter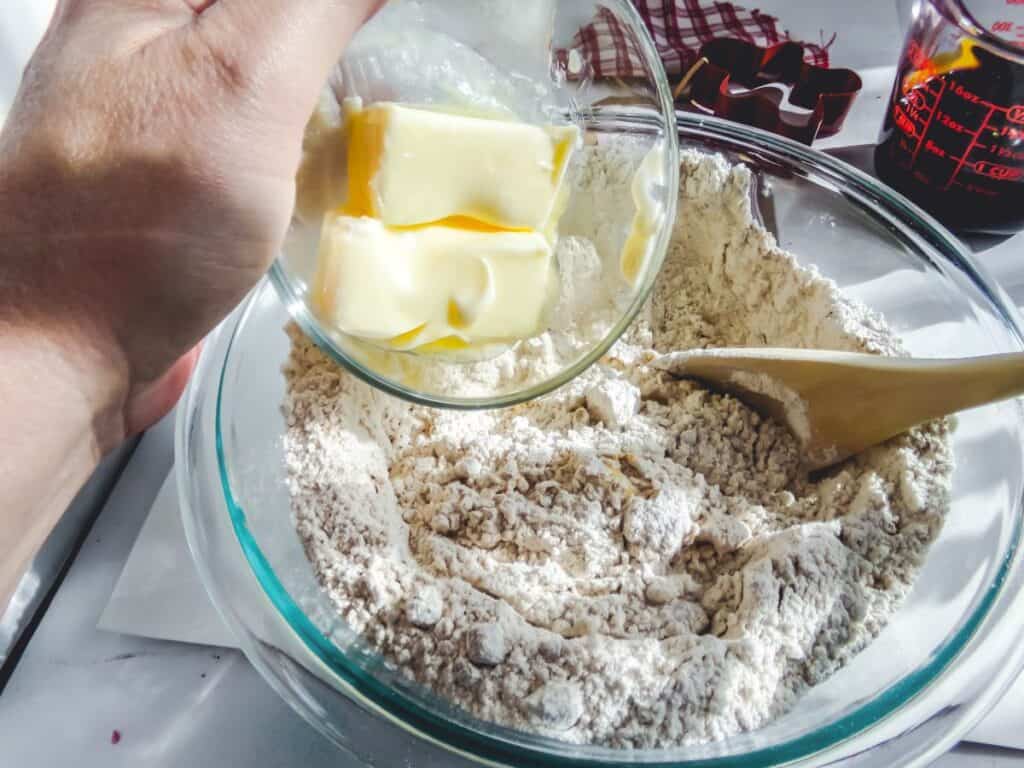 and the egg to the dry mixture. Mix until all the ingredients are combined.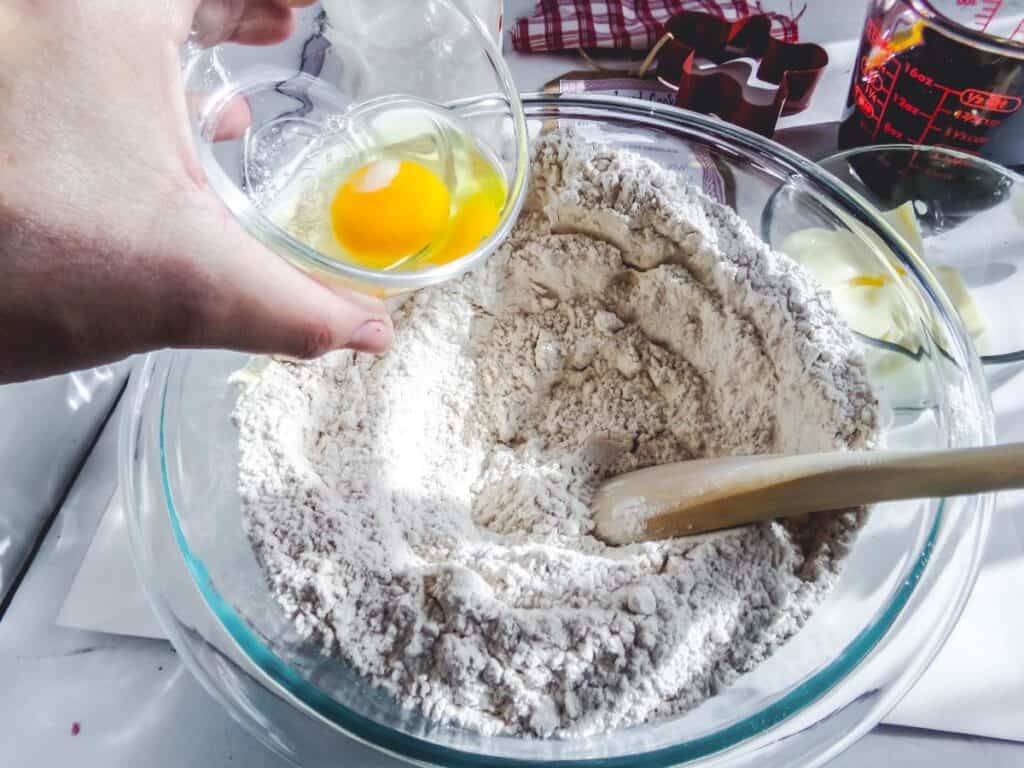 STEP TWO: ADD WET INGREDIENT
After combining all the dry ingredients, you can now add your molasses.
Mix well until everything has been blended with the molasses.
Once you are done with that, cover the cookie dough first and let it chill in the fridge for about an hour or so.
STEP THREE: PREPARE TO BAKE
Preheat your oven to 350°F and line a baking sheet with parchment paper or a Silpat baking mat. Then, set aside.
STEP FOUR: CUT COOKIE DOUGH
Get your cookie dough and roll it out on a lightly floured countertop.
Roll the dough to 1/4 inch thick and cut it into gingerbread pieces.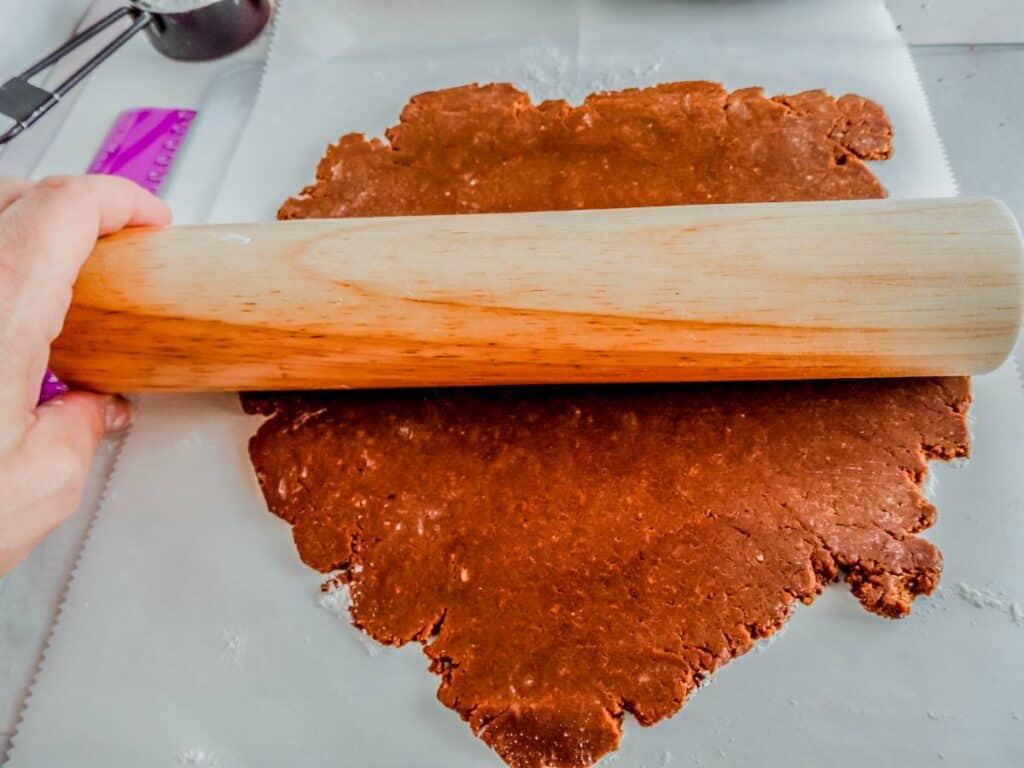 Transfer the gingerbread cookies to the prepared baking sheet and bake for 12 to 15 minutes.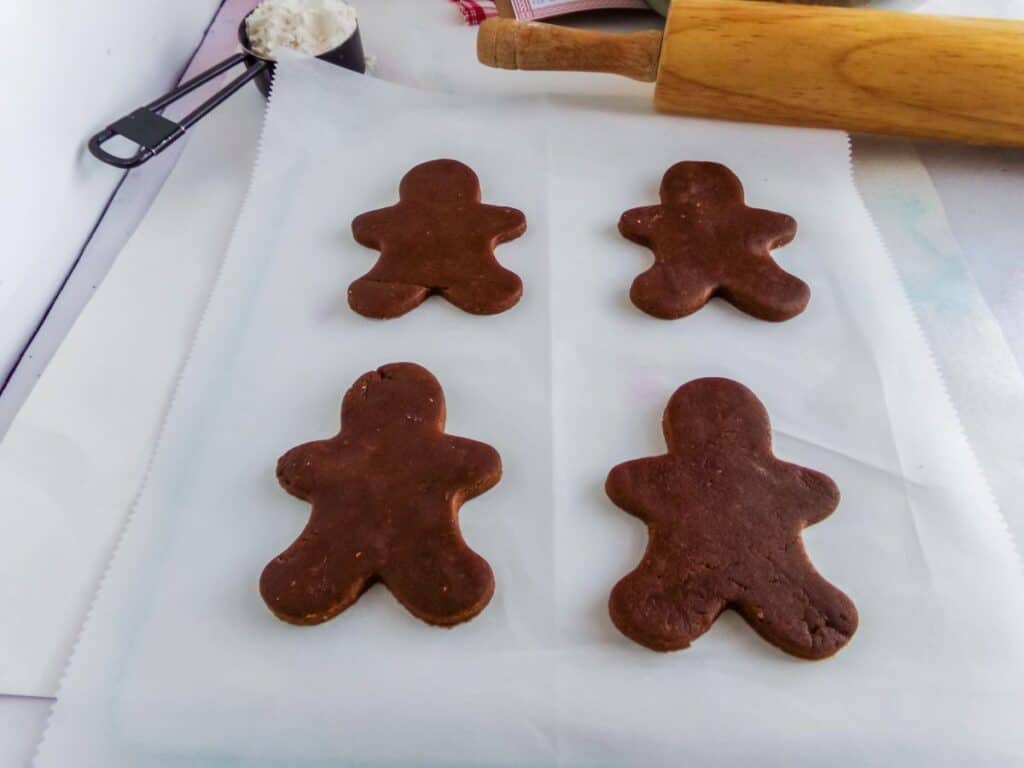 STEP FIVE: SERVE
When cookies are done baking, take them out from the oven and allow them to cool for 5 minutes. After that, transfer it to a cooling rack for it to cool completely and be served.
GINGERBREAD COOKIE RECIPE FOR CHRISTMAS RECIPE CARD
Now that you know all about gingerbread cookies it is time to print the recipe or save the recipe. You can print off the complete ingredients and instructions for the gingerbread cookie recipe for Christmas via the recipe card below.
If you don't have time to print it off right now, no worries! Just save the pin to your Pinterest account by clicking the pin button located in the recipe card below.
If you make this recipe and LOVE it…please come back and leave a 5-star rating. It would mean so much to me!
Yield: 8 pieces
Gingerbread Cookie Recipe for Christmas
This gingerbread cookie recipe for Christmas is simple to do and quick to bake! Follow the instructions below for the best result!
Prep Time
1 hour
5 minutes
Total Time
1 hour
25 minutes
Ingredients
1 cup Brown Sugar
1 cup Molasses
3 cups Flour
1 tsp Baking Soda
1 tsp Baking Powder
2 tsp Ground Cinnamon
1 tsp Ground Ginger
½ tsp Ground Cloves
½ tsp salt
1 tsp Ground Allspice
½ cup Butter, room temperature
1 egg
Instructions
1. Whisk together the dry ingredients in a large bowl. Make a well in the center of the dry ingredients and add the butter and egg, then mix thoroughly until a thick dough forms and all of the dry ingredients are fully incorporated (about 3 minutes).
2. After combining all the dry ingredients, you can now add your molasses. Mix well until everything has been blended with the molasses. Cover and chill the cookie dough for 1 hour.
3. Preheat your oven to 350 degrees and line a baking sheet with parchment paper. Set aside.
4. Turn out the dough on a lined countertop then roll out to 1/4-inch and cut shapes. Place the cookie cutouts on the prepared baking sheet and bake for 12-15 minutes.
5. Remove the cookies from the oven and allow them to cool on the baking sheet for 5 minutes then move to a cooling rack to cool completely before enjoying!
Nutrition Information:
Yield:
8
Serving Size:
1
Amount Per Serving:
Calories:

494
Total Fat:

13g
Saturated Fat:

8g
Trans Fat:

0g
Unsaturated Fat:

4g
Cholesterol:

54mg
Sodium:

487mg
Carbohydrates:

91g
Fiber:

2g
Sugar:

54g
Protein:

6g
PeaceLoveChristmas.com may offer nutritional information for recipes contained on this site. This information is provided as a courtesy and is an estimate only. This information comes from online calculators. Although PeaceLoveChristmas.com attempts to provide accurate nutritional information, these figures are only estimates.
If you liked this delicious recipe, be sure to check these other Christmas cookie recipes out:
Be sure to PIN this for later and SHARE it on Facebook!