If you're looking for fun Christmas in July Ideas for your Family, you're in luck. I will give you a ton of festive ideas that are certain to make the holiday celebration great. No matter if you're looking for food, crafts, or just unique Christmas activities, you're going to find all that here and more!
IS IT POSSIBLE TO HAVE CHRISTMAS IN JULY?
Not only is it possible, but it's encouraged. (by me, of course!) With Christmas being such a fantastic holiday, who says that you have to limit it to just one time per year?
WHAT IS CHRISTMAS IN JULY?
It's a fun day to celebrate Christmas without it actually being Christmas. Makes sense, right? Because as we all know, waiting for Christmas to happen one time per year is just pure torture.
So why not have a day during July that you can celebrate all things Christmas? It just makes sense. (and it also makes for a super fun tradition as well!)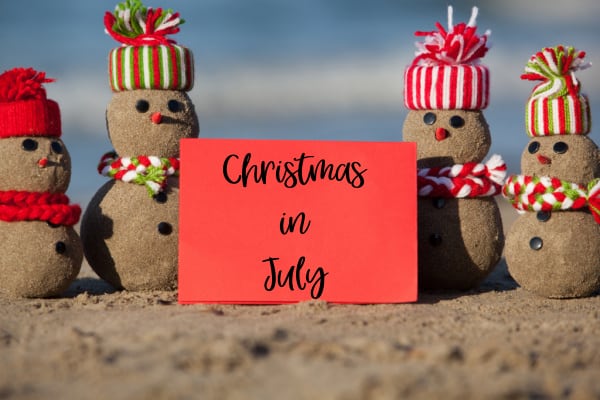 HOW DO YOU CELEBRATE CHRISTMAS IN JULY?
In all reality, there isn't a right or wrong way to celebrate this day. It comes down to what you want to do and what you want to prepare. Some easy ways to celebrate are to hang Christmas decorations, put up Christmas lights, and even sing some festive songs.
HOW TO HOST A CHRISTMAS IN JULY PARTY?
If you want to extend your family party to include some of your friends, just invite them to join in on the fun. Wearing an ugly sweater is a requirement and just have them bring their own favorite holiday appetizer or dessert as well.
The more that want to join in on celebrating Christmas during the month of July, the better! Large groups of people can absolutely have a blast ringing in the holidays!
GET A JUMP START ON THE "REAL" CHRISTMAS
One fun thing to do during your Christmas in July celebration is to get a jump start on some traditional December tasks.
Get the whole family together and take your annual Christmas card picture….in a summery setting. Try taking it at the pool or at the beach. It is so fun to be wearing swimsuits and Santa hats! I love using Picmonkey to edit my Christmas pictures. You can do so many amazing things with this easy-to-learn photo editor!
Write out the annual Christmas letter…AND MAIL IT. Friends and family will get a hoot out of receiving your Christmas in July family letter!
CHRISTMAS IN JULY IDEAS THAT WON'T BREAK THE BANK
One of the best things about celebrating this holiday in July is that you can do so without spending money! Since you more than likely already have a lot of the decorations in your own home, that is just one less thing that you'll have to spend money on.
Other free ways that you can celebrate Christmas are:
Sing Christmas carols at home
Bake up cookies or a dessert using ingredients you already have in the house
Binge watch on your favorite Christmas movies at home
Have a gift-free Christmas and instead sit around drinking hot cocoa and talking
Make it a homemade Christmas where you just exchange homemade cards
Go around the neighborhood and do something nice for someone on your street
And those are just a few low-cost Christmas in July ideas so that you can have a special holiday without breaking the bank!
CHRISTMAS IN JULY IDEAS AND ACTIVITIES
Just in case you're looking for a few more Christmas in July ideas that are simple and easy to do, I've created a list here of holiday activities that everyone is certain to love.
This list has some great activities to keep kids busy during that July summer slump where the word…BORED…starts getting used frequently, LOL.
Christmas in July Ideas for Your Family
This list of activities and ideas is certain to make a fun summertime Christmas tradition!
MORE CHRISTMAS FUN
Don't forget these other Christmas activities that are a ton of fun as well!
Be sure to PIN this for LATER and SHARE on FACEBOOK!