This Christmas decorations inventory is a great way to help you with sorting and storing your holiday décor. Use our free printable Christmas decorations checklist stay organized from year to year.
WHY SHOULD I KEEP AN INVENTORY OF MY CHRISTMAS DECORATIONS?
An inventory list is a perfect strategy to keep items sorted. This is a recorded list of items. Most people that handle a lot of stock for their businesses make inventory lists. Inventories are not just for business matters – we can't do one for ourselves.
I'll tell you why you should keep an inventory list for your Christmas decorations:
I know some people just throw all their decorations in a box and then store them in the attic or basement without even checking if their items are still complete. With inventory lists, you'll be able to keep track of everything. Without it, you might not even know your decorations were already missing an ornament or something.
When it's time to decorate again, trust me it will be easier for you to look and check which box you kept a Christmas figure, a Christmas light, or whichever you are trying to find. Having things in order can be so much helpful and save you a lot of time.
Are you having a hard time arranging your decorations? Wondering how you are going to categorize your things? Are you forgetful like me and don't remember which box you kept a specific Christmas piece in? Well, this Christmas storage inventory form is going to be perfect for you. Finally, a solution for your sorting needs.
By sorting out your décor items, you will be able to go through them again and check whether you still want to keep them or not. An item can be either be thrown away (if broken), donated or you can decide if it will need some repair (e.g. lights) before it can be used again.
CHRISTMAS DECORATIONS CHECKLIST
This printable includes a checklist for your Christmas decorations. It's a master list for your Christmas items. This will help you itemize your things according to the categories on the checklist. You can easily tell which ones are supposed to stay together.
By keeping such a list, you are sure that you have everything written down all in one place so you don't forget anything important.
ORGANIZING CHRISTMAS DECORATIONS
This checklist is included with the printable set, below. The organizing list is a great tool to give you tips on storing your items. You'll be able to see how items are supposed to be kept and where you should keep them. There are also tips to avoid damage and dust on your things.
WHY ORGANIZE YOUR CHRISTMAS DECORATIONS?
I know organizing can be hard. There are so many other important things to do.
Trust me that it's well worth the effort because of the health benefits you can get from being organized.
Here are the health benefits you get when your things are organized (not just your decorations for Christmas):
You know what stresses me…having to think about the endless things I need to do and not knowing where to start. Many people stress about that, too. When you get organized, you will feel like a weight has been taken off your shoulders.
I encourage you to start decluttering your living spaces. If you didn't know this yet, decluttering actually decreases housework by 40%. Staying organized can lower your cortisol levels which are the body's primary stress hormone.
Although you may not realize it, clutter in your bedroom can make you lose sleep. Plus, if you're disorganized, you tend to stay up late. You might be doing things last minute or worrying about things you still need to get done. Plan ahead and get organized for a longer and deeper sleep at night.
Organizing is not only for your clutter and things to do. This can also motivate you in other aspects of your life. Organizing your food and pantry leads to healthier meals and snacks. Planning what to eat ahead can be a big help to your diet.
Think about it, when meals have been prepared in advance, it will result in less impulsive eating. Click here for some popular healthy recipes.
Clutter makes you feel burnt out. Getting rid of the mess will give you the energy to concentrate on what you need to do.
A small effort can make a lot of progress. Spending just a couple of minutes each day to organize things will help make your life healthier and happier.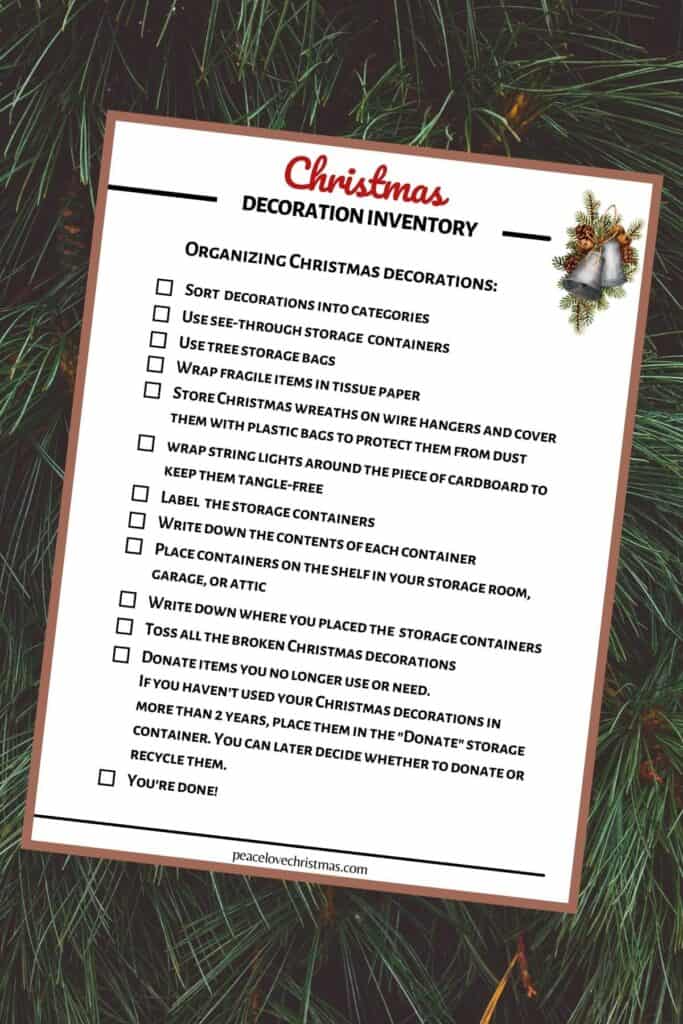 CHRISTMAS DECORATIONS INVENTORY
The decorations inventory is a space for you to fill out the location of a particular box, the items inside that box, and which box it was.
A "donate" section is also included just in case you have things you would want to donate instead of throwing away.
HOW TO USE THE BOX LABELS
Label tags for your boxes come with this Christmas decorations inventory printable. To use these labels, cut through the dotted lines and use glue or tape then stick them on your box.
Here's a quick tip, label your boxes before sorting your things so you won't get confused about which is which. Another thing, make sure to put the labels somewhere you can easily check them.
Note: you can also use sticker paper to print the labels if you have some.
Free Printable CHRISTMAS DECORATIONS INVENTORY Guide (Instant PDF Download)
This holiday decorations inventory is our FREE gift to you.
Click here to download the 7-page Christmas Decorations Inventory Checklist now.
MORE CHRISTMAS FUN
If you loved this decorations storage printable, be sure to check out these other great printables: