Mandalorian fans will love these Baby Yoda Christmas memes to warm your heart during the holidays and all year long.
BABY YODA CHRISTMAS MEMES WILL MAKE YOU SMILE
I am a big fan of The Child, aka Baby Yoda and the show The Mandalorian. There is just something about that little face and those big ears…that drew me in. Even though I'm not a huge Star Wars fan, I love watching the show with my family.
My love for Baby Yoda got me to searching for memes this Christmas season and I wanted to share the memes I found with you.
Despite a lot of effort, I was unable to find the creator of these memes. Giving credit for work done is important to me, but it is hard to find the origin of memes.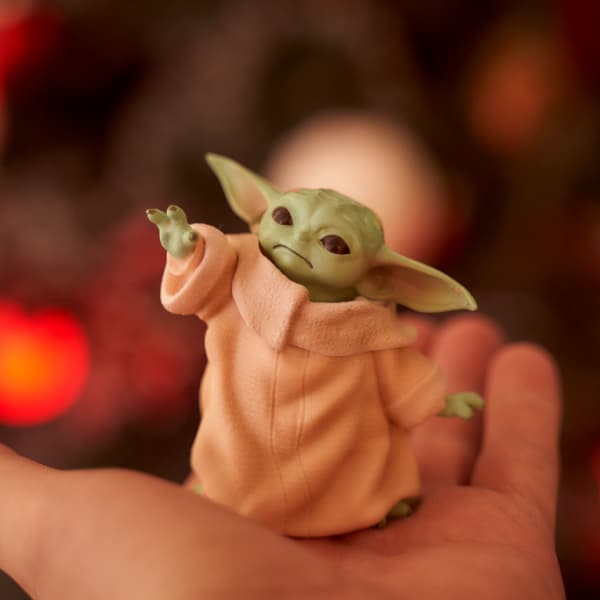 FUNNY BABY YODA CHRISTMAS MEMES
These Baby Yoda Christmas memes will make you laugh out loud.
Watching my Husband Hang Christmas Lights Baby Yoda Meme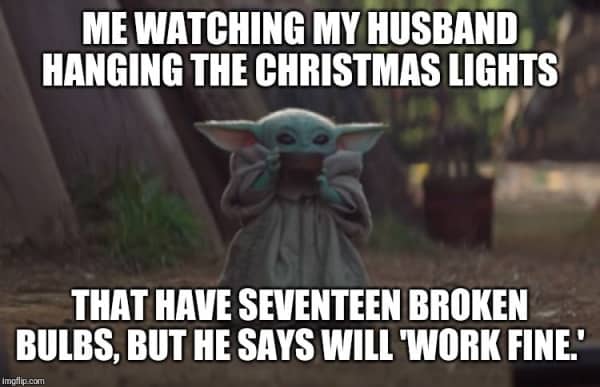 Me watching my husband hang Christmas lights…that have seventeen broken bulbs, but he says will work fine.
We have had our share of trouble with Christmas lights in the past. This one had my husband and I cracking up because it is so very true.
Every Mom Watching – Baby Yoda Meme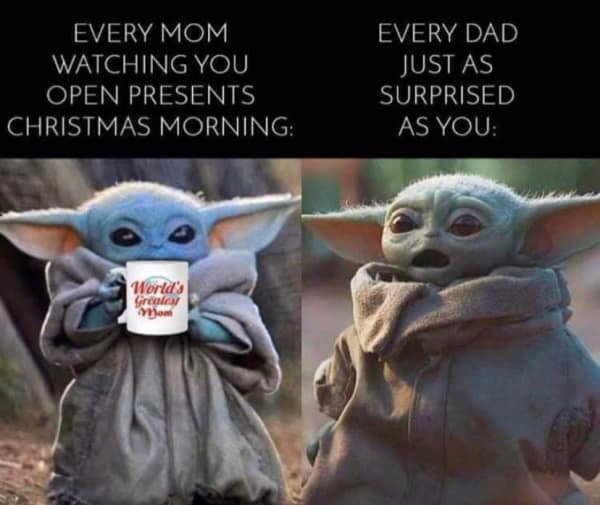 Every mom watching you open presents on Christmas morning vs. Every dad watching you open presents on Christmas morning.
The mom is annoyed at how shocked the dad is, because she did all the ordering, shopping, and wrapping.
The Look on Your Dad's Face Christmas Morning Meme
The look on your dad's face Christmas morning watching you and your siblings open your gifts and he's slowly realizing how much money your mom spent and is fighting the urge to force choke her.
Me Looking at Presents Yoda Meme
Me: Looking at the presents on Christmas morning Still me: Waiting for my parents to let me open presents!
Baby Yoda and aging Yoda show how long it feels like until the gifts begin. This is how my kids feel because I make them wait till everyone is up and ready.
CUTE BABY YODA CHRISTMAS MEMES
These Christmas memes of Baby Yoda are cute and heartwarming.
All I Want for Christmas Baby Yoda
All I want for Christmas is Baby Yoda. I have spoken.
Mandalorian fans can appreciate this one.
5 Year Old Me Helping My Mom Wrap – Christmas Meme
5 year old me helping my mom wrap Christmas presents.
Why is it that I can never find the tape when it's time to wrap gifts, no matter how much I buy? Please tell me I'm not the only one with this problem.
Christmas, Merry – Mandalorian Meme
Christmas, Merry!
I love Baby Yoda in a Santa hat, and this simple meme expresses the Christmas joy for any Disney fan.
8 Year Old Me – Watching my Parents Open Gifts I Made Meme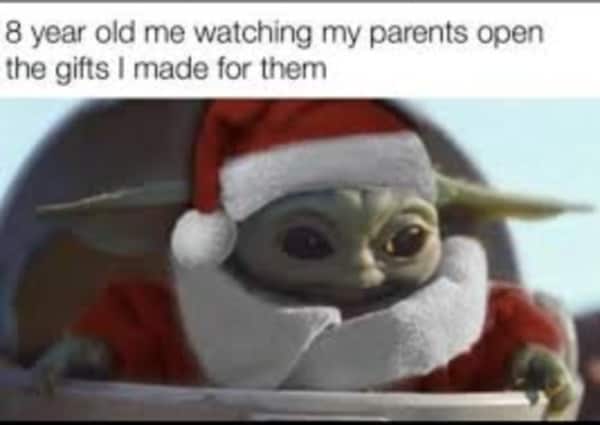 8 year old me watching my parents open the gifts I made for them.
I don't think we ever outgrown this one.
Morning of the 25th of December Holiday Meme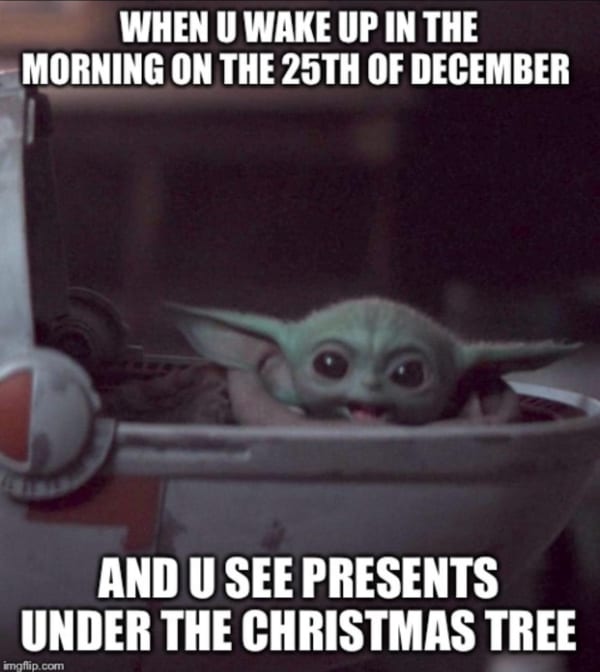 When u wake up in the morning on the 25th of December…and u see presents under the Christmas tree.
Kids everywhere are looking like this (and yes, adults too, even if they don't show it on the outside).
HILARIOUS CHILD MEMES
Here are a few more hilarious child memes to finish out this fun.
How Disney Expects Me to Enjoy my Christmas – Baby Yoda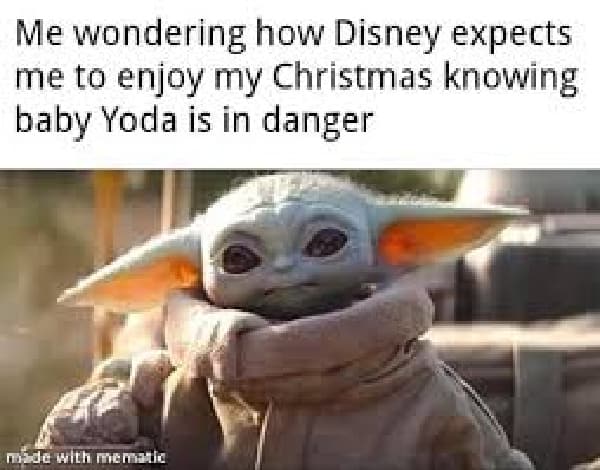 Me wondering how Disney expects me to enjoy my Christmas knowing baby Yoda is in danger.
You Bought More Christmas Gifts for Yourself Meme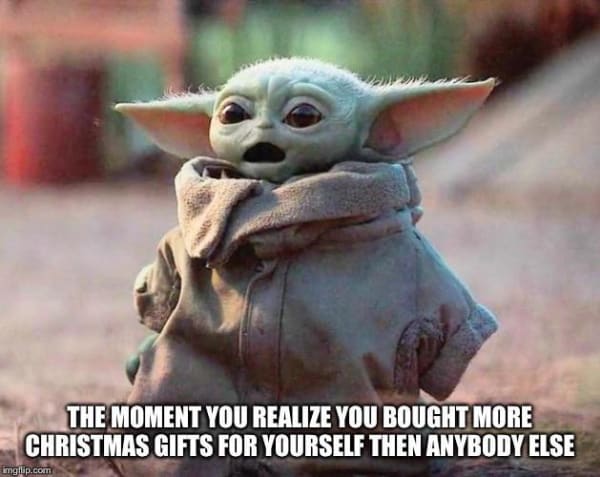 The moment you realize you bought more Christmas gifts for yourself than anybody else.
Oops. But the sales were too good to resist.
Family Drama Holiday Meme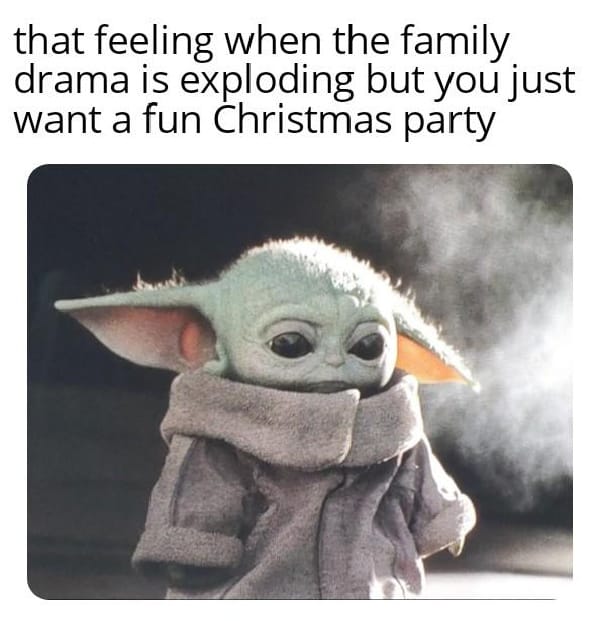 That feeling when the family drama is exploding but you just want a fun Christmas party.
Holidays can bring some drama, so most of us can relate to sad Yoda, too.
What's your favorite baby Yoda meme? Share in the comments below.
BABY YODA CHRISTMAS GIFT IDEAS
If you need some Baby Yoda Christmas gift ideas for the Yoda lover in your life….check these fun ideas out:
Anyone would love getting a chocolate treat with Baby Yoda inside.
Star Wars Monopoly featuring the Child will be a hit for family game night.
How about a Baby Yoda Chia Pet for a fun gift for anyone.
The Mandalorian mug with Baby Yoda on the side is great for coffee drinkers.
If you love Baby Yoda and the holidays, be sure to check out these fun ideas after you finish laughing at the Christmas memes: