This Christmas Color by Number is so much fun for the kids! Being able to celebrate the 12 days of Christmas with creativity is a fun holiday activity they'll love.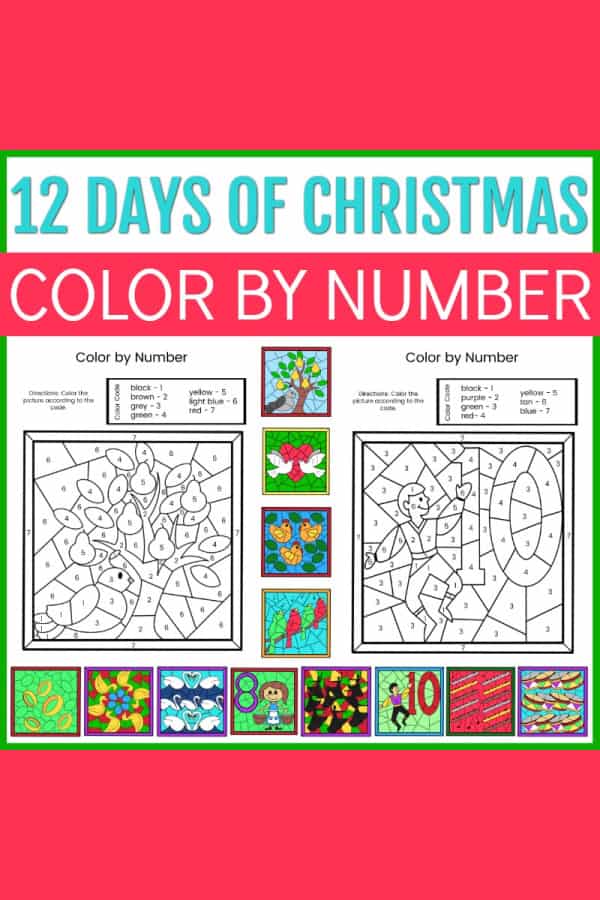 WHAT IS A COLOR BY NUMBER?
Color by numbers are basically coloring pages that give directions via numbers for what colors certain sections.
The numbers listed are typically 1-10 (can be higher for bigger pictures with more colors needed) and it gives the kids a guideline to match the numbers up with the coloring guide that is printed and included on the same page.
As long as they follow the directions, each section of the coloring page is numbered to help them know the exact colors to use.
HOW DO YOU DO A CHRISTMAS COLOR BY NUMBER?
The only real "rule" to use a color by number is that you just pair the colors up with the appropriate numbers. You can start at any number that you want though so it's super simple and flexible to do.
This makes it also super simple to stop and start coloring the picture as well. This Christmas color by number set ends up so colorful and beautiful.
WHAT ARE THE 12 DAYS OF CHRISTMAS?
If you're familiar with the Twelve Days of Christmas song, then you probably know the words but just in case, I'm writing them out and adding in the meanings, too!
First Day of Christmas – A Partridge in a Pear Tree: This is supposed to symbolize Jesus as the one and only savior on the first day of Christmas.
Second Day of Christmas – Two turtledoves: Two turtledoves is referring to the Old Testament and New Testament of the Bible.
Third Day of Christmas – Three French hens: Three French hens is talking about love, hope, and faith.
Fourth Day of Christmas – Four calling birds: This refers to the four gospels: Matthew, Mark, Luke, and John.
Fifth Day of Christmas – Five gold rings: The gold rings talked about here are in reference to the first 5 books of the Old Testament.
Sixth Day of Christmas – Six geese-a-laying: The nod to the sixth day here is all about the first 6 days that God created.
Seventh Day of Christmas – Seven swans-a-swimming: This refers to the gifts from the holy spirit: teaching, prophecy, ministry, giving, exhortation, leading, and compassion.
Eighth Day of Christmas – Eight maids-a-milking: This day is about the eight types of people who were open to accepting Christ's gifts and love.
Ninth Day of Christmas – Nine ladies dancing: These refer to the fruit of the Spirit gifts from Christ.
Tenth Day of Christmas – Ten lords-a-leaping: The Ten Commandments is what this references is all about.
Eleventh Day of Christmas – Eleven pipers piping: The pipers are in reference to the 11 disciplines who spread the message of Christ.
Twelfth Day of Christmas – Twelve drummers drumming: The last day is in reference to the twelve parts of the Apostle's Creed.
CHRISTMAS COLOR BY NUMBER PRINTABLE
I have one page of free Color by Number for you to download today!
If you would like to have all the pages, you can get them for free just by joining my FREE EMAIL SUBSCRIBER LIBRARY!
As an email subscriber, you will have access to ALL my Christmas printables and I am constantly updating and adding more all the time!
To get the one free Christmas color by number page just click this link: Color by Number Christmas Page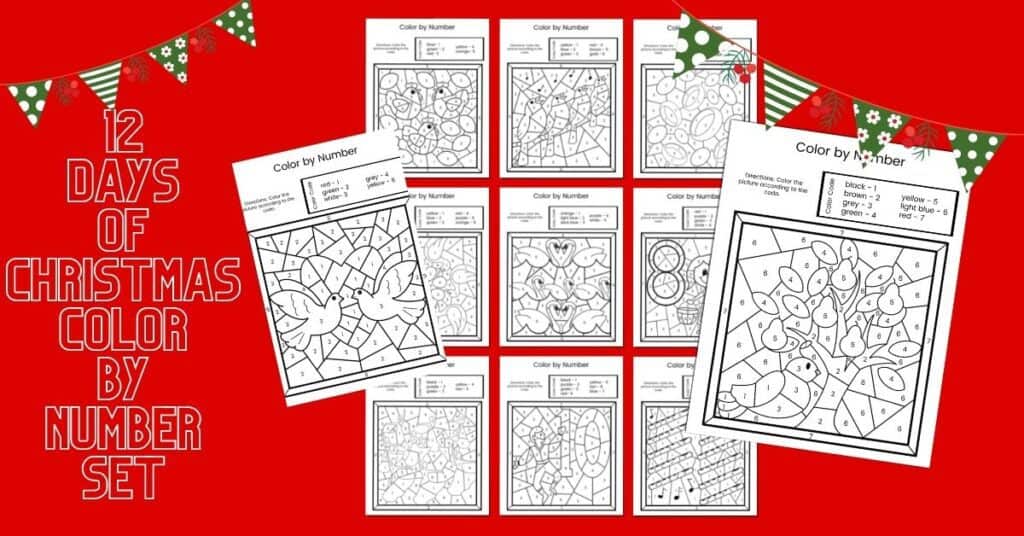 MORE CHRISTMAS FUN
If you loved this fun Christmas Color by Number be sure to check these other great ideas out:
Be sure to PIN this for LATER and SHARE on FACEBOOK!