Here is a helpful list of Christmas in July decoration ideas. Whether you are hosting a summer Christmas party or decorating for your business Christmas in July sale, we provide you with simple décor ideas to make the celebration festive and fun.
WHAT IS CHRISTMAS IN JULY?
Christmas in July is a cheerful celebration that extends the cheery holiday spirit of Christmas into the heat of summer.
Christmas in July is traditionally on July 25th or sometimes celebrated on July 12th. However, you can host a holiday party, sale or event on any day in July and call it Christmas in July.
This holiday began as a frivolous notion to enjoy the customs of the December holiday season during the warmer months. Although the precise beginning of this tradition is unknown, it is thought to have started in the early 20th century and may have started at a summer camp.
Christmas in July Celebrations for Families
Christmas in July offers a chance to escape the routine of daily life. Since December is often busy with gift-buying, parties, and more, hosting an event in the middle of summer gives your guests or customers a chance to enjoy some holiday fun without all the stress and work.
Your Christmas party may include the lighting of your home with sparkling lights, gift exchanges, carol-singing, or hosting festive gatherings with family and friends.
Christmas in July for Fund Raising
This July celebration is sometimes used as a charitable campaign for schools, churches, non-profits and other 403b entities.
Communities and organizations take advantage of the opportunity to raise money or gather donations for those in need. This is reflecting the benevolence and goodwill typically associated with Christmas. This philanthropic element emphasizes the generosity that Christmas is known for.
Christmas in July Sales for Businesses
Businesses have jumped into the spirit and often host Christmas in July sales. QVC is known for their Christmas in July line-up of special deals and offers. Click here for the QVC line-up for July, 2023.
While they don't call it Christmas in July, Amazon Prime Day is Amazon's largest sales event of the year and often takes place in July.
If you run a small business, consider hosting a Christmas in July sale. People love the chance to snag a good deal or get a head start on holiday gift purchases. You can stand out from the crowd by wearing a Santa hat on your social media posts or decorating with a few simple holiday decorations.
Christmas in July Around the World
The idea of festive Christmas-in-July ideas has grown in popularity throughout the world, with each nation bringing its own distinct cultural flair to the celebrations. Despite the odd timing, people welcome the chance to foster a sense of community, make enduring memories, and enjoy the warmth joy that Christmas brings.
A perfect Christmas in July is a creative celebration that enables people to take part in the wonder of Christmas during summertime. The summer months are a great time to get into the holiday cheer.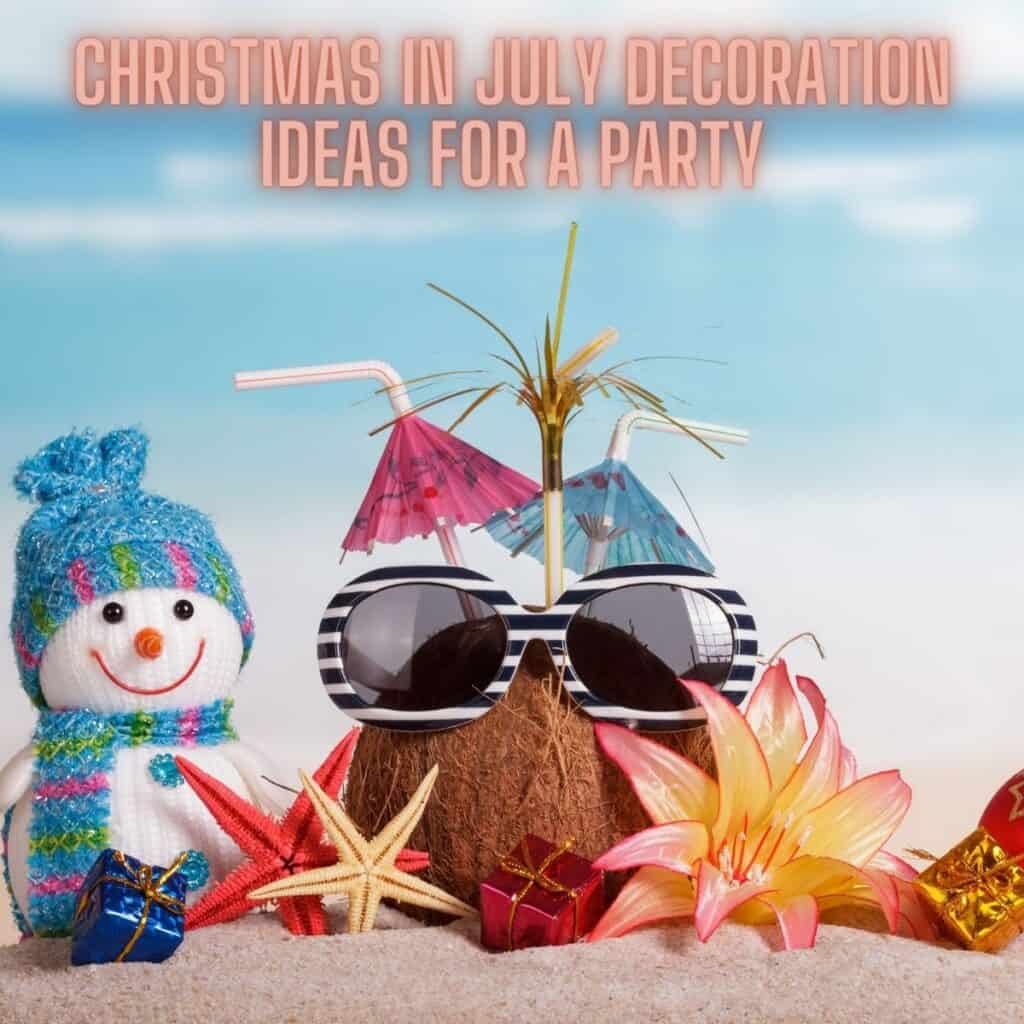 CHRISTMAS IN JULY DECORATION IDEAS
Decorating for Christmas in July can help bring the holiday spirit into the summer months and create a festive atmosphere. Here are some imaginative ideas to incorporate Christmas cheer into your July activities:
DECORATE WITH PALM TREES
Put up a miniature or tabletop palm tree inside or outside your house. To evoke a sense of nostalgia, decorate it with summer-themed decorations. Examples of this would be hanging ornaments on the trees with seashells, sunglasses, and flip-flops. You can also opt for classic Christmas decorations if you like.
No palm trees around? No worries!
A Christmas tree would also be a great idea for this fun way of decorating. Another concept would be dressing up your tree in a summer outfit. Put up a floral polo shirt and a pair of big shades, you are all set!
SANTA CLAUS WITH A SUMMER TWIST
Get a Santa Claus that you can dress up with some summer clothes. Instead of Santa Claus wearing his usual red outfit, why not dress him with beach clothes. Check out this list of great option summer fits for Santa:
BEACH SANTA
Put on a Hawaiian shirt, Bermuda shorts, flip-flops, and a straw hat for Santa. Give him a pair of sunglasses and a beach bag full of bright beach accessories, such as a beach ball, snorkeling equipment, or a surfboard.
Another good idea is to have guests wear something similar. To combine the festive spirit with a summery twist, encourage your party visitors to put on Santa hats and bright Hawaiian shirts. 
SURFER SANTA
Santa should be dressed in a wetsuit or board shorts, a rash guard, and a surfboard. Include a beach towel, a bottle of sunscreen, and sunglasses. He could carry a small ukulele or even a basket of tropical fruits.
SANTA WITH SUMMER ANIMALS
Have dolphins or flamingos accompany Santa Claus in place of the customary reindeer. Santa Claus can be depicted pulling a dolphin-drawn sleigh or being surrounded by flamingos outfitted in Christmas hats.
SANTA AT THE BBQ
Imagine Santa grilling up mouthwatering summer treats like hamburgers, hot dogs, and corn on the cob while wearing a chef's apron and a Santa hat. Give him a grill, some utensils, and a plate of food.
POOLSIDE SANTA
Wrap a Santa-themed towel around Santa's waist and dress him in swim trunks or a bathing suit. Include water wings, a pool float, a popsicle, and a tropical beverage. Sunscreen and a chair for the poolside are essential.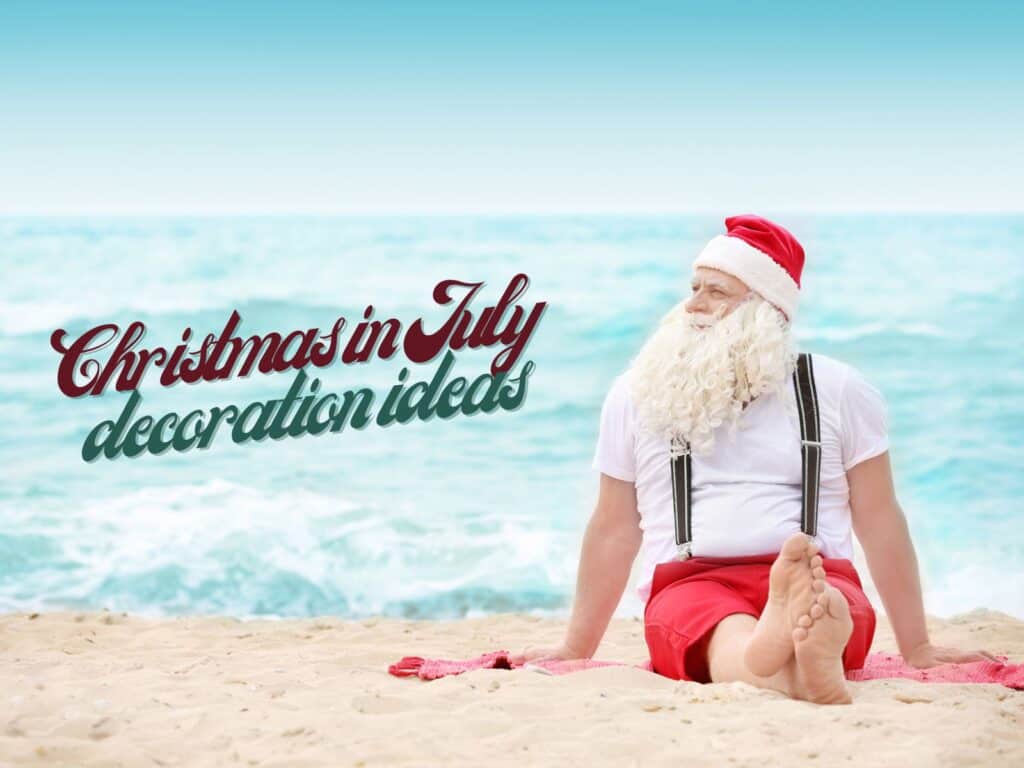 MAKE SUMMER-THEMED CHRISTMAS WREATHS
Making Christmas wreaths with a summer theme is an innovative and enjoyable method to incorporate a little bit of summer into your holiday décor. Here are some examples to get you motivated:
BEACH WREATH
Start with a traditional wreath base. Then, decorate it with seashells, starfish, and sand dollars. You can either glue them directly onto the wreath or attach them with a thin wire. Attach some artificial tropical flowers like hibiscus or plumeria. Consider incorporating elements like miniature beach chairs, umbrellas, or mini surfboards for an extra beachy touch.
FLORAL GARDEN WREATH
Grab a plain green wreath. Put artificial flowers in vibrant summer colors such as sunflowers, daisies, or gerbera daisies. Also, some greenery like ferns or ivy to create a lush garden feel. Then, finish it off with a colorful ribbon or bow that complements the floral arrangement.
ICE CREAM WREATH
Build a wreath base using a foam or straw wreath form. After that, wrap the wreath with pastel-colored ribbons. Then, glue or tie some artificial ice cream cones, popsicles, and ice cream sundae ornaments on the wreath. Finally, top it all off with colorful faux sprinkles or pom-poms.
CITRUS DELIGHT
Use a wreath form made of grapevine or straw. Affix artificial lemons, limes, oranges, or grapefruits to the wreath using hot glue or floral wire. Add sprigs of green leaves to complement the citrus fruits. To finish the beautiful wreath, try to tie a colorful ribbon with a citrus pattern around the wreath for an added pop of color.
NEW TAKE ON UGLY SWEATER
An exciting and unique way to get into the holiday mood during the summer is to celebrate Christmas in July with ugly sweaters. There are lots of inventive ugly sweater ideas you can use for your celebration.
Of course, with the heat during this time of year, it will be hard to use some actual sweaters. So, for this idea, you will be using "ugly sweater" shirts or tank tops. The design prints can be the same. The only difference is that you won't be using a sweater.
Be sure to embrace the tacky designs and have fun with the patterns when making a summer ugly Christmas sweater. Don't be afraid to add vivid colors, oversized ornaments, or amusing details. It so ugly that it becomes so adorable and amusing.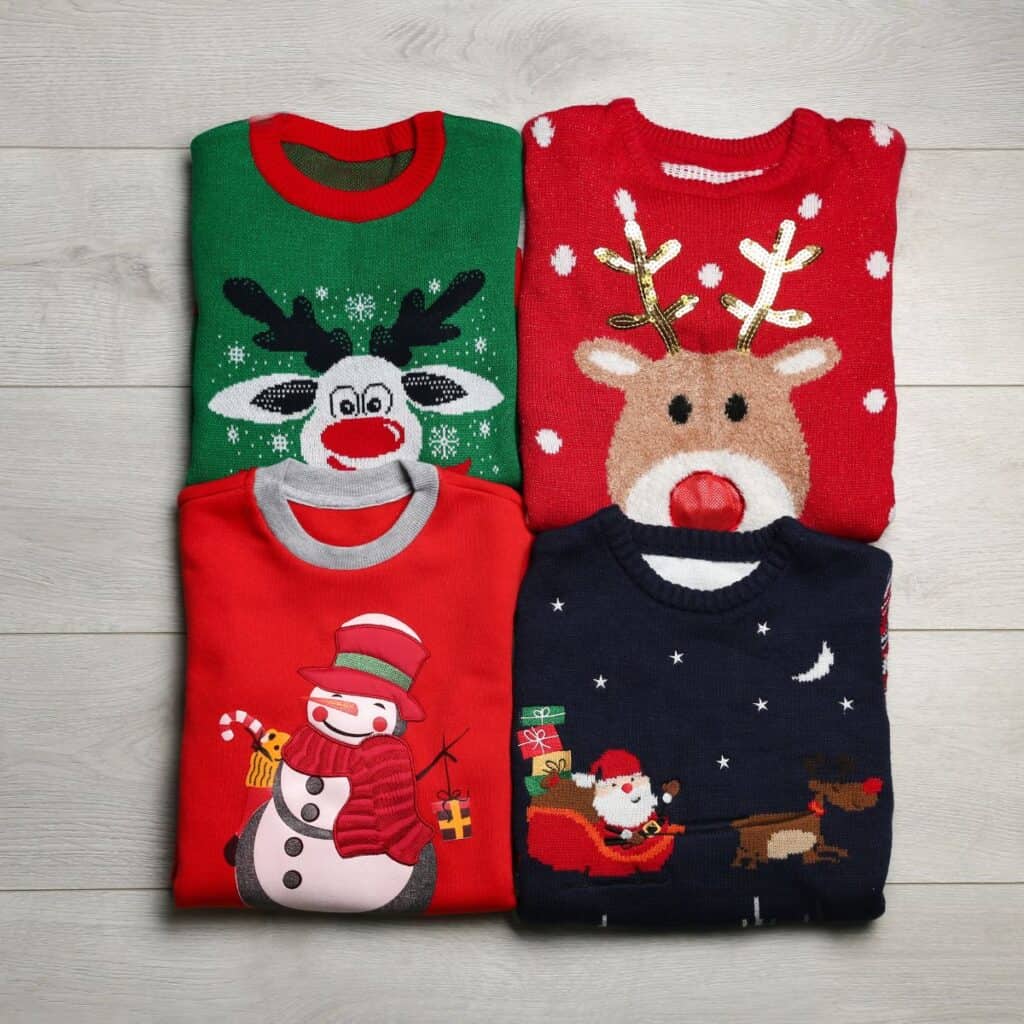 CHRISTMAS BEACH PARTY
Include beach balls, umbrella shades, and inflatable palm trees in your decorations if you're throwing a Christmas in July party at the shore. Use red and green patterned picnic blankets and beach towels as seating material.
Host your holiday beach party in your backyard. Create a festive banner that reads "Christmas in July" and hang it inside or outside. It can be made out of fabric, paper, or even banners with a seasonal theme you already have stashed away for Christmas.
These July party ideas are exciting. You just have to be creative and mash up Christmas with some summer vibes. Enjoy the party while playing some Christmas music and decorate the place with holiday lights as well.
Aside from playing amusing songs, you can also play some favorite Christmas movies at the party. A traditional holiday film with a tropical twist, like Christmas in the Tropics or A Caribbean Christmas are favorite options. It's a wonderful way to embrace the summertime energy while savoring the holiday feel.
TROPICAL STOCKINGS
Create a stocking for your kids or each of your party guests. Many of these small gift ideas can be purchased at the dollar store, so you can keep things frugal but still fun. Here are a few ideas for tropical stockings to help you make it a memorable occasion:
BEACH GOODIES
Stuff the stockings with souvenirs that embody the beach. Small inflatable pool toys, shades, colorful flip-flops, and miniature sunscreen bottles are a few examples.
TROPICAL TREATS
Add tropical treats like coconut macaroons, pineapple-flavored gummies, or fruit chocolates in place of the customary holiday candies. Include packages of exotic tea blends or tropical drink mixes to give it a refreshing spin. With all those delicious treats, you can also put a couple of candy canes in the stockings for each person.
MINI FANS
Use tiny, portable fans in eye-catching colors or patterns to help you beat the heat. These useful and entertaining items will keep everyone cool while giving the stockings a hint of the tropics.
BEACH ACCESSORIES
Don't forget to accessorize the stockings with tropical items. Floral hair clips, vibrant beaded bracelets, or shell necklaces are also a great way to give as July gifts. These tiny trinkets can be worn throughout the festivities to give everyone in the guest list the impression that they are on a getaway. Shop for these items on Amazon or at your local party supply store.
COLORFUL STOCKINGS
As an alternative to the traditional red and white Christmas stockings, make use of colorful stockings. With this, you can stuff it with the usual treats and goodies you put in for the Christmas holiday. 
​TOILETRIES IN TRAVEL SIZES
Adding toiletries inside the stockings is a fun twist on the usual gifts. Bring along miniature toiletries in exotic scents like papaya, mango, or coconut. These useful gifts will be beneficial and give the stockings a little extra indulgence.
Keep in mind that combining the customary festive atmosphere with the tropical factors is the secret to a successful Christmas in July party. With the delightful fusion of summer and wintertime joy created by these ideas, it will be an event that everyone will remember.
Are you hosting a Christmas in July event? Share your ideas in the comments below.
If you loved this Christmas in July decoration ideas, be sure to check out these other great articles too: