You will love this Santa Nice List Certificate. It is no-cost and can be edited, so you can personalize it with your child's name and the year. There is a girl's version and a boy's version too!
WHAT IS A SANTA NICE LIST CERTIFICATE?
If you aren't familiar with a Santa Nice List Certificate, I will tell you all about the concept.
According to legend, Santa Clause keeps a list and kids are on the nice list or the naughty list.
Some parents think it is fun to give their child a special certificate that tells them they made the nice list.
It may be left by their Elf on the Shelf. It could be mailed to the child from the North Pole. There are lots of creative ways to give your child the certificate.
Kids love Christmas and the magic that surrounds the holiday. This nice list certificate just adds more magic to the month.
HOW DO I USE AN EDITABLE CERTIFICATE?
I love printables that are editable because they allow you to customize the certificate so it prints off with the personalization.
Please know that you can print these off as is (without editing) and you can write the names and the year on the certificate after it prints.
When you open the editable PDF link, it will open the document. The box for the name will be clickable. Click on the box and type in the name you want to have on the certificate.
The year will also be clickable. Click on the year box and add the year.
There is an option to save the changes and then you can click the print button.
It is very simple to do and you can keep the document saved on your computer and reuse it year after year!.
Kids will enjoy looking back at all their Santa nice list certificates when they get older. Keep these in a memory book for them to look back on and enjoy for years to come.
FREE SANTA NICE LIST CERTIFICATE
This Santa Nice List Certificate is free for anyone to download and enjoy.
Click here to download the Santa Nice List Certificates now.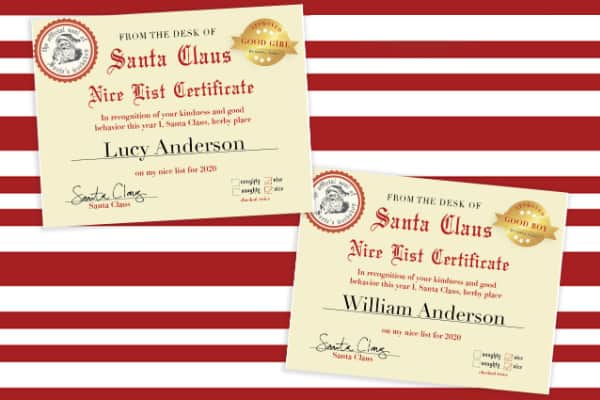 PRINTING TIPS
When you are ready to print your nice list certificate be sure to select US Paper as the paper size.
On the scale to fit selection pick "entire page" so the whole thing prints off correctly.
You can see the settings in the image below.
These can be printed on a nice white cardstock or a light colored cardstock.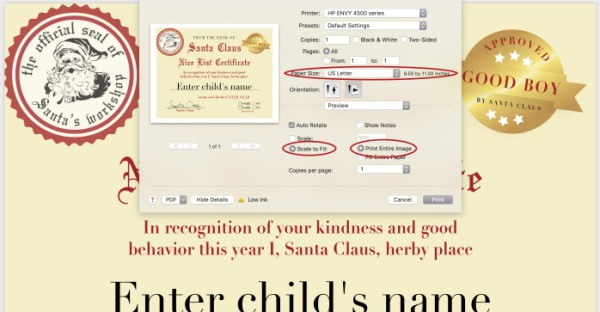 If you loved this Christmas printable be sure to check out some other great printables I have available: