This Christmas potluck sign up sheet free printable is a life changer. It might not be such a big deal now, but once you try using this, you are not going to be able to throw a potluck party without it! Trust me; it is a great idea. If you are a party organizer, you will need this for sure! Scroll down to know more about this printable potluck sign-up form.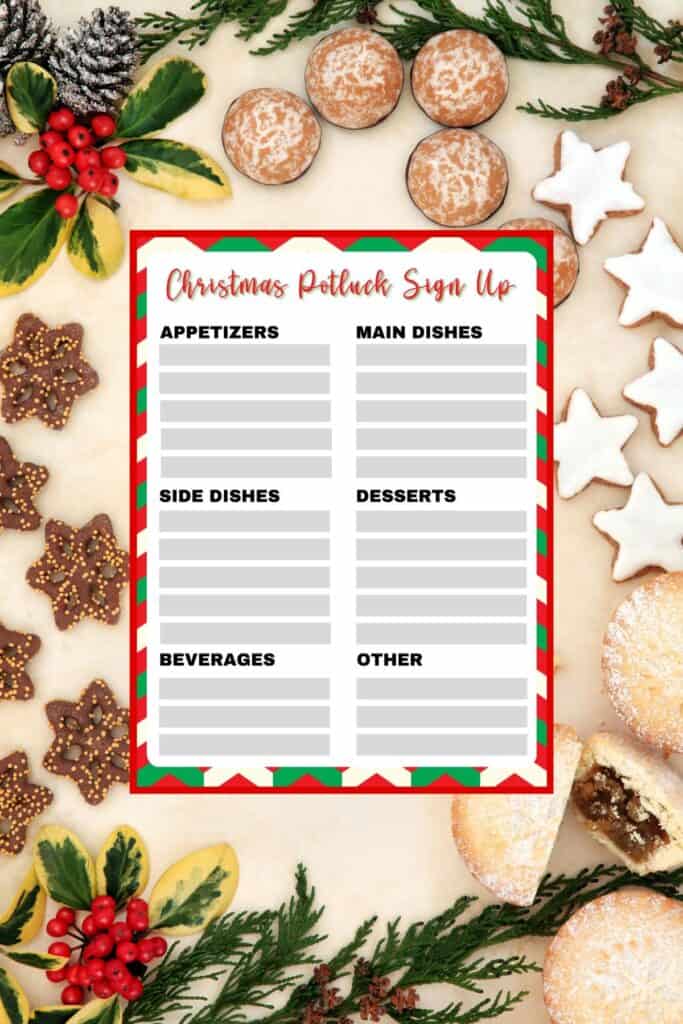 WHAT IS POTLUCK DINNER?
You must have heard this a couple of times or more in your whole life. And if you did not know what potluck is yet, it is a term for a kind of party where guests bring a dish to share for the party. This means that everyone in the party gets to contribute to the whole meal, including the party's host. It is up to you what you want to bring – some people have themes that they could match.
For example, if the theme is Japanese cuisine, then you have to bring a specific dish that is in line with the theme. It could be sushi, ramen, or some Japanese side dishes, whichever you can buy or prepare. That is what's great with potlucks, you never know what food to expect at your own party. Either way, a holiday potluck will be a success with more than enough food for everybody.
It had a slight different meaning for other countries but the main idea was there. In 16th-century England, the phrase "potluck" was used to describe meals given to an unexpected or unannounced guest, also known as the luck of the pot. And in the United States, it was a community lunch where visitors would bring their own dish in the late 19th or early 20th century.
For the Irish, a potluck was a meal without a set menu. Everyone who attended prepared food to contribute. Irish women would meet together and make meals together. They made the dish jointly using the ingredients they happened to have on hand that day because they only had one pot.
WHY HAVE A POTLUCK DINNER?
The better question is why not? Aside from it being fun and exciting, potluck can save people a lot of time and money. Having a potluck supper with a small group of people can turn out to be a big feast that could feed a whole lot more people. Not only did you get to eat a full meal, you can also get to take home some food left at the party.
The holiday season can be costly because of all the gift buying and everything – a potluck is the perfect way to go. Other than it saves you money and time, potlucks can also be beneficial for people working long hours. You can enjoy a fun Christmas party even when you are working. An easy way to do this is to have an office potluck. You won't need to think of a whole menu and how to prepare all of it on your own.
If you haven't tried hosting one yet, now is the time to do so! This type of party is very popular nowadays too. The major benefit is that it distributes work and expenses across all individuals. This is a well-liked method, particularly among students, of ensuring that the host doesn't wind up footing the entire budget, which soon becomes an issue as the gathering grows in size.
The fact that the responsibilities are shared among a number of people is another factor in their favor. These responsibilities involve planning the transportation of food to a certain spot, like a picnic or backyard barbecue. One person making an entire set meal for everyone is more of a strain than everyone carrying one dish each. Same goes with cooking. Even if it's done at home, it would be challenging for one household to serve enough food for 20 people. The answer is clear, potluck!
IS A POTLUCK SIGN UP SHEET NEEDED?
Whether its for a small get together or a big company Christmas feast, a potluck sign up sheet is needed! And here are a couple of reasons why printable potluck signup sheets are needed:
ORGANIZED – this will keep everything organized. Who will bring what, how many people are going to bring desserts, etc. Instead of asking and making sure what a certain guest will bring, you can just look at the sign-up sheet.
AVOID MIX UPS – now, you wouldn't want 4 people bringing the same 4 dishes right? Or maybe having no one bring drinks. You got to have beverages at a party. Every little small detail is important when planning a party.
CONVENIENT – having a sheet and getting to check which dishes are needed can be very convenient. Anyone can just grab the sheet, check the listed items and write down what they want to bring for the party. That easy! No need to ask the host anymore.
WHAT SHOULD I HAVE PEOPLE BRING TO A POTLUCK?
Depending on what type of holiday parties you are having. Do you have a theme? or do you have a specific set of menu items? Well, the great thing about potluck dinners is that you are sure to have different kinds of great food! A potluck is mostly a chance to have fun rather than worry about making elaborate dishes. Therefore, the food you prepare to a potluck should be easy and comforting.
Leave behind the complicated, multi-step recipes that call for pricey components. Sounds really fantastic, doesn't it? Don't forget to bring an excellent, healthy dish to the gathering. There are others that don't require their guests to bring food; they can ask them to bring paper plates, cups, party decorations, or something else needed for the party aside from food and drinks.
Before planning a menu or deciding on a theme for your potluck parties, the first step to do is to ask the guests if they have any food allergies. This way, they get to eat other dishes other than the dish they bring. That said, here is a list of courses the guests can bring.
The appetizers are one of the dishes that are easy to bring. Sometime you won't need to cook anymore. You can bring a fruit bowl, spring rolls, mini sandwiches, chips & dip, or any finger food. You can even buy chicken wings if you are too lazy to do the work. There are tons of appetizers to choose from.
Side dishes are kind of like the same as appetizers. Something that goes well with the main dish of course. So, when the main courses are all filled out, choose one to pair with and decide from there. Some examples would be baked potatoes, coleslaw, macaroni salad, vegetable salad, etc.
Personally, I think this is the best course to choose. You can roast a whole chicken and you are good to go. Bake up a rack of ribs or air fry some pork chops. There are dozens of meals to choose from really. But, keep in mind, choosing to bring a main course means that you will have to have more preparation time since it would be the main dish.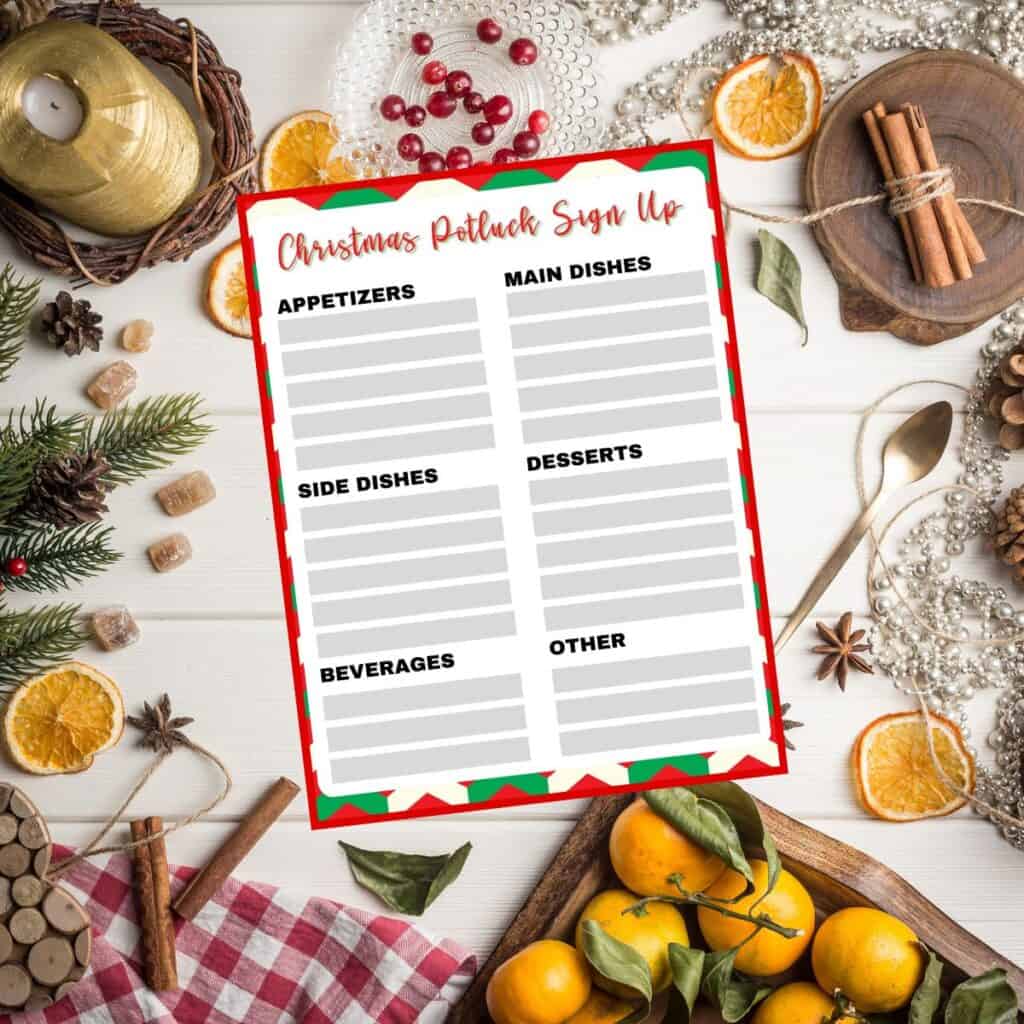 You can never have enough desserts! Have a couple of people bring different kinds of desserts so there are lots to choose from. They can bring ice cream, cake, pie, cookies, chocolates, or donuts. It will be a perfect potluck ender as long as it is sweet and delicious!
This is a no-brainer! You can bring soft drinks, wine, beer, juice, and best part about it is that you would need some preparation for it! Just go to the store and buy some drinks, easy as that! I bet most of the guys will choose to bring beverages, LOL!
If all the other options have been filled, no worries! There is still an option for you to party favors, decorations, an appliance needed for a dish like a chocolate fountain or a grill. There is always something needed if not you can always help out the others. Some might need assisting with there dish.
I hope this has helped you plan your own potluck get together with friends or family! Get the free printable below and enjoy your next stress free potluck!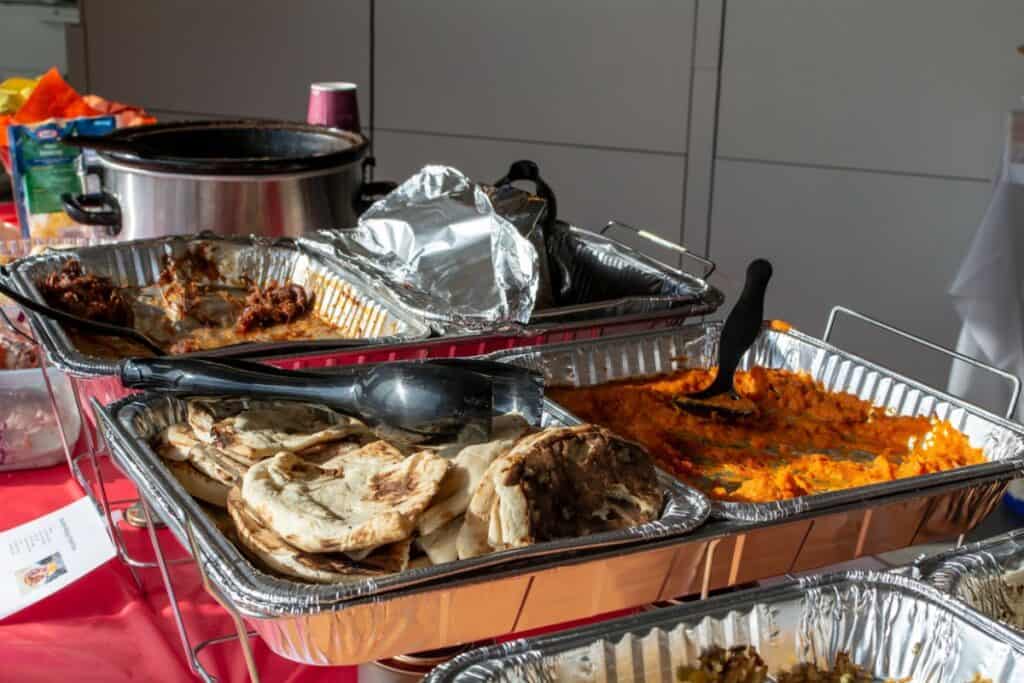 CHRISTMAS POTLUCK SIGN UP SHEET FREE PRINTABLE
I know you are excited to get this Christmas potluck sign up sheet free printable. Please remember that this is for your own personal use and the download file cannot be shared or altered. Feel free to share the link to this post with friends so they can download and use the printable too!
Click the button below to download the printable now.
If you loved this Christmas potluck sign up sheet free printable, be sure to check out these other great posts too:
Be sure to PIN this for later and SHARE on Facebook!