A printable Christmas song spinner game will lead to a lot of fun and singing during the holiday season. This brightly colored printable is enjoyable for the whole family and can be put together in minutes.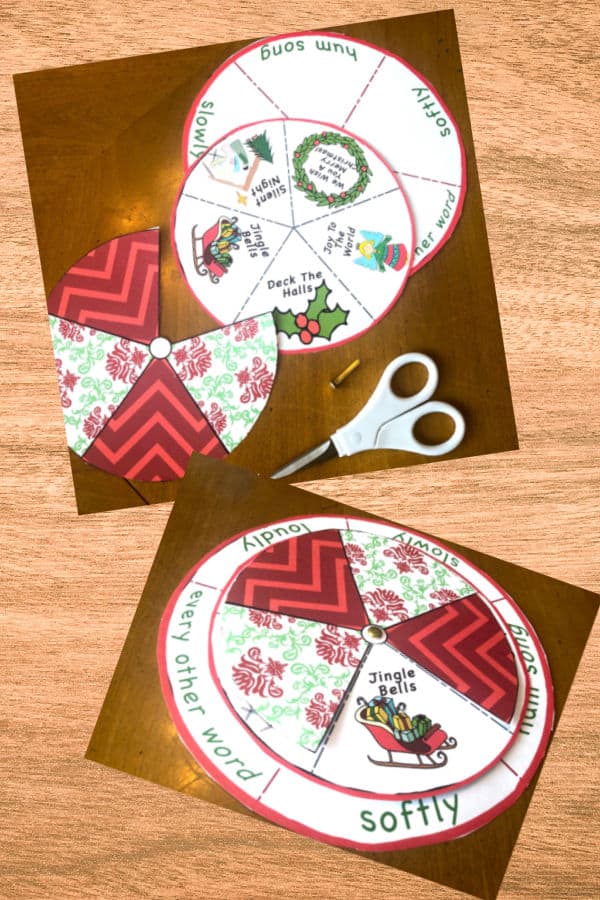 WHAT IS A SONG SPINNER?
Spinner games are simple games made out of layers of circles.
The bottom layer will have different categories.
The middle layer will have different options in each sections.
The top layer is decorative and has a "window" so you can see which choices you land on when you spin.
These can be made for all sorts of topics and are used in schools a lot as learning tools.
HOW TO USE A PRINTABLE CHRISTMAS SONG SPINNER
The printable Christmas Song Spinner has a theme of Christmas songs and gives you different options on how to sing the song.
Each time you "spin" you will land on a different song and a different direction for how to sing that song.
This will lead to some hilarious variations on favorite Christmas songs.
Use this song spinner for:
Family game night
Kids groups
Pre-school and elementary school fun
Kid's holiday parties
STEP ONE: PRINT
The first step to making your Christmas song spinner is to print all three sections out on white cardstock.
Cardstock will make the spinner work much better than if you print it on regular copy paper.
I like to print mine in color, but that is optional. The link to download is toward the bottom of this post.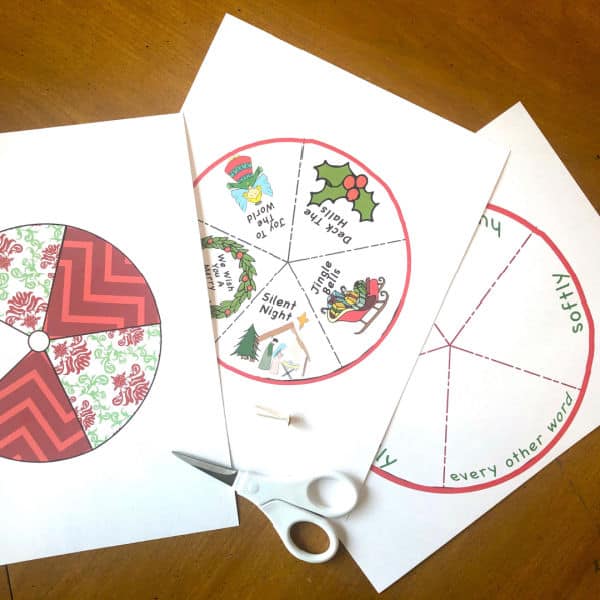 STEP TWO: CUT OUT
Now it is time to cut out each circle.
When cutting out the "window" in the top wheel –
be sure to leave enough tagboard around the area where the
brad hole will be punched.
STEP THREE: PUNCH HOLE
Now take a pointed object, such as a Phillip's head screwdriver,
and twist to create a small hole in the middle of each wheel.
STEP FOUR: LAYER
Layer the wheels on top of each other, with the largest one on
the bottom. The bottom layer will have the different song directions.
The middle layer has the songs.
The top layer has the window.
Use a brad to go from top to bottom to fasten the wheels
together.
STEP FIVE: PLAY
Now it is time to play!
Start off by sliding the top window to select a song. Next, turn the bottom wheel to determine how the tune will be sung.
Make sure to try all the different ways to sing each song because there are lots of different combos.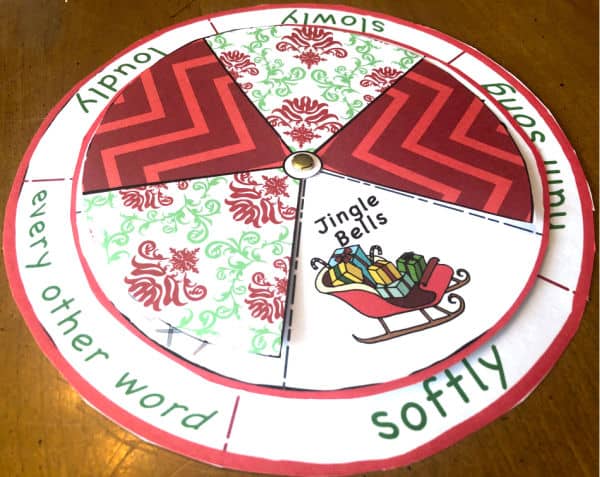 PRINTABLE CHRISTMAS SONG SPINNER: INSTANT PDF DOWNLOAD
You can download and print off this fun printable Christmas game via the link below. It is available for your own personal use
Feel free to share this blog post so your friends can download the game too!
If you love Christmas printables be sure to check these out: