This Elf on the Shelf rules printable for kids will keep them in line all month long. Print this free rules list out at home and your kids will know exactly what they can and cannot do with their special elf.
WHY DO I NEED RULES FOR MY ELF ON THE SHELF?
Elf on the Shelf has been a fun tradition done by lots of families. It's a cute way to encourage your kids to behave themselves while Santa's elf is visiting them for the holiday. The little elf symbolizes Santa's little helper. It is supposed to watch the children by day. And during the night, it returns home to the North Pole to report whether the kids were either naughty or nice.
These simple rules for Elf on the Shelf can ensure that your kids stay on Santa's nice list. This list is just guidelines for your kids to follow. With this, they will be able to know what to do and what not to do.
It's not just about tradition as well. Having an Elf on the Shelf at home gives some great memories to you and your kids. It can also motivate them to be extra good during the holiday season. And whenever this little elf would visit, kids will be reminded that Santa Claus watches over them.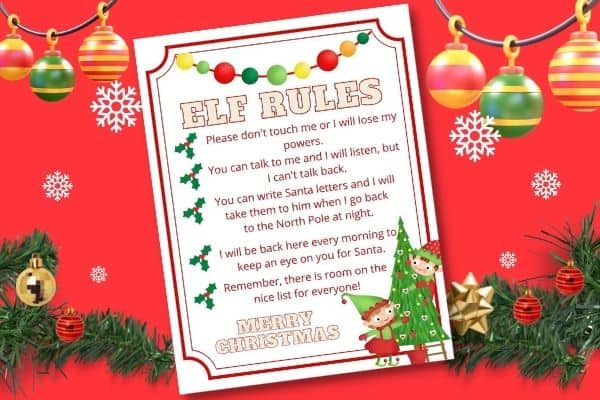 WHAT ARE THE RULES FOR ELF ON THE SHELF?
This Elf on the Shelf rules printable has 5 things that the kids should follow:
When the elf is touched by the kids, it will lose its powers. Therefore, the elf won't be able to return to the North Pole and tell Santa about how the kids behaved.
The Elf won't answer back
Kids can talk to the elf during day visits. They can tell the elf anything they want – like, what they want to receive for Christmas, or if they have a message for Santa. And it will listen. However, it will not answer back.
The Elf will collect Santa letters
They can also write letters to give to Santa and the elf will personally deliver the letters to Santa at night.
The Elf will be Santa's eyes
Since Santa Claus is busy and there are a lot of kids all over the world, he asked his little helpers to watch over them first.
With this little elf, Santa is able to know who was nice or naughty.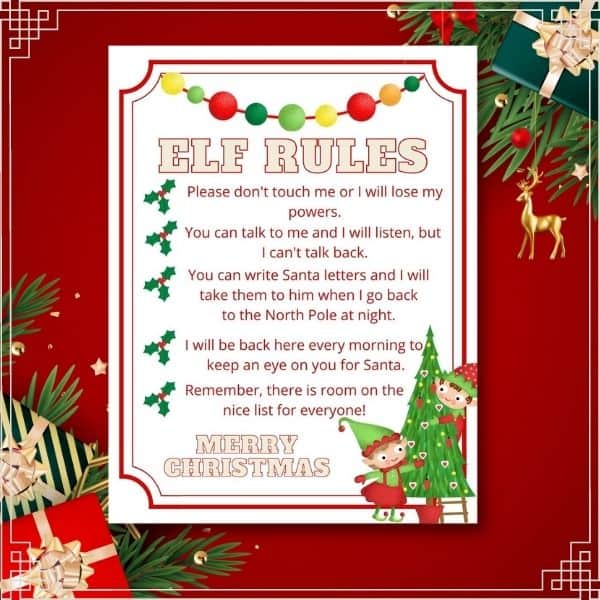 HOW TO USE THE PRINTABLE ELF ON THE SHELF RULES
This Elf on the Shelf rules printable is easy to use! Just print it off and you are set. Here are a couple of ideas where you should put your rules:
Beside the elf
On top of the fireplace
Stick it on the fridge
Front door (inside)
Bathroom mirror
You can print as many as you need, so you can place the rules around a couple of areas in the house. Just make sure the kids are able to see it.
ELF ON THE SHELF RULES PRINTABLE FOR KIDS
You can get this handy Elf on the Shelf rules printable for kids for FREE to print at home.
Please remember that this is for your own personal use and should not be shared or altered.
This works best when printed on white cardstock or white copy paper.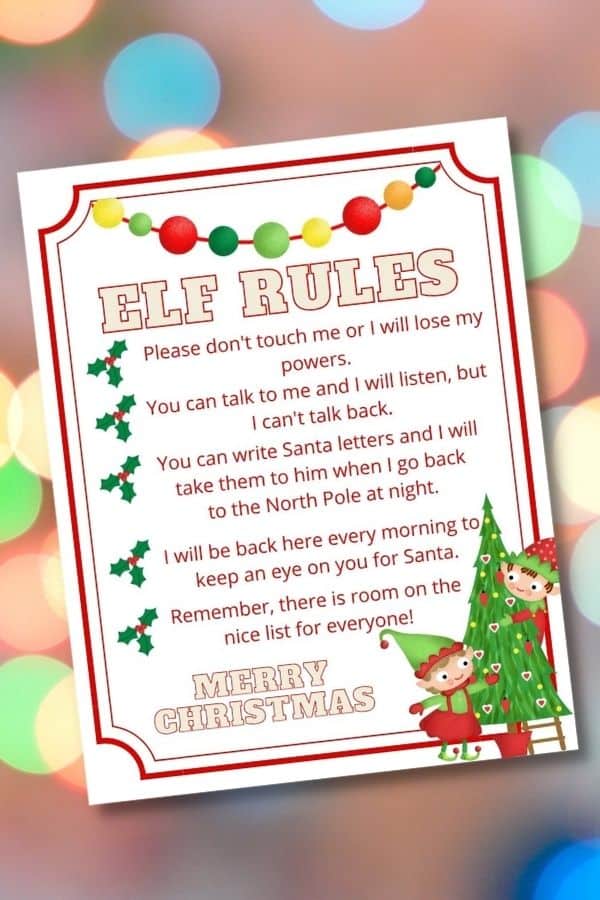 If you loved this Elf on the Shelf printable, be sure to check out these other great Christmas ideas:
Be sure to PIN this for later and SHARE on Facebook!