Here are 10 Christmas movies inspired by Charles Dickens' A CHRISTMAS CAROL. If you love the classic Christmas theme of Scrooge developing a Christmas spirit, check out these holiday movies, including a few that I bet you haven't seen.
Charles Dickens' A CHRISTMAS CAROL: From Book to Movie
Charles Dickens' A CHRISTMAS CAROL was published in 1843.
Believe it or not, it only took Dickens six weeks to write this masterwork that would become one of the most beloved novels of all time. It was immediately a runaway best seller – the first edition sold out within a week. In addition to introducing BAH HUMBUG into our vernacular, the Dicken's famous novel is also credited with giving us the holiday greeting MERRY CHRISTMAS.
In the 280 years since, there have been countless movies and specials either based upon or inspired by Ebenezer Scrooge, Bob Cratchit and the other unforgettable characters. There's no way to include them all, but here are 10 that stand out for me.
Why We Love Scrooge
Why has Scrooge stood the test of time for hundreds of years? I believe it beautifully illustrates the capacity for all of us as humans to change and improve ourselves with the right catalyst. And, let's face it, we all have a Scrooge-like person or two in our lives. He is a character to whom we can all relate on one level or another.
10 Best Scrooge Movies Based on A Christmas Carol
Here are ten movies and specials in alphabetical order based on or inspired by A CHRISTMAS CAROL.
1) AN AMERICAN CHRISTMAS CAROL
STARRING: Henry Winkler, Susan Hogan and Chris Wiggins
PLOT: This loose adaptation of the classic Charles Dickens tale moves the story to New England, where stingy elderly businessman Benedict Slade ruthlessly collects debts and makes life miserable for everyone around him.
His unscrupulous behavior warrants a Christmas Eve visit from his ghostly former partner and other spirits that show him the error of his ways. Can Slade turn his life around and become a better person before it's too late?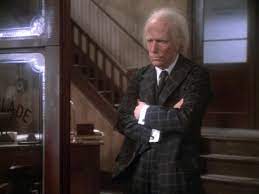 THOUGHTS: Winkler is known as the nicest guy in show business, so I hate to be Scrooge-like in my review, but this turns out to be just an OK movie. The premise is great – it's not an exact adaptation, but A CHRISTMAS CAROL is actually referenced within the context of the film. My problem is that there's not enough contrast in Winkler's transformation – particularly after his epiphany. He just begins a bit cranky and ends up a little less cranky.
There's too much time spent explaining the background of his Benedict Slade, and as a result, the appearances of the ghosts feel like an afterthought. The ghost of Christmas future is especially awkward, with Dorian Harewood appearing almost like a 70s pimp. It was an emotion-less experience even though you can tell Winkler is giving it his all. And, I must say, the old-age make-up is distractingly awful.
2) BY GOD'S GRACE
STARRING: Cameron Deane Stewart, Savannah McReynolds and John J. York

PLOT: Chris has everything until a Christmas tragedy leaves him lonely and empty. As he is show his past, present and future, Chris learns God is there in the darkest of times.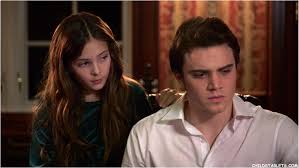 THOUGHTS: This variation plays with the same past, present and future aspects but with a decidedly Christian slant. Unfortunately, the film is poorly acted and utterly predictable. The main character of Chris is so broadly written and portrayed that his transformation feels more schizophrenic than epiphanic. And the script is so heavy handed that the viewer feels hit over the head with its message. Sometimes it's best just to let the story speak for itself.

3) A CHRISTMAS CAROL (1938)
STARRING: Reginald Owen, Gene Lockhart and Terry Kilburn
PLOT: Crotchety miser Ebenezer Scrooge hates Christmas and mistreats his long-suffering employee, devoted family man Bob Cratchit. But a visit from the ghost of his former business partner Jacob Marley and three Christmas spirits might convince him to change his ways and become more kindhearted.
THOUGHTS: A timeless classic! This version is the best I've seen, hands down. I'm sure you've heard the phrase "they don't make 'em like they used to." This film is proof positive that statement is correct. Incredibly moving, shot in gorgeous black and white, this is straightforward storytelling, no bells and whistles.
The story speaks for itself, and what a story it is! This is an ideal film to watch on Christmas evening once dinner is done and everyone is relaxing around the fire like a Norman Rockwell painting.
4) A CHRISTMAS CAROL (1951) (aka SCROOGE)
STARRING: Alastair Sim, Mervyn Johns and Michael Hordern
PLOT: Crotchety Victorian businessman Ebenezer Scrooge has no use for festivity, even at Christmas. After resentfully allowing timid clerk Bob Cratchit to have the holiday to spend with his loving wife and family, Scrooge is swept into a nightmare.
The ghost of his late partner Jacob Marley appears, warning that Ebenezer will be visited by three more spirits who will show the coldhearted man the error of his parsimonious behavior.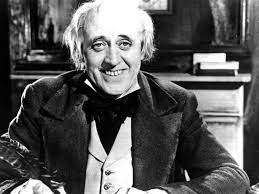 THOUGHTS: I have to admit that I have not yet had the good fortune to watch this version, but I feel compelled to include it in this list as many people I know personally and through my Facebook blog insist that this is the best version ever made of A CHRISTMAS CAROL. I am hoping to rectify the error in my ways soon, and when I do, I will certainly update this inclusion with my thoughts. I can't wait to see it!
5) DOLLY PARTON'S CHRISTMAS ON THE SQUARE (2020)
STARRING: Dolly Parton, Chrstine Baranski and Josh Segarra
PLOT: A woman who plans to sell a small town without regard for the people who live there receives a visit from angel.
THOUGHTS: This may be pushing the boundaries of a Dickens interpretation, but this story is basically another Scrooge-like transformation. I am fully aware that trash talking a family movie featuring America's sweetheart Dolly Parton as a Christmas angel is grounds for inclusion on the Mount Rushmore of Grinches, but this is not Parton's finest hour.
There's too many generic lyrics speaking of climbing mountains and reaching for stars. The acting is atrocious – Baranski can do stuff like this in her sleep, which she often seems to be doing here. And, frankly, everyone here except Dolly herself appears uncomfortable singing her songs.
6) MISTER SCROOGE TO SEE YOU
STARRING: David Ruprecht, Matt Kokster and Shannon Moore
PLOT: One year after the classic Dickens' A CHRISTMAS CAROL, Ebenezer Scrooge finds himself on a new journey. Once again, he is visited by Jacob Marley. This time, Scrooge is sent on an adventure that takes him into the life of Timothy Cratchit the VI – the great, great, great grandson of Bob Cratchit.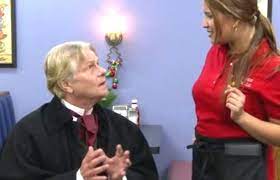 THOUGHTS: This is probably the laziest and most selfish inclusion on my list, but the prospect of game show host David Ruprecht from SUPERMARKET SWEEP, my guiltiest of guilty pleasures, portraying Ebenezer Scrooge is just too irresistible to pass up. I only learned about the existence of this movie while researching the topic, but believe me, this has moved its way on top of my MUST SEE list.
7) THE MUPPET CHRISTMAS CAROL
STARRING: Michael Caine, Kermit the Frog and Miss Piggy
PLOT: The Muppets perform the classic Dickens holiday tale with Kermit the Frog playing Bob Cratchit, the put-upon clerk of stingy Ebenezer Scrooge. Miss Piggy, Gonzo, Fozzie Bear and other Muppets weave in and out of the story, while Scrooge receives visits from the ghosts of Christmas past, present and future. They show him the error of his self-serving ways, but the miserable old man seems to be past any hope of redemption and happiness.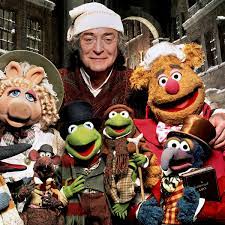 THOUGHTS: This Muppet version of Scrooge is certainly watchable with a couple catchy tunes and lots of spirit, but what bothers me most is the missed opportunities – this could have been a Christmas classic. This is a Muppet movie, so why make a human the lead character? Why not throw caution to the wind and let Miss Piggy play a female Scrooge? Her classic temper and sarcasm would have been ideal, especially for the first third of the movie.
And why not make it a comedy? There are a couple very small moments of levity, but the filmmakers have basically taken the exact same story that has been filmed a jillion times and replaced it with Muppets. After all is said and done, we're still left with a worthwhile and enjoyable enough film but, oh, what could have been…
8) MY DAD IS SCROOGE
STARRING: Christian Laurian Kerr, Eva Greig and Brian Cook
PLOT: "A Christmas Carol" turns into "A Christmas Corral" as the animals of Woodsley's Farm help Oliver and his little sister June stage the classic tale to shock their Dad into embracing the spirit of the holidays.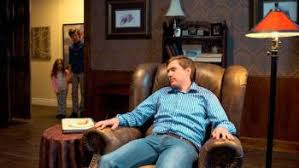 THOUGHTS: I officially take back every bad thing I have ever said about any other Scrooge movie ever made. This is atrociously bad. Perhaps historically bad. The kind of bad where it hurts to keep watching. My oh my. I don't even know where to begin. It was apparently acted, written, directed and edited by people who were raised in the wilderness by wolves or – or perhaps in a bunker. Aftershave commercials have better acting and production values.
I was shocked and amazed from one moment to the next. I suppose it deserves to be seen once so you will have a better appreciation for virtually every other movie you will see in your lifetime. Yes, it's that bad.
9) SCROOGE (1970)
STARRING: Albert Finney, Alec Guinness and David Collings
PLOT: Ebenezer Scrooge is the definition of a miser. He is rich but completely stingy with his money, and he exploits the good nature of his employee Bob Cratchit. On Christmas Eve, however, Scrooge is in store for a rude awakening when he is visited by the ghost of his old business partner Jacob Marley, who informs him that he is going to be visited by three ghosts.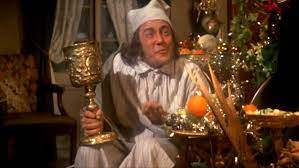 THOUGHTS: This is another inclusion I haven't yet seen but am adding to my list based on word of mouth and suggestions from my other movie-loving friends. Any movie featuring Finney and Guinness is worth a look, and the fact that it's one of the few musical versions only adds to my intrigue. Finney won the Golden Globe Award for Best Actor in a Musical/Comedy, and it received four Oscar nominations, so I'm quite anxious to check this one out.
10) SCROOGED (1988)
STARRING: Bill Murray, Karen Allen and Alfre Woodard

PLOT: Frank Cross is a wildly successful television executive whose cold ambition and curmudgeonly nature have driven away the love of his life. But after firing a staff member on Christmas Eve, Frank is visited by a series of ghosts who give him a chance to re-evaluate his actions and right the wrongs of his past.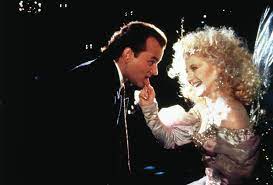 THOUGHTS: For me, the make-or-break deal of any Scrooge adaptation, and I'm sure this is probably around number 842, is whether or not you believe Ebenezer's about-face at the end. In this case, I did not. There are some individually good scenes and performances, but in the end, it didn't matter because I was left cold when my heart should have been rending and my eyes filling with tears. I know, I know… it's a comedy. But still, one should get a bit of the feels with a story like this.
When Murray is visiting past, present and future and we see the tears well up in his eyes, I'm just waiting for a smart aleck retort to soon follow. It's virtually impossible to make an emotional connection to him here. In the pantheon of Dickens adaptations, this is probably toward the middle, at best.
What's your favorite movie based on A CHRISTMAS CAROL? Share in the comments below.
More Christmas Movie Posts for You
Top 10 Christian Christian Movies
15 Free Romantic Christmas Movies on YouTube