Everyone loves hot chocolate and these hot cocoa bar ideas come with some beautiful printables to make your party even more special. You will have people lining up for a mug of delicious hot cocoa!
WHAT IS A HOT COCOA BAR?
A hot cocoa bar is a fun way to make hot chocolate extra yummy.
The basic plan is thst you have a big batch of hot chocolate made up and then you offer guests a bunch of different toppings for their cocoa.
This is typically set up on a table that is just for the hot chocolate bar.
HOT COCOA BAR IDEAS
There are so many ways to create a lovely and appealing hot cocoa bar.
One important tip is to make sure to serve some delicious hot chocolate as a base beverage for the party.
I like making my own hot cocoa mix because it is rich and creamy.
The next tip is to have pretty mugs for the guests. You can have matching mugs or a random assortment of mugs.
Here are some great mug options:
HOT COCOA TOPPING IDEAS
It is hard to beat a simple cup of hot chocolate with marshmallows on top. Unless you get creative!!
There are tons of different ways to top a mug of chocolate.
Here are some ideas to make your party a delicious affair:
Chocolate Chips in different flavors like dark chocolate, milk chocolate and even white chocolate.
Peanut Butter
Ground Cinnamon
Toffee bits and pieces
Peppermint Sticks
Crushed peppermint
Candy Canes
Coarse Sea Salt
Whipped Toppings
Caramel Sauce
Homemade marshmallows
Nutella
Cinnamon Sticks
Marshmallow Creme
Chocolate Sauce
Finely Chopped Nuts
Crushed Graham Crackers
Pirouette Cookies
Shredded Coconut
Chocolate Shavings
Sprinkles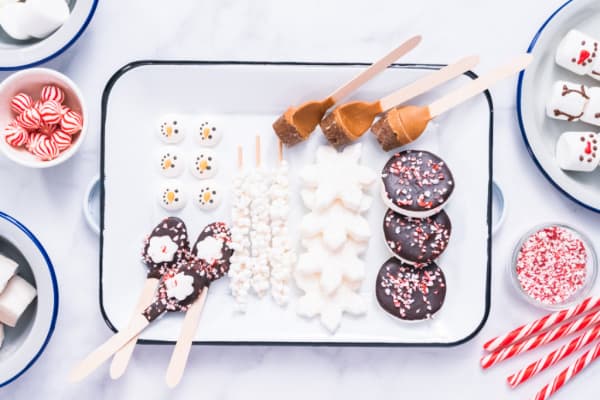 HOW TO SET UP A HOT COCOA BAR
The first step in setting up a hot cocoa bar is to find a place to put it. You will need a table or bar area and it helps to have a plugin available.
An easy way to keep the hot cocoa warm is to make a batch and put it in a crockpot set to low or keep warm.
Sit mugs on one end of the table. It helps to use a mug tree so you have plenty of room.
Then sit out all your hot cocoa toppings. Use jars, bowls and other cute containers to display the toppings.
There are topping table tent labels in the printables pack that make labeling the toppings easy!
Be sure to set out a ladel and spoons for stirring those toppings in!
HOT COCOA BAR PRINTABLES
I have a beautiful set of hot cocoa bar printables. This printable set includes everything you need to make your hot cocoa bar special!
The set includes:
a banner
a menu
a sign that you can put in a frame on the table
table tent labels for all the toppings and ingredients
hot cocoa labels that you can print off on sticker paper and put on all sorts of things
This set is completely free for anyone who signs up for my email newsletter.
You will be able to download and print off this set and also get access to my free subscriber library where you can access other exclusive subscriber printables!!
Just enter your email in the subscriber box and you will get an email with the library password!
MORE CHRISTMAS FUN
If you love Christmas parties be sure to check out these other great ideas out:
Be sure to PIN this for LATER and SHARE on FACEBOOK!