These printable Christmas Charades cards will bring laughs and joy to your family this holiday season. This is a fun family Christmas game that can be enjoyed by all ages, and we are offering it as a free instant PDF printable download.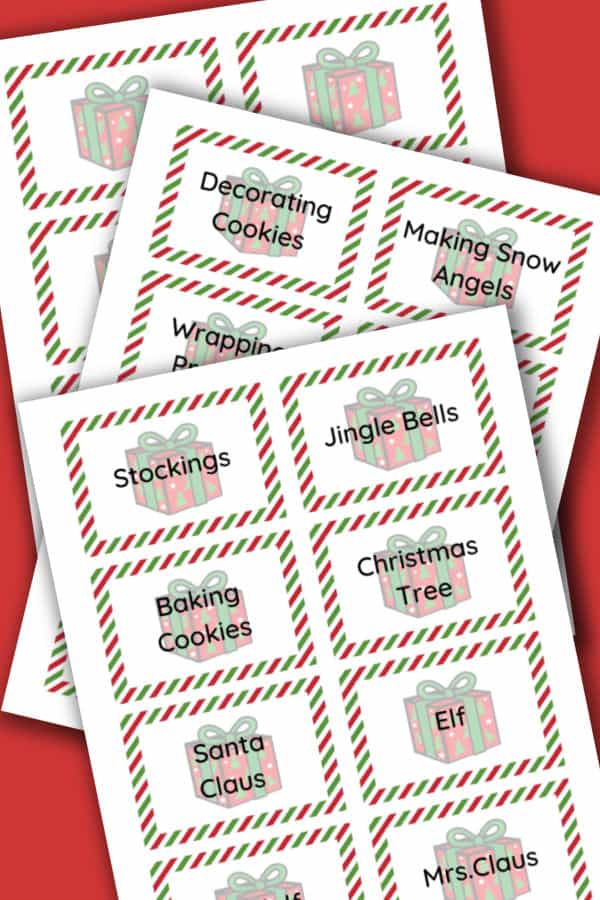 WHAT ARE CHARADES?
If you are new to charades, let me tell you about the game.
Charades are a guessing game. One person will act out a word or a short phrase. They do motions and movements to try to convey what word or phrase they are portraying without using any words.
The other players guess what the person is acting out.
This can be played in large or small groups.
The objective is for the team to guess the word or phrase and get the most points for correct guesses.
WHAT IS THE TIME LIMIT FOR CHARADES?
Charades is a game where you can define the rules.
Some versions say give a 3 minute time limit for the team to guess the word or phrase. That should be plenty of time, and if they can't get it in 3 minutes they probably won't ever be able to get it.
You can adapt the game and make your time limit 1 or 2 minutes if desired.
WHAT IS PROHIBITED IN CHARADES?
The main hard and fast rules in charades surround what the person acting out the words can and can't do.
Here are some basic items that are prohibited in charades:
the person acting cannot speak or make any sounds
the actor cannot mouth words
it is against the rules for the actor to point to objects in the room that could be clues for their team
the actor cannot use sign language to spell the word they are acting out
CHRISTMAS CHARADES
The fun part of charades is that it is simple to do holiday versions for all the different holidays during the year.
Printable Christmas charades are fun and take all the work out of the equation since we have the game cards completed for you.
There are over 50 Christmas-themed words or phrases ready for you to download and print.
Divide your group into two teams, and let the laughter begin!
PRINTABLE CHRISTMAS CHARADES GAME CARDS – Free PDF Download
If you would like all 7 pages plus a blank page (over 50 charades!), click the link below to download:
Free Printable Christmas Charades Card Game for Kids & Families
For a more simple version, click this link to download the 1 page printable Christmas Charades: Christmas Charades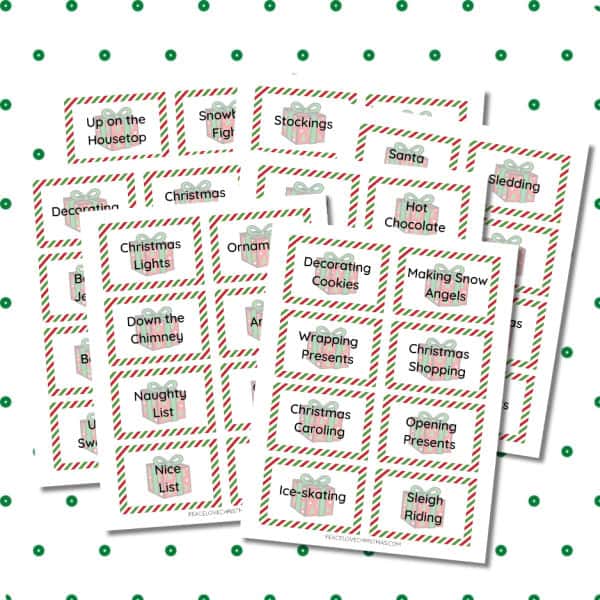 MORE CHRISTMAS FUN
If you loved this fun Christmas printable be sure to check these other great ideas: