Ready to learn how to make a snowman without snow? This easy tutorial will have you ready and decorating for winter in no time at all!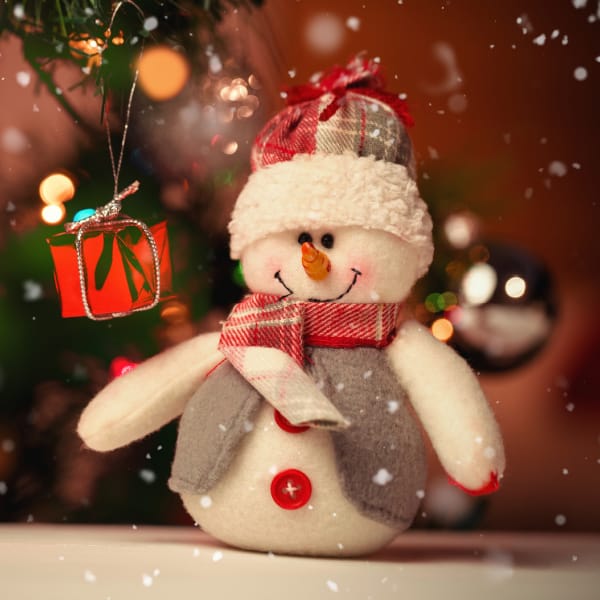 DO YOU REALLY NEED SNOW TO BUILD A SNOWMAN?
Nope, not at all! Be as creative as you'd like and make a snowman without actually using snow. This post will show you that with a few easy supplies, you can make snowmen all year long! Save your hands from the cold and put your creative brain to good use!
SUPPLIES TO MAKE DIY SNOWMEN
What you'll find from a lot of the snowman craft ideas below is that you'll need to have a wide variety of supplies to get started. Most will have you needing scissors, glue of some sort, white fabric or felt, and buttons or items for the faces.
It's a good idea to have a general craft box at home that will hold all your snowman supplies so that when the urge strikes to make one, you can easily make it happen.
HOW TO MAKE A SNOWMAN WITHOUT SNOW
While this isn't the entire list of snowman crafts and ideas, this is a good list to get started on! I have included a variety of different snowmen ideas to choose from when you are learning how to make a snowman without snow!
Crochet Snowman
Sew up your own adorable snowman with a pattern and some yarn! Perfect for sitting out during the winter months or having under the tree! If you are a newbie to crochet, no worries. Grab a Frosty the Snowman crochet kit to get started.
If you are looking for a cute crochet pattern for a snowman they aren't hard to find. Here is a free pattern that is adorable.
Snowman Made of Old Tires
Have some old tires just sitting out in the garage? Paint 'em and put them out for display! This would look super cute as fun winter yard decor. I think that this would be a great family project, too.
The best part is this is an environmentally friendly snowman! Upcycling old tires is awesome.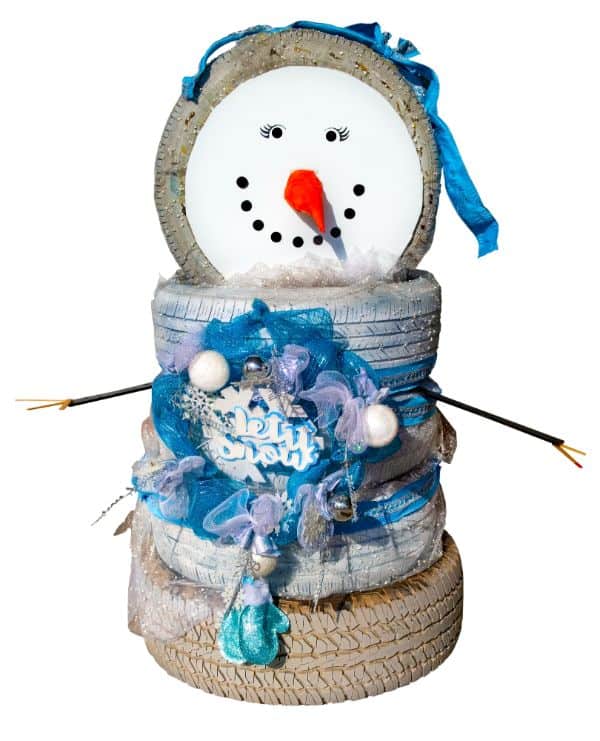 Snowman Bag DIY
Who says that snowmen have to be huge? This adorable snowman is made out of cotton balls and a few other easy supplies and is a fun way to make homemade gift wrap more special.
Kids will enjoy making handmade wrapping paper with sweet little snowmen on it.
Wood Slice Snowman
Get the kids out in nature and have them find some sticks and twigs. With a little bit of creativity, this wooden snowman can be a reality. It is great for adding to your holiday tablescape or front porch!
A wood slice snowman can be as big or as small as you want. Get your chainsaw down and cut some wood slices off an old tree stump or log. If you prefer you can actually buy wood slices at many craft stores now and they come in many sizes.
I like to use E6000 glue for these kinds of projects because it holds really well.
Snowman String Art
Check out this cutie! Just a little bit of string and twine can have you turning those simple supplies into the cutest DIY snowman ever!
If you have never made string art before check out this beginners tutorial.
Mickey and Minnie Mouse Snowman
Making a snowman out of socks is a fun and easy DIY craft! I've even included step-by-step photos to show you have to make them!
Snowman Christmas Tree
You always have space somewhere in the house for another Christmas tree, right? Check out how simple and fun it is to make a snowman Christmas tree here. This even looks adorable on your front porch!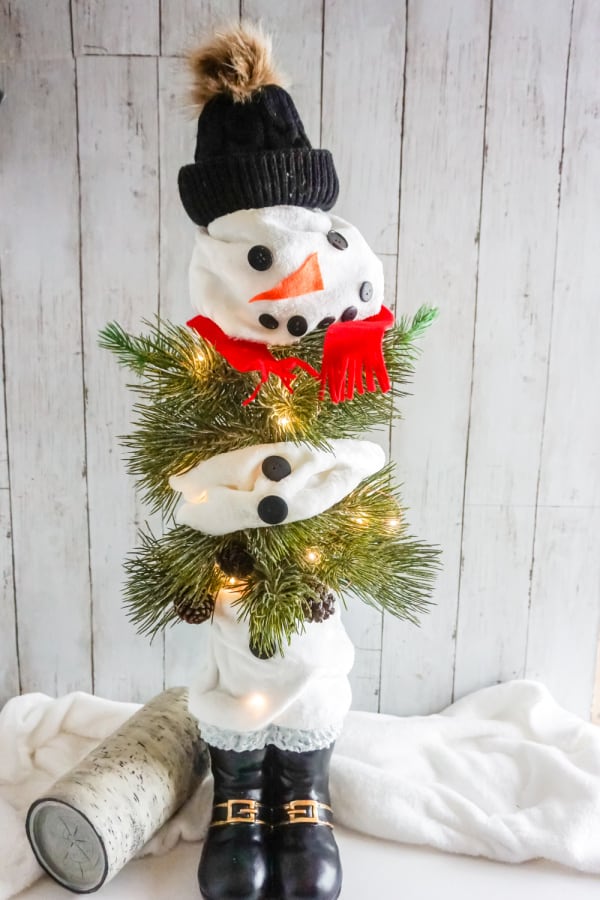 Snowman Made out of Pumpkins
A few small pumpkins and a little bit of paint are all you need to create this cute front porch snowman! Grab the children and let them paint the pumpkins white. Glue the pumpkins together and paint on a face.
If you aren't good at painting you can find eye stickers! Add a scarf and some buttons and you are set.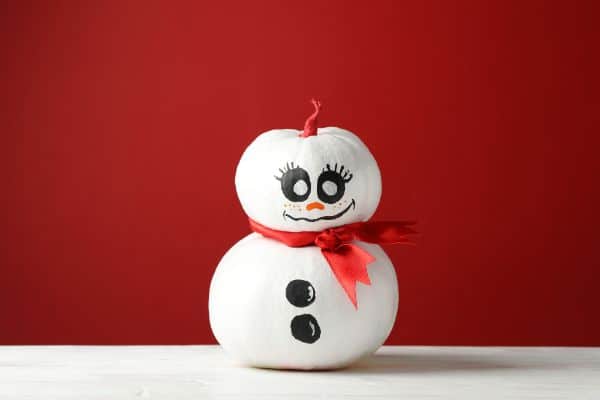 Now that you have found out how to make a snowman without snow you can see how much fun it can be.
If you loved these simple snowman craft ideas, be sure to check out these other great holiday crafts:
Be sure to PIN this for LATER and SHARE on FACEBOOK!