These tips are going to show you how to write a Christmas letter that is awesome and that your family and friends will actually enjoy reading. Every year families send out Christmas or holiday letters, and for some people, these letters can be a complete snoozefest. It is possible to write an interesting and even entertaining holiday letter if you know how!
HOW TO WRITE A CHRISTMAS LETTER
It is easy to learn how to write a Christmas letter if you follow these easy steps. Think about holiday letters you have enjoyed reading and try to replicate the same type of letter.
KEEP IT SHORT
Nothing puts someone to sleep quicker than a long letter. People like to read quick letters that are skimmable. Use headings, bullet points, and easy to read paragraphs when writing your letter.
People are busy and won't take the time to read a 2, 3 or 4-page letter. Believe me…I have received some of these ultra-long letters and I run out of steam after the first or second page.
DON'T LEAVE OUT ANY FAMILY MEMBERS
A big common mistake that people make when writing Christmas letters is focusing on one particular family member or just the kids. I want to know how everyone is doing and what is going on with each family member. Don't get me wrong, I love kids but that's what social media is for.
Even if some family members have had a laid back year with nothing overly exciting…people still want to know they are okay.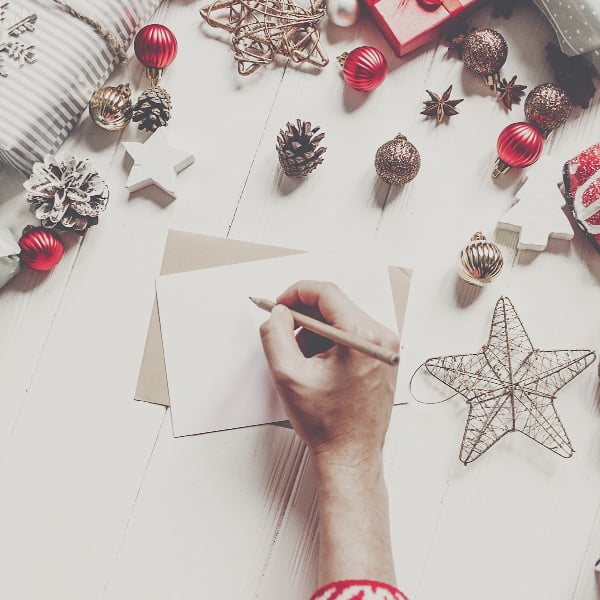 CHOOSE MEANINGFUL MOMENTS TO HIGHLIGHT
Pick and choose meaningful moments to discuss. Let's face it, summing up your entire year in a short one-page letter, can be difficult.
Instead focus on highlights of the year, such as births, loss, accomplishments, jobs, graduations, or weddings. Then choose no more than 7 of these items to discuss in your letter.
What was unique about the highlight that you are including in your letter?
MAKE IT PERSONAL
Personalizing your Christmas letter to your friends and family can be time-consuming, however, it makes it more special. This doesn't mean to write a completely different letter to each person, who has time for that? Just add a special paragraph to each letter personalized for each recipient. It makes a person more apt to read your letter not to mention it will make them feel special.
Another way to personalize the letter is to handwrite a little blurb at the bottom for that particular person.
WRITE AS IF YOU ARE TALKING TO YOUR FAMILY MEMBER
There is a difference between writing to your family members and writing your college thesis or a business proposal. Leave out the formalities and write as if the person is right in front of you.
Put your personality in the letter, or add a joke or two. Make sure that whoever reads the letter will understand the humor in it and it can be read by each person in the family.
AVOID BRAGGING
Parents are guilty of this mistake. Of course, we want to share with the world about little Johnny's accomplishments but avoid bragging. Social media is where you brag about the little ones.
It's okay to share success stories, however, avoid being that relative that boasts about how great their kids are, or all the things they bought this year because they had so much money.
BE CAREFUL ABOUT TOUCHY TOPICS
Which brings us to touchy topics. Avoid being overly political in your letter. This is one thing that will send your letter straight to the trash if the recipient is on the other side of the fence.
Keep things upbeat and positive, however that doesn't mean you can't mention something negative. Just don't dwell on it.
GET CREATIVE
Showing your creativity is another way to make your letter enjoyable to read.
This can include writing a rhyme or poem about what happened throughout the year or include a family portrait that was drawn by your kids.
Think outside the box. You can add graphics or memes to your letters. Let your personality shine through.
OPT FOR EMAIL OVER SNAIL MAIL
We live in a world that relies on technology, so why not send an email. Granted you may not have every relatives' email address and some relatives may not even have one, but you can have a lot of fun with emails.
You can add GIFs or memes to your emails and you save time and money on sending emails versus regular mail. Sending an email will give you a chance to be more creative by adding voice clips or slideshows.
Be sure to mail letters to relatives that you know won't get an email and who still really appreciate the nostalgia of mail.
ADD PHOTOS
Everyone loves to flip through photos. This will help break up some of the text in the letter and makes the letter more appealing.
It says a lot more to see a picture of your new grandbaby, rather than mentioning the birth of your grandbaby in your letter.
Include a silly photo of the family to make the letter down to earth and fun.
HOW WILL YOU WRITE YOUR AWESOME CHRISTMAS LETTER?
You should now know not only how to write a Christmas letter, but how to write an awesome one.
If you follow these 10 tips, you are guaranteed to create a letter that your entire family and friends will enjoy reading. Remember, the holidays are about having fun and your letter should reflect this.
Be sure to check out some other great Christmas traditions while you are here.
Don't forget to PIN these tips so you can read them next year too!