These adorable free printable Christmas gift tags will look amazing on your gifts and will save you some money and a trip to the store during the busiest shopping season of the year. So many pretty designs and colors you will find the perfect tags for your Christmas presents this year.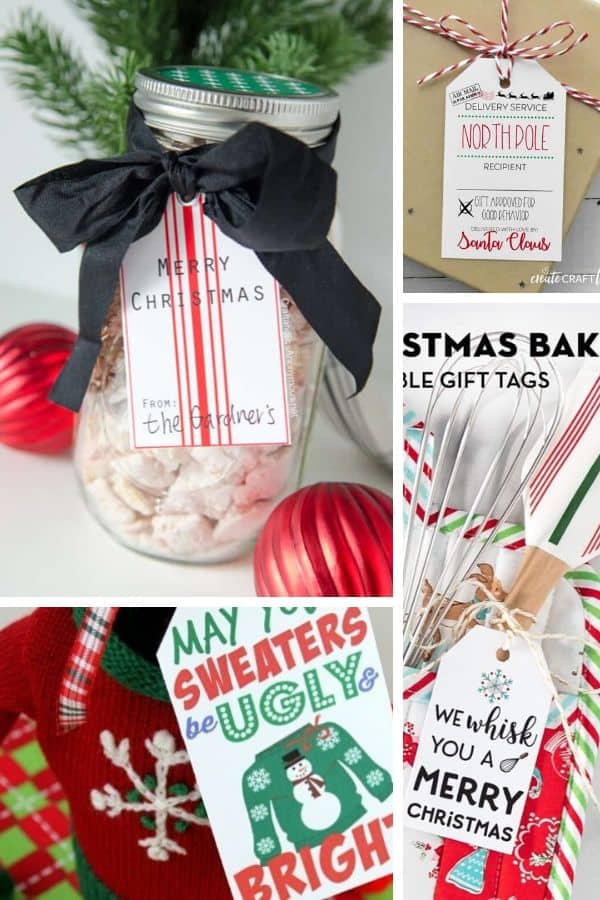 WHY USE PRINTABLE CHRISTMAS GIFT TAGS?
You may wonder why someone would use printable Christmas gift tags when you can buy tags fairly inexpensively at the store.
My favorite reason for printing off gift tags is that I can find tags that match my wrapping papers much easier when I look online. Stores sell packs of gift tags but they are usually not a good fit for the gift wrap I am using.
I love to have a uniform look when it comes to my Christmas wrappings.
I can print off different sized tags in all colors, shapes, and designs. This helps me personalize my gift wrapping.
MORE FUN WAYS TO DRESS UP A GIFT
Giving a beautifully wrapped gift makes gift-giving even more special. There are some other fun ways to dress up a gift in addition to the gift tag.
Here are some simple ideas to make your gift stand out from the rest of the pile:
Add a big bow to the gift. The bow can be a traditional bow or a super elaborate bow.
Put some extra ribbon around the package. I love glittery, shiny ribbon, but twine also looks very nice.
Add some sprigs of holly or pine to the package under the ribbon for an added touch of elegance.
Use some tulle to make a poof on top of the gift…kids will love this.
Hang a small ornament near the bow for an extra gift and an added embellishment.
Add a candy cane under the ribbon.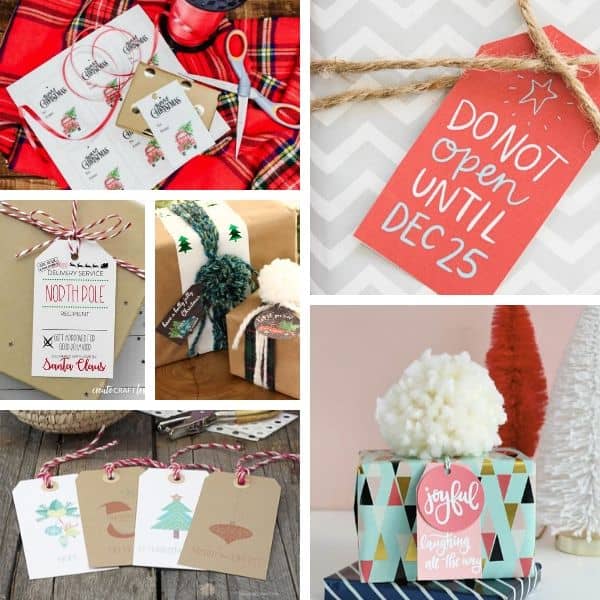 HOW TO USE FREE PRINTABLE CHRISTMAS GIFT TAGS
I know you are excited to print off some of these cute printable Christmas gift tags and start attaching them to your Christmas gifts.
Using printable Christmas tags is very easy if you follow these simple steps:
STEP ONE: PRINT CHRISTMAS GIFT TAGS
The first step is picking out the gift tags you want and printing them off.
Click the link for the free printable tag and then download it to your computer.
Print the gift tags off on cardstock. Typically white cardstock will work best, but the designer will tell you if you need a specific color or type.
STEP TWO: CUT TAGS OUT
Most gift tags will print off multiple tags on one page. You will need to cut the tags out.
I like to use my paper trimmer because it only takes a minute to cut them all out and the edges are nice and smooth and straight. Let's just say if I use scissors it won't look good at all, LOL. My new favorite paper trimmer is the CutterPillar…it is amazing!
STEP THREE: PUNCH HOLE
Most gift tags will require that you punch a hole at the top either in the corner or in the center of the tag. Just use a regular hole punch for this.
If you don't want to punch a hole in the tag then you can add a piece of tape to the back of the tag and adhere it to the package that way.
STEP FOUR: ADD RIBBON OR TWINE
The last step is to add some ribbon or twine through the hole and add the tag to your gift. Tada!
FREE PRINTABLE CHRISTMAS GIFT TAGS YOU WILL LOVE
Check out these delightful gift tags and pick the ones that will make your gifts pop this year!
[mv_create key="10″ layout="hero" thumbnail="https://peacelovechristmas.com/wp-content/uploads/2020/05/Modern-Christmas-Gift-Tags-1.jpg" title="Printable Christmas Gift Tags" type="list"]If you love printables be sure to check out the other Christmas printables we have available.
Don't forget to PIN this so you can come back and print more tags off later!