You appreciate your child's teachers and want to show appreciation, but still need to stick to your holiday budget. We've got you covered with this helpful list of inexpensive teacher Christmas gift ideas.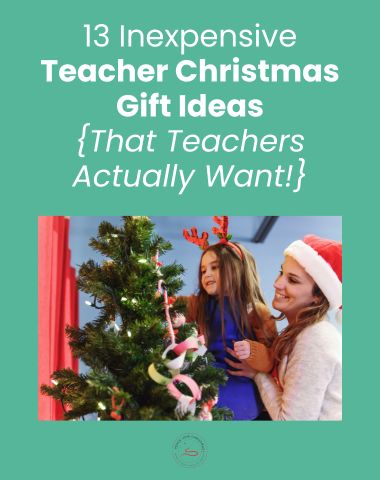 13 Best Teacher Christmas Gift Ideas
Here are wonderful gift ideas that any teacher will be excited to receive, and none of them will be too hard on your wallet.
1. A drawing, card or note from your child.
Most teachers will tell you that they gift they most love to receive are the ones that show your child's creativity and heart. A simple page of your child's drawings or coloring will mean so much, especially if they write down their words of love and affection.
2. A note with words of appreciate from you as the parent.
Take the time to write a thank you note expressing your gratitude. List specific ways you have seen how hard your child's teacher works and why you appreciate him or her. This is a gift that doesn't cost anything, but it's not cheap. Your words are powerful and important.
3. Gift cards
Gift cards might seem impersonal, but let's face it – teachers salaries are small for the amount of work they put into their job. A $5 gift card to buy a cup of coffee, or $10 to a place like Amazon, Target, Walmart, or a grocery store will help out.
4. Timer
Teachers use little hand-held timers for all sorts of reasons, like keeping kids or the whole class on task with a specific project. Portable timers and those with a quiet tick are ideal, since some kids may have sensory issues and are sensitive to loud sounds.
5. Creative or Personalized Stamps
You can purchase a set of stamps for just a few dollars at a craft store or on Amazon. Think of creative shapes and designs or stamps that give a few words of encouragement. These can be used on kids' hands as a small reward or stamped onto papers and projects.
Give teachers a stamp with their name or signature on it. They will appreciate that you took the time to give them something personalized, and they can use it for grading, marking reports, or other helpful ways.
5. Volunteer for One Task
If you already give of your time in the classroom or school community at large, that's awesome. Maybe you are busy with your career or younger children and aren't able to volunteer during class time. There might be one specific task that you could help with, though.
Maybe the teacher doesn't enjoy creating bulletin boards but you would love to dive into that one creative project. Perhaps the teacher dreads organizing files and you love organization of paperwork. Ask them if there's a project or task you could do to lighter their load.
6. Scented candle or lotion
Teachers deserve some simple relaxation after a long day of teaching and interacting with children. A small gift like this is a thoughtful way of saying, "You deserve some pampering for all your hard work."
7. Vase or Container
A small vase can be used on a teacher's desk or in the classroom to store flowers, pencils, pens, scissors, and more. Make it more personalized by having your child decorate a vase from a kit or a local pottery studio. If the teacher works with young children or children with special needs, consider getting something plastic or non-breakable.
8. Travel Blanket
A travel blanket is a unique gift idea that will come in handy for many teachers. You can buy blankets that have one side plastic for laying on the ground for an impromptu outdoor class activity. The portable size makes them helpful to grab in case of fire drills, rallies, and other events.
8. Tech Accessories
In today's world, computers, Smartboards, I-pads, and other innovations play a huge role in teachers' and students' lives. These gifts are great for male teachers as well as female, too. Consider tech accessories like Bluetooth mouse, headphones, speakers, writing devices, or mousepad.
9. Food Gifts
When it comes to frugal Christmas gifts, making cookies, small loaves of homemade bread, or brownies are a great way to show love and care. Go the extra mile and check that food allergies aren't a problem. Consider giving healthier choices like a fruit basket, homemade granola, or trail mix since many of us are trying to be more health-conscious.
10. DIY Gifts
Most teachers love to decorate their classroom for the holiday season, so consider giving a holiday wall hanging, wreath, or door decoration they can use for years to come.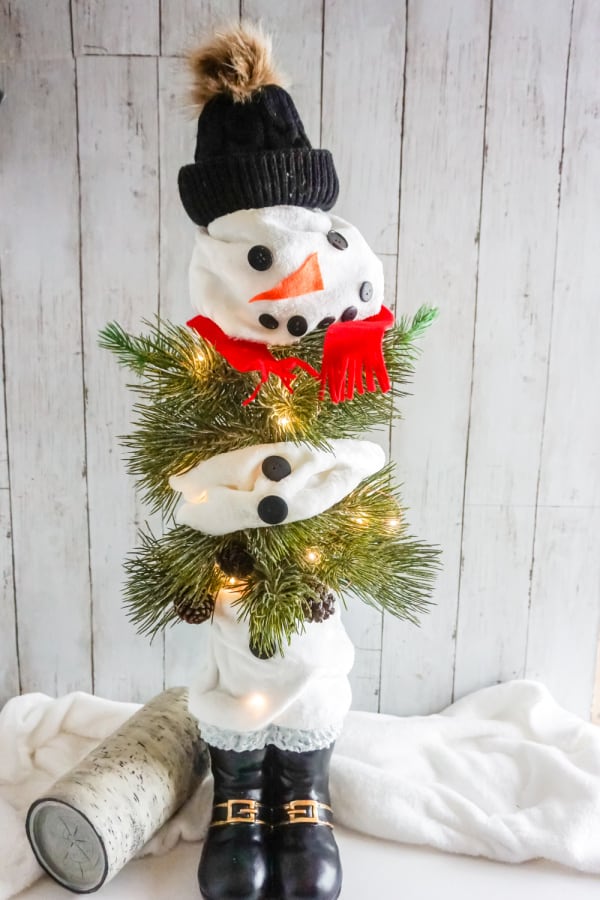 Click here for 30+ more DIY Christmas teacher gift ideas for you to make.
11. Seasonal items
Many teachers decorate their classroom year-round, so don't feel you need to limit your creativity to only the Christmas season. Consider fall or spring decor that would be easy for them to hang around the room. Be sensitive with mentioning specific holidays, since that might not be considered inclusive of all cultures.
Some teachers, especially of younger grades, like to wear seasonal earrings, scarves, and other items. These can be a cute and inexpensive gift that is fun for the teacher and the kids. If the school has theme or spirit-wear days, consider items that would work for those. (For example, we live in Western New York and the school has spirit days when the Buffalo Bills play.)
12. Bring them lunch.
Offer to swing by their favorite lunch place and pick up lunch one day of the week before or after Christmas. Who wouldn't love that special treat?
You can make this more personal by bringing in a home-cooked lunch.
If you feel comfortable doing so, you can also invite them into your home for brunch or dinner, along with their spouse or family. I remember when I was in elementary school, my mom used to invite my teacher over for dinner every year and wow, did I feel special that my teacher came to my house!
With our large family, several years we hosted a Teacher Appreciation Brunch in January. We hosted an open house and invited all our kids' teachers, coaches, therapists, and choir directors. We ended up with quite a crew with all of those important people in our kids' lives.
13. Requested Items
Here's a crazy idea – why not ask your kids' teachers what they want? Sure, it might take a way a bit of the surprise, but it's so much better to give them something they actually want or need, vs. something they'll put away and never use.
Most teachers have a running list of items they need for their classroom, or would be happy to tell you about their favorite small splurge items.
My daughter's PTL (Parent Teacher League) is really smart, and each year has the teachers fill out a "favorite things" list like favorite color, foods, and treats, and they let the parents know. This makes gift-giving so much easier.
How to Use this Frugal Teacher Gift Ideas List
This list of unique gifts for teachers is great for school teachers, but it doesn't have to stop there. Consider these gift ideas for:
sports coaches, like soccer and gymnastics
dance teachers
piano teachers, kids' choir directors and other music lessons
pastors
Sunday School teachers
preschool teachers
daycare workers
therapists
bus drivers
pediatricians
other people who guide and teach your children
Although we focused on the Christmas season, many of these gifts are also suitable for:
teacher appreciation days
end of the year gifts when the school year comes to a close
end of a sports season
new teachers
retirement
Secret Santa
Why Give a Christmas Gift To Your Child's Teacher?
As a trained teacher who taught middle school for several years, I know the incredibly commitment and dedication of teachers. Although I "retired" to stay home with my children when they were born, my heart continues to connect with educators. My mother and mother-in-law were both teachers, and my daughter now works as a pre-school teacher.
Anyone who teaches or has friends or family members who are teachers, knows that these are people who put in many extra hours above what is required. They often spend their own money to buy craft items or supplies for their classrooms.
They give emotionally, spending time outside of class thinking through ways to help their students learn best. They attend meetings, trainings, and commit hours to prep and grading.
Do you have to give holiday gifts to teachers? No, Christmas presents for teachers aren't required.
Still, this season is a great time to say thank you for their hard work.
Should I Get a Christmas Gift for High School Teachers?
High school teachers are frequently overlooked when it comes to gift giving. High schoolers tend to be a bit more reserved, plus they typically only have each teacher for one hour per day.
Still, I think gifts for high school teachers are especially appreciated since they are not given as often.
One year my high-school aged son made huge batches of homemade kettle corn and gave a bag to all his teachers. I think they really appreciated the simple gesture, and especially because it came from him and they knew it was from the heart.
In the comments below, please share with us gift ideas that your child's teachers have been excited to receive. If you are a teacher, what are your favorite gifts that you've been given?
More Gift Ideas
If you enjoyed this list, I'm sure you'll enjoy the following gift-giving articles.