These gift ideas for quilters will please any quilter on your shopping list. Whether you are shopping for Christmas, birthdays or just because…they will love anything off this list!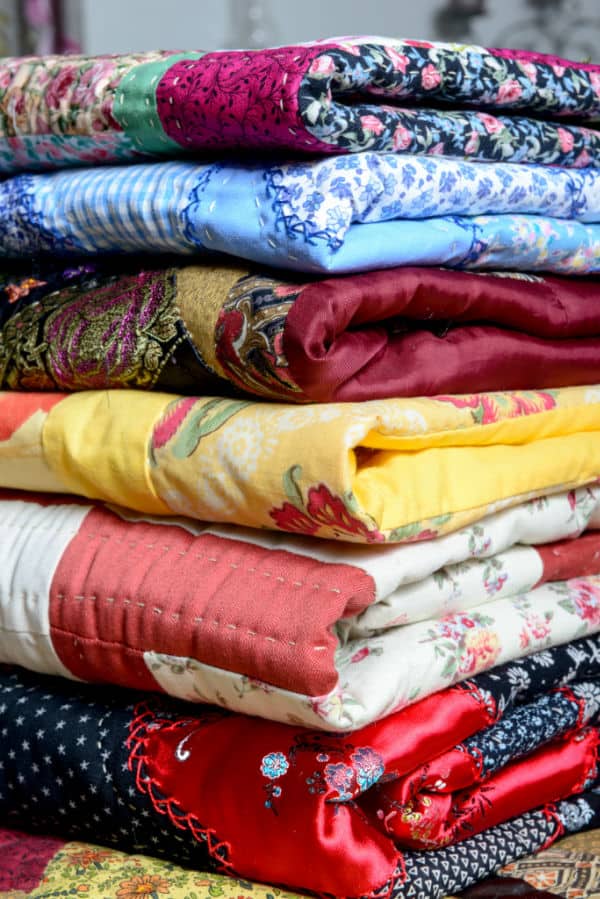 QUILTING IS VERY POPULAR
There has been a huge resurgence in quilting in recent years. A handicraft that has become so popular, the craft has exploded!
Quilters make all sorts of quilt-based projects. They may create full quilts, table runners, baby quilts and so much more.
Fabric stores are full of shoppers who sew and are sharing their creative gifts with the people they love!
GIFT IDEAS FOR QUILTERS
If you have a quilter on your list this year and don't know anything about quilting…no worries! This list of the best gift ideas for quilters has you covered!
You cannot go wrong getting an item from this list for someone who loves to quilt. People who have a hobby love to receive gifts that relate to their hobby.
It is so fun to watch someone open a gift they will use and love!
I know it is hard to know what tools they have so I have tried to keep my list more generic so you aren't getting them items they already own.
QUILT ART ENGAGEMENT CALENDAR
The Quilt Art Engagement Calendar by Klaudeen Hansen and Annette Baker was published by the American Quilter's Society. With spiral binding, this showcases 54 memorable, award-winning quilts from competitions all around the country.
For each week, there is a lovely quilt, photographed in full color by Charles R. Lynch. The authors provide background on each quilter and details on how each exquisite quilt was made.
For this calendar, the authors selected original designs as well as contemporary interpretations of favorite quilt patterns. Among these are the LeMoyne star and the Barn Raising Log Cabin quilt along with lovely landscape and art quilts.
This handy engagement quilt calendar offers a week-at-a-glance page throughout the year with lots of space for recording appointments. In one lower corner is a small calendar for the entire month.
MAGNETIC PIN HOLDER
If you are familiar with sewing and quilting you know that there are a lot of pins involved!
I love seeing inventive products that solve a problem. The magnetic pin holder is worn on the wrist like a watch and holds your pins.
It allows for easy access to the pins and they stay put!
LIGHTED SEAM RIPPER
Sewing can also involve ripping. Seam ripping can be tedious and no fun.
This lighted seam ripper helps you see what you are doing and makes the job a little easier.
It fits perfectly in a stocking too!
QUILTMAKER'S 1,000 BLOCKS
The book, Quiltmaker's 1,000 Blocks, is a collection of quilt blocks from top quilt designers.
This book is sure to inspire any quilter and will help get those creative juices flowing.
It will be a great addition to their book collection.
QUILTING T-SHIRTS
As a crafter I love to wear crafting-related t-shirts, especially on crafting weekends.
Find out what size t-shirt your recipient wears and get one of these adorable quilt-themed shirt:
In My Defense, I was Left Unsupervised and the Fabric Store was Open Shirt
Just Call Me a Piecemaker Shirt
Eat, Sleep, Quilt, Repeat Shirt
When Life Gives You Scraps, Make Quilts Shirt
PERSONALIZED CRAFT ROOM SIGN
If your quilter has a crafting room then this personalized door sign would be the perfect gift.
The sign says Measure Twice, Cut Once, Open 24 Hours and is so cute. It can be personalized with the first name of the quilter.
QUILTING THEMED JEWELRY
There are some really cute pieces of jewelry with a quilting theme.
These would all make great gifts and they fit nicely into any stocking.
Here are some jewelry gift ideas for quilters:
When Life Gives Scraps Quilting Necklace…it has the cutest sewing machine charm on it!
Piecemakers Bracelet is silver with four charms.
Sterling Silver Quilting Dangle Earrings are cute with small quilting tools hanging from each earring.
QUILTING TOTE BAGS
I don't know any crafters who don't need more ways to transport their crafting supplies.
Quilters would love to have quilt-themed tote bags! This is a useful gift idea for quilters.
PUZZLE FOR QUILTERS
If you want to give a fun gift that is quilting-themed but doesn't involve sewing then get the Thimble Blossoms Jigsaw Puzzle.
This has 1000 pieces and the whole puzzle is full of quilting tools. Your quilter may want to frame this puzzle when they finish it.
SPOOL HUGGERS
No one wants to have to wind up a spool of thread that has come unwound.
Spool huggers keep bobbin threads under control and help you stay more organized. These are colorful and cute too!
QUILTING THEMED DRINKWARE
Everyone has to drink, right? How about getting some quilting-themed drinkware for the quilter in your life.
These are great gift ideas for quilters because they are practical and will be used for years to come.
Here are some cute mugs and drink containers:
I Turn Coffee Into Quilts Mug
Any Day Spent Sewing Is a Good Day Mug
Keep Calm and Quilt On Mug
Quilting is Essential for My Sanity Travel Tumbler
WHAT WILL YOU GET THE QUILTER IN YOUR LIFE?
I have given you so many great gift ideas for quilters…now the question is which one will you pick?
Comment and let me know!
Be sure to PIN this for LATER and SHARE on FACEBOOK!