These classroom door decorating ideas for a Christmas contest are very clever. This will absolutely help you make and have the best classroom door!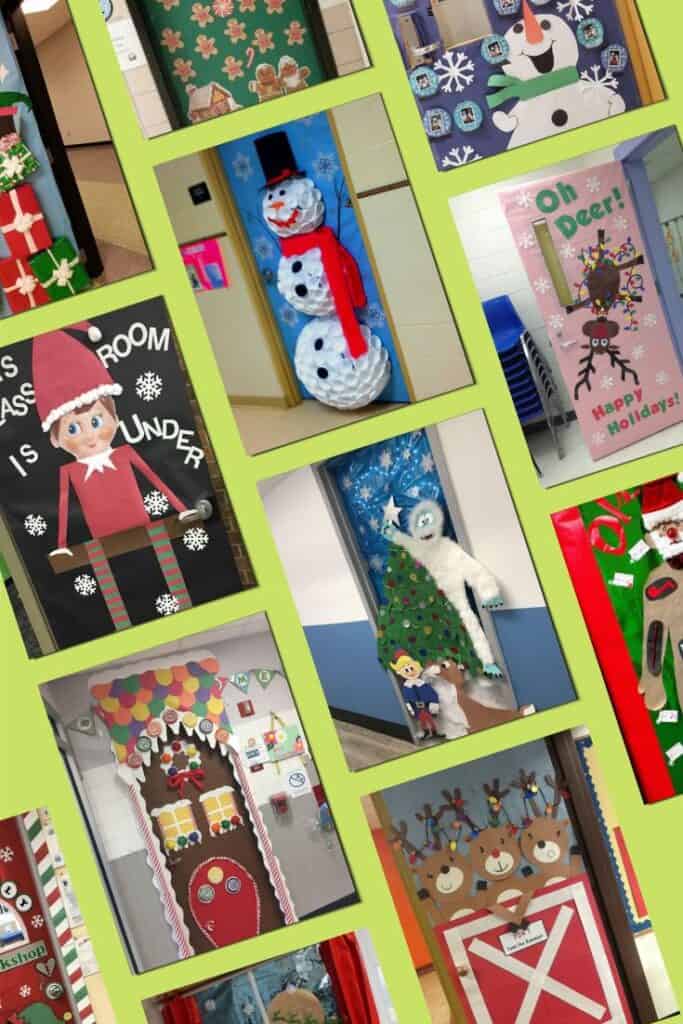 WHAT IS DOOR DECORATING?
To put it simply, door decorating is when you put decorations on your door. This is quite popular in offices or schools. But, this can be done anywhere. And, it is not only during Christmas, this can also be done for other events or holidays like Valentine's Day, St. Patrick's Day, or New Year.
Some people make this a contest to make things more interesting. While other people just decorate their doors for fun. Door decorating is a very exciting and fun experience!
WHAT KIND OF SUPPLIES DO I NEED FOR DOOR DECORATING?
The supplies are going to depend on what type of decoration you are planning to do. You can use a lot of things. It will just be up to your creativity and imagination. But, some of the common supplies that are used are:
Colored construction paper or bulletin board paper
Scissors
Glue and/or hot glue
Duct tape
Ribbons / Strings
Measuring Tape
Pen & Markers
Paint
Crayons
Styrofoam cups or plastic cups
Wrapping paper
Once you get to pick out a theme and think of a great decoration, you will be able to know which supplies you are going to use to decorate your door.
WHAT IS THE HARDEST PART OF CHRISTMAS DOOR DECORATIONS?
Picking out the best design for your door might be the hardest part. You're in luck! You can browse through this huge list of classroom door decorating ideas for a Christmas contest to give you some inspiration on what to do!
WHAT IS A CHRISTMAS DOOR DECORATING CONTEST?
When it comes to the holiday season, there's no better way to show your classroom neighbors that you're getting into the spirit than by decorating your room door with a festive theme. Christmas school door decorations add a festive touch to your classroom and make visitors feel wonderfully welcomed.
Walking down a school hallway lined with ornately adorned doors has a wonderful quality to it. A Christmas door decorating contest is an event that schools hold every year.
A different theme is given each time. The students and teachers come up with great ideas and make the decorations themselves. Then, their classroom door decorating ideas for a Christmas contest will be judged afterward.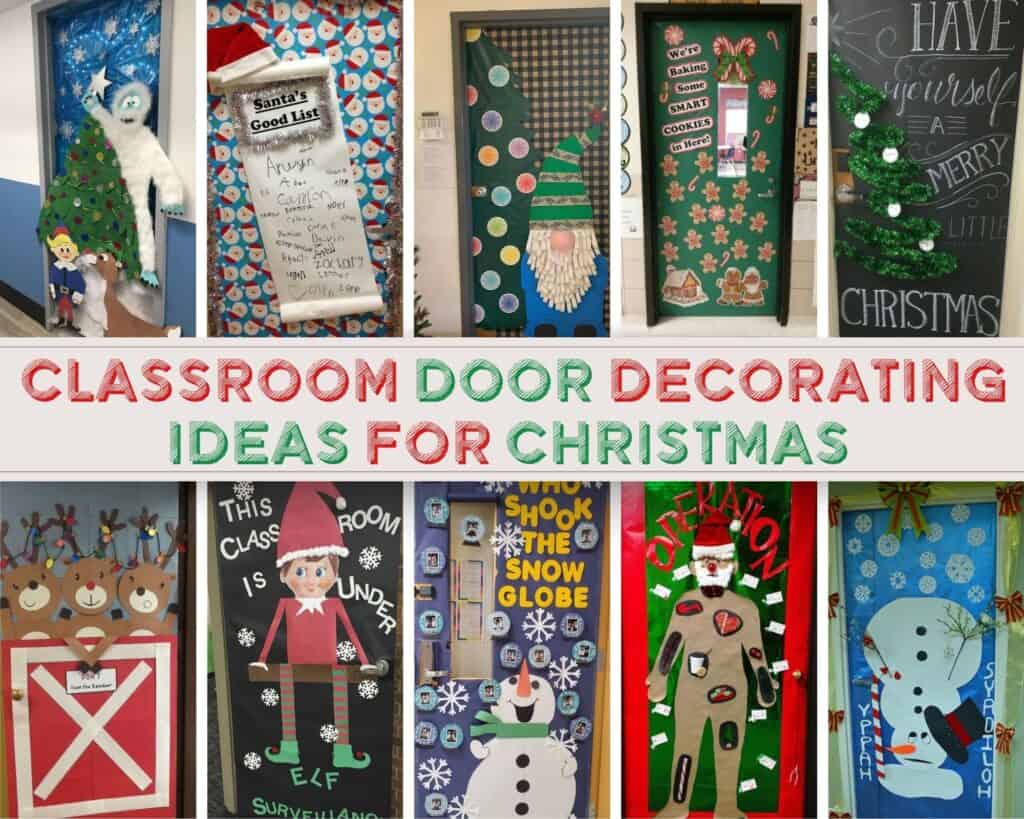 CLASSROOM DOOR DECORATING IDEAS FOR A CHRISTMAS CONTEST
There are so many fun and creative classroom decorations you can find. Whether you win the contest or not, the experience of decorating the classroom door brings so much joy to kids! Here is a list of wonderful classroom door-decorating ideas for you:
1. YOU'RE A MEAN ONE MR. GRINCH
Everyone loves the story of the Grinch. If your door has some room next to it then this project will be great for you. Get a big bag of cotton balls because you will need them!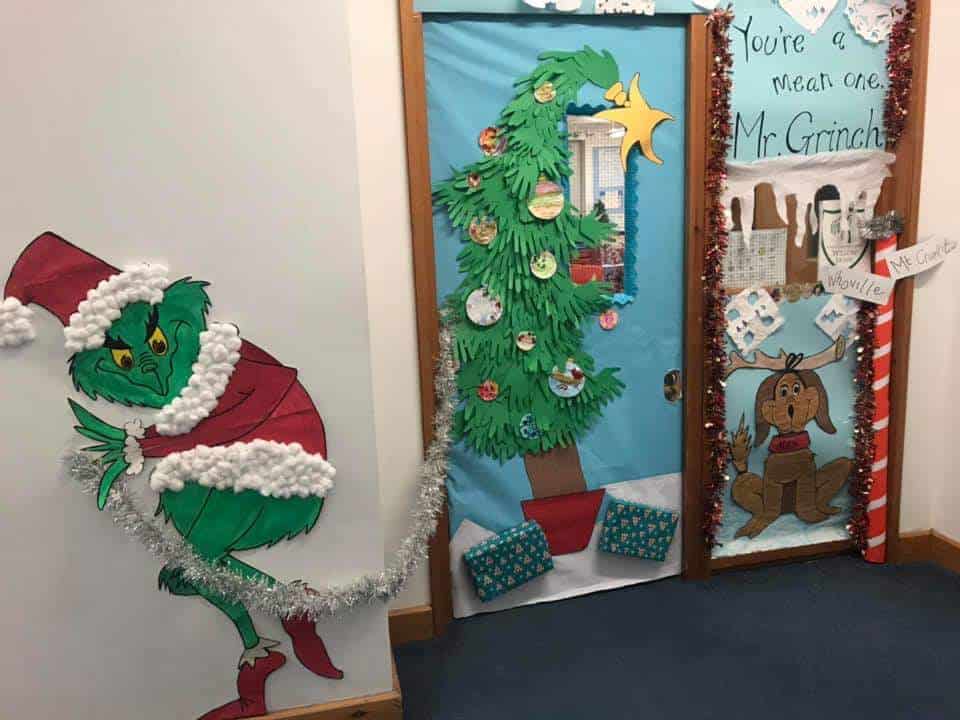 2. SANTA'S WORKSHOP (ELVES ONLY)
A fun holiday door idea is simple, but kids will love it. Santa's workshop where only elves are allowed to go! This door will go together in minutes!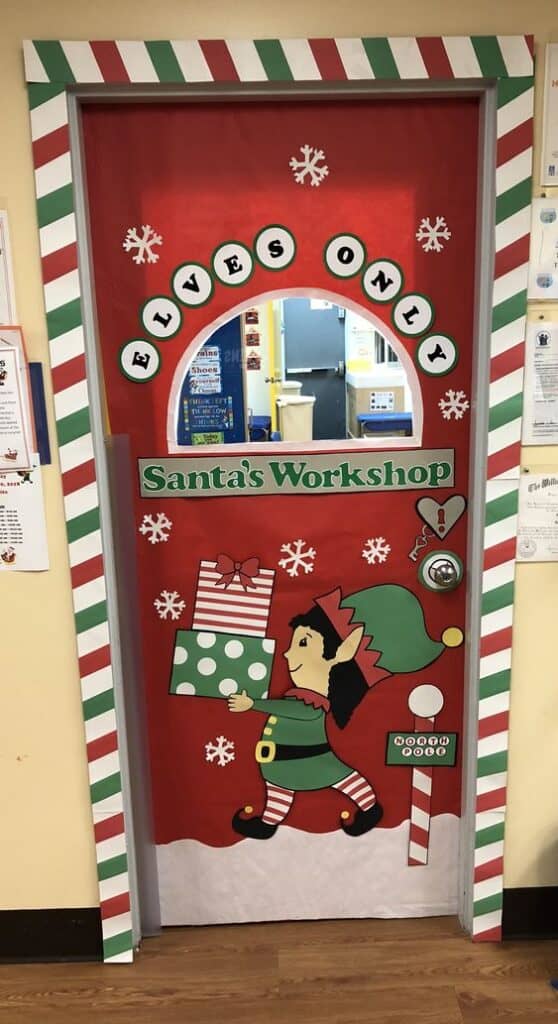 3. WHO SHOOK THE SNOW GLOBE
Who doesn't love a snowglobe? This door is personalized with pictures of each child in the class and turns the hall into a winter wonderland.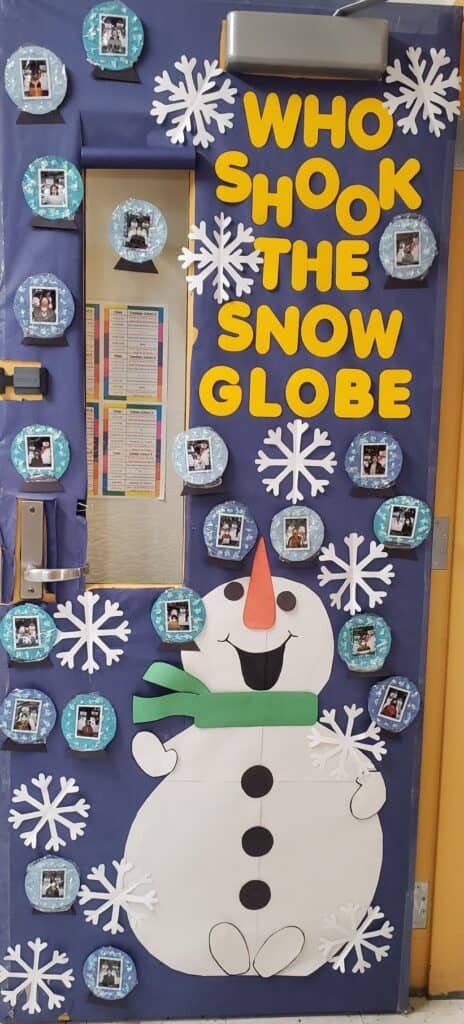 4. HAVE YOURSELF A MERRY LITTLE CHRISTMAS
Sometimes simple is the best way to go. If you are short on time and want a more sophisticated look…this one is perfect. A pretty Christmas tree made with a tinsel garland adds to the whimsey.
This looks really fun to make. This snowman was built with a bunch of styrofoam cups that were stuck together. You can also use plastic cups so they will be easier to staple together. Or another option is to put velcro strips on each cup so they won't easily fall off. You can also try making different backgrounds to make the design your own.
This plastic cup snowman will delight the kids in your school and can stay up during the winter months.
6. SANTA AND A FIREPLACE
A Christmas wreath hangs over the fireplace where the stockings are hung. The best part of this creative idea is that Santa is crawling out of the fireplace!! Try your local thrift shops for a cheap Santa suit to save money.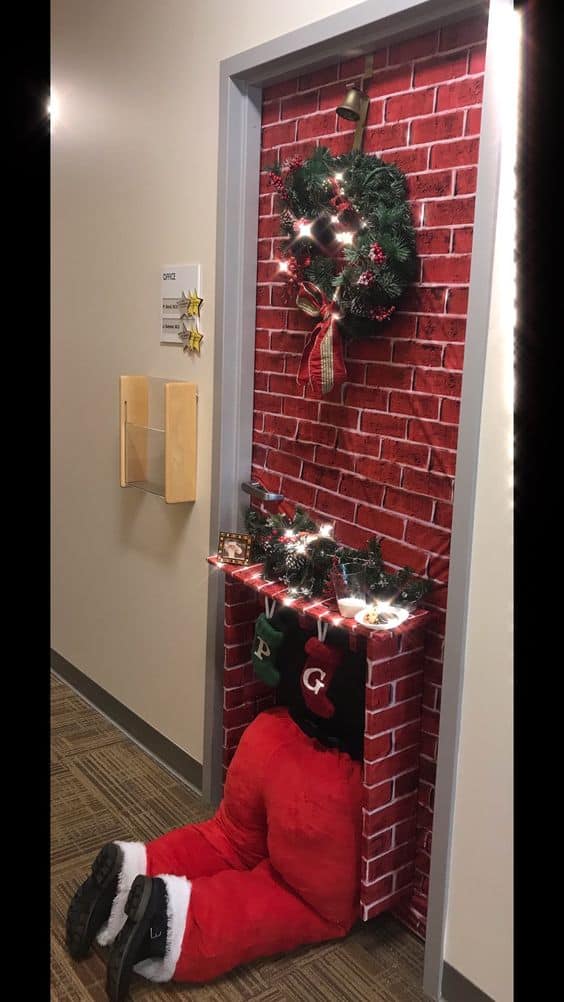 7. SANTA'S GOOD LIST
Everyone wants to be on Santa's nice list. I am sure all the kids in your classroom are on the good list. It will be fun for the kids to see their name. On the flip side…this door won't take long at all!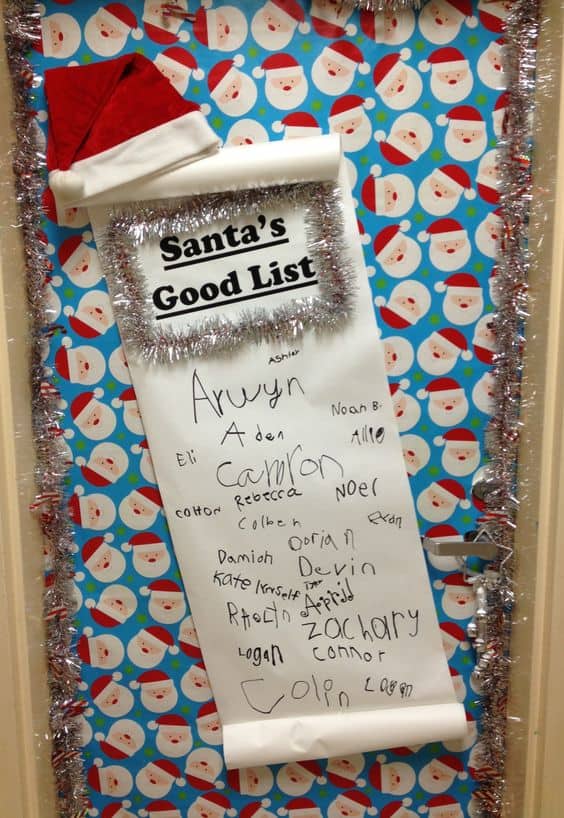 8. CHALKBOARD CLASSROOM DOOR DECORATION
Grab some black butcher paper and chalk and you can have a classic door in no time. If you aren't good at freehand artistic writing…ask the art teacher to help.
9. DON'T FEED THE REINDEER
Santa's reindeer make a festive door. Don't forget to give one reindeer a red nose for Rudolph! Your class can even sing one of the all-time favorite Christmas carols…Rudolph the Red-Nosed Reindeer!
10. GINGERBREAD DOOR
Make your door into a gingerbread house. This is perfect for early education classrooms.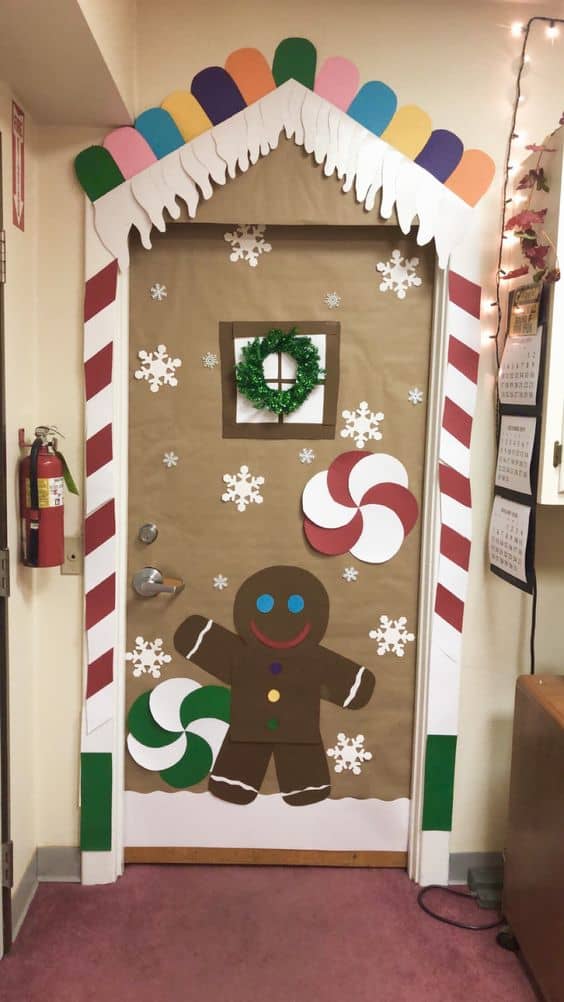 11. OUT OF THIS WORLD SNOWMAN
Science teachers may be looking for holiday classroom doors that have a science theme. This space snowman fits the bill!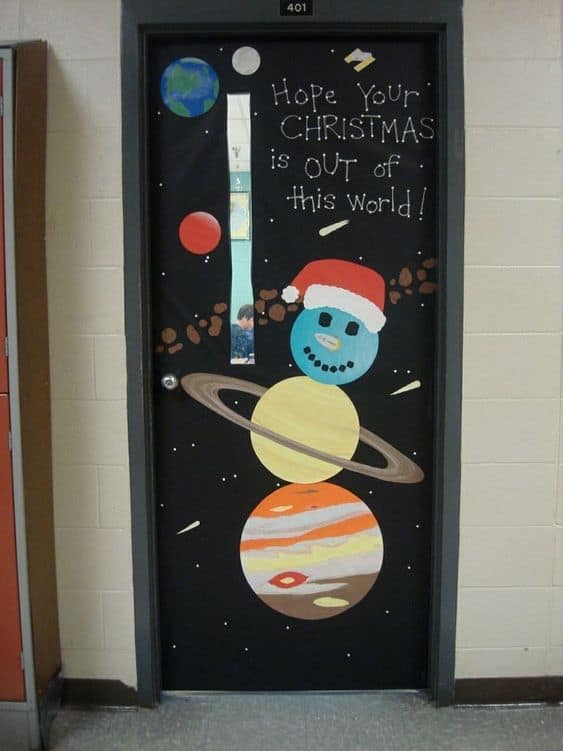 12. OH DEAR, DOOR!
This reindeer is in a tangle of Christmas lights and will get a chuckle out of anyone who walks down the hall.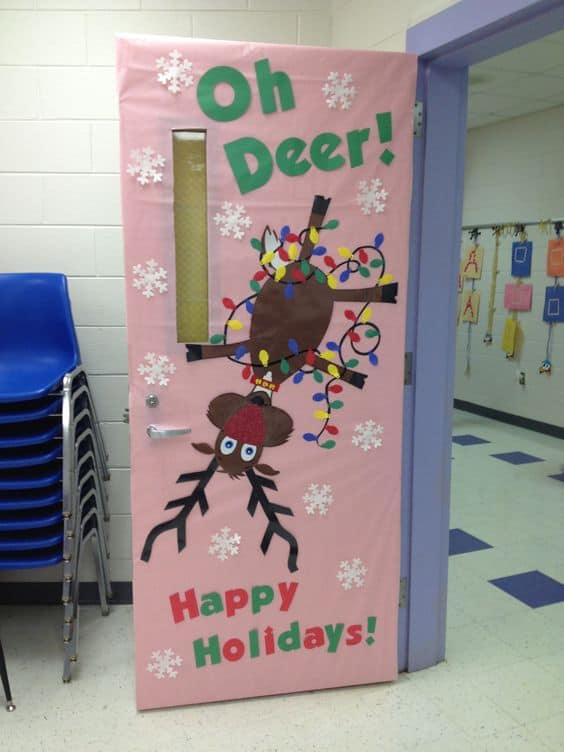 13. IT'S YOUR BIRTHDAY
If you are teaching in a religious-based school then be sure to share the true meaning of the season. A holy night indeed!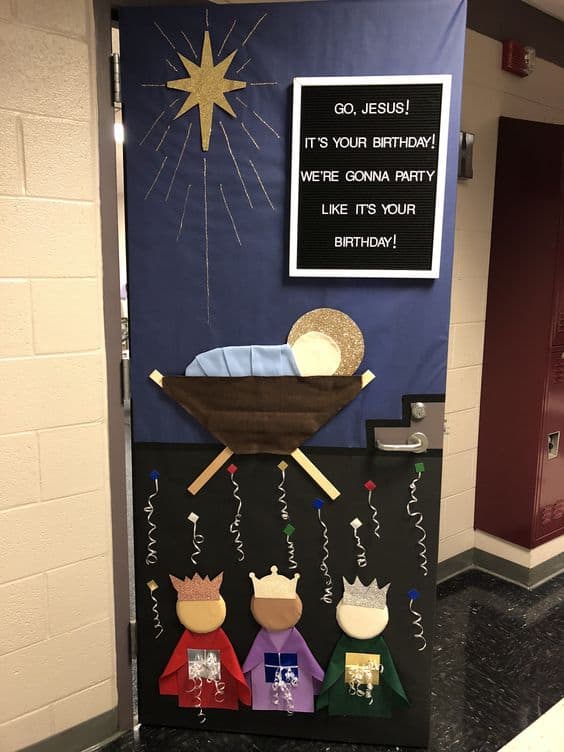 14. GINGERBREAD HOUSE CLASSROOM DOOR
Another gingerbread house idea for you to check out. I love the swirly candies on this door.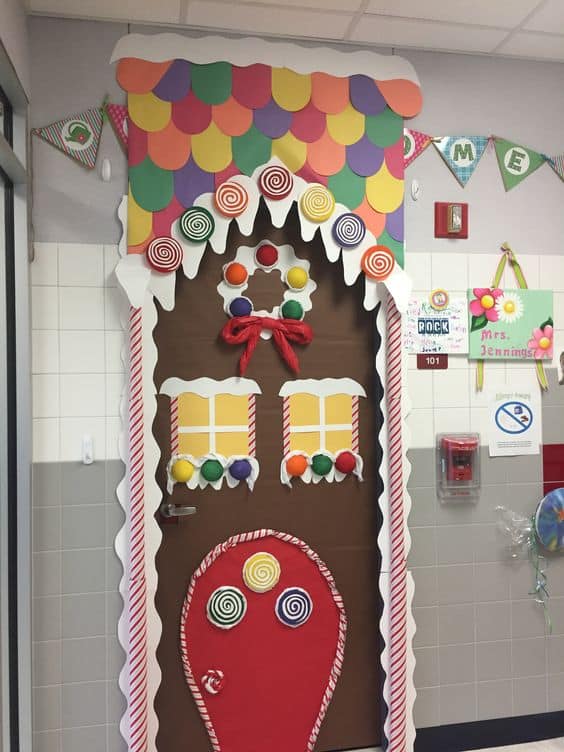 15. MELTING SNOWMAN
The entire school will love this melting snowman door. Plus it will be a breeze to make.
16. SANTA'S ANATOMY
Health rooms may want to put this Operation-themed door into the contest. It will be a winner for sure!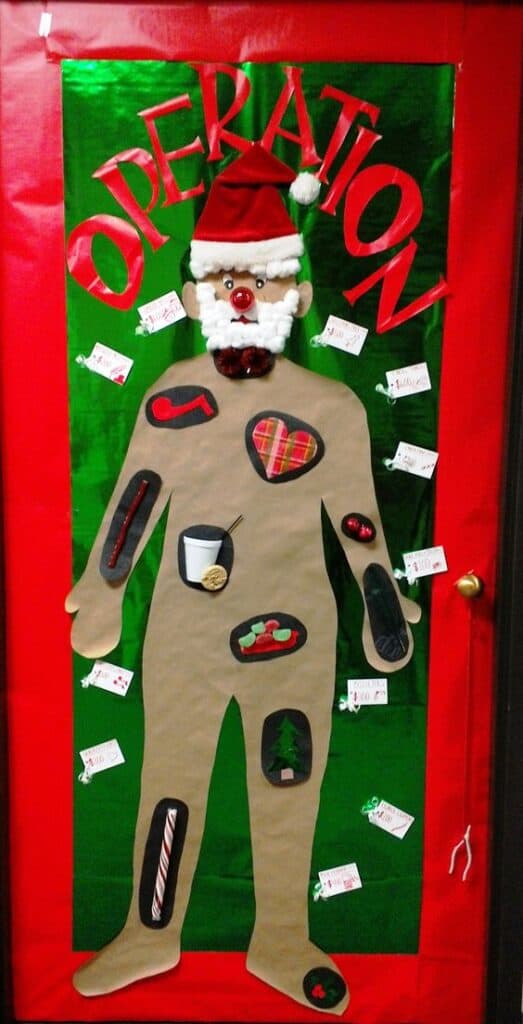 17. ELF SURVEILLANCE
Most kids know about the Elf on the Shelf. This door reminds them that the Elf may be watching the classroom too!!
18. MAGIC OF CHRISTMAS WINDOW
Christmas is such a special time of year and this Christmas window door will make you crave home! You can use an empty wrapping paper roll for the curtain rod!
19. NUTCRACKER DOOR
A huge nutcracker will be fun to create and kids will love it too. All this really takes is big pieces of bulletin board paper and some tape.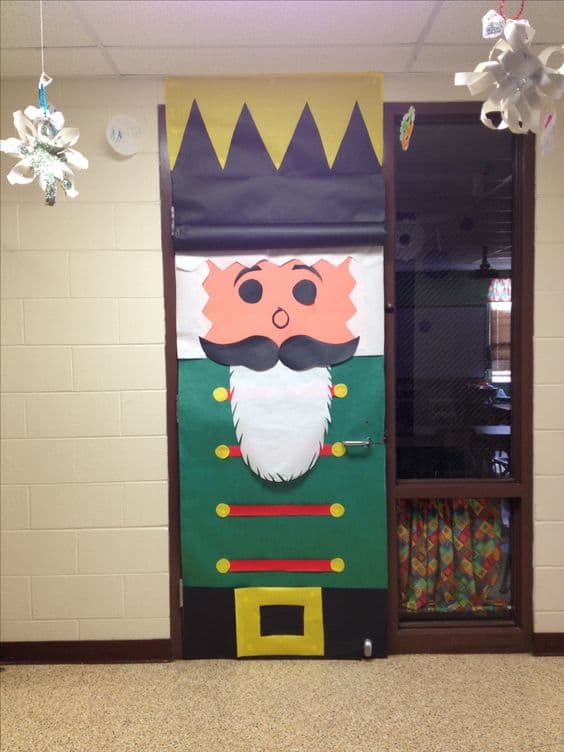 20. GIFT BOXES DECORATION
Keep some of those empty Amazon boxes and turn them into an adorable decorated door.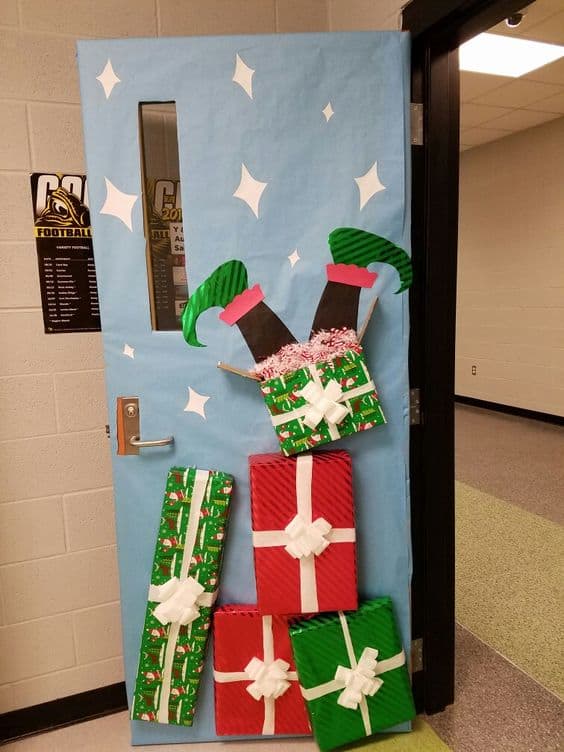 21. PEAKING BEAR
Here is a door that can stay up all winter. A polar bear is peaking through the window. So sweet.
22. BUMBLE, HERMEY, AND RUDOLPH
Rudolph is one of my favorite Christmas books. It is also a great lesson in kindness and acceptance. This door will be well-loved by all.
23. SANTA AND THE ELVES' ENTRANCE
Two classrooms with side-by-side doors can work together to create more of Santa's workshop. I love the short elf entrance.
24. SMART COOKIES
Kids will like seeing their names on these gingerbread cookies.
This gingerbread door features pastel colors and garland. I love the giant lightbulbs along the top.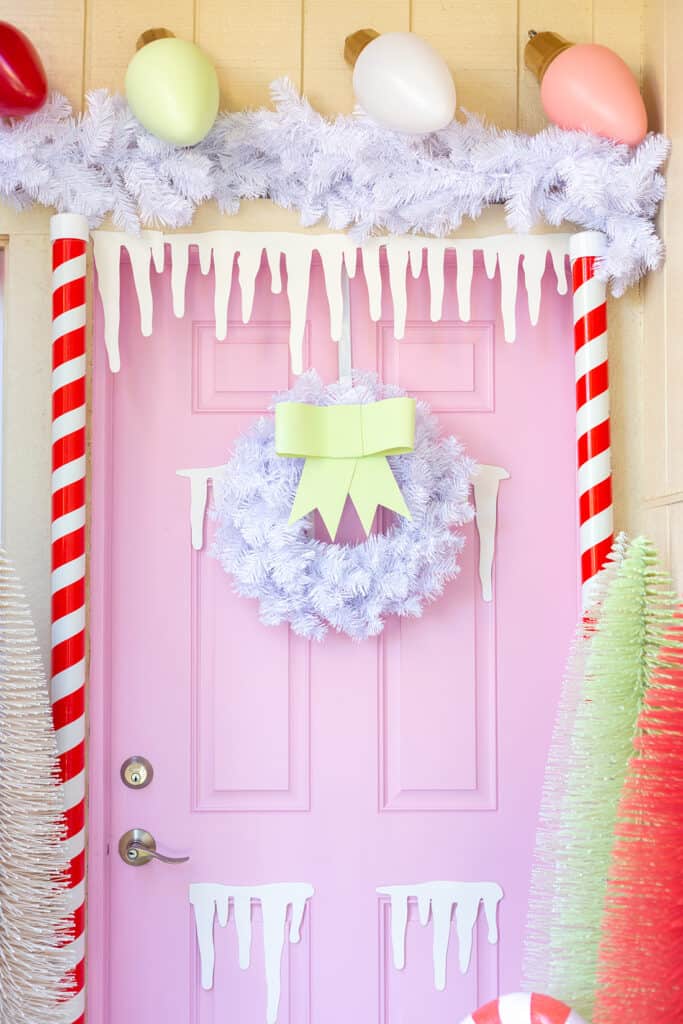 26. GIANT SANTA AND SNOWMAN
Turn your door into a giant Santa or a giant snowman. Kids will enjoy these giant Christmas figures.
27. WINTER CABIN DOOR
Here is a unique idea that turns the classroom door into the door of a cabin. How cozy!
28. ELF CHRISTMAS DOOR
You can make your classroom or office door into an elves only location. Sweet, simple and easy.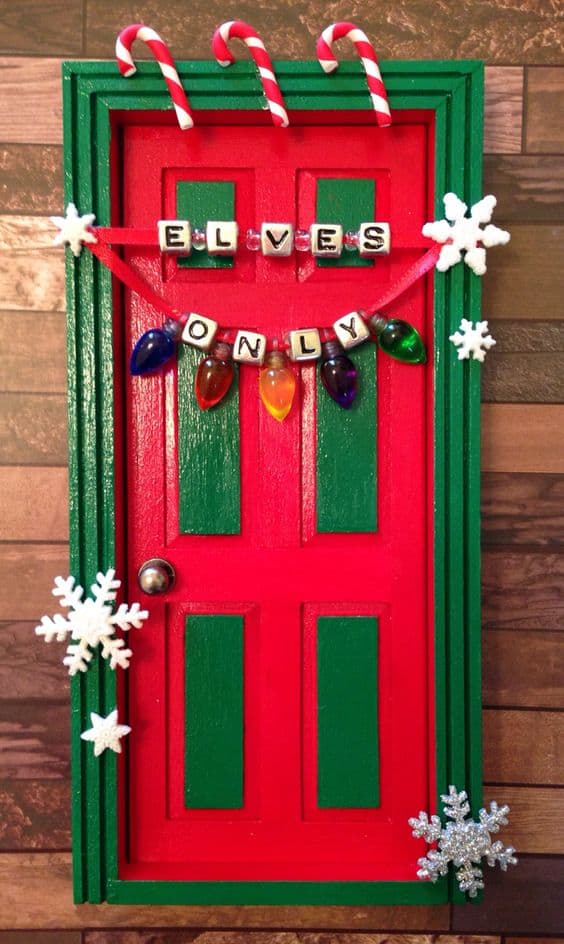 30. PENGUIN DOOR
Penguins are so fun around the holidays. A big penguin will be a exciting to see each morning.
31. GNOME DOOR DECORATION
Gnomes have been popular for a while now. This Christmas gnome is just hanging out by the Christmas tree.
32. GIANT ELF DOOR DECORATION
This elf is larger than life. Perfect for a middle school or a high school.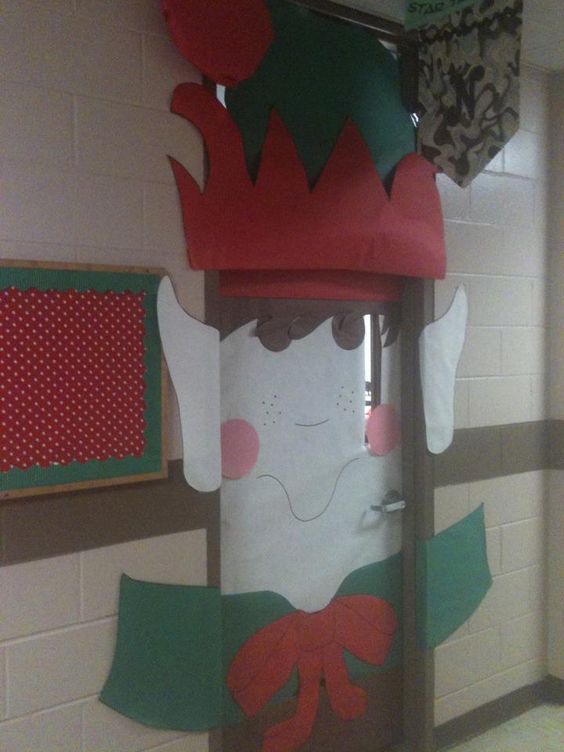 33. NORTHPOLE DOOR DECORATION
How about a north pole scene where the elves are all kids in your class? FUN!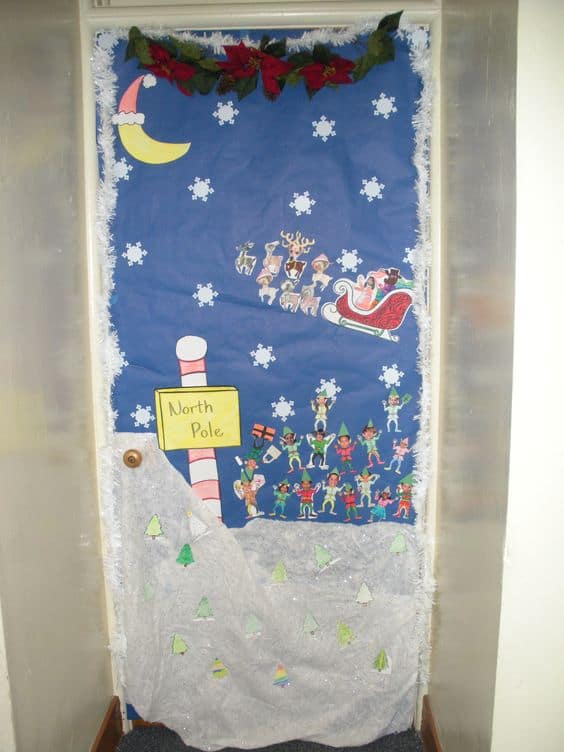 34. WINTER PENGUIN DECORATION
Another penguin door that utilized real Christmas lights. Get the battery powered lights if you don't have an outlet near the door.
35. OUR CLASS IS COOL
Every kid will feel cool when they are a penguin!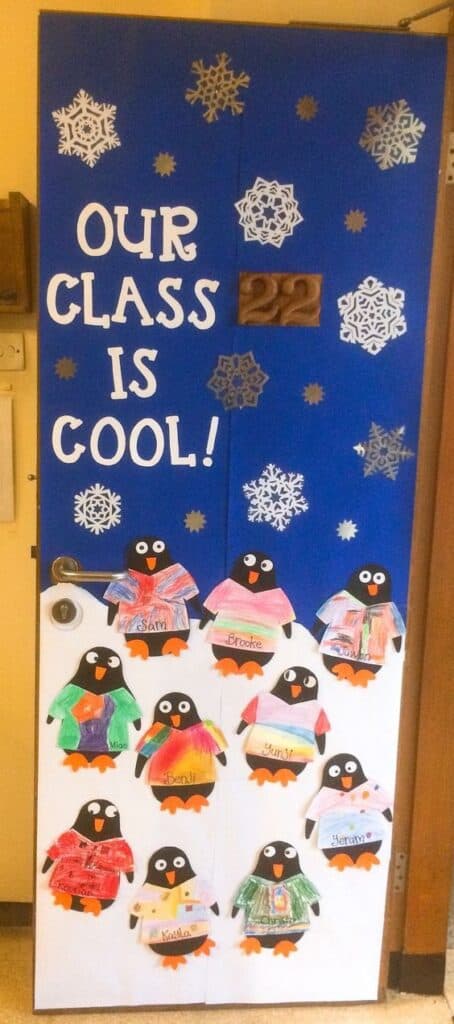 36. BRING ON THE SNOW DAYS
Snoopy loves to have fun and what is more fun than sledding? Great way to pull a Charlie Brown Christmas into your classroom.
37. SLIDE INTO LEARNING
These penguins want to slide into learning. Add each child's name to the hat for more personalization.
Have each child write a short poem and feature them on your winter door.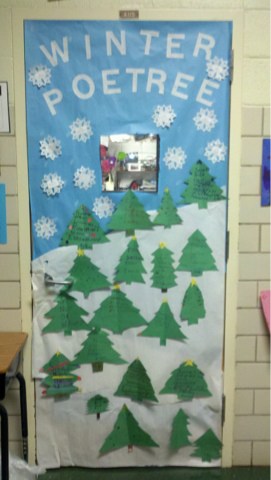 39. SNOWFLAKE DOOR DECORATION
Another great science door that even older kids would enjoy.
40. BIG CHRISTMAS PRESENT DOOR DECORATION
A great Christian-themed door that only takes minutes to create.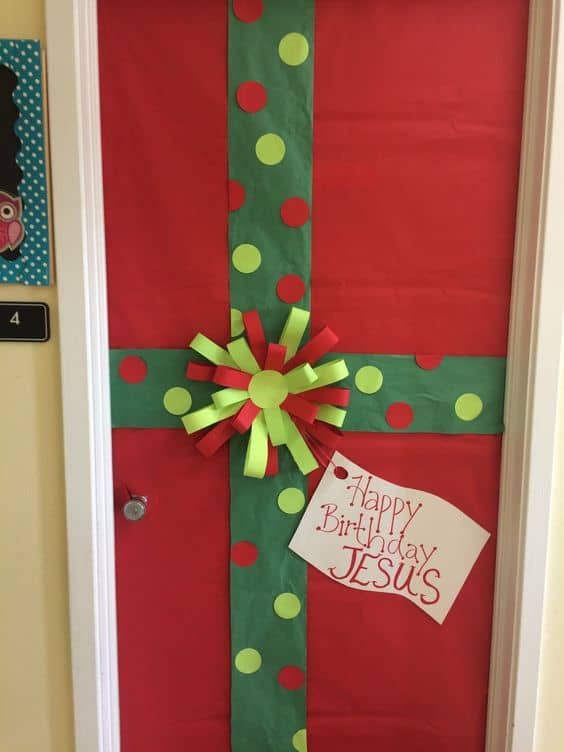 41. SANTA SLAMMING INTO A CHIMNEY
Oh no, Santa slammed into the chimney! This will make the kids laugh.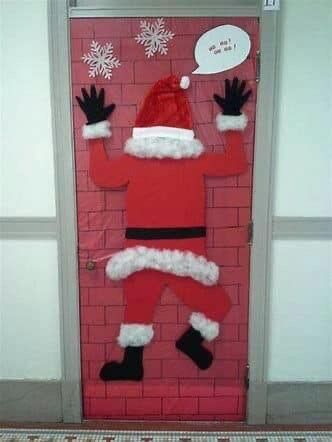 42. PEEKING SANTA AND RUDOLPH
If you don't want to cover the entire door, try this idea.
43. SANTA'S BELT DOOR DECORATION
Simple and sweet. Kids everywhere will know this is Santa's belt.
44. SANTA AND SNOWFLAKES DOOR DECOR
I love the simplicity in this door. The snowflakes really shine.
45. ABOMINABLE SNOWMAN DOOR
Abominable snowman door decorating fun!
46. CHRISTMAS STAR WARS DOOR
Star Wars fans will enjoy this door at LOT.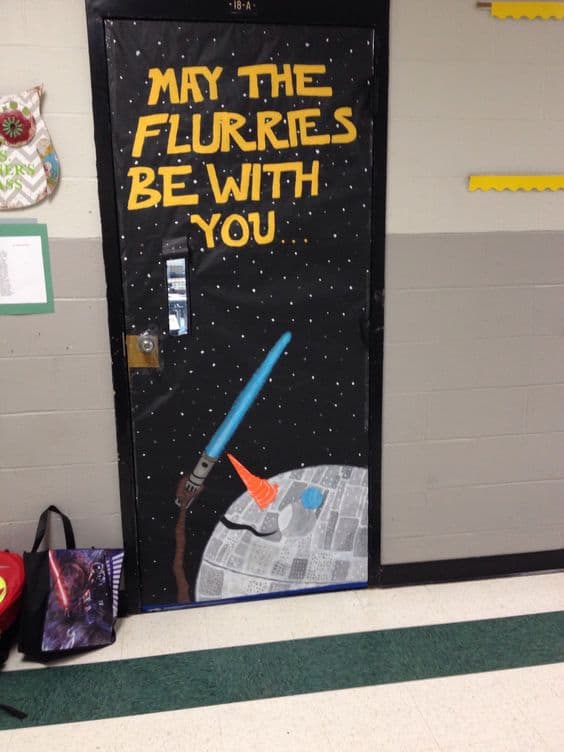 WHICH CLASSROOM DOOR IDEAS ARE YOUR FAVORITE?
No matter how you decorate your door….it will be a winning door because you took the time and effort to do it. Be sure to let the kids vote in the door decorating contest and announce the winners and the honorable mention awards!
Be sure to check out these other Christmas ideas while you are here: