This Santa Christmas Color by Number printable activity sheet is the perfect way to keep kids occupied during the Christmas season. Kids enjoy seeing the picture that emerges as they color in the dots. This activity is great for pre-school and elementary children.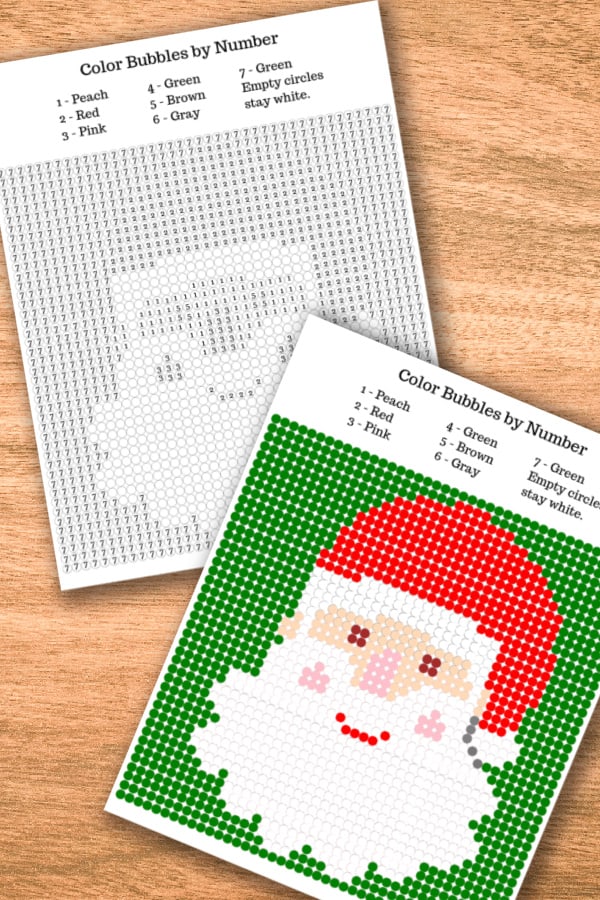 WHAT IS A COLOR BY NUMBER?
A color by number activity page is a coloring page with a twist.
There is a a key on the page that indicates which number will go with which color.
Children will color the circles of a certain number the right color.
It is generally easier to do all of one number at a time. Look for that number and keep coloring every time you see that number.
As you keep coloring you will start to see the picture emerge. It is fun for kids to watch for the picture to peek through!
Kids will love to see Santa at the end of this holiday color by number printable.
ALL ABOUT THIS CHRISTMAS COLOR BY NUMBER
This particular Christmas color by number has seven different colors.
There are also areas that will stay white and those are empty circles and are not colored at all. Be sure to print this off on white paper.
The colors used in this holiday color by number are:
Peach
Red
Pink
Green
Brown
Gray
Green
Now you can get your crayons ready to go before they start.
The circles are small so it helps to use sharpened crayons or even colored pencils. Markers would work too if they are more of a fine-tip versus a thick tip.
CHRISTMAS COLOR BY NUMBER PRINTABLE
You can get this Santa color by number printable to download and print off for your own personal use.
Feel free to print off extra copies if your child wants to complete it again.
Click this link to print off this fun Christmas activity page for your kids:
MORE CHRISTMAS FUN
If you have kids and need some more fun ideas to make December special here are some great ways to do it:
Be sure to have your child write a letter to Santa. You can use this free printable letter to Santa template to add some color and make it easy peasy.
A Christmas Tree Coloring Page will look lovely all colored and hanging on the refrigerator. You could also put it into a letter to the grandparents to brighten their day.
Kids love to figure out mazes. These printable Christmas mazes with gnomes are adorable and easy to complete.
Let the kids help make some sweet Christmas Angel Cupcakes as a fun snack idea during December.