A free printable letter to Santa is a simple way to make this annual Christmas tradition easier. This cute Santa letter template provides your child with plenty of space to create their wish list all on an adorable, already decorated letter.
WHAT TO INCLUDE IN A LETTER TO SANTA
If this is your first time writing to Santa or helping your child write to Santa, no worries.
A letter to Santa is a very personal and unique creation. Each letter will be different based on who is sending the letter.
Here are some ideas of things to include in your letter:
greeting to Santa
summary of if you have been a good boy or girl this year
interesting things you saw or did this year
one or two items you would love to receive as Christmas gifts
a farewell signature
WHERE DO I SEND A LETTER TO SANTA?
Some parents take their child's letter to Santa and put them away as keepsakes that the kids can look back at in the future.
Many local post offices have special mailboxes available where you can drop off letters to Santa.
If you want to truly mail the letter AND get a response from Santa then be sure to read my post that explains the whole process.
Be sure to make a copy of the letter your child writes if you want to have it to look at in future years.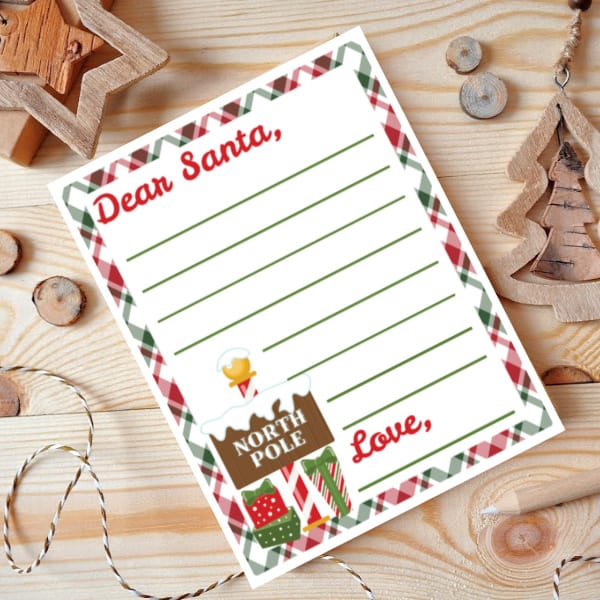 FREE PRINTABLE LETTER TO SANTA
I have a free printable letter to Santa that you can download and print off to use as part of your child's Christmas tradition.
This letter has a beautiful red and green plaid border and cute north pole graphics. I love that it only includes a greeting and closing and allows for the child to write what they want from their heart.
This printable is available for your own personal use at home and cannot be altered or shared.
Click this link to download: Printable Letter to Santa
If you want to check out TWO other adorable versions of printable Santa letters be sure to join my EMAIL SUBSCRIBER LIBRARY. It is free to join and you get instant access to ALL my Christmas printables!
All you need to do is sign up as an email subscriber in the box a few paragraphs up in this post for access to all sorts of fun.
MORE CHRISTMAS FUN
If you loved this Christmas printable, be sure to check out these other great printables for the holidays.
Be sure to PIN this for LATER and SHARE on FACEBOOK!