If you want a quick and easy craft try making these easy DIY candy sprinkle ornaments. These are colorful and can be made in minutes. They will look lovely on any Christmas tree.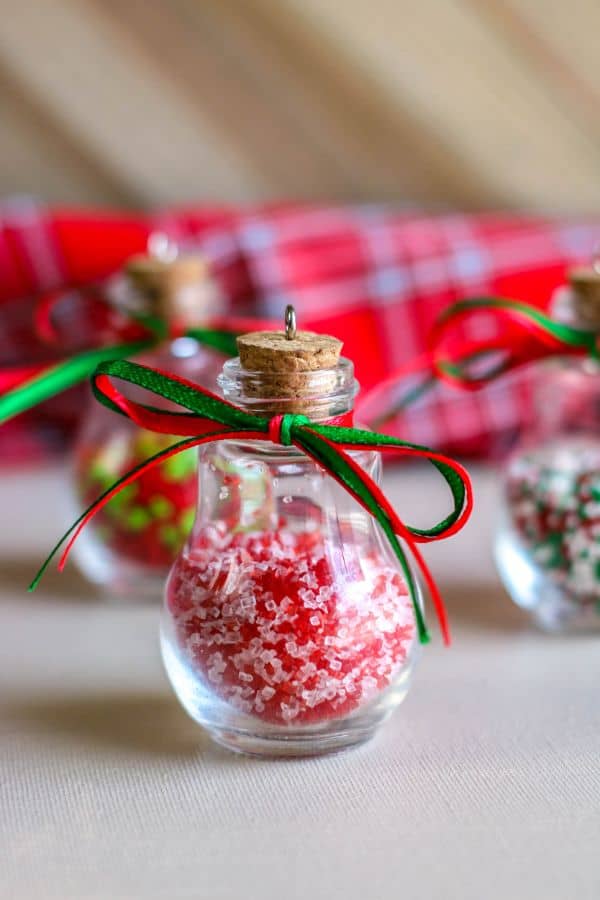 FILLABLE ORNAMENTS
There are so many amazing supplies available for crafting these days. Fillable ornaments are all over the place and make crafting so very simple.
The options for ornaments are endless when it comes to fillable ornaments. Kids love helping fill ornaments with small pretty items and hanging them on the tree.
You can generally find these fillable ornaments at most craft stores and even Dollar Tree during the holiday season. You can get plastic or glass. There are lots of different sizes and shapes to keep everyone's ornaments a little different!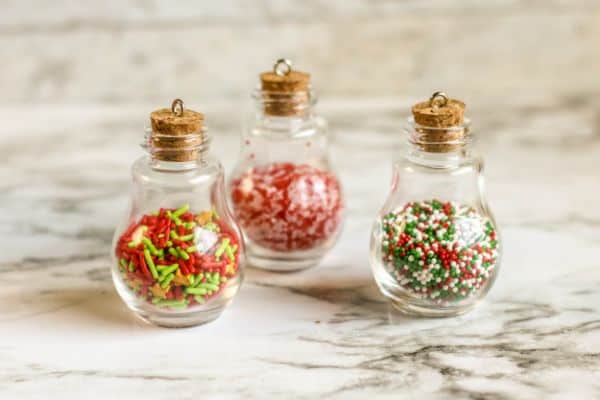 WHAT KIND OF SPRINKLES DO I USE?
There are so many amazing holiday sprinkles these days. It doesn't matter what holiday you are celebrating, you can find colorful and fun sprinkles.
Sprinkles seem to never go bad and once they are inside this bottle sealed up you won't need to worry about them.
Here are some of the adorable ones I have seen for Christmas:
I love the Wilton 6 Cell Sprinkle Containers because you get 6 different kinds of sprinkles in one container.
If you are making a large number of these ornaments for gifts try getting these rainbow sprinkles because they come in a big container and are inexpensive.
Rainbow Nonpareils are always a fun choice for these sprinkle ornaments.
Noel Mix Sprinkles are so pretty with the red, white, and green and the addition of little white snowflake sprinkles.
Holly Berry Mix Sprinkles are lovely and would look great with some holly ribbon.
SUPPLIES FOR SPRINKLE ORNAMENTS
Simple DIY projects are some of my favorites. This project doesn't require very many supplies and is inexpensive to create.
Glass bottles with cork stopper
Ribbon
Candy sprinkles
15 mm screw eyes
Small funnel
Glue Gun and Glue Stick, optional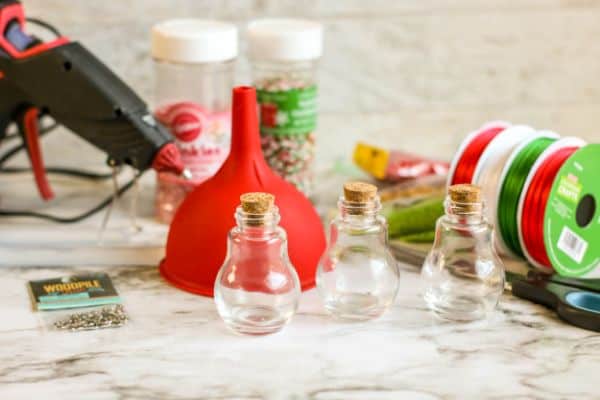 HOW TO MAKE DIY CANDY SPRINKLE ORNAMENTS
A couple of simple steps and you will have a finished, completed, and adorable ornament to hang on your tree or give as a gift.
STEP ONE: ATTACH SCREW
Start off by taking the cork out of the small glass bottle.
Attach one of the screw eyes to the center of the cork.
STEP TWO: ADD SPRINKLES
Now it is time to add the candy sprinkles to the bottle. I found that using a small funnel made this process easier and less messy!
I think it looks nice to fill the bottle at least halfway with the sprinkles of your choice.
Now put the cork back on the bottle nice and firmly. If the cork doesn't seem to have a tight seal it might be a good idea to add a little bit of hot glue to the lower portion of the cork so it seals very nicely.
You don't want the cork to come off while it is hanging on the tree and have all the sprinkles spill everywhere!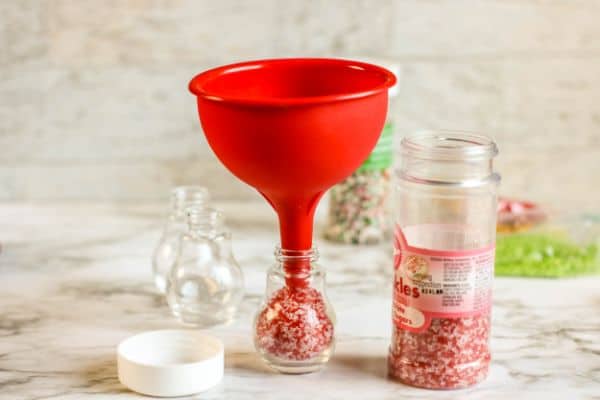 STEP THREE: ADD RIBBON
It looks nice to add a small decorative ribbon around the top of the bottle.
You can also add ribbon, twine or string to the eye screw to use as an ornament hanger.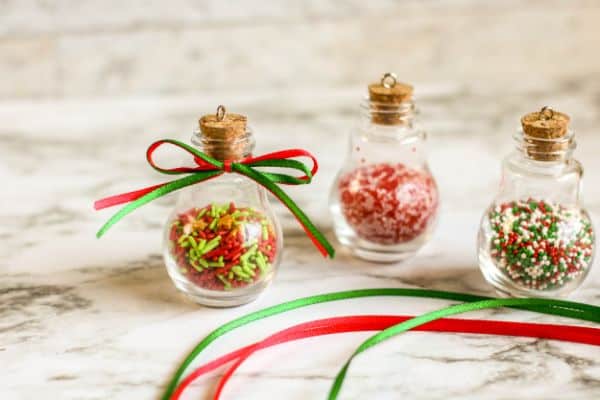 EASY DIY CANDY SPRINKLE ORNAMENTS
You can print off these quick and easy DIY candy sprinkle ornaments instructions via the printable card below.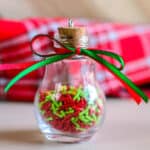 Print
Easy DIY Candy Sprinkle Ornaments
These quick and easy DIY Candy Sprinkle Ornaments are adorable on any tree and only take minutes to make.
Equipment
Small Funnel

Hot Glue Gun and Glue Stick, optional

Scissors
Materials
Glass bottle with cork

Decorative ribbon

Various Christmas-themed sprinkles

1

15mm

Screw eye
Instructions
Remove the cork from each bottle. Attach a screw eye to the center of each cork.

Pour sprinkles into each bottle using a small funnel and reattach the cork with the screw eye on the top. Press firmly. Note: You can also attach the cork using hot glue.

Use the decorative ribbon to tie a bow around the bottle. You can also add some to the screw eye as a way to hang this ornament.
If you loved this easy Christmas craft be sure to check out these other ideas!
Be sure to PIN this for later and SHARE on Facebook!