A Snowman Gift in a Jar is an adorable DIY project and makes great Christmas gifts. This mason jar is full of white chocolate pretzels and comes with printable gift tags to make gift-giving easier than ever!
WHAT IS A GIFT IN A JAR?
A gift in a jar is a simple concept and very beloved. It is a jar full of SOMETHING that you give to someone as a gift.
The jar can be filled with food, ingredients to make a specific recipe, toys, homemade beauty products, and more.
The sky is the limit with the kinds of gifts you can put into a mason jar.
It is simple to attach a gift tag to the jar and set it on someone's desk at work as a holiday gesture.
WHO DO YOU GIVE A GIFT IN A JAR?
Every year there are people I realize I need a gift for and hadn't planned ahead.
It helps to have some jar gifts ready and made up for those last-minute gift-giving emergencies.
Gifts in a Jar work great for all sorts of acquaintances. The jars are filled with things that most people will like. Here are some ideas of who you can gift this adorable Snowman Gift in a Jar to this year:
Teachers
School Staff
Mailman
Local policeman, fireman, EMS workers
Neighbors
Coworkers
Distant Relatives
Friends
Book Club Members
Parents of your children's friends
Secret Santa partner
INGREDIENTS AND SUPPLIES FOR A SNOWMAN JAR GIFT
This Snowman Gift in a Jar has homemade treats inside! Everyone loves some sweet treats during the holiday season. These are white treats so they resemble a snowman.
Ingredients for Pretzels:
Pretzels
White Melting Chocolate
Parchment Paper
Supplies for Snowman Jar:
Jar
Black Paint
Red Buttons
Plaid Ribbon
Gift Tags
Twine
Hot Glue Gun
Hot Glue Stick
Hole Punch
Scissors or Paper Trimmer
HOW TO MAKE SNOWMAN GIFT IN A JAR
If you have a lot of gifts to make this year you picked an awesome project. This is very easy to make in a large quantity!
STEP ONE: MAKE PRETZELS
Start off by making the pretzels. The amounts will vary based on what size jar you are using and how many jars you are making.
Lay a piece of parchment paper on the counter.
Melt the white chocolate according to package directions.
Dip the pretzels in the chocolate. Be sure to coat both sides well, use a fork to allow the excess chocolate to drip off the pretzel.
Place the dipped pretzels on the parchment paper and allow to cool and harden completely.
When the pretzels have hardened you can fill the jar.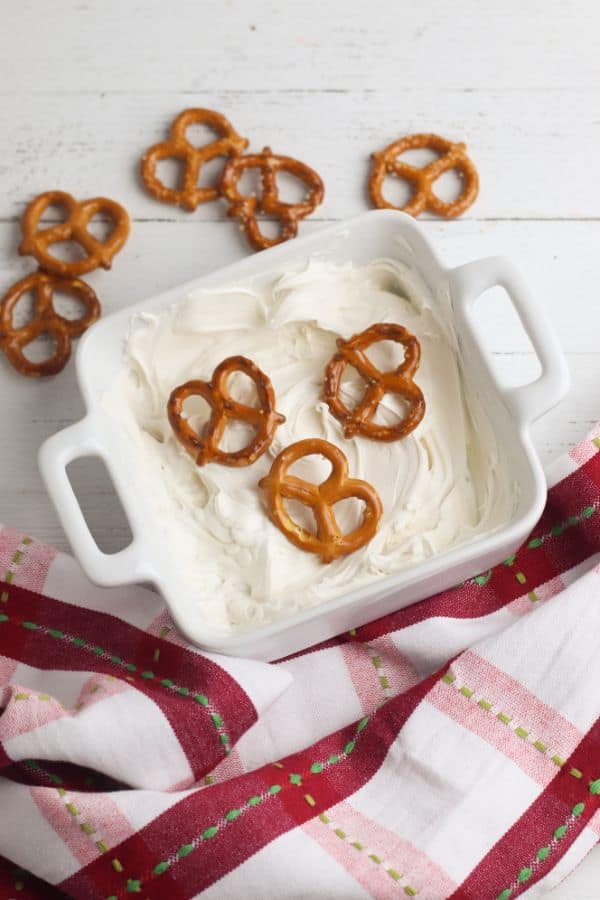 STEP TWO: PAINT LID
Paint the lid and the lid ring black. You can use black craft paint or even spray paint.
Both sides of the lid need to be painted.
Allow the lid and ring to dry completely.
STEP THREE: ADD BUTTONS
Use the glue gun to glue 3 red buttons to the front of the jar in a vertical row.
Pick button size based on the size of jar you use.
STEP FOUR: ADD RIBBON
Ribbon adds a nice touch to these jars and the plaid will look like a scarf!
Tie the ribbon around the jar ring and secure it with a little bit of hot glue.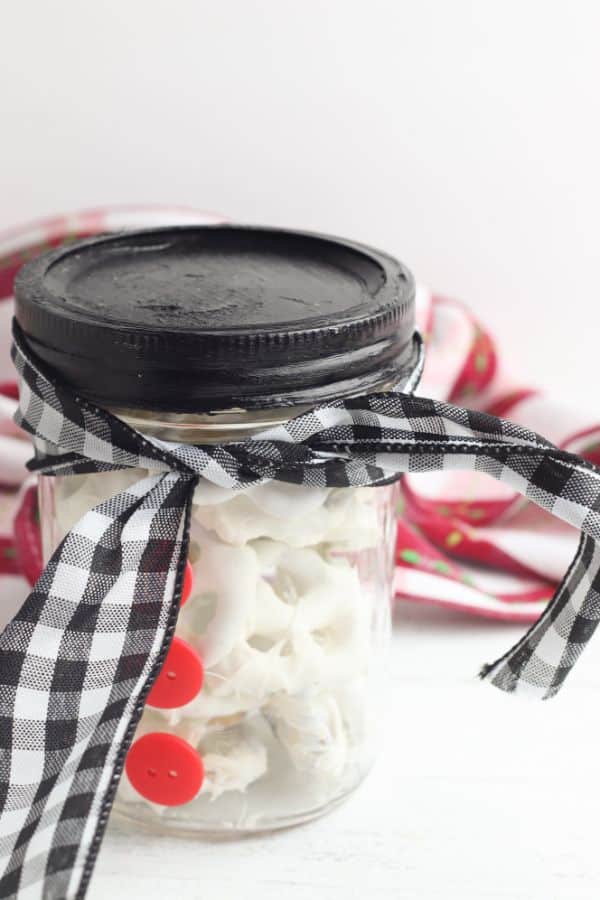 STEP FIVE: ADD GIFT TAG
I love adding a little gift tag to my homemade gifts. This comes with a free printable gift tag.
Print the gift tags out (download link below) and cut them out using scissors or a paper trimmer.
Use a regular-sized hole punch to punch one hole near the top left corner of the tag.
Thread a piece of twine through the hole and secure it around the jar lid ring to hang the tag.
PRINTABLE CHRISTMAS GIFT TAG
You can download and print off this Christmas gift tag for your own personal use.
Click this link or the image below to print off: Snowman Jar Printable Gift Tag
PRINTABLE DIY INSTRUCTIONS FOR SNOWMAN GIFT
I know I see projects I want to make online and don't always have time right then!
You can print off these easy instructions via the card below so you can make this when you have time.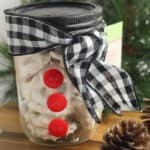 Print
Snowman Gift in a Jar With Printable Tag and Recipe
This adorable DIY Snowman Gift in a Jar comes with a printable Christmas gift tag and an easy recipe.
Equipment
Hot Glue Gun

Scissors or Paper Trimmer

Hole Punch
Materials
Pretzels

White Melting Chocolate

Mason Jar

whatever size you prefer

Black Paint

craft paint or spray paint

Red Buttons

3 for each jar

Plaid Ribbon

Twine

Printable Gift Tag

Hot Glue Stick

Parchment Paper
Instructions
Melt chocolate according to package instructions. Dip pretzels in the chocolate and place on a sheet of parchment paper to cool completely. Place chocolate covered pretzels in the jar.

Paint the lid and lid ring of the jar black and allow it to dry completely. Place lid on top of the jar.

Glue three buttons to the front of the jar vertically.

Tie ribbon around the top of the jar and secure in place with glue.

Print the gift tags on card stock, cut out around the outer edge, and tie to jar with a piece of twine.
If you loved this fun DIY gift project be sure to check out our other
Christmas craft ideas
.
Don't forget to PIN this for later!