Office party Christmas games are a wonderful way to encourage the staff to relax, bond, and look forward to the holiday season. These games are unique and fun party game ideas that are suitable for both large and small office party events.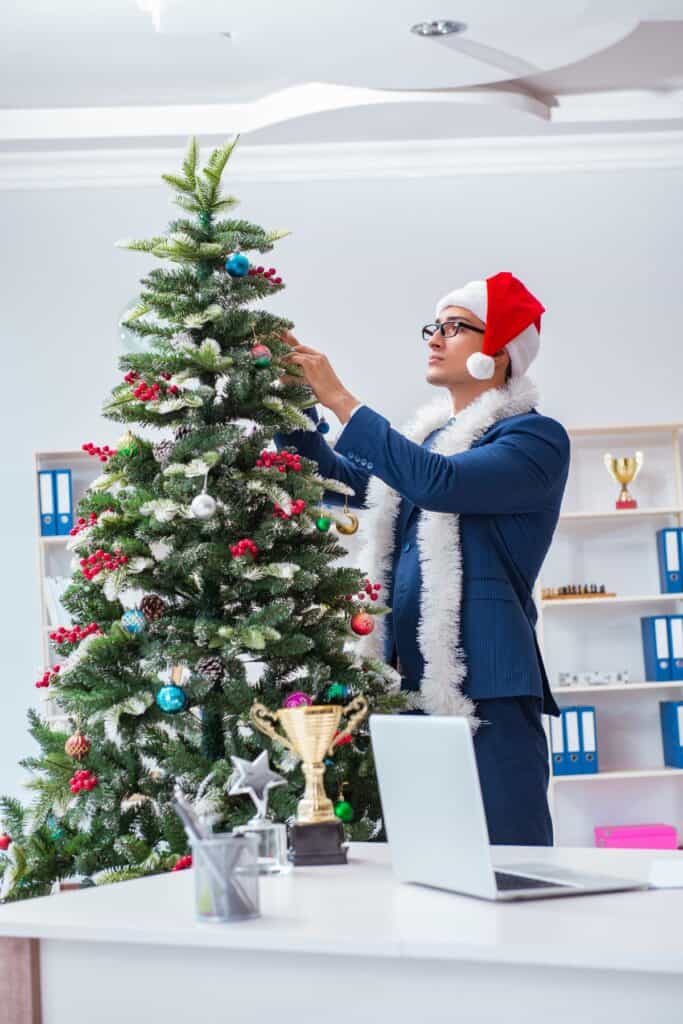 HOW DO I MAKE CHRISTMAS FUN FOR ADULTS?
Christmas parties can be an incredibly fun and exciting occasion, though some guests may require a little encouragement to get into the holiday spirit. Without adequate planning, an office Christmas party can fizzle out once the food is eaten.
Avoid guests leaving early from boredom by trying out the office party Christmas games listed down below. Aside from games, here are a few ideas that you can do for your next Christmas party at the office with your co-workers:
Exchanging gifts is always something people look forward to. Doesn't matter if you are a kid or an adult, everybody loves receiving kids. This can be done in a couple of ways – you can write down each of the employees' names on a piece of paper and throw it inside a bucket or hat so that they can randomly pick out a name to whom they are going to buy a gift for before the party.
Or another way is to let everyone buy a gender-neutral gift and bring it on the day of the party. To know whom to give the gifts to, assign a number to each of the staff and each of the numbers should be written down on a piece of paper. Again, throw it in a hat or bucket to let each of the employees pick one. They should give the gift to the person assigned to that number.
Here are a few things you should remember before planning an exchange gift – set a budget so that no one goes under budget. The budget should be agreed upon by everyone. The next one is to lay down some rules like no giving mugs or no inappropriate gifts.
Aside from the gifts bought for the exchange gift, a white elephant is also a fun way to trade off some of your things. A White Elephant Gift Exchange is a popular Christmas tradition in which participants compete for the finest item.
Yankee Swap, Dirty Santa, and a variety of other terms have been given to it. There are several possible rule sets for the White Elephant game, some of which are quite basic and others that are very complicated. But just to give you an idea, here are the basic rules:
Each player should bring a wrapped gift. This gift doesn't need to be bought. It can be a thing you have at home but don't use anymore or that you haven't used yet. As long as it is still in great condition, it can be added to the pile of gifts.
The next step is that players will have to draw a number from a bucket or hat to know the order they will go in. Alternatively, names might be drawn from a hat, or the order can be determined by the host ahead of time.
Once the order of turns is done, the people joining the white elephant should sit in a circle with the pile of gifts in the middle. Have them sit according to their turn to make it easier and less complicated.
The person who picked 1 gets to pick any gift from the pile first. Before the next one picks, he or she should open the gift and let everyone see it.
The following players can either choose an unopened present from the pile or take a gift from a previous player. Anyone who has their present stolen in this manner has the option of replacing it or stealing from someone else.
However, there are limits to this – an item can only be stolen once every round, thus players who have their gift taken must wait for their turn again. The turn is automatically finished after three exchanges. This is done so the stealing and exchanging won't take so long to finish.
After each player has had a turn, the first player has the opportunity to exchange the gift he or she is holding for any other opened gift. Anyone who has had their gift stolen may steal from someone else if that person has not yet been stolen from. The game comes to an end when someone refuses to steal a present.
Note: The three-swap rule does not apply for this final "extra" turn. Players can continue switching until someone wants to stay with what they have or there are no more available options.
Including programs in the event is a great way for the employees to showcase their talents. They can sing, dance, or even do a magic show. Whichever their talent is I'm sure everyone will have a great time whether they are the ones performing or just watching in the crowd.
HOW DO I HOST AN OFFICE CHRISTMAS PARTY?
A memorable office Christmas party is the best way to say thank you to your staff. Parties are a terrific way to show your appreciation while also providing an opportunity to play team-building games and bond over delicious food.
Hosting an unforgettable event is not only about having fun office party Christmas games. You also have to plan out everything so the party is well organized. Here are some things for you to keep in mind when hosting an amazing Christmas party at your office:
Set a budget for the party. This will be very helpful for you before planning the party. If the office has funds available for the party, that would be even better. This will give you an idea of what food to get and if you have some money for decorations.
Ask for help from the other employees. Planning a party can be difficult, you will need all the extra hands you can get. Have someone help you with the decorations and food planning. You can also ask around if some of the staff know how to play some instruments or can be the DJ for the party.
Pick a venue. If your budget can cover a spacious location, that will be great. If there is enough space at your office, that will also work. You can use the money for something else. However, if you want to plan it someplace new to the eyes, you will have to do some canvassing.
Choose a theme or dress code. This will make it more exciting. You can have the employees come in color-coded outfits, do a costume party, or whichever you want. Just make sure to let them know ahead of time.
Send out invitations early. This way they will know to keep that day available. Include all the important details in the invitation as well.
SHOULD I GIVE OUT PRIZES FOR AN OFFICE CHRISTMAS PARTY?
Apart from throwing an incredible office Christmas party, prizes are also a great token. This is a way of giving back for all their hard work. Here are some ideas you can include for prizes during the office party Christmas games:
Chocolate Bars
Gift Basket
Coupons
Office Supplies
Christmas Drink Holder
The prizes don't have to be over the top. No matter how small or big, they are going to love it.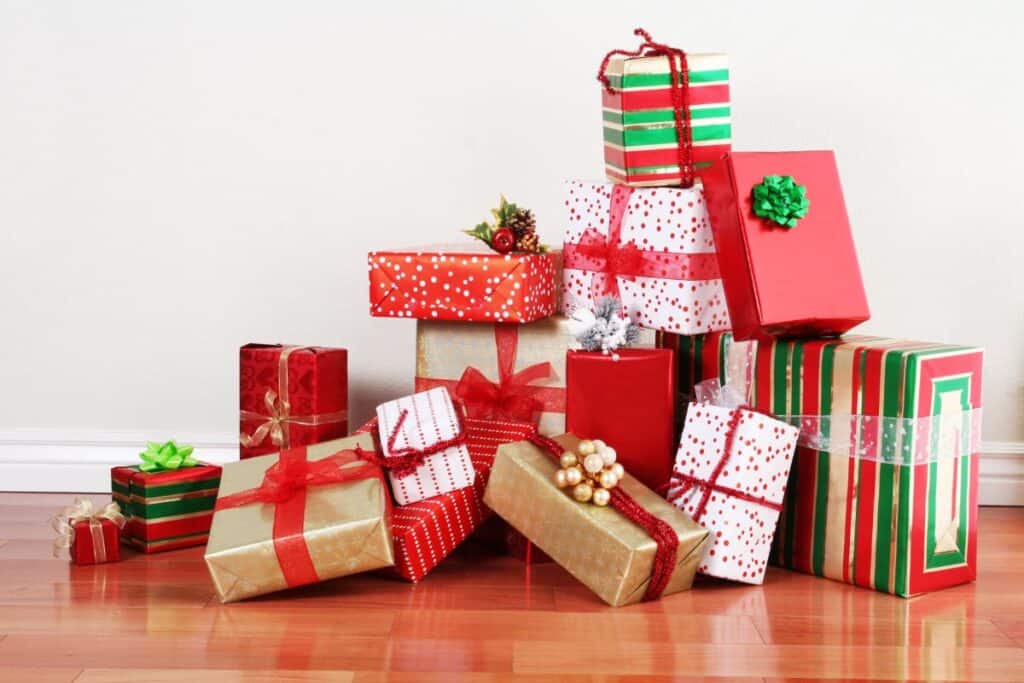 BEST OFFICE CHRISTMAS PARTY GAMES
Games are essential for any party to help keep things light, fun, and interesting. Try out some of the following office party Christmas games:
Guess What's in the Stocking
Stuff a large stocking with candies, Christmas ornaments, ribbons, jingles, candles, toys, etc. Ensure there is only one of each item in the stocking. Fold and pin the stocking shut so nobody can look inside. Pass the stocking around the staff, giving each person twenty seconds to guess.
Let them feel the outside of the stocking. Party guests must guess what is inside the stocking and write it down on a sheet of paper. Once everyone has had a turn, take their papers and empty the stocking. Whoever guesses the most items correctly is the winner.
Play the classic game with a Christmas theme. A person acts out a word or phrase while others attempt to guess the word or phrase. The person who guesses the correct answer is the winner.
This is a messy game to indulge your inner child. Staff is divided into pairs, and shaving cream is applied to form a mock beard on one partner. The other person is given a plastic spoon to "shave" their Santa. The first to appear completely shaved is declared the winner.
Create a list of clues for Christmas-themed objects hidden around the party area. Guests first must solve the clue and then search for the item. The first person to find all of the items on the list wins. This is a great game for teams or departments for light-hearted competition.
Christmas Movie Trivia Game
Create Christmas movie trivia questions from festive-themed films such as Miracle on 34th Street, The Santa Clause, and A Christmas Story.
If you enjoyed this fun post, be sure to check these other great posts:
Be sure to PIN this for later and SHARE it on Facebook!