If you haven't considered having a Christmas caroling party then now is the time. Find out how easy it is to host a caroling party this holiday season. Gather together with family, friends, or your church community and celebrate with songs while giving back to others in the community.
What is a Christmas Caroling Party?
A Christmas caroling party is simply a party that involves going out Christmas caroling and singing traditional holiday songs for others to enjoy.
This simple concept is one that used to occur often in communities all over the U.S., and is still enjoyed by kid's groups, church groups, and other places today.
Instead of just going out singing, make it more special by hosting a before or after party for the carolers.
Spread holiday cheer in your neighborhood this year by hosting a Christmas caroling party. Invite the young or the young at heart and sing your way through the holiday season. Your caroling party can include families, church, or a mixture of children and adults.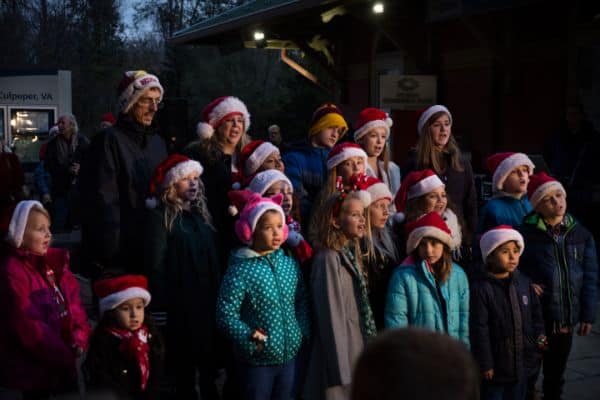 3 Easy Steps to Hosting a Fun and Meaningful Caroling Party
Here are the steps to quickly and easily put together a caroling party that will be simple for you and a great tradition for your guests to enjoy.
Step 1: Caroling Party Invitations
A caroling party is a casual affair, so there is not necessarily a need for a mailed invitations. Call or email your guests to let them know the details of the party.
If you do want to host a more formal event, you can use an electronic invitation system such as Evite or make your own paper invitations.
One of the first things to consider is who you are going to invite. Christmas caroling parties are great for:
Church communities
Neighborhoods
Friends and Family
Coworkers
Children
Kids' groups like Scouts
Based on who you want to invite, you should do invitations differently. If this is for a church community, have it announced during worship, and use a sign up sheet so you can figure out how many people are coming. If this is a neighborhood or office party, you could print off a flyer and take it door to door in the neighborhood or hand it out to coworkers.
If you are making paper invitations, buy red and green stamp pads and a music note stamp. Stamp the invitations with the music notes and remind your guests to bring flashlights.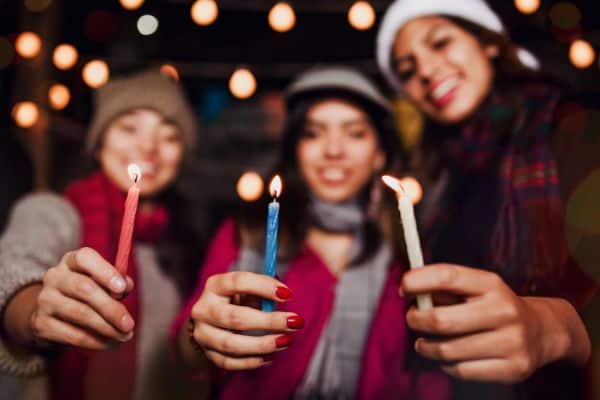 Step 2: Making the Christmas Songbooks
Before your guests arrive, you will need to create Christmas songbooks for them to use while caroling. Depending on the age and number of your guests, you can create a songbook for each guest or enough for two or three people to share.
After you have decided how many songbooks you want to make, its important to pick out good songs to sing. Be sure to pick simple holiday songs that anyone can sing. Remember, this is just a caroling party, not an acapella group, so stick to basic carols that most people know.
There are a number of songs to choose from. The best are ones that most people know by heart. Here is a list of some of the best Christmas carols to use in a songbook:
Away in a Manger
Silent Night
O Come All Ye Faithful
Joy to the World
Jingle Bells
O Christmas Tree
Hark The Herald Angels Sing
For church communities, pick classic hymns that they would know. You can get these songs from the hymnals used at your church.
For a neighborhood party or a party with friends and family, choose a handful of classic Christmas songs and some popular favorites. It can even be a good idea to include some more modern songs that people might know well.
For children, pick really simple songs for them to sing, and only a few that they can know really well. I would recommend somewhere between 5 and 10 songs for children. Choose more fun songs like "Rudolph the Red Nosed Reindeer" and "Frosty the Snowman" as they will be easier for kids.
Design a colorful cover for the songbooks. Place the carols in the order they will be sung, set the cover on top, and staple the left side of the sheets to form a booklet. To dress up the songbooks, you can punch two holes in the top of the books and tie a ribbon bow through the holes instead of stapling the sides.
Finally, decide who you were gift with your songs. Here are some locations where you can go caroling:
Around your neighborhood
In another nearby community
Apartment buildings
Nursing homes – call ahead for permission
Hospitals – call ahead for permission
At your office or other nearby places of business
Step 3: Food for a Christmas Caroling Party
What's a party without some good food? A caroling party is no exception to this. However, the main focus will be going out and singing, so you can keep things relatively simple.
Before you actually go out caroling, be sure to provide some drinks so everyone feels refreshed before going out. Its also a good idea to buy a big pack of disposable water bottles so people can bring one with them so they don't get thirsty while caroling.
You can do food before the caroling if you want, and that can just be something simple that you can get for everyone, like pizza. If you want something a bit bigger, invite people to bring something to share.
After the caroling is completed, invite your guests back inside to warm up with some snacks and dessert before they go home. This is also a great motivator for the kids. Cookies are always a great option, or you could do a hot chocolate bar.
Extra Tips for a Successful Caroling Party
Caroling has such a rich history and can bring so much joy to the homes you stop at.
Here are some tips to keep in mind so you will have a successful Christmas caroling experience.
The best time to go caroling is from 7:00 PM until 8:00 PM in neighborhoods. Most people will be home from work and have eaten dinner by then. Younger children will still be awake and can enjoy the carols.
Practice the songs a little bit before you leave. Elect one person to be the song leader and they can be the person to start the songs.
Remember to stay on the sidewalks.
Carry flashlights for safety while walking and so you can see your songbooks.
Have the group wear Santa hats or holiday attire for even more fun!
Be sure to have a plan of where you will carol before you leave home.
Remember to have FUN as you spread holiday cheer and joy.
More Christmas Fun
If you love Christmas as much as I do then be sure to check out these other fun Christmas ideas: