These newborn Christmas photoshoot ideas will inspire you to capture the sweetest photos, whether you are a professional photographer or take a DIY approach. With a bit of effort, you will have amazing shots of baby's first Christmas that will be treasured for years to come.
Holiday celebrations are more exciting when a newborn is present. Your baby's first Christmas is undoubtedly a milestone for you both, so make it as special as you can. Pictures are always the best way to keep memories alive.
As a mom to 5 kids, I know how important those first holiday photos are. While newborns can be a bit tricky to photograph well (no sitting up yet), on the other hand, they sleep a lot, which makes some of the following shots possible. Be sure to coordinate with Mom for the best schedule for her baby so you can capture a shot that everyone will enjoy.
37+ SWEETEST NEWBORN CHRISTMAS PHOTO IDEAS for BABY'S FIRST CHRISTMAS
Here's a huge list of holiday photoshoot examples for you to use. With these ideas, I'm sure you'll capture the best photos of your little guy or girl enjoying their first Christmas.
1. Baby in a Basket
All you need for the first photo idea is a basket and a blanket or piece of cloth to wrap the baby in. Simply place the cuddly baby in the basket, and presto! A picture of your baby looking like a tiny gift in a basket.
To make the basket more festive, you may also add some ornamental crafts all around it. Wreaths, holiday balls, stars, and other embellishments are all up to you.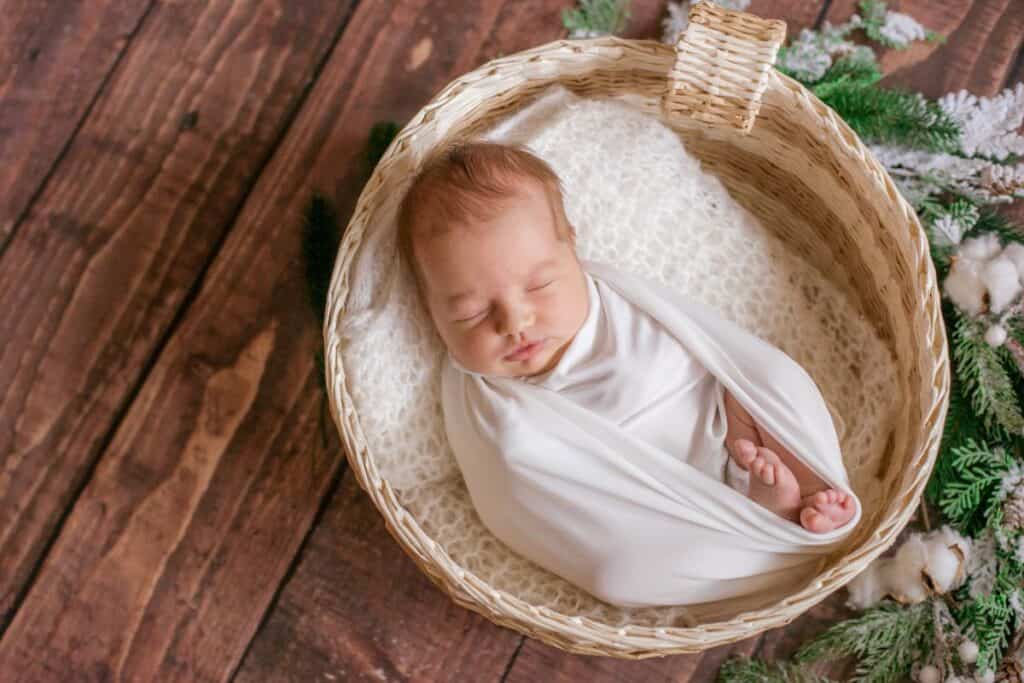 2. Mommy and Me
Mommy and baby in one frame has to be one of the cutest photoshoot ideas in the world of photography. The postures here may differ based on the motif you are striving for; occasionally mothers take advantage of this opportunity to wear matching costumes with their children.
Aside from matching attire, you may also include simple yet meaningful accessories, like this knitted Santa hat, which has very little detail but is a charming and fantastic way to commemorate baby's first Christmas with mommy.
3. Joy in a Box
Babies may scream and wail at night, or they may refuse to let you put them down, yet they bring so much joy into your life. Despite their little size, they have the ability to make any holiday party joyful.
This photography concept is called "joy in a box" because all you need to do is take a box, put some soft material over it to keep your infant safe and comfortable, and this quietly informs the world that your joy is in the box — your baby.
4. Angel in a Nest
Many people believe that infants are little angels, but they are incorrect since these small creatures are so pure and fragile, and they truly are a favor from the Almighty.
The only difference between this photograph and the joy in the box is that instead of pure fabric resting over the box, you could want to add some feathers and cotton to create that heavenly vibe, as well as some additional accessories to heighten the mood. Just make sure the color scheme is mostly white and neutral with a touch of red for a Christmas-y atmosphere.
5. Family Picture
Of course, a family photograph is one of the greatest photoshoot ideas for your newborn this Christmas. Christmas is one of the holidays that helps you appreciate the benefits you have in life, whether they are materialistic or important individuals like friends and family.
This photography concept may be boosted by wearing the same color of clothes, or by experimenting with props such as a Santa hat, or it can be as basic as standing or sitting beside the Christmas tree that your family has set up together.
6. Baby in a Bucket
Babies are small little animals that can easily fit into different items, such as a bucket. Do not be concerned; your infant will be safe if simple steps are taken. This picture concept is ideal if you want to capture the holiday's cool-wintery mood.
Make sure the baby's head and arms are out as indicated in the picture for this photographic concept. You should also use a basic background or a simple effect, such as falling snow, to showcase your baby's charm.
7. Baby in Red
The color red is typically connected with Christmas because it is thought to represent the blood spilt by Jesus Christ at his crucifixion. Now, during the Christmas season, give the color red a new significance, such as letting your child wear red to signify the love you have with your spouse.
You may use as many props as you like in this photography, such as Christmas balls, socks, hats, candy canes, or anything else that pleases you, as long as it is red or has a hint of the stated hue to retain the mood that you are trying for.
8. Little Santa
Isn't something in a little size adorable? Your father or grandfather does not always have to play the part of Santa; your child may play the small Santa role, but instead of gifts, the tiny person will undoubtedly shower you with love and "awe" moments.
All you have to do for this photograph is dress your baby in a Santa suit and pose them as though they are weary of waiting for Christmas midnight to arrive. It's a charming and one-of-a-kind way to mark your baby's first holiday.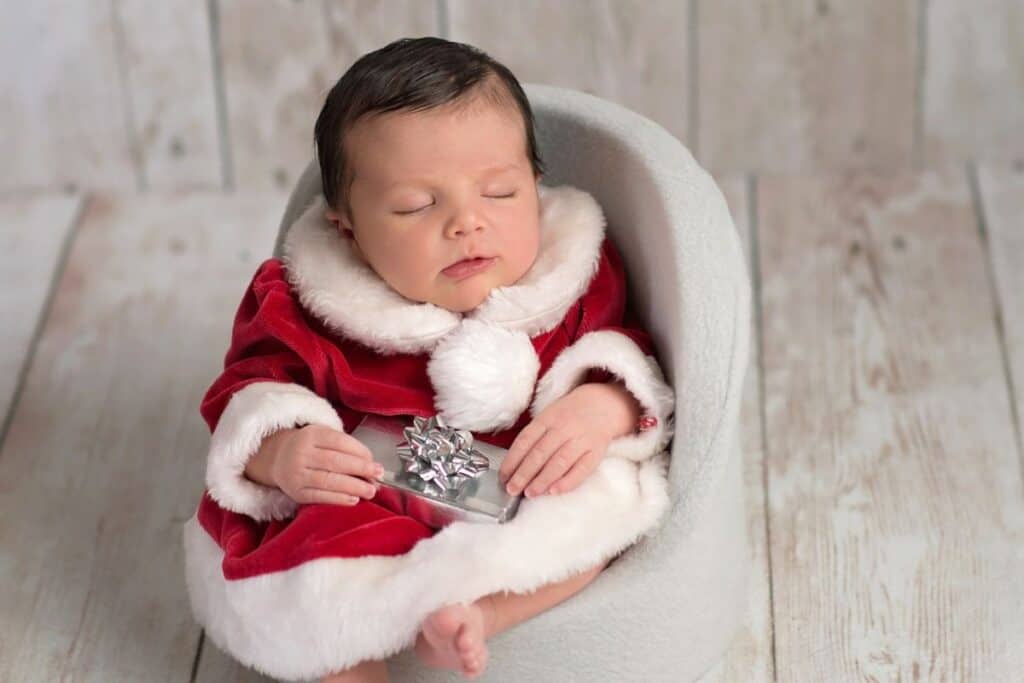 9. Baby-Daddy
If mother and baby had their own private moment documented on camera, then baby and daddy should as well! Regardless of the baby's gender, the father will undoubtedly want to capture their beautiful tiny moments.
If daddy isn't into matching clothing, you can just put some props on them to create that Christmas-y personal moment like the one shown in the picture, where they've only used a Christmas light, but you can even combine some additional accessories that you prefer.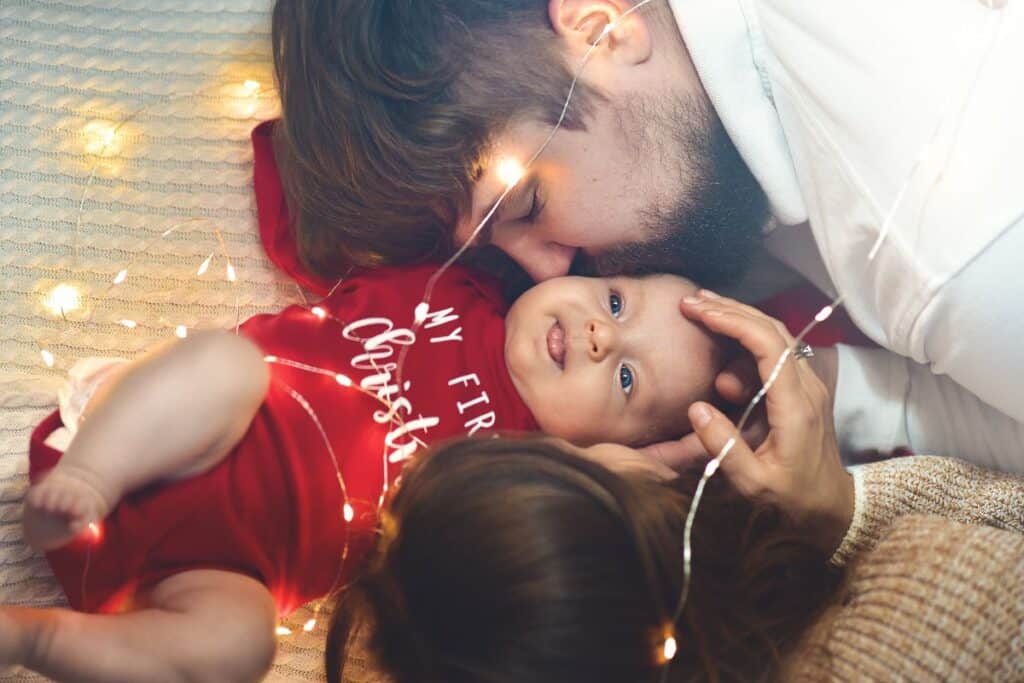 10. Santa's Gift
Okay, you may prefer to stay at home for your child's safety and merely conduct a DIY photoshoot, but that doesn't mean Santa Claus can't visit, right? Make any member of your family pretend to be Santa and present the infant in front of the camera.
This may appear ridiculous and humorous, but it is such a brilliant concept that it gives the impression that you have already gotten the biggest present of the year: the baby. It would also be a wonderful story to tell your infant when they are older that Santa came to see them when they were tiny.
11. Sleigh Baby
Aside from becoming a small Santa or encountering Santa for the first time, your child may also ride the sleigh, which is thought to be Santa's primary vehicle for delivering gifts to good children all across the world.
For this photography, you will need a sleigh, a nice cloth to wrap your baby in during the shot to keep them comfortable, and some accessories for your baby, who does not have to be completely clothed. You can eventually let them wear knitted hats or mittens like the one in the photo.
12. Little Snowman
Simple props like a plain white cloth or a knitted one and a red scarf or bonnet like this one can elevate any photo idea! Despite the presence of these extras and props, your baby can still be the star of the photo by using angles!
Wrap your baby in white cloth like a potato in a sack for this photoshoot idea, top their head with a small red bonnet, and place them in the center of the frame. The white clothing and positioning would undoubtedly make them look like an adorable little snowman.
13. Sleeping Little Reindeer
One of the cutest ideas is to dress up your baby as one of Santa's reindeer! Especially if you're going to recreate Rudolph the Red-Nosed Reindeer's iconic red nose.
You can fully dress your baby as a reindeer for this photoshoot idea by purchasing overalls, but if you want to add a twist, you can knit a bonnet with just the reindeer's head and wrap your baby in some brown clothes like the one in the picture. Don't worry if you don't have the time or skill to knit one, you can always buy one!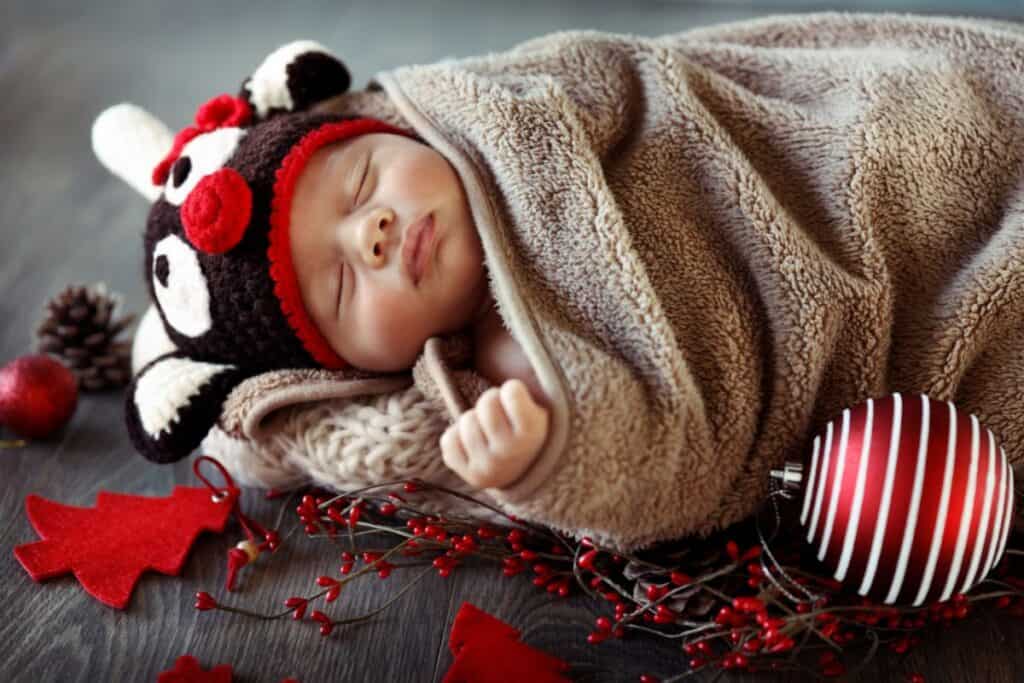 14. Baby Gifty
The above-mentioned photoshoot idea is already simple, as it only requires a box to be placed at the base of your Christmas tree and our little one to sit inside the box to make them look like a gift, but it can be simplified even further.
This photoshoot idea is ideal if you do not have a Christmas tree this year, or if it is located in an area where the previous idea is not feasible. In any case, you can simply wrap your baby in white cloth, tie a fancy ribbon around it, and place it on the ground with a wreath and Christmas balls.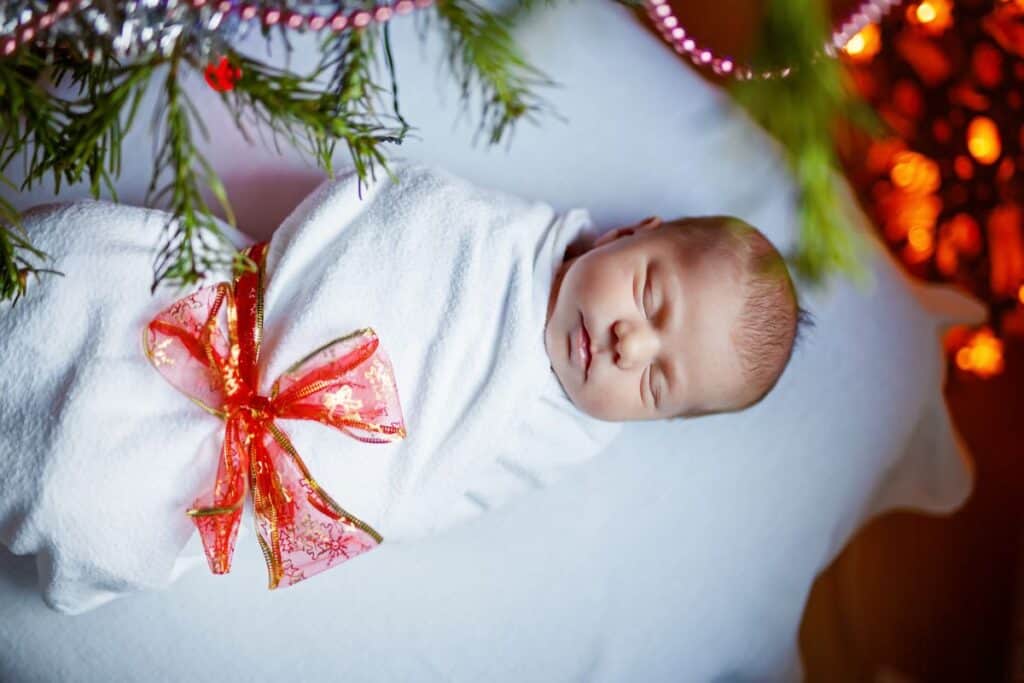 15. Baby's Nest
The baby's nest wins the award for the most simple and easy photoshoot idea on this list. It's one of the simplest ideas here because all you have to do is prepare a white soft and fluffy clothe for your little one to lay on and you've got yourself your own baby's nest!
Your baby may be naked or wear very minimal pieces of clothing such as knitted diapers or bonnets for this photoshoot idea, but the focus of this idea is having your worry-free baby laying peacefully in their nest.
16. Matchy Matchy!
The following photoshoot idea can be incorporated among the others on this list because it can stand alone as a captivating idea on its own, but it can also leverage the other ideas here by making it appear as though you have put some extra effort here.
You would simply prepare a matching outfit for you and your child for this photoshoot idea, but you can also prepare to be matchy matchy with your entire family. This makes it a very cute way of expressing how close you are as a family.
17. Pink Christmas
Who said Christmas had to be all about reds and greens? You can also experiment with some significant colors, such as pink, which is one of the liturgical colors and signifies joy – It is said to be a "Bethlehem Candle," which served as a reminder of Mary and Joseph's journey to Bethlehem.
You can bring this color to your photoshoot by simply adding traditional Christmas decorations like Christmas balls, lights, garlands, and even a Christmas tree. What makes it unique? Pink should be the color of these Christmas decorations!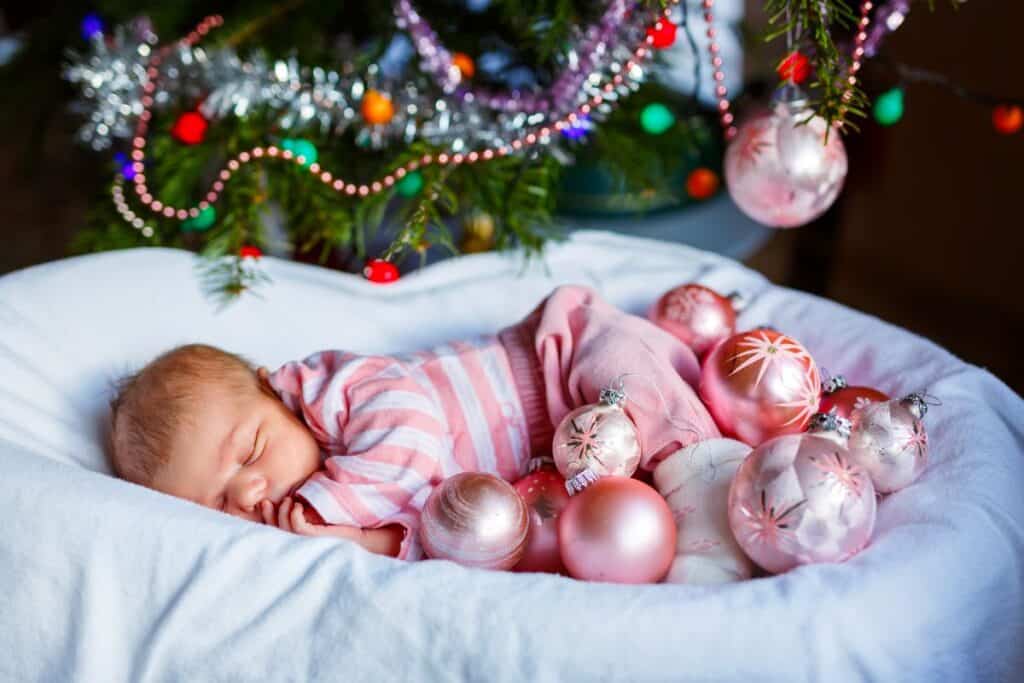 18. Baby's Scarf
This is another photoshoot inspiration that would definitely elevate any motif or can stand alone as a concept. Where you will have your baby mostly naked and wearing only a few pieces of clothing in the holiday's colors.
Knitted clothing items such as a scarf, bonnet, or even mittens and diapers would be ideal for this photoshoot. It's a simple yet cute way to jazz up the usual photoshoot ideas.
19. Stuffed Toys and Baby
Aside from your baby, another way to make photoshoots more adorable is to include some other cute elements. No need to worry, your baby can still be the star of the photo; the aforementioned cute elements are simply there to enhance the overall vibe of the photo.
You may want to include some teddy bears in this photoshoot idea so that your baby can lay on, sit with, hug, or engage in any other interaction that will surely create a cute moment on camera worth capturing!
20. Candy Cane Baby
This is similar to idea number 18, in that you will only add a few pieces of knitted clothing such as bonnets, scarves, mittens, and even diapers or underwear. The difference between this and the previous idea is that for this one, you will use the candy cane pattern and color for the knitted clothing pieces.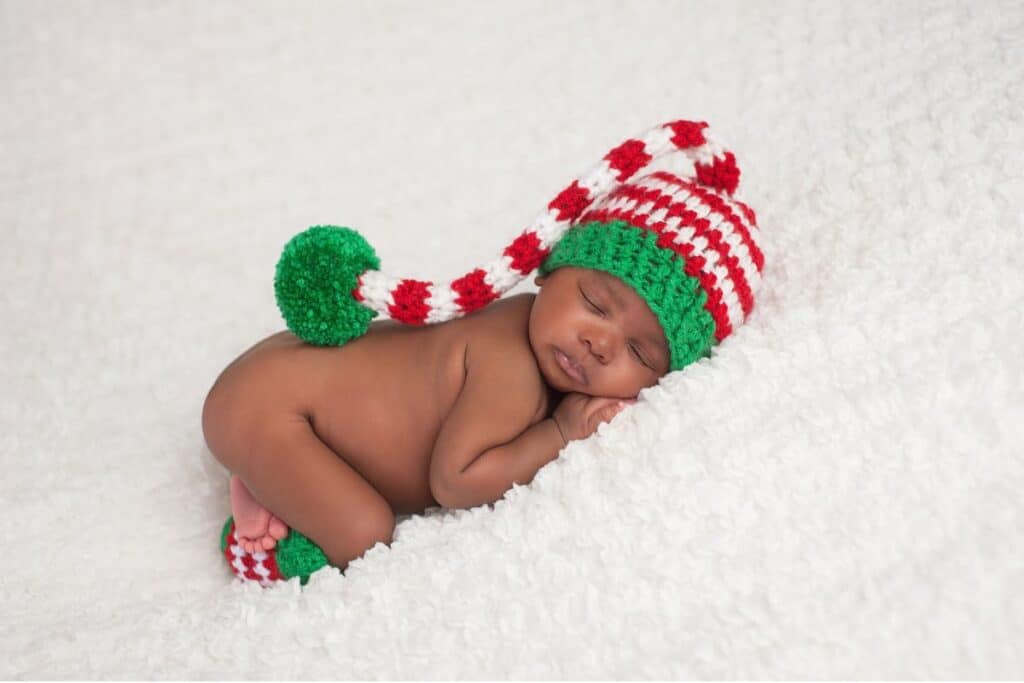 21. Brothers and Little Baby
It would be wonderful to take some pictures of your little angel with his or her siblings in addition to documenting their first Christmas with you and your husband. They may do simple poses like hugging, kissing, or simply staring like in the picture to convey their sincere love and adoration. They may also dress similarly.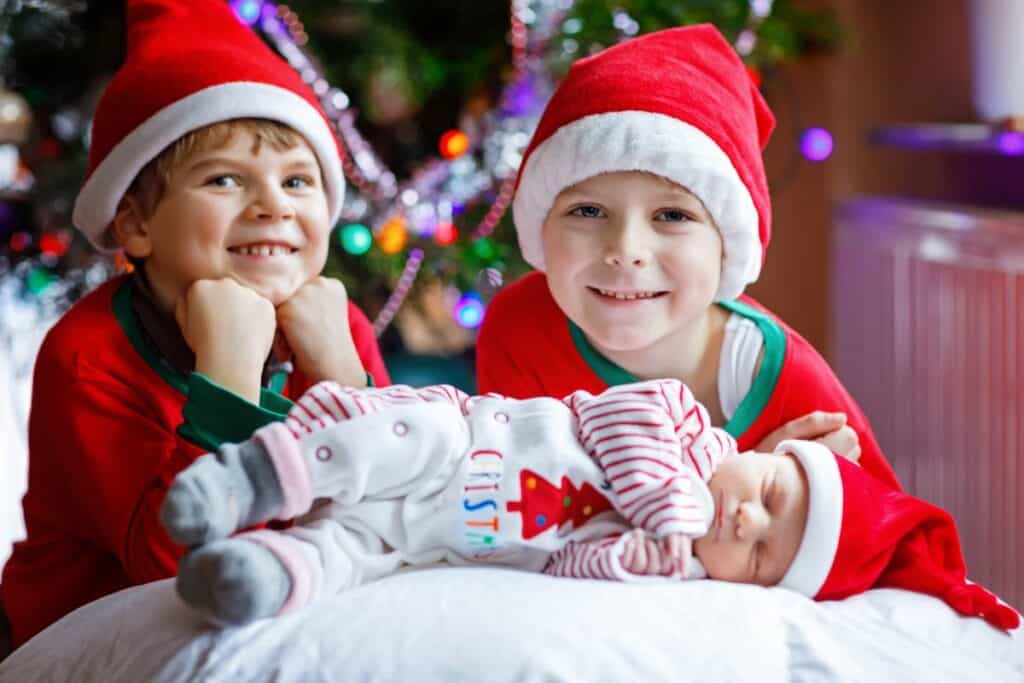 22. Sleeping Little Santa
Santa also gets tired and needs to rest after spreading a lot of happiness and love throughout the region. In addition to being a cute way to show your baby's innocence, this photoshoot idea is a great way to dress up your child for the occasion.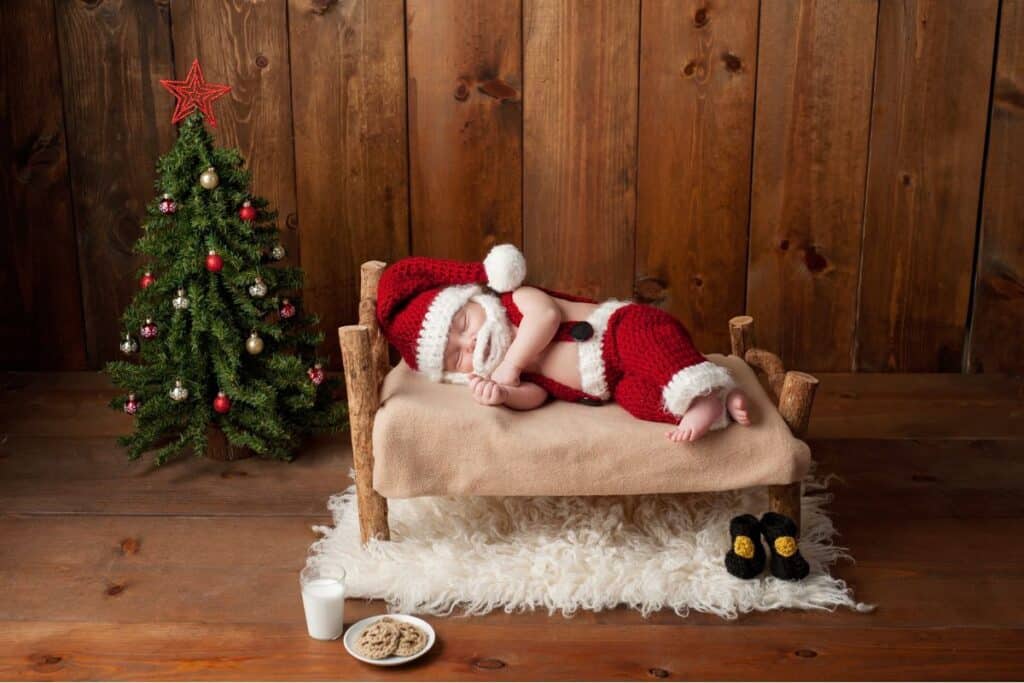 23. Christmas Fairy
There are many Christmas photoshoots you can do if you have a baby girl, and this adorable baby Christmas fairy is one of them. All you need for this photo shoot is a red dress for your baby to wear and a simple floral headband, which you can even make yourself using your wreath and leftover Christmas flowers.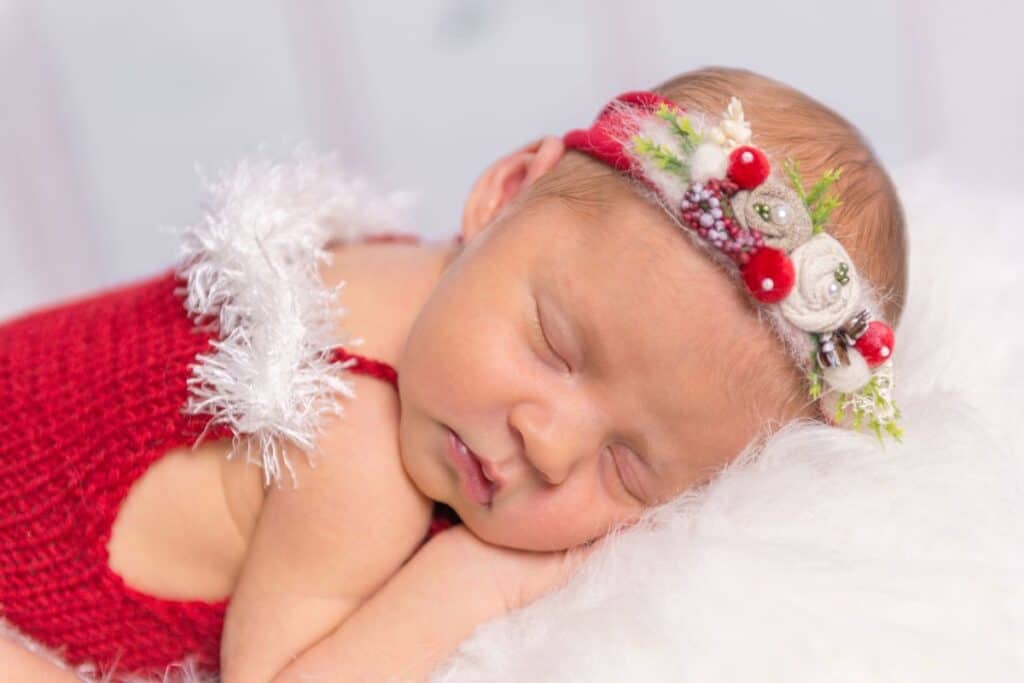 24. Knitted Baby
Knitted clothing is one of the easiest yet cutest props to use in your newborn's photo shoot. It's easy; you don't need any additional props, but your photos will still appear to have taken a lot of work. You only need a baby's knitted underwear and a bonnet for this photo shoot concept.
25. Baby and Snowy
Apart from letting them wear the knitted clothing, which is one of the best and cutest props to use in your newborn's first Christmas photo shoot, why not also include something like a knitted little snowman who would undoubtedly become their best friend after your photo shoot.
26. Milk-drunk Little Santa
Your little Santa is milk-drunk in this new Christmas photo shoot with a Santa theme; isn't he adorable? To ensure that your baby is safe and won't fall during the photo shoot, you will need a small chair. You will also need a small table to set the glass of milk and the cookies you will be using as props on. Whether you choose to dress your child as Santa Claus is up to you.
27. Little Dwarf
This is what I meant earlier when I said that knitted clothing is your best friend because you can use it in a variety of photo shoots and everything will look adorable. A simple box to lay your baby on and a knitted bonnet that resembles a draftsman's hat are all you need for this photo shoot to produce adorable baby pictures like this one.
28. Precious Moments
I am aware that taking pictures of your newborn this Christmas is primarily for record-keeping purposes. However, not every photo you take needs to be staged for a particular post. Keep in mind that the most priceless moments often happen unexpectedly, so this photoshoot idea is more geared toward spontaneous moments that are best captured with a timer.
29. Close Up Shot
By focusing on just a few of your baby's features, you can also really step up your photo session. This is a great option if you want to protect your baby's privacy during his first few months while also revealing a little bit about him on your chosen social media platform. You might manage to photograph some of his best features.
30. Little Reindeer on a Nest
Isn't it cute to dress your baby up as a little reindeer? However, you can always take it to the next level, as demonstrated by this photoshoot concept. You'll need a knitted reindeer head bonnet and socks-like, a basket, and a fluffy furry rug to keep your baby comfortable in the basket for this one.
31. The Best Present of Them All
We already know that having a baby is a wonderful gift, and you want to share this priceless gift with everyone, okay? One of the simplest photo ideas is to spread out all the gifts you have prepared on the floor and dress your child in anything that either matches or stands out in contrast to the colors in the gift wrap. Then you can either place your child in the center or let him play with the gifts.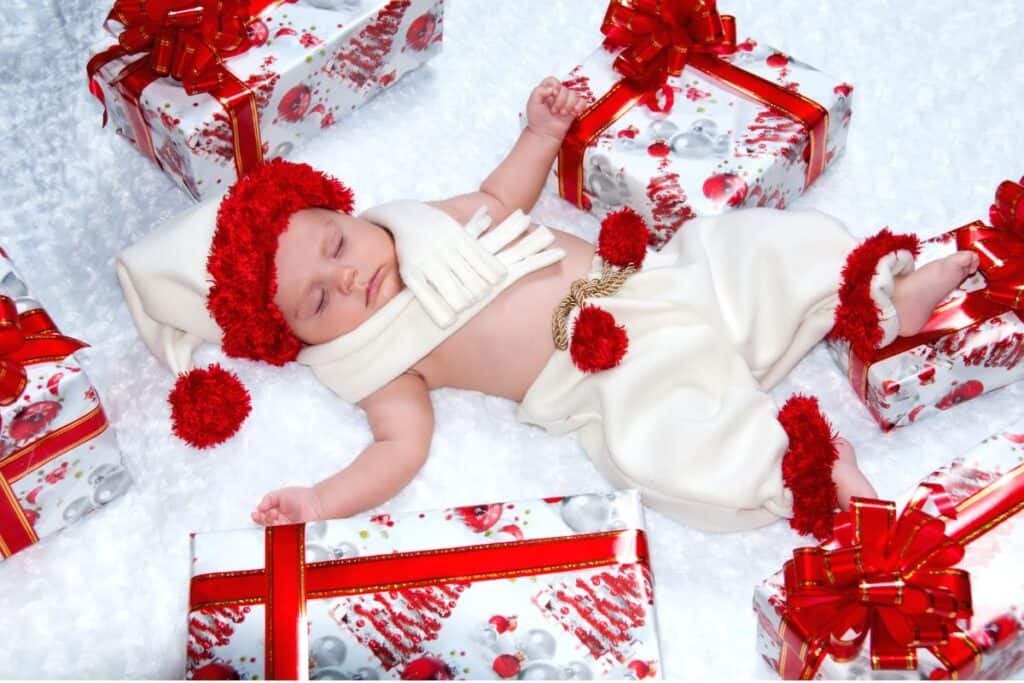 32. Red Christmas
Blurred Christmas lights make one of the best backgrounds for photographs because they appear soft and make your baby stand out more. The key is to shoot with a wide aperture in order to get that blurred background. You can do this photoshoot idea near a Christmas tree for the lights, or you can simply hang and scatter Christmas lights on a plain background.
33. Bestie Babies
If you have angels in your family rather than just one, such as twins or a cousin who is about the same age as your child, you might want to include them in your photo shoot. Allowing them to match in clothing or having one dressed as Santa and the other as a reindeer is a great idea here. Either way, the picture will turn out fantastic.
34. Baby in Santa Hat
Who says a Santa hat should only be worn on the head? You can have it made and use it to conceal the unique body parts of your child. For added texture, you could have them pose while lying on a soft, fluffy rug in this idea for a photo shoot.
35. Angel Santa
In a newborn photo shoot, soft, fluffy rugs are your best friend. In addition to keeping your baby safe from potentially harmful spikey objects nearby, they also make a good background and props. For example, in this photo shoot idea, you simply dress your baby as a miniature Santa Claus and place him on your white, fluffy rug to make it appear as though the baby is in snow.
36. Big and Little Santa
What a cute scene it is when your little Santa meets Daddy Santa. Keep in mind that your baby may not react positively to meeting someone in red and a beard right away, but hey, your baby crying and your husband laughing is kind of a cute scene to record, right?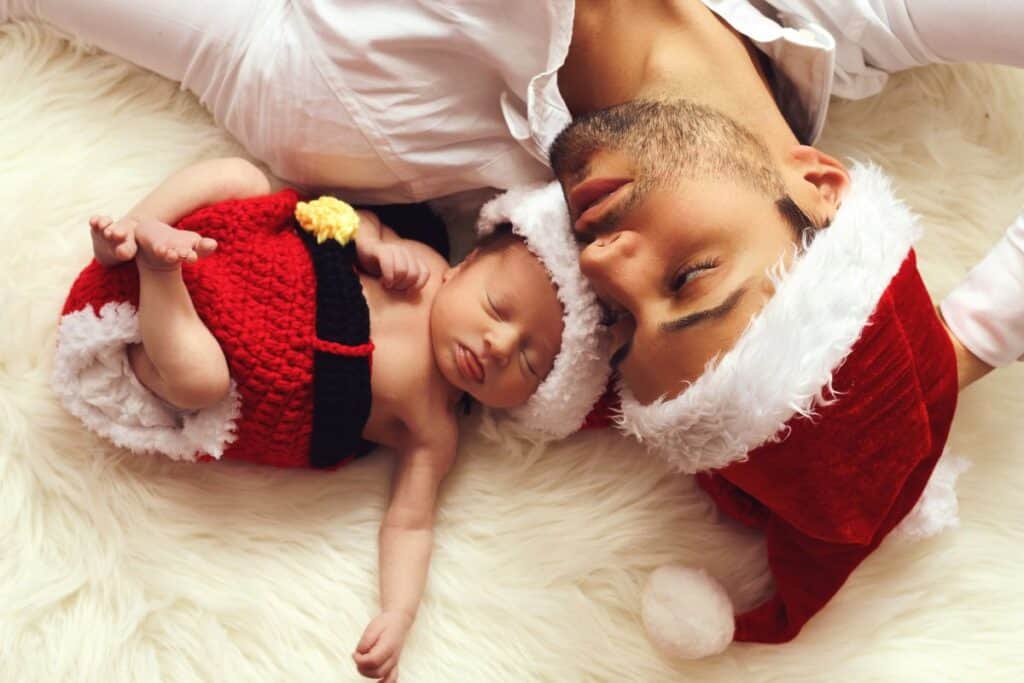 37. Starry Baby
Last but not least, letting your child be a little star is one of the cutest and most straightforward photoshoot ideas. You will only need a cute Santa hat, a soft, fluffy or furry rug for your baby to lay on, and a knitted star for your baby to play with for this photo shoot.
These ideas are perfect whether your baby is having his or her first ever Christmas photoshoot or you may wish to use these ideas to document your toddler's first Christmas to rip open gifts, but whatever you do, take advantage of this season's joy and festivity to capture some incredible memories.
Can I Take Newborn Christmas Photos Myself?
You may at some time question, "Can I shoot my own newborn's Christmas pictures?" Of course.
Your baby's first Christmas photo shoot can definitely be DIY. Use some of the ideas we provide for poses and themes for your newborn's photo shoot. In fact, taking photos at home can take some the stress off, and you can choose a time when baby will be awake or asleep, rested, fed, and not over-stimulated.
4 Tips for Taking Adorable Newborn Photos
Let's face it, a newborn as your subject can be a bit stressful. These tips will make your DIY newborn photo shoot much simpler.
1. Find an assistant.
As was already indicated, shooting images is quite challenging and tough for one person to manage. It is very helpful to have someone nearby to help you set up the scene and make decisions about angles, decorations, and other things.
2. Choose and set up your camera in advance.
Your camera can be a high-quality Nikon D5 or D6, which are well known among photographers, but you would be amazed at the quality of photos you can get from your smartphone. Whatever you decide, but sure you have settings, tripod and other options chosen in advance so you can quickly capture the precious moments when they arrive.
3. Choose a holiday outfit.
Get the the baby's outfits ready. Have several options on hand for spit-up and diaper blow-outs, or simply realizing that the background doesn't match with your chosen outfit.
Your child can wear a Santa hat or knitted Christmas outfits, or they can dress up as a miniature Santa Claus or reindeer.
4. Play with lighting.
The lighting is the final and most significant step in every photo shoot. Remember that natural light is always preferable, such as near (but not directly in front of) a window with sunlight. Pick a location in your home where there is natural light.
Later morning and early evening tend to be excellent times to shoot photos with gentle lighting.
If the weather is warm where you live, consider heading outside to take the pictures.
5+ Items You Can Use From Around the House for New Born Christmas Photoshoot
Why not use household items or decorations as props while you're undertaking a DIY photo shoot? Here are some easy options.
1. Backdrop
Consider the Christmas tree, a string of holiday lights in all white or a variety of colors, or choose a plain white, red, or green background.
2. Lights
Although adding artificial light won't hurt, natural light is best for photographs. Try experimenting with various colored lights as part of the overall effect.
3. Holiday wreath
Add a holiday wreath as a frame piece to maintain that festive look. Just make sure you cover it with a large blanket or piece of cloth to prevent injury.
This Christmas wreath doesn't need to be brand-new; it can simply be your yearly adornment that you tuck away in the basement or attic. It can also be DIY like this dollar tree wreath DIY.
4. Wraps and Blankets
Bring out the blankets and wraps. These soft and cuddly items are ideal for creating textured backgrounds. They work well as newborn clothes as well. Simply wrap your baby and place them in a basket or wreath. You've now received the ideal holiday gift for yourself.
5. Snowman
No snow? No problem. You can always build your own snowman. Use our do-it-yourself guide.
MORE FAMILY TRADITIONS FOR A MEANINGFUL HOLIDAY
Aside from documenting your baby's first Christmas, here are some other family traditions for you to try.