These cheap Christmas desserts are so innovative. You may be surprised that an affordable dessert recipe can look and taste amazing! Check out these cute Christmas dessert ideas you can make for the holidays!
WHY MAKE CHEAP CHRISTMAS DESSERTS AT CHRISTMAS TIME?
Christmas brunch, Hanukkah lunch, or Kwanzaa dinner, it doesn't matter which one you and your loved ones are celebrating. All and I mean all holiday meals have one thing in common – festive desserts. This is a must after a delicious meal.
So, you might be wondering why you should make an inexpensive dessert for such a big and important holiday like Christmas. Well, you're not only going to spend on desserts. You need to buy gifts, ingredients, and other Christmas items.
And because of all the inflation happening around the world, some people like the idea of cheap Christmas desserts.
CAN I IMPRESS GUESTS WITH A CHEAP DESSERT?
You will definitely impress guests with a cheap dessert. It is about the presentation and taste. There are a lot of things you can do with affordable ingredients. And I think this list of cheap Christmas desserts will prove that.
They will be impressed by the delicious taste and the fact that these are low-priced desserts. By the end of the celebration, they will want to know your recipe!
DELICIOUS, EASY, AND CHEAP CHRISTMAS DESSERTS
As you begin to think about your holiday meals, you may feel overwhelmed by the question of what to eat and serve this year. Sometimes, looking through traditional menus of other people can help inspire you in some way.
Regardless of whether you are going to make your traditional Christmas meal or you might be planning on trying something new, these cheap Christmas desserts will help you come up with some great ideas you can add to your Christmas menu.
1. RICE KRISPIE TREATS
This festive holiday treat is packed with marshmallows, m&m chocolates, and sprinkles. Kids will love this sweet yummy goodness. You won't believe that this fun dessert only costs about 7 dollars per 15 servings. How great is that?
In addition to that, these are also really easy to make! It only takes a couple of minutes to prepare and make. This makes the perfect snack for after school. Check out their full recipe for more details.
2. CHRISTMAS CHOCOLATE BISCOTTI
This chocolate biscotti is an easy Christmas dessert recipe. It is the perfect snack before or after a meal. It is best paired with a cup of coffee or tea, whichever you prefer.
Most of the ingredients for this recipe you probably already have in your pantry. It looks very cute too. But, you can always try different toppings and be creative. Don't forget that coffee or tea and biscotti are the perfect combination!
3. WORMS & DIRT CHOCOLATE BARK
This worms and dirt chocolate bark dessert is such a fun idea! Kids will be amazed at this treat. In fact, they can also help make this dessert because it is simple to do. It is very creative, guests will love this when they see and try it.
This is a no-bake snack which makes it quick and easy to make. The kids will be excited to help out with this one! If you only have a little time…this is the recipe for you.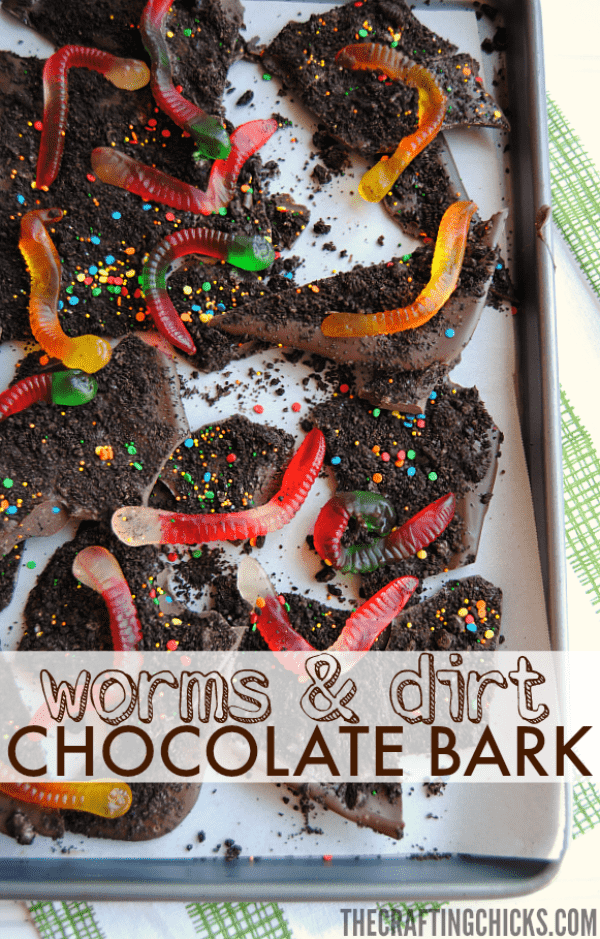 4. CANDY COATED PRETZELS
These candy-coated pretzel sticks are just like making your own peperos with cute coating designs. You can switch it up and try making these with different coatings too. It is also pretty simple to do actually. This is the perfect last-minute dessert idea.
You won't be needing lots of ingredients to make this. In fact, you only need 3 things – pretzel sticks, melted chocolate, and sprinkles. That's it! You can use white chocolate or milk chocolate. Don't forget to get creative with the candy decorations on the chocolate. Try mini marshmallows or even peppermint candies that have been crushed up!
5. CHRISTMAS COOKIES WHOOPIE PIE
These Christmas cookies whoopie pies are a game-changer. You already know it's yummy just by looking at it. This cookie whoopie pie has a cream cheese filling that has been dipped in candy cane pieces. It will be hard not to have a taste of this.
There are only 5 steps you need to follow to make this scrumptious dessert! The chocolate cookies portion of these Christmas treats makes a perfect bite.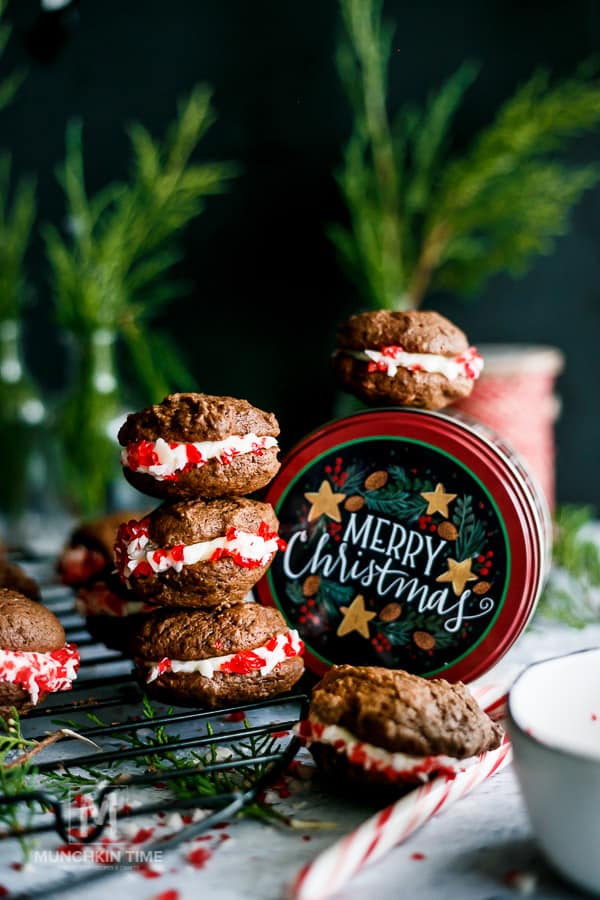 6. SNOWBALL RUSSIAN TEA CAKE COOKIES
These buttery snowball Russian tea cookies just melt in your mouth. These are traditional Christmas cookies made by many families during the holiday season. It is affordable since you will only need 6 basic ingredients for this. Check the full recipe, you might already have everything you'll need to make this.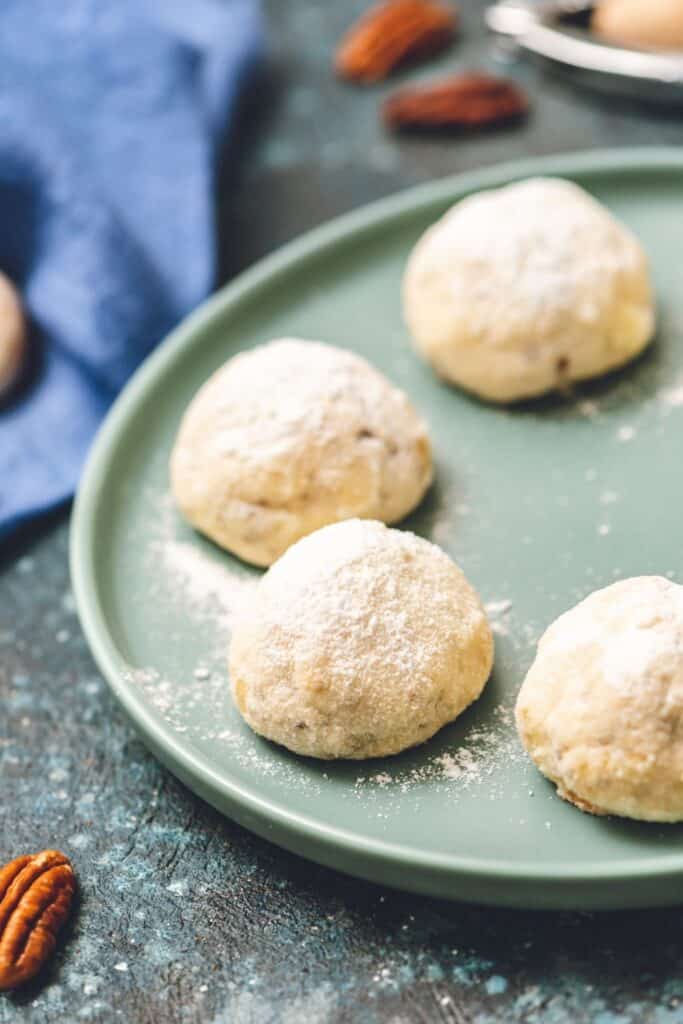 7. PEANUT BUTTER CHRISTMAS SUGAR COOKIES
These peanut butter sugar cookies are soft, chewy, and delicious. Add some sprinkles on top and you have yourself a festive cookie treat. Who wouldn't want a classic peanut butter cookie for Christmas.
You can serve these at Christmas parties or give them as gifts. Kids and adults will enjoy this sugary treat once they try them!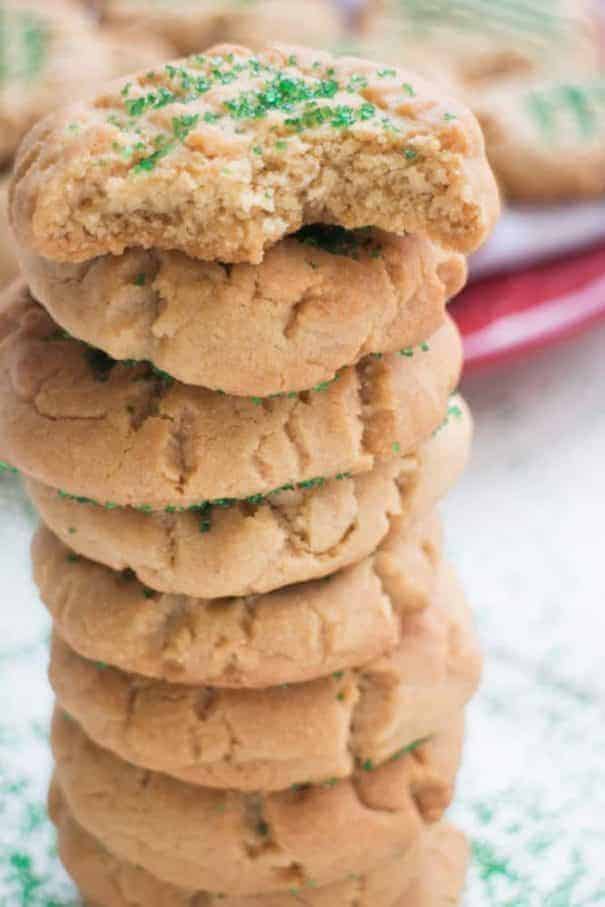 8. CHRISTMAS SHORTBREAD COOKIES
These Christmas shortbread cookies are just adorable to look at because they look like Christmas trees. Makes it hard to eat them if they look this nice. But, once you do, you won't get enough of its buttery taste.
It may not look like it, but it is quick and easy to make. You just need 25 minutes to prepare and cook these shortbread cookies.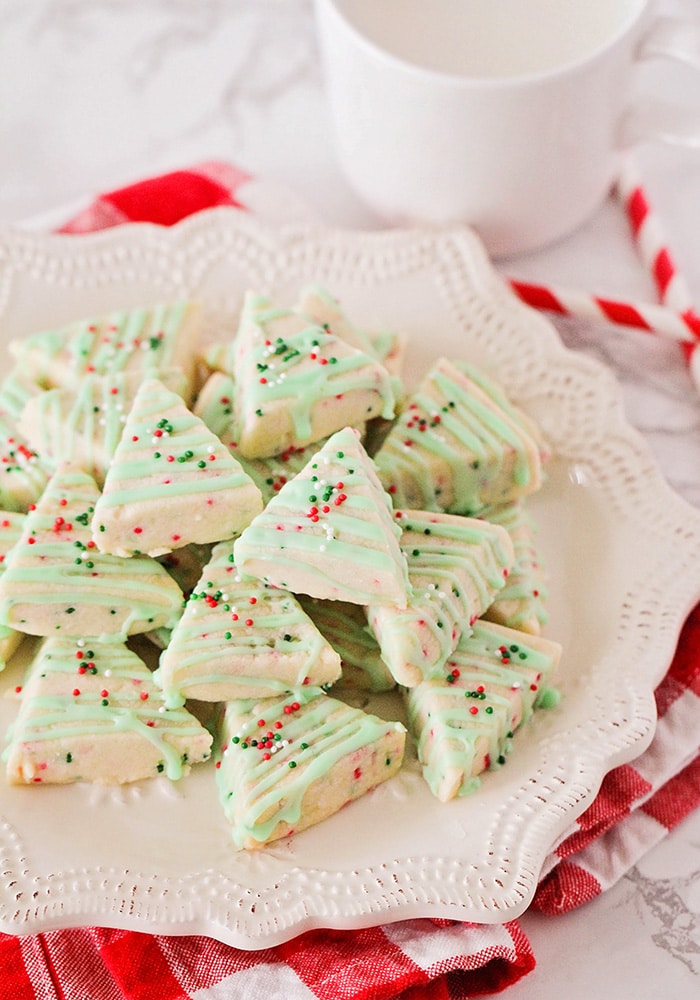 9. NO BAKE PEANUT BUTTER BALLS
You will love making these no bake peanut butter balls at home. A lot of people are always busy and in a rush during the holiday season.
If you are one of those people and you're looking for an easy dessert recipe, you are in luck! This recipe is extremely easy. Most of the time you just have to do some chilling to make the form.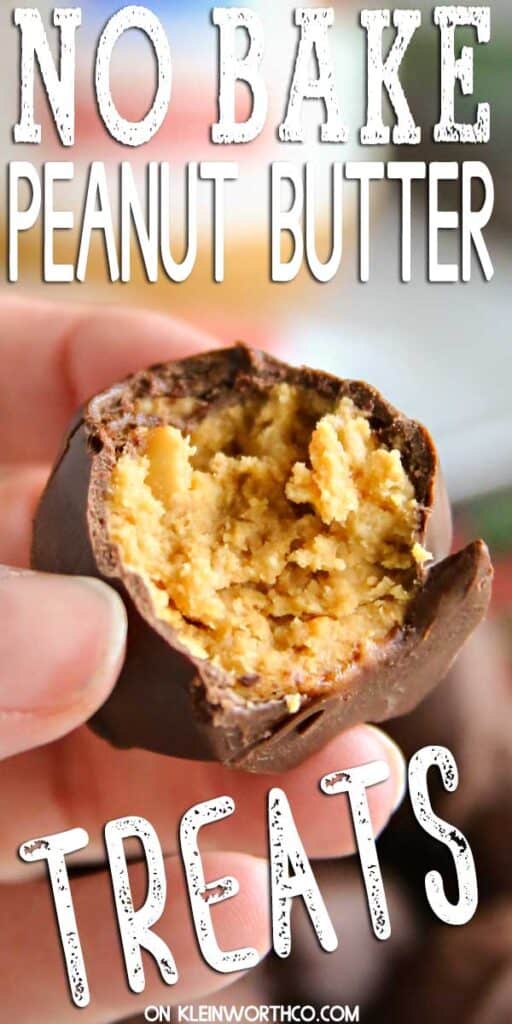 10. BROWNIE CHRISTMAS TREES
With this brownie Christmas tree dessert, guests will surely be impressed by the festive dessert you made. If you want a sure hit for your holiday dinner, this is the way to go. It is so creative and cute. They will get excited to taste this yummy brownie treat. Don't forget that these are cheap Christmas desserts that are perfect for a Christmas party.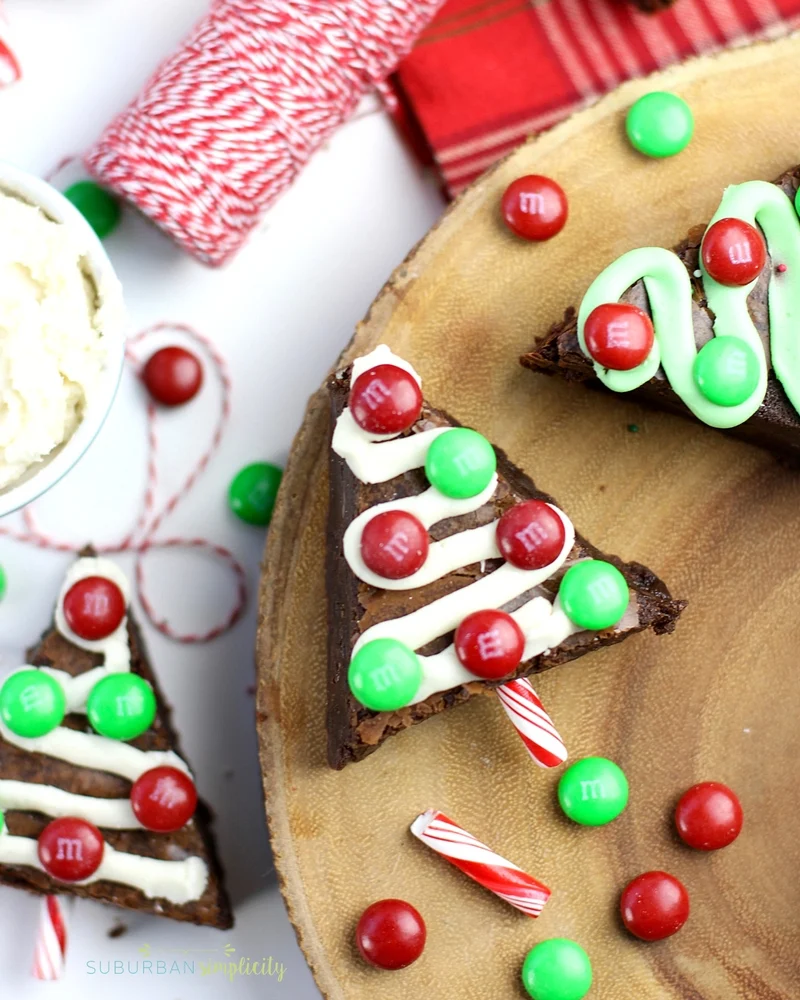 11. CHOCOLATE COVERED PEANUT BUTTER CRACKERS
These chocolate-covered peanut butter crackers only consist of 3 ingredients – ritz crackers, peanut butter, and melting chocolate. It is amazing how only 3 ingredients can have a beautiful outcome like this delicious cracker treat.
You can also add any topping you want, maybe some sprinkles too, frosting, or chocolate shavings. This is a great and inexpensive recipe idea you need to try for yourself.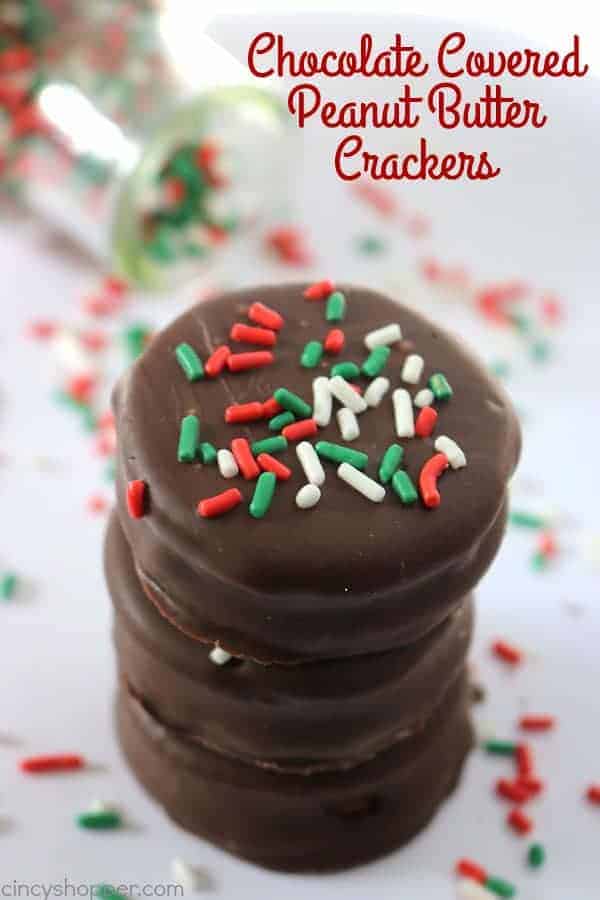 12. CHRISTMAS CRUNCH TREAT
Looking for a crowd-pleaser dessert recipe? Try adding this Christmas crunch treat to your holiday meal plan! This might be a simple treat but kids and guests will be excited to explore this crunch treat.
Just grab some popcorn, pretzel sticks, candy melt, and add green & red m&m chocolates to make it look more festive and eye-catching.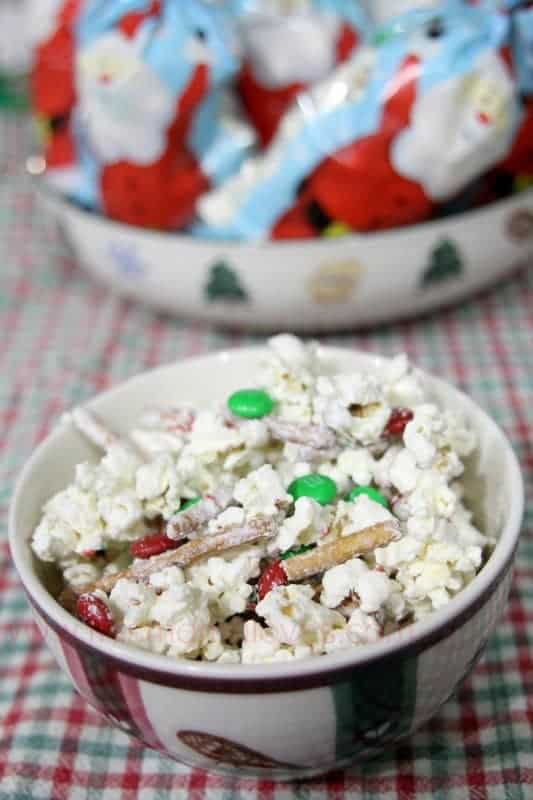 13. PEPPERMINT PUPPY CHOW
This peppermint puppy chow dessert is another easy recipe with only 3 ingredients needed. You can let your kids help you out with this one. But, try not to finish all of it – it is addictingly yummy! Everybody is going to love snacking on these.
The 3 ingredients you will be needing to make this is rice Chex cereal, some peppermint bark, and powdered icing sugar.
14. CAKE MIX CHRISTMAS MONSTER COOKIES
This cake mix Christmas monster cookies recipe is one of the most fun holiday desserts. All you need is a few easy ingredients to start off and you'll be cooking and nibbling in no time.
It is so simple and easy since a cake mix is used in the recipe. You can also try it out with other cake mixes to switch things up.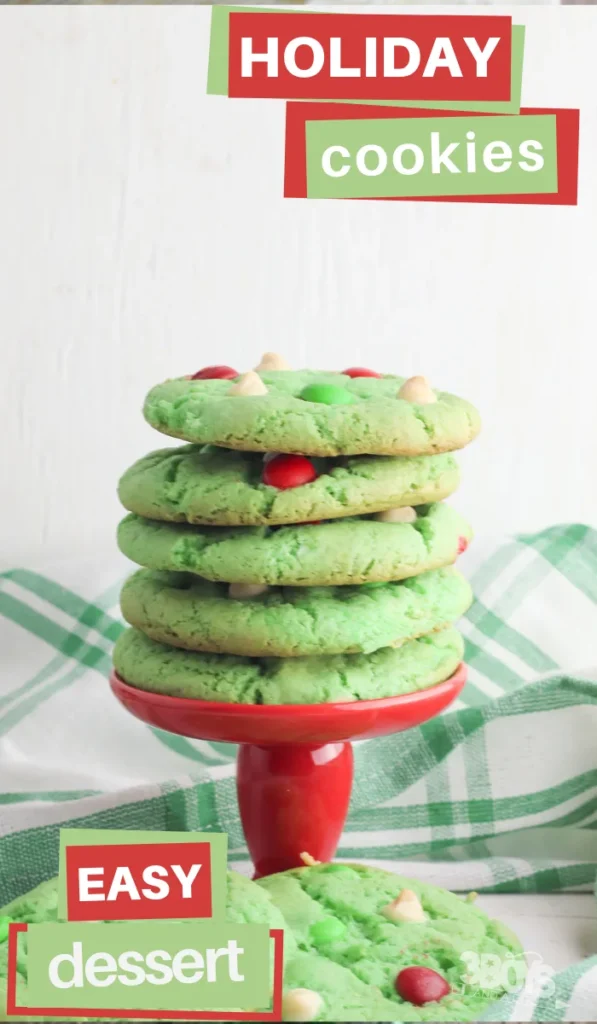 15. SANTA OREO POPS DESSERT
Cake pops are worth trying. But, these Santa oreo pops are really something else. It's fun to eat and make. You should definitely add this to your holiday menu! Since you are going to be using in-store purchased Oreos as a base, this makes it fast, easy, and most importantly an inexpensive Christmas dessert without needing to cook.
In addition to that, you can easily make several of these pops and put together enough for your family or even for a whole Christmas party without any problems!
16. CINNAMON SUGAR DONUT MUFFINS
These mini cinnamon sugar donut muffins are so cute. It even has a snowy effect touch on the outer layer. It is packed with flavor – a perfect combination of nutmeg and cinnamon. I don't think I need to convince you to try these.
This is a kid-friendly recipe, they can help out with the preparation. Plus, this will be baked not deep-fried – it will be a little bit healthier with less oil & grease.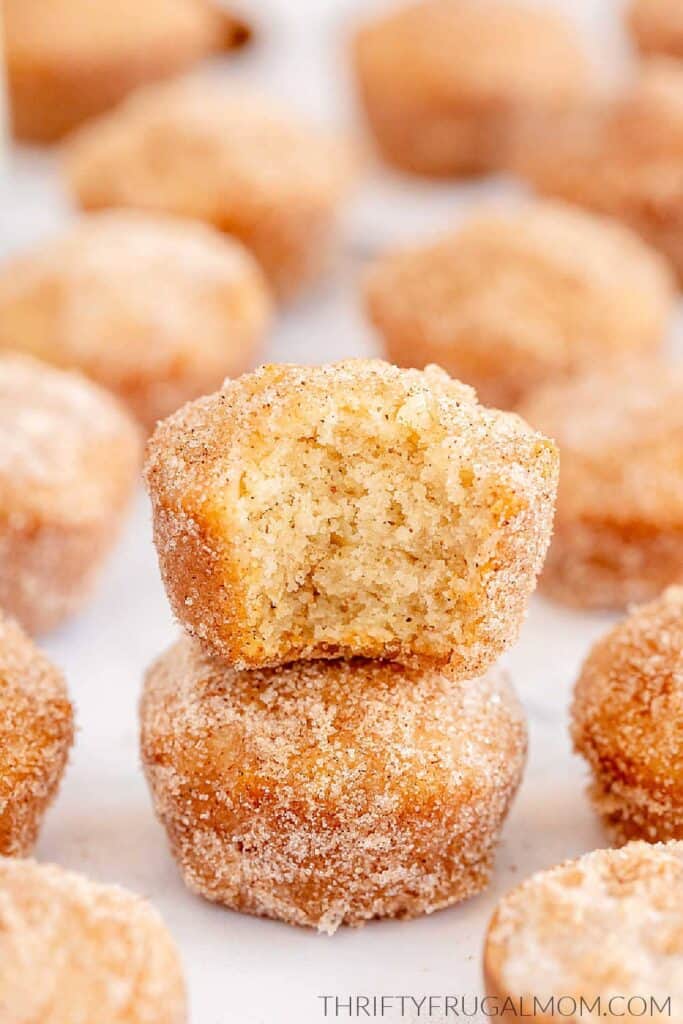 17. FUNFETTI COOKIE BARS
What's more fun than a funfetti cookie bar? Kids will immediately snack on these soft & chewy bar treats. It will bring joy to your eyes too because of its fun colors! It will be hard staying away from these. They are that good. These cookie bars are soft with every bite making you feel like a kid again.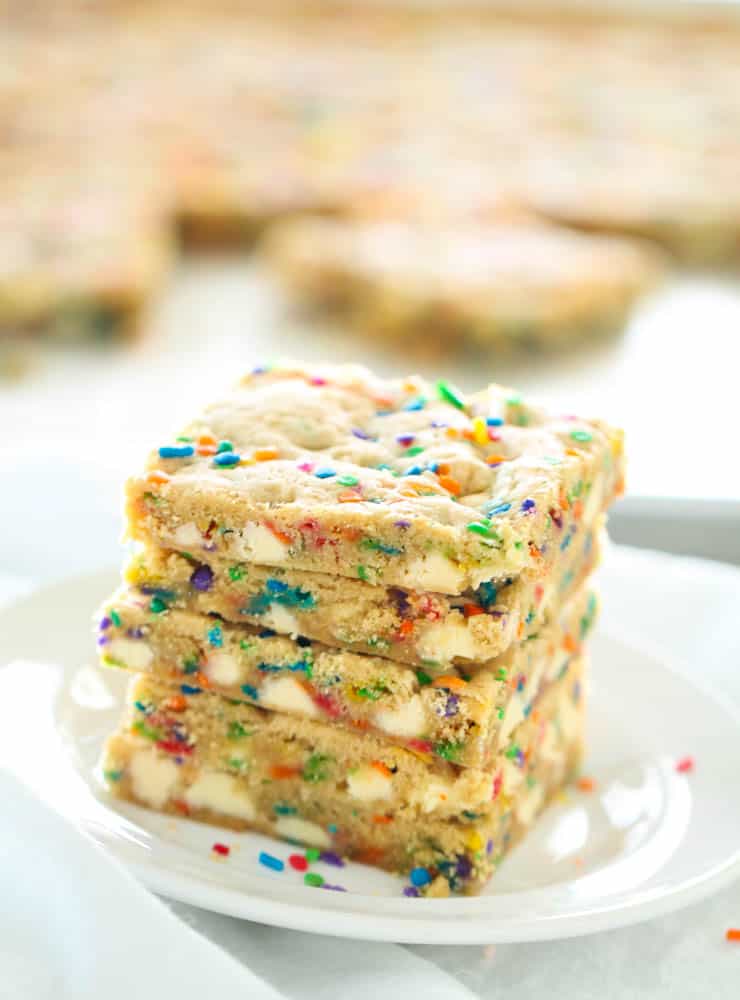 18. SNICKERDOODLE COOKIE BARS
Everybody loves snickerdoodles. It's so flavorful and soft. Not to mention that cinnamon-y taste and smell that makes your mouth water. This snickerdoodle cookie bar is made on a pan sheet making it easier to bake batches of it.
This is a must-have on any holiday dessert menu. You can never go wrong with snickerdoodles. It is a crowd favorite!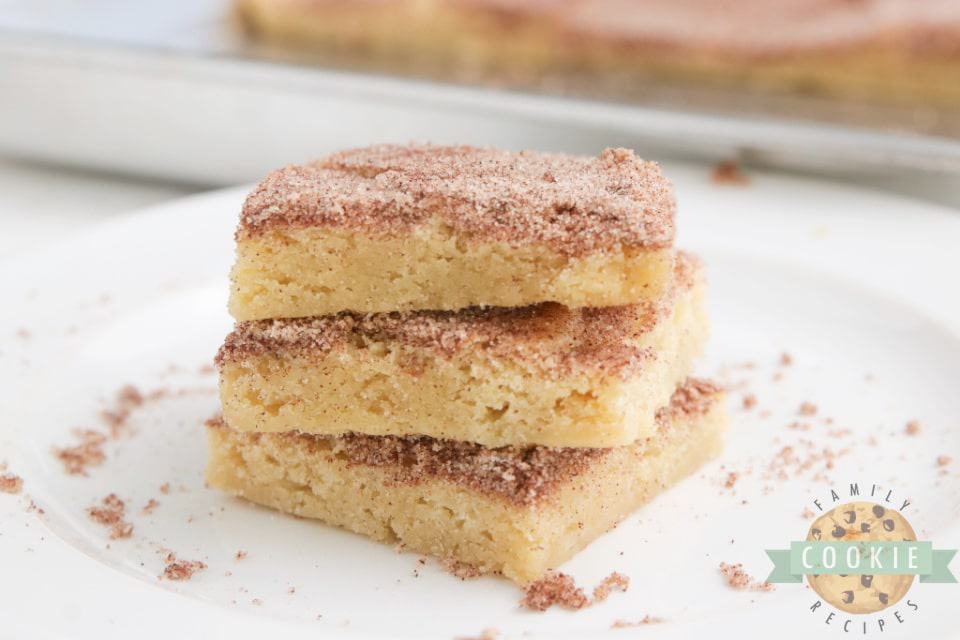 19. CHOCOLATE PEANUT BUTTER OATS
Are you worried about what to feed your Christmas party guests? This is the perfect easy holiday recipe for you. You can easily make a big whole batch with this recipe. They are going to enjoy eating these chocolate peanut butter oat bars.
You can also add your own toppings to this oat bar if you want. Check out the full recipe to know more about it!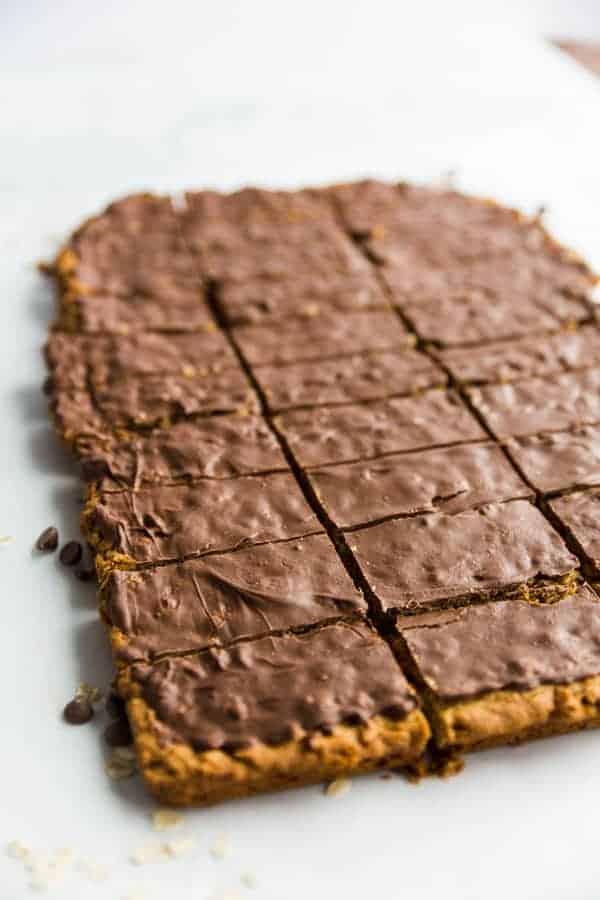 20. MISSISSIPPI MUD BARS
This is the best combination you could ask for – brownie, marshmallows, toasted pecans, and fudge sauce. Nothing can get better than this. You will fall in love with the decadent taste of these Mississippi mud bars.
Kids will instantly get excited just by looking at it. All that chocolatey goodness. Yum! This recipe is for all the chocolate lovers out there (everyone).
21. S'MORES SLAB PIE
You don't want to miss out on this s'mores slab pie recipe. It looks great but tastes even better! The layers of this slab pie are beautiful. You have the crunchy texture of the graham base, the moist chocolate in the middle, and of course the fluffy marshmallowy meringue on top.
The guests or your family members will be cleaning out the whole pan in just minutes! You'll enjoy every bite of this s'mores slab pie!
22. HOLIDAY PUMPKIN BARS
Who says you can only make pumpkin bars? These holiday pumpkin bars are rich in flavor. It is soft and delicious! The silky cream cheese topping complements the pumpkin bars perfectly.
This pumpkin bar recipe will surely spice up your holiday dinner! You can also experiment with the recipe and give it your own little twist!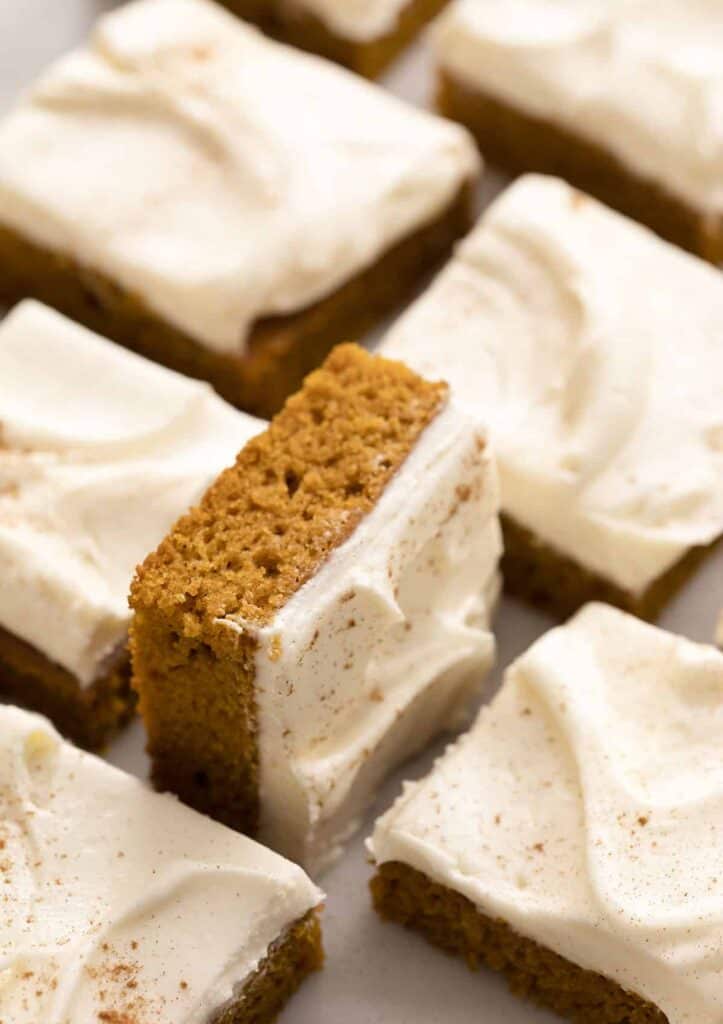 23. S'MORES SHEET PAN COOKIES
These s'mores sheet pan cookies are great for feeding a large group of people. You can make these for Christmas parties, pot lucks, or just for a simple family dinner.
This will be an instant crowd favorite! These super tasty cookie bars are moist and gooey from all of the melted marshmallows. Watch your kids because they are going to eat lots of these!
24. APPLE SLAB PIE
If you love crumbly pie, then this is the pie for you! You'll also love the crisp taste of the apples on this pie. It is sweet and scrumptious. You can also add some ice cream on top for an a la mode dessert or another option is putting some caramel and even chocolate syrup.
If it won't be too sweet for you, you can do both, ice cream and syrup. This delightful apple pie recipe can be eaten warm or cold. Either way, it will taste delicious!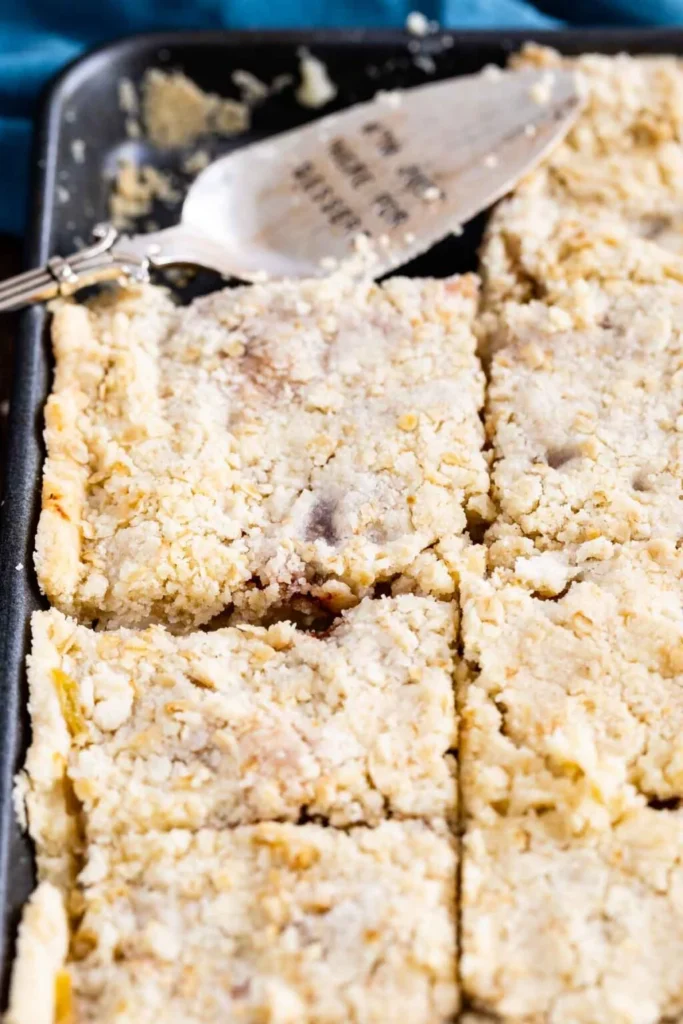 25. LEMON MERINGUE PAN PIE
This pie is very refreshing. Fresh lemon and meringue are such a great combination. Making slab pies is the right option if you are looking for an affordable dessert you can make for a lot of people.
The ingredients needed to make this lemon meringue pie is pretty budget-friendly which is a plus! This might take some time to make but the outcome will be worth it!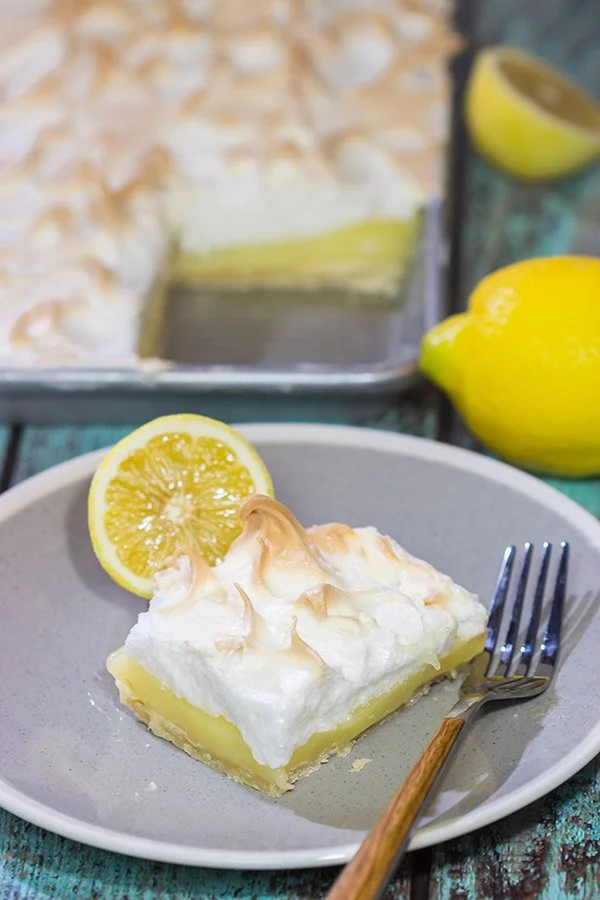 26. CHERRY PIE SQUARES
These bite-sized cherry pie bars are incredible. It's flavorful, soft, and chewy. I bet you are going to love the glaze on top which balances everything out. That cherry filling will leave you wanting more!
This recipe makes up to 26 bars of cherry pies. You can always cut it in different shapes and sizes to make more servings. Or you could just make more because it's so easy to make! Check out the full recipe to know more about it.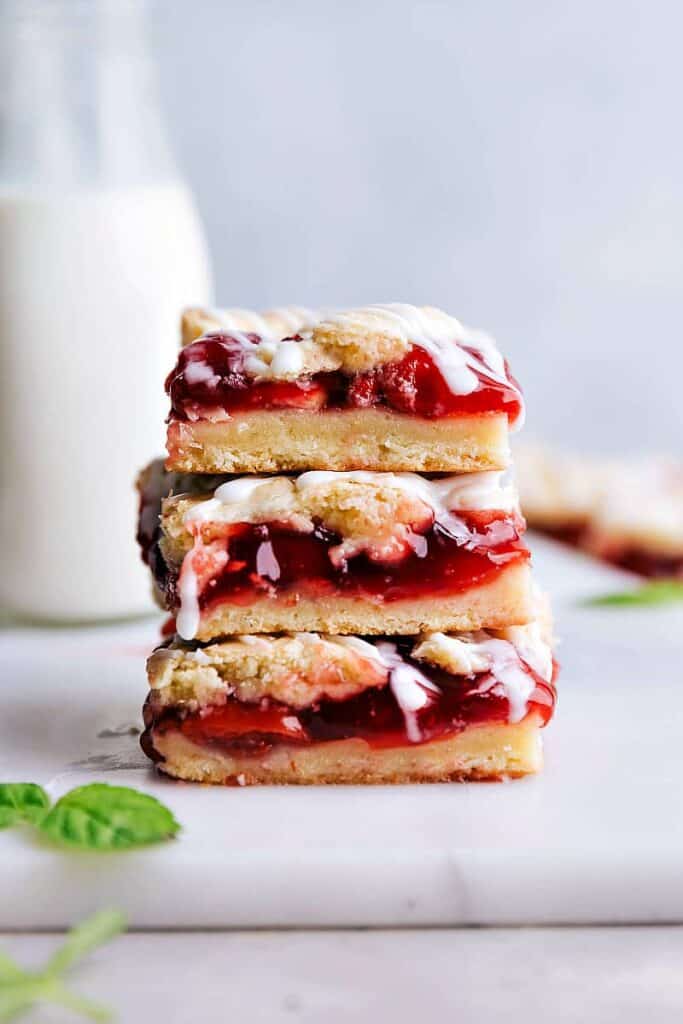 27. ZUCCHINI SHEET CAKE
These zucchini mini cakes are surprisingly yummy! Who would have thought that you can bake an amazing cake with zucchini in it?! For those of you who have tried this yet, here is a fresh dessert idea for you to try with the whole family!
It is super moist and the rich cream cheese frosting is a great finish touch for the cake. You will be speechless once you get a taste of this!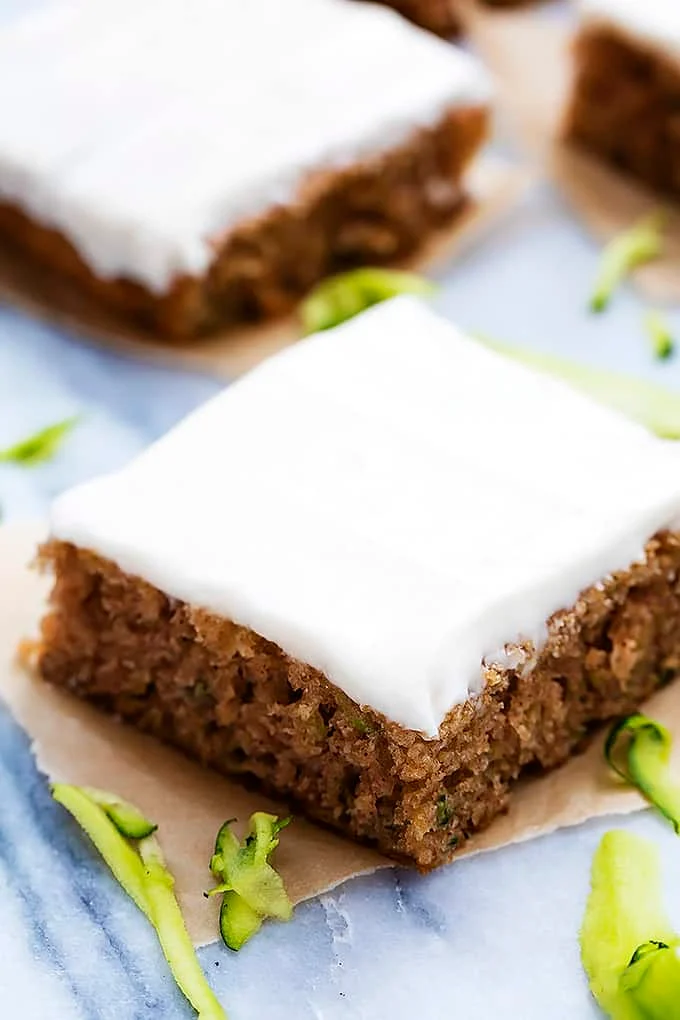 28. CINNABON CINNAMON ROLL SHEET CAKE
Sheet cakes are the best. If you love Cinnabon, you are definitely going to be obsessed with this yummy cinnamon roll sheet cake!
This tasty cinnamon roll cake is soft and fluffy on the outside. And the inside has beautiful swirls of cinnamon all over. It has a hint of a buttery taste to it that goes really well with the vanilla cream cheese frosting. Check out the full recipe to learn how to make those gorgeous swirls!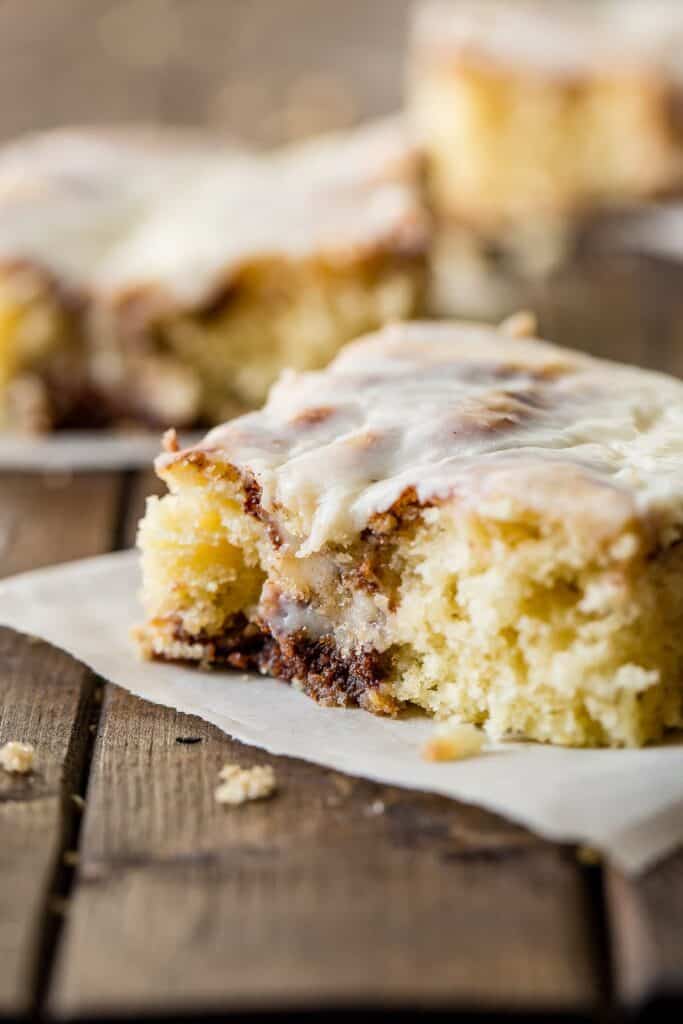 29. COOKIES N CREAM PAN CAKE
Kids and kids at heart love cookies n cream! It is a simple dessert yet everybody wants some of it. Chocolate, Oreos, and cream cheese frosting..what's not to love?! Everybody is going to be begging for more. Good thing this recipe makes a big batch of cookies n cream pan cake.
It is already good as it is, but you can always mix it up and try topping it with your choice of cookie. Perhaps, something like chips ahoys maybe.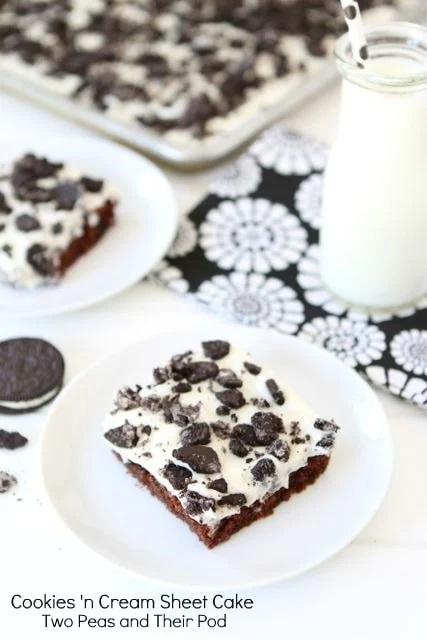 30. SHEET PAN FRUIT PIZZA
For something on the healthier side, this sheet pan fruit pizza would be an amazing dessert idea. It is so fresh to look at. In some places, these fruits might be a little pricey. No worries, there are other fruits you can top this cake with. Like, mangoes, avocadoes, or even apples.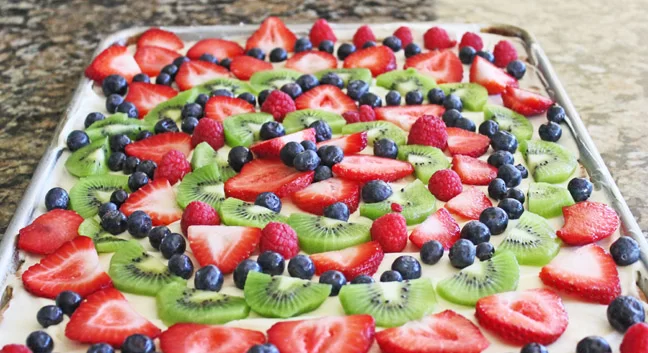 31. CHOCOLATE PEPPERMINT POUND CAKE
This stunning chocolate peppermint pound cake is rich in flavor and moist. Its festive look will catch everyone's attention. This doesn't look like it belongs on the cheap Christmas desserts list at all! But, believe it or not, the recipe for this pound cake is affordable!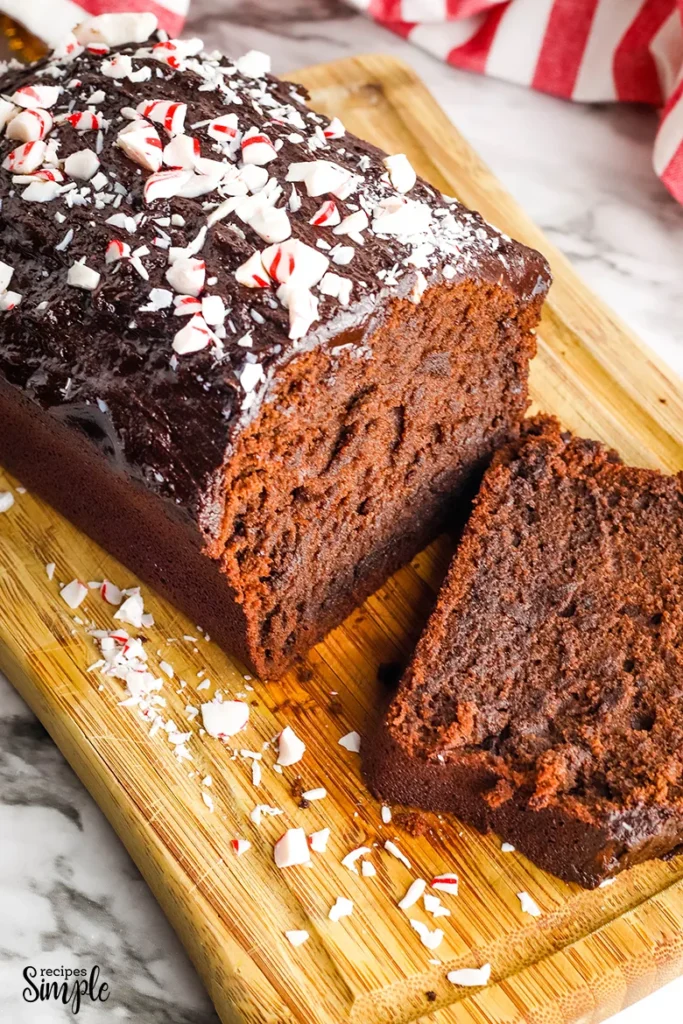 32. 3 INGREDIENT TOFFEE DESSERT
This quick toffee dessert recipe has just the right amount of crunchiness and caramel taste to it! Kids can help out decorating this toffee dessert too in any way they want! It's a beautiful mess. You only need 3 ingredients and 10 minutes of prep time for this.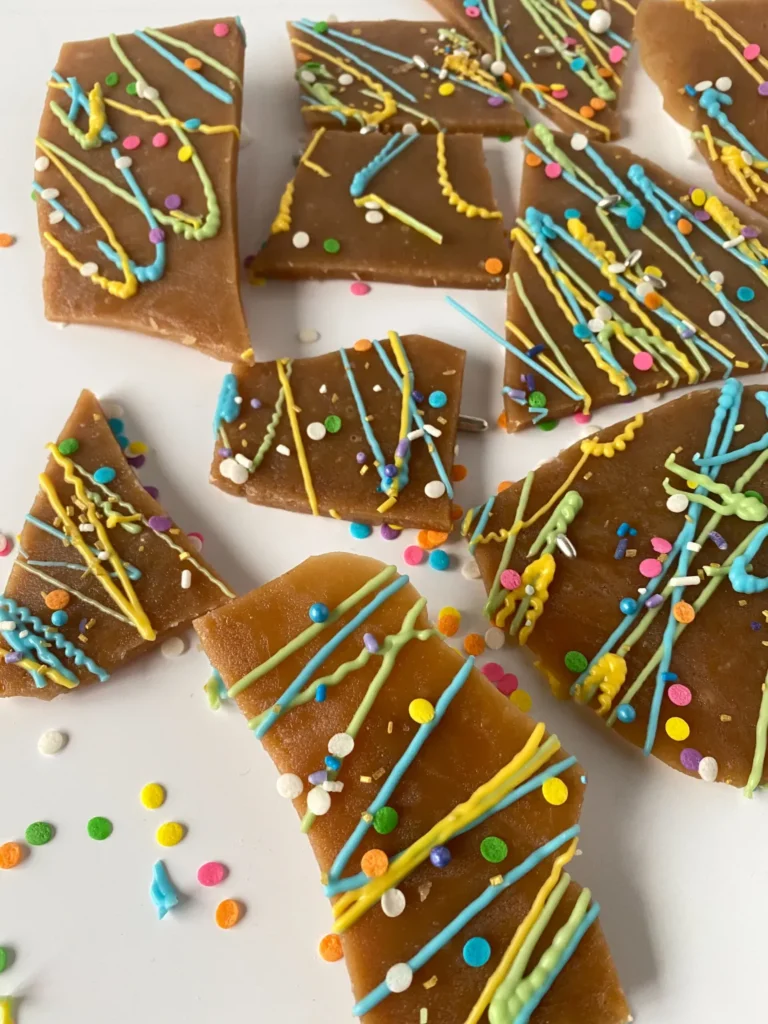 33. CHRISTMAS PEPPERMINT PRETZEL TREAT
Make a simple pretzel a Christmas dessert with this peppermint treat recipe! It is a great colorful snack to have on your table. Salty pretzels with peppermint and chocolate…what a perfect combination! Kids will be snacking on these the whole day!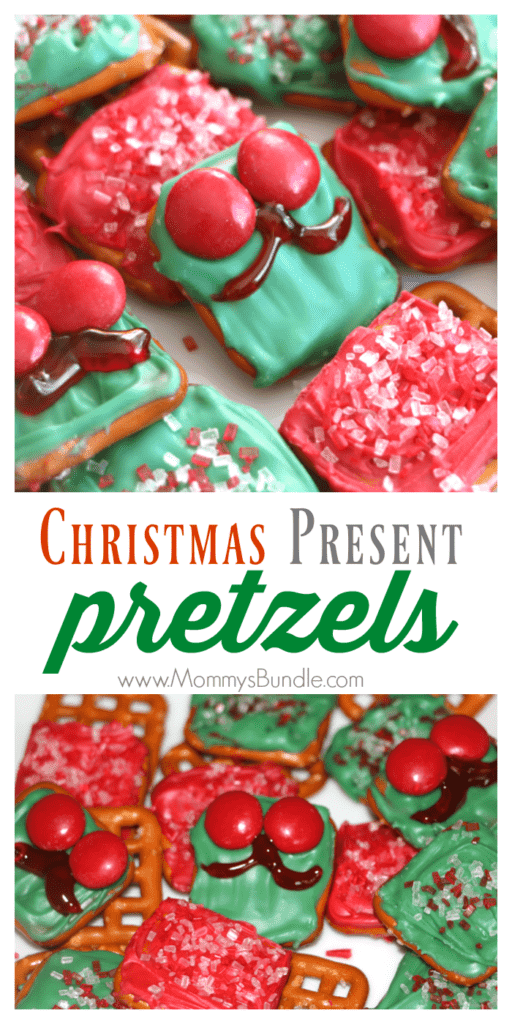 34. MELTED SNOWMEN OREO BALLS
These melted snowmen oreo heads are so cute and creative! Guests will be amazed at this dessert. And it will be exciting to eat too! This will for sure be an all-time favorite holiday treat. This recipe makes 40 melted snowmen oreo balls in just 40 minutes.
35. GRINCH JELLO SNACK CUPS
This dessert idea is extremely easy. You will only need a couple of things. No need to cook too! It's simple yet so cute. You can also try out different designs and jello snack cups.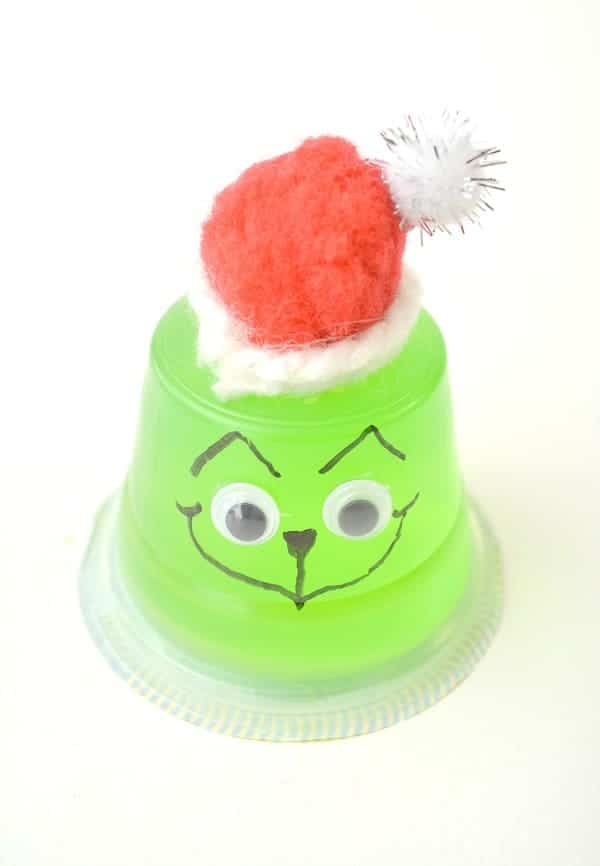 A colorful, delicious Christmas cake the whole family will adore. The best part is that this is made with a cake mix so it saves time and money! Who doesn't love a moist cake with ribbons of color running through it?
WHICH CHEAP CHRISTMAS DESSERT WILL YOU MAKE?
Now that you have looked over this huge list of cheap Christmas desserts…which one do you think your family will want you to make?
Be sure to check out these recipes to round out your holiday meal:
Be sure to PIN this for later and SHARE on Facebook!