Don't miss out on these Simple Christmas Activities for Preschoolers! They're the perfect way to create fun family memories and new Christmas holiday traditions.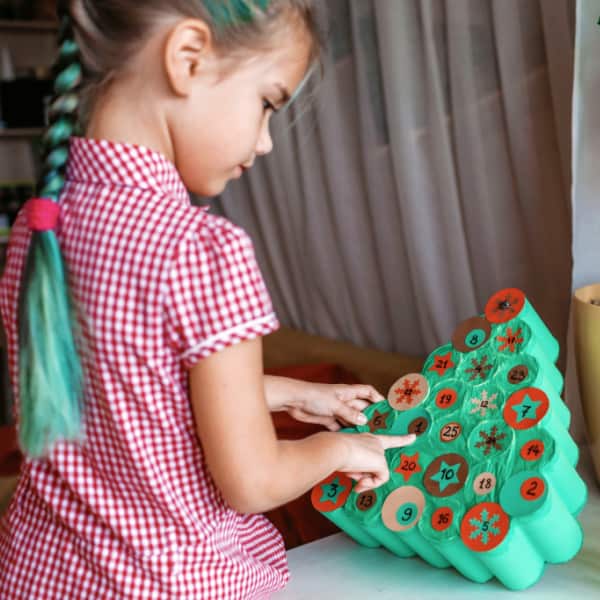 Simple and Fun Christmas Activities for Preschoolers
Preschool-aged children have fantastic enthusiasm for Christmas but not a lot of patience or coordination to go along with it. They want so much to participate in the festivities but get frustrated easily when crafts or other projects require a delicate hand and seemingly infinite waiting.
Here are some tips for making Christmas memories with your little ones that will last a lifetime. These Christmas activities for preschoolers will create special bonding time for the whole family.
Bake cookies with kids
The best part about baking with kids is that you're teaching them the importance of cooking and baking at the same time. They'll love knowing that the end result is a delicious and warm cookie and you'll love knowing that they'll be able to cook their own food as they get older.
Sounds like a win-win, right? Don't forget that the best part about decorating Christmas cookies is that you then get to sit and eat them together, too!
Decorate the Christmas Tree
Trust me on this one – the kids will love to help decorate the Christmas tree! They'll be able to put the ornaments where they want and step back and admire their work. This is one of those Christmas activities for preschoolers they will look back on as an adult and cherish.
This also gets them in the mindset to want to help out with other fun Christmas decorating, too.
Creating fun Christmas decorations is also a great way to let your preschooler be creative. Any type of candy cane craft or activity that they want to make is going to look wonderful on the tree!
Make Christmas Wreaths
The Christmas wreath is one of the simplest decorations that you can make, and this includes kids. If you have a bigger budget, you can get wreath blanks from craft shops or florists, but even the tiniest Christmas budget can afford a wreath-making activity.
If you have a wreath blank, a bushy circlet of bristly boughs, you can add pieces of ribbon, small toys, pine cones, or even candies to it. These can be easily fastened with twist ties or even just stuck in with nothing affixing them. A great wreath that I saw one year was lollipops stuck into the boughs as little decorations. It was as cute as anything, and Christmas dinner guests could help themselves at the end of the evening's festivities.
For a really cheap and simple wreath, try cutting a hole in the center of a sturdy paper plate. Once this has been done, your preschooler can get involved. Using some kid-friendly glue, stick buttons, bits of ribbon, pine cones, and bits of colored paper to your wreath cut out. Kids can be proud of their creations, and you can hang them on their bedroom doors to celebrate the holiday season.
Create Homemade Christmas Cards
Save money this year and instead of purchasing Christmas cards, have your preschooler help out instead! This is a great way to send unique cards to everyone on your list.
Memorize and Sing Christmas Carols
This can be something that you do at home or go out and do in the neighborhood. Teach yourself and the kids all the Christmas classics and get out there and belt them out!
Remember, you don't have to be perfect; no one will remember the exact details of your Christmas celebrations in years to come. However, by including your little ones in the preparations, they will forever treasure participating in something meaningful and spending time with you. And that is the best Christmas present of all!
If you liked these Christmas preschool activities, make certain to check out these great ideas as well:
Be sure to PIN this for LATER and SHARE on FACEBOOK!