Your kids will love these free printable Ornament Coloring Pages, which include three adorable coloring pages that can be enjoyed by both kids and adults!
Unique Christmas Ornaments for Kids
There are numerous ways to keep the kids entertained and busy during their holiday break without relying on electronic devices. You can rekindle their creativity by working with them to create cute and one-of-a-kind ornaments.
You are not only keeping them busy and away from their gadget screens, but you are also rekindling the fire of creativity and creating a fun memory with them. This is also an excellent time to teach them about the symbols that they are likely to encounter during the holiday season, and don't forget that you can make free Christmas decorations with the following crafts that you can do with your children!
Spiral Christmas Tree Ornament Craft
The first on our list is this Spiral Christmas Tree Ornament Craft, which has been around for years and is still popular because it is very easy to make and produces a very pretty result! There are two ways to do this: draw a big circle and slowly draw little circles leading to the center of the big circle to make a spiral, or download this printable to save time drawing that circle.
Aside from being a simple DIY ornament, it also helps your child practice using scissors. Furthermore, this is very versatile, as you can hang it plain or add other decorations, such as mini pompoms or star stickers, which your child will undoubtedly enjoy!
Reindeer Christmas Ball Ornament
This DIY craft may appear difficult, but trust me, it is very simple, and it looks fantastic when it is already hung on your Christmas tree. All you need for this project is a clear Christmas ball, brown fillers or shredded brown paper, google eyes, brown pipe cleaners, and, of course, a glue gun.
All you have to do is let your child stuff that brown filler inside the clear Christmas ball that will serve as the reindeer's head. The brown pipe cleaners will then be transformed into reindeer horns. Then it's time to get together! Simply stick the appropriate eyes and horns on your Christmas ball, and be the one to do it to keep your child safe.
Hold your horses if you intend to discard unused wine glasses or any glass you no longer use! You can make something useful and beautiful out of it. Prepare your unused glassware, Epsom salt (available at any drug store), mod podge, and ribbon for the next DIY!
The first step is to apply mod podge inside your glassware and fill it with Epsom salt to create the snowy effect. Once you're satisfied with how snowy it is, you can add eyes. You can let your child draw them or stick on some googly eyes. Give your snowman a bow as a finishing touch!
Themed Christmas Ornament Ideas
It's the season to be jolly and creative! If you're still thinking about how to decorate your Christmas tree this year, so it doesn't look like last year's, I've got you covered! I've gathered some of the best Christmas tree ideas for you to try!
Your Christmas tree will look unique and fresh this year if you use the following Christmas tree ideas. Whether you want your three to look understated, rustic, glam, completely over-the-top, colorful, or all-natural, one of these Christmas tree ideas will undoubtedly inspire you and be adored by your children!
The Mickey tree is first on our list! Your child will undoubtedly enjoy a Disney Christmas, but that does not mean that the only way to have one is to visit Disneyland; there are other ways to have a Disney Christmas at home!
Set up your own Mickey Tree to bring the Disney magic home! You'd only need a bare Christmas tree, red, black, and white Christmas balls, and Mickey's head (especially his ears). You can also include some of your child's favorite characters from the show, such as Minnie, Pluto, or Daisy!
If you want to deviate from the traditional Christmas tree, try something like this Bookworm's Nest! Instead of green leaves or a pine tree, this one-of-a-kind Christmas tree is made up of books with beige or off-white pages.
This is a more neutral Christmas tree decoration idea. It has that warm old feel to it, which is great if you have a lot of books at home. This is also a great way to teach your children the value and importance of books in their lives.
Allow the avengers to assemble once more in this AvenTree! If your children are fans of the Avengers, they will adore this Christmas tree idea. This Avengers-themed Christmas tree is simple to make; all you need is a bare tree, Avengers toys, and a mask that your child almost certainly already has.
Almost every child in the world is familiar with the iconic Sesame Street song and characters, which include, of course, Big Bird, Oscar the Grouch, and the Cookie Monster! This is where the Cookie MonsTree concept came from!
All you need for the Cookie MonsTree idea is a blue base or blue tree, which you can color of course, and this activity will undoubtedly be enjoyed by your children. Instead of a star, you could add Cookie Monster's eyes and a Santa hat! You could add more detail by making it stand on a yellow bucket that looks like a bucket of cookies!
With this Snowman Christmas Tree, you can feel the season's chill from the comfort of your home! This is one of the best and simplest Christmas tree ideas. All you need is a bare tree and some fake snow, also known as the season's cover.
To make your tree look like a standing snowman, simply wrap the fake snow or the season's cover around the tree strategically. You can wrap it however you want as long as it looks like a snowman. You can add his nose and hands for more detail!
Free Printable Ornament Coloring Pages
Aside from making unique ornaments and crafts and decorating your Christmas tree with your children, coloring pages are a great way to kill boredom and be productive without putting in too much effort.
These Free Printable Ornament Coloring Pages are ideal for unwinding and having fun with your children. It includes three pages of simple coloring pages that your children will undoubtedly enjoy. These Ornament Coloring Pages are available to you for free!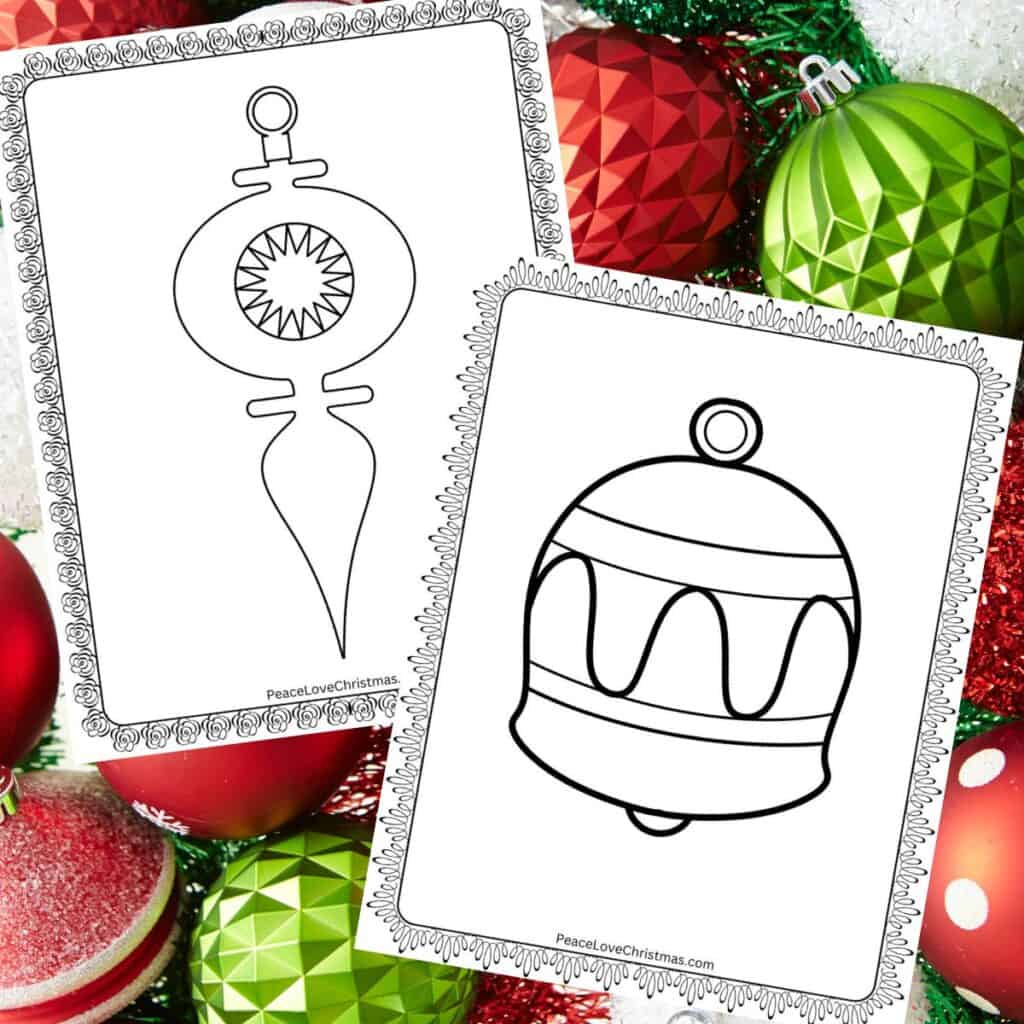 More Coloring Pages
If you enjoyed my Free Printable Ornament Coloring Pages, you'll enjoy the printable coloring pages below. The best part is that they're all free!
Be sure to PIN this for LATER and SHARE on FACEBOOK!