If you have never made a Christmas Appetizer Tree, this is the year to give it a try. A beautiful centerpiece for your holiday table, this appetizer tree is made out of cheese and olives. It tastes as good as it looks and is a great way to start your Christmas dinner.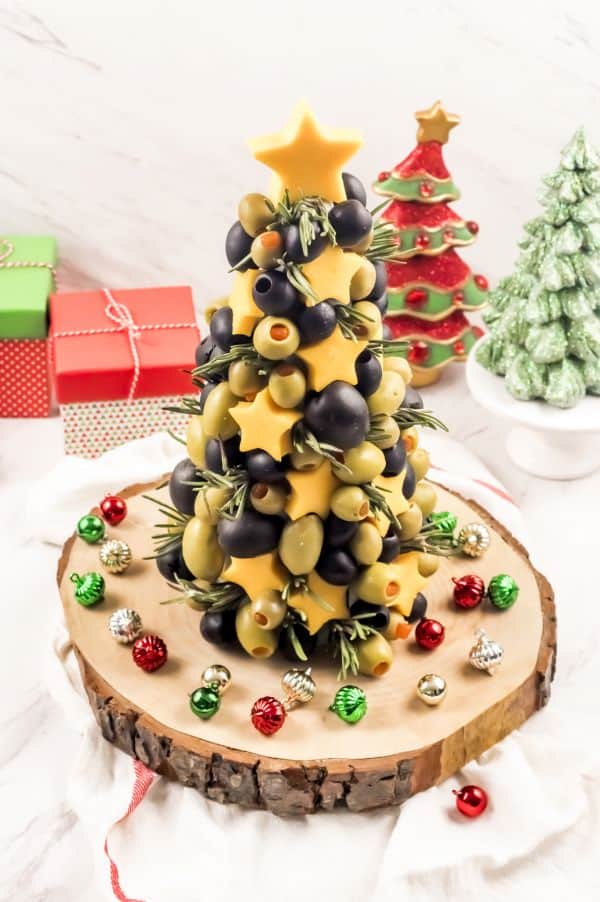 WHAT IS AN APPETIZER TREE?
To enjoy the fun appetizer trend, built your holiday party appetizer into a design that is shaped like a Christmas tree.
Typically the base of the tree is a cone-shaped styrofoam craft form. You can create the tree using any kind of food that you can stick to the foam with a toothpick.
Some of the foods I have seen used are gumdrops, cherry tomatoes, sliced meats, pickles, cheese cubes, fruit and more.
I saw idea for this Christmas Appetizer Tree is a Betty Crocker display cookbook from 2004. You can check out their original recipe here.
The purpose of any kind of decorative food is to create a beautiful focal point on the table. You will delight and impress your guests.
I found this appetizer tree very simple to make. It's also a healthier option in the midst of tempting holiday food and this version is Keto-friendly and great for those on low carb and Weight Watchers diets.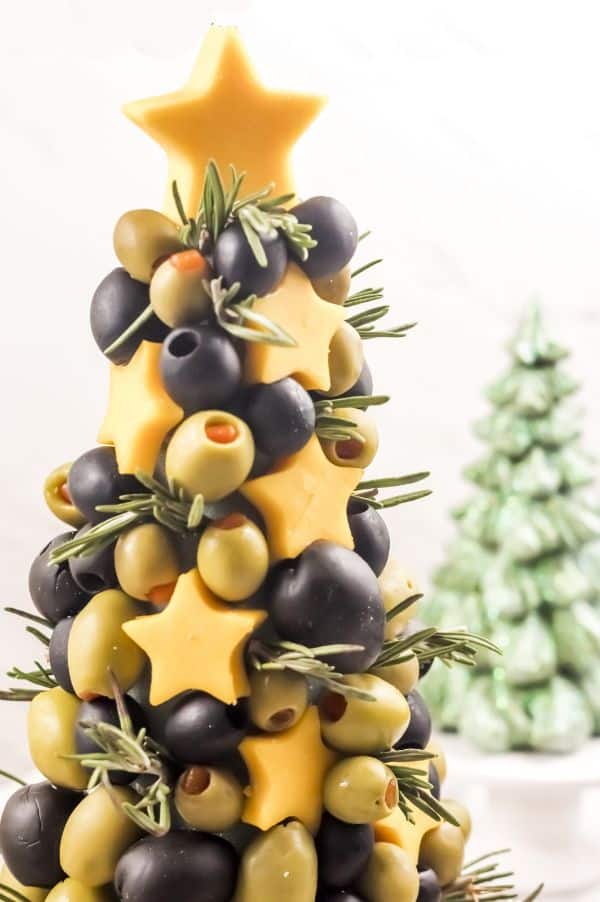 INGREDIENTS AND SUPPLIES NEEDED
This appetizer tree tutorial doesn't call for a large variety of ingredients or supplies. If you have several tables it would be easy to double or triple the ingredients and supplies to make 2 or 3 of these in one sitting.
Supplies:
Green Cone Shaped Floral Foam that is 9 inches tall
Toothpicks
Star Shaped Cookie Cutters in 1 inch and 2 inch
Ingredients:
Pimiento Stuffed Olives (a jar of small and a jar of large)
Pitted Large Ripe Olives
Jumbo Pitted Ripe Olives
Block of Colby Cheese
Fresh Rosemary Sprigs
HOW TO MAKE A CHRISTMAS APPETIZER TREE
If you can stick toothpicks into foam, then you can handle making this cool Christmas appetizer. The colors of the ingredients will look wonderful on almost any Christmas table.
If you want to make a larger tree, just increase the number of ingredients you buy. Follow the same steps.
STEP ONE: CUT CHEESE
Start off by taking the block of Colby cheese and cutting it horizontally into 2 equal pieces that are each about 1/3 inch thick.
Cut one 2 inch star out of the cheese using the 2-inch star-shaped cookie cutter. 
Cut the rest of the cheese into 1-inch stars using the 1-inch star-shaped cookie cutter.
Place all the cheese stars onto a plate and cover with plastic wrap. Place the plate in the refrigerator until ready to use.
STEP TWO: PREPARE SUPPLIES
Now it is time to do some basic preparations.
Drain the jars and cans of olives.
Take the rosemary sprigs and cut them into smaller pieces.
Cut each of the toothpicks in half.
STEP THREE: ASSEMBLE TREE
Start by pushing each olive onto a toothpick half. 
Begin at the bottom of the cone and begin inserting toothpicks with olives on them into the cone until they are secure.
Alternate the different types of olives and place them in random order on the cone.
Leave a little space every now and then to place a cheese star.
When all the olives have been added to the cone, go back and add the cheese stars to the tree. 
Insert a toothpick half into the cheese stars and push them into the cone until secure.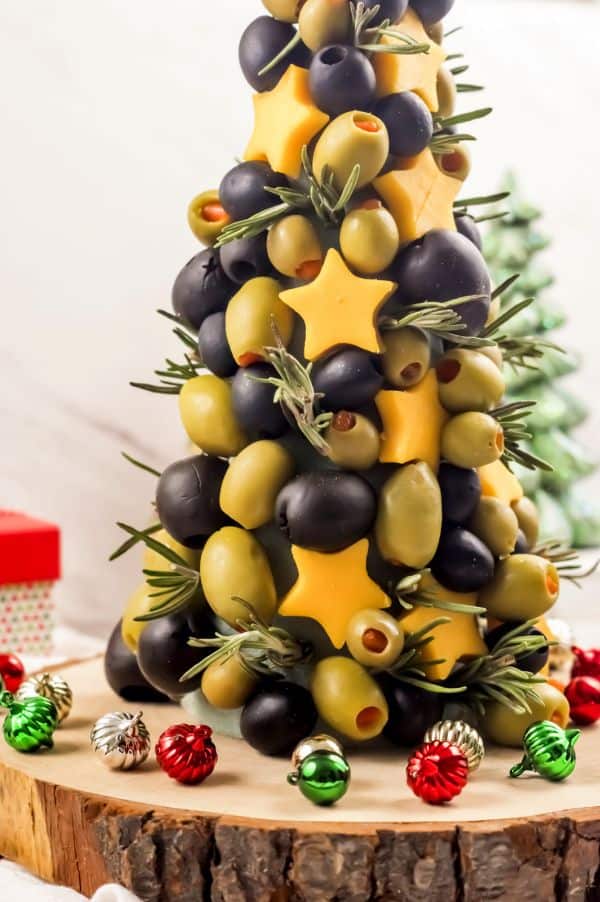 STEP FOUR: ADD TOP STAR
For the top tree star, push the toothpick into the bottom of the star and add it to the very top point of the cone.
STEP FIVE: ADD ROSEMARY
Now that the olives and cheese have been added to the tree, add the rosemary sprigs.
The rosemary will add a wonderful aroma to the appetizer tree and also makes it resemble a Christmas pine tree even more.
Just gently insert sprigs of rosemary between olives and cheese wherever you can.
Once the holiday appetizer tree is complete, cover it loosely and keep it refrigerated until ready to use.
I wouldn't recommend preparing this any sooner than 6-8 hours before it is needed.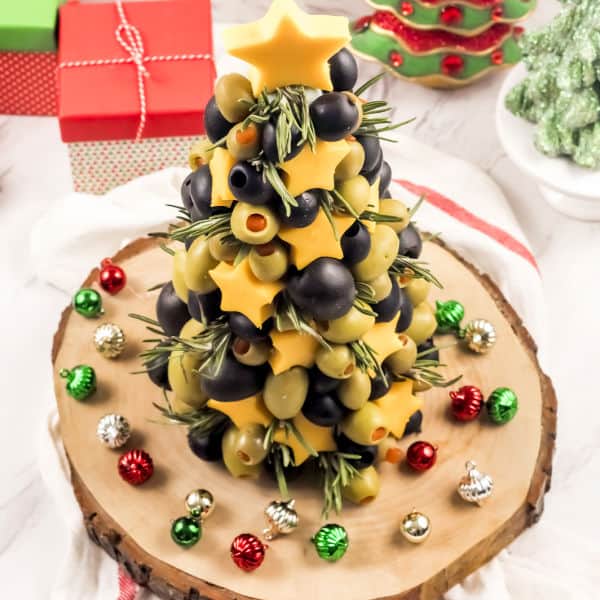 WHAT TO SERVE WITH THE APPETIZER TREE
You may be thinking that this Christmas Tree app should be served with something, and I couldn't agree more.
Some good dips to accompany this holiday appetizer tree are:
Ranch Dressing
Veggie Dip
Hummus
Crackers
Pretzels
CHRISTMAS APPETIZER RECIPE
I know you are excited to make this lovely appetizer tree to show off on your holiday table or to take along to a party.
You can print off the complete ingredients and instructions via the recipe card below.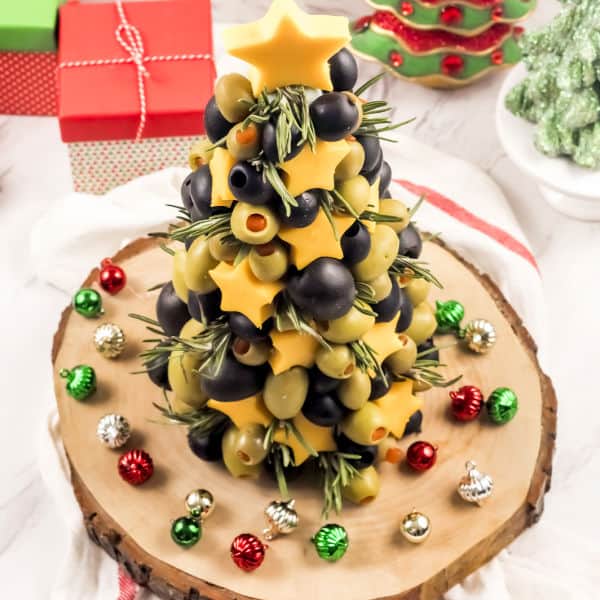 Print Recipe
Christmas Appetizer Tree
This beautiful olive and cheese Christmas Appetizer Tree is simple to assemble and looks beautiful on any holiday table.
Equipment
Green Cone Shaped Floral Foam 9 inches tall

Toothpicks

box of 125 count

1-inch star-shaped cookie cutter

2-inch star-shaped cookie cutter
Ingredients
5.75

oz

bottle of small pimiento-stuffed olives

10

oz

bottle of large pimiento-stuffed olives

6

oz

can of pitted large ripe olives

5.75

oz

can of pitted jumbo ripe olives

1

pound

block of Cobly cheese

0.5

oz

box of fresh rosemary sprigs
Instructions
Cut the block of cheese horizontally into 2 pieces, each about 1/3 inch thick. Cut cheese with 1-inch star-shaped cookie cutter. Use the 2-inch star-shaped cookie cutter to cut a single large star to go on top of the tree. Cover the cheese stars and refrigerate till ready to assemble.

Cut the rosemary sprigs into small pieces.

Break toothpicks in half.

Push each olive onto the toothpick half.

Starting from the bottom of the cone, insert toothpicks with olives into the cone until they stay in place.

Continue placing olives in random order, varying both in color and in size, on the tree, leaving enough spaces for the cheese stars.

Push each cheese star onto toothpick half. Insert the cheese stars into cone among the olives.

Top the tree with the large cheese star.

Insert the rosemary sprigs randomly between the olives and the cheese stars.

Cover the tree loosely with plastic wrap and refrigerate no longer than 8 hours before serving.
Nutrition
Serving:
1
g
|
Calories:
154
kcal
|
Carbohydrates:
6
g
|
Protein:
7
g
|
Fat:
11
g
|
Saturated Fat:
6
g
|
Polyunsaturated Fat:
4
g
|
Cholesterol:
30
mg
|
Sodium:
236
mg
|
Sugar:
2
g
If you love this holiday recipe be sure to check these out: