Finding Christmas presents for runners can be a bit of a challenge (especially if you think people are craze to run for fun). Never fear. With this list, we got you covered. Here are gifts that every hard-core runner, weekend warrior, 5K enthusiasm, jogger, slogger, and speed walker will enjoy receiving under the tree this year.
WHAT DO YOU GET A RUNNER FOR CHRISTMAS?
It can be tricky when you are looking for Christmas presents for runners. I mean, it's a sport that only requires you to run, other than running shoes, what else can you need? To answer that question, they need a lot more than just sneakers.
There are lots of things in the running world that these athletes would appreciate, and we've compiled a list of equipment that is both distinctive and thoughtful enough to merit a present. You would be surprised at how much stuff there is that you could actually give runners.
Whether you are getting a gift for a marathoner, a friend who goes for casual runs, or someone who just started running, you will find the perfect gift that they will really appreciate. From running equipment to after-run needs and things to prep them for an amazing run!
DIFFERENT TYPES OF RUNNERS
Most of us think that all runners are the same, but guess what, there are different types of runners. And before we go look at Christmas presents for runners, here is a list of various types of runners:
Marathon runners don't only run 26.2 miles, they can also go for more miles and join different types of marathons.
Long runs, marathon training, tempo runs, and any activity at long-distance race paces are a delight and often energizing for an endurance runner. The endurance runner's motto is "the more miles per week, the better."
The most prevalent type of runner is the combo runner. They do really well in all kinds of training, including short & fast and long & slow. The combo runner excels in events ranging from 5K to marathon distances.
BEST GIFTS FOR MARATHON RUNNERS
Most of us can only aspire of running a complete marathon. It's a once-in-a-lifetime opportunity or a bucket list milestone for some. A challenging race of 26.2 miles will definitely test you both physically and mentally. To support them with their journey, this Christmas presents for runners list will absolutely assist them on their marathon trips. Check below for the best gifts for marathon runners:
1. FOAM ROLLER
Marathon runners' muscles get quite sore after running long miles. Foam rollers can be used before a run to improve blood flow to the muscles. Furthermore, when utilized after a run, they aid in the reduction of muscle tension, making them less stiff and giving relaxation in painful areas.
This Amazon Basics High-Density Round Foam Roller should do the trick! It's lightweight, they can bring it with them anywhere they need to. This foam roller also comes in 4 different length sizes. Not to mention, there are also great designs to choose from!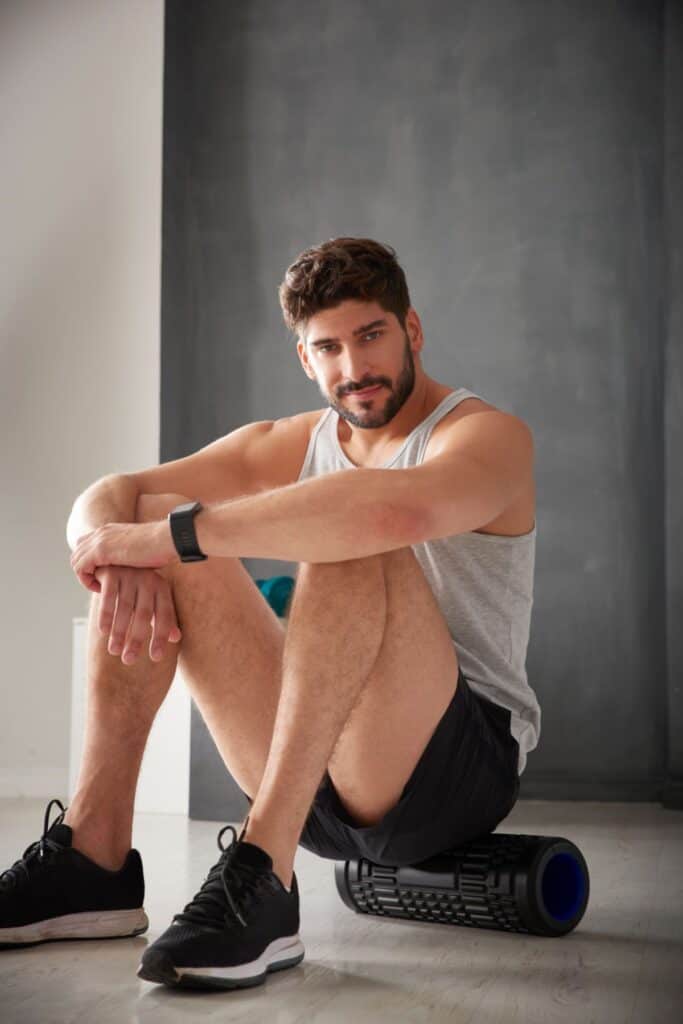 2. MEDAL HOLDER
These type of runners join a lot of marathon competition that gives out medals, to organize all the medal they have gotten in the past, why not give them a medal holder. This medal holder also has a "NEVER GIVE UP" sign on it which is terrific because it goes well for marathon runners.
3. COOKBOOK
In order to run a marathon, you have got to be fit and physically ready for it. If they don't do their own meal preps, giving a great cookbook to them will really help them a lot! They could also save a lot of money instead of ordering their meal preps someplace else.
To compete well, runners must eat well, and what they consume has a major effect on how they perform. With simple, flavorful, and quick meals, The Runner's World Cookbook has the right combination of performance-boosting components in its recipes to help enhance a runner's performance.
This cookbook includes 150 recipes, largely from Runner's World magazine, an authoritative voice in the running world, as well as fascinating bonus content. These recipes are designed to improve a runner's endurance while also providing nutritional benefits.
4. MEMORY FOAM PILLOW
This is one of those not-so-obvious Christmas presents for runners that they actually need. But, after going for a run, they are sure to be very tired. To catch a good night's rest, a memory foam pillow is the way to go!
5. GPS SMARTWATCH
Giving a running watch can be pricy but they are definitely going to use it a lot and it will be worth it. So, if the person you are giving a gift to doesn't have a GPS watch yet, now is a great time to invest in one for them. Trust me, GPS watches are the best Christmas presents for runners.
This Garmin Forerunner 55 is a fantastic watch. It has a lot of great features including a heart monitor, a tracker of how far, how fast, and where you've run, and it has a PacePro feature which offers GPS-based pace guidance for a selected course or distance.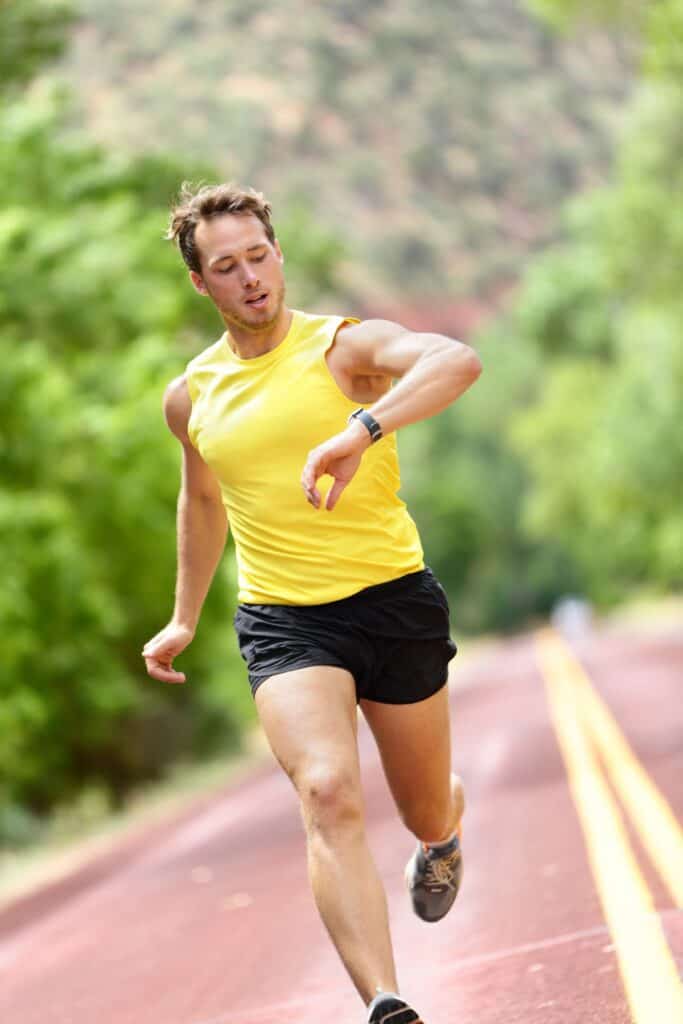 6. WINDBREAKER JACKET
We can never tell when they are going to need it but it is better to be prepared. A windbreaker is great to wear during windy and cold days. And because it is lightweight, they love using it for runs.
7. SPORTS BRA
A sports bra is one of the most important things to have when you are a female runner. They might have one already but this is something that you can give because they are going to need it. Buying a sports bra as a gift can be a bit difficult, the design will depend on which one they feel comfortable using the most.
But, just to give you an idea, Brooks Sports Bra is one of the best ones on the market today. They have different styles available – you can pick out which you think will be great for the person you are giving a present to. These bras are also comfortable and are awesome supports when running.
8. ELASTIC SHOELACE
These lock laces are ideal for marathoners, or people that dislike tying their footwear since they enable you to simply slip on your running shoes and have them stay firm and comfortable on your feet. They're also available in 13 various colors, giving them plenty of alternatives if they want to match different pairs of shoes.
9. HYDRATION BACKPACK
This Osprey Duro 1.5 Running Hydration Vest comes in 2 different colors and breathable mesh wrap design. It has a 1.5 liter reservoir by Hydrapak with QuickConnect and a sternum magnet included. This is great for them during their long runs!
10. BOOK ABOUT RUNNING MARATHONS
Reading book are great for motivation and inspiration. This 26 Marathons book talks about Meb Keflezighi's journey with running – what he learned about faith, identity, running, and life from his marathon career. This book can help any marathon runner which makes it a great Christmas present!
11. BLISTER RESIST SOCKS
Feetures Elite Max Cushion No Show Tab Socks are the way to go if you're looking for a sensible present. It also has zone-specific compression for superior comfort and support. Its high-density cushioning provides additional protection in high-impact regions and adjusts to the left and right structures of the foot, reducing the risk of blisters. In addition to that, they are going to love these Feetures socks because of their fashionable look!
12. FOOT SPA
A foot spa sounds amazing after running for so long. Marathon runners are really going to love this one. There are a lot of foot spa devices to choose from – this HoMedics Bubble Mate Foot Spa is a great buy! It can pamper their feet and rejuvenate them to perfection with the included callus-removing stone.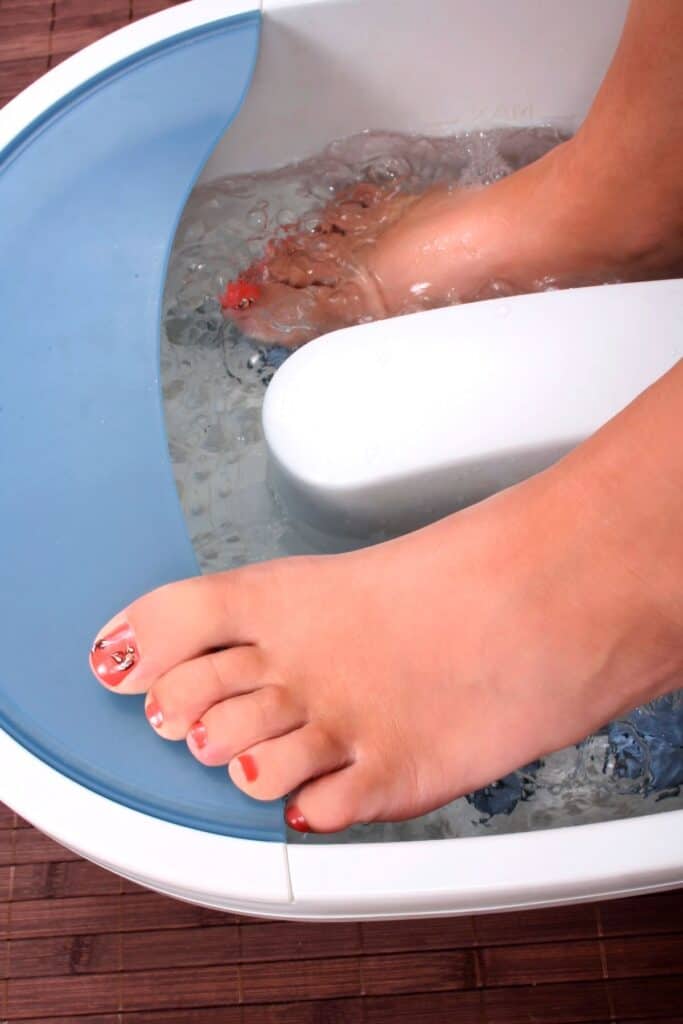 13. FACE MASK FOR RUNNERS
Even when you are not running, it is very hard to breathe when using a face mask. And during this pandemic season, we still have to be safe and wear our masks. Luckily, there are masks made for runners that you can buy online.
14. ELECTROLYTE HYDRATION POWDER
Get them a pack of electrolyte hydration powder instead of sugary sports beverages. They help restore salt and electrolytes lost during exercise and include no artificial flavors. They will feel cleansed and revitalized after using them.
Ultima Replenisher Electrolyte Hydration Powder is the best for rehydrating and replacing electrolytes lost after an intensive run or training and it prevents muscle cramps and headaches from travel. Plus, it is made with clean ingredients – zero calories, zero sugar, plant-based colors & flavors.
15. SPORTS WASH
It might not sound like a weird gift, but anything that is connected to running, they are going to love it. Some laundry detergents can't take out all the smell from sportswear, Active Wear Laundry Detergent & Soak should do the trick!
GIFT IDEAS FOR CASUAL RUNNERS
Casual runners go for runs whenever they feel like it, usually twice or three times per week. These types of runners run for fun or to stay in shape, but they have no program. This is similar to someone who goes to the gym and runs on the treadmill then lifts a couple of weights and just comes back the following week. Christmas presents for runners that fall in this category are different. Here is a list of gift ideas for casual runners:
1. CALF COMPRESSION SLEEVES
If you haven't noticed, runners are primarily concerned with two factors: improving their running skills and avoiding injury in the process. Casual runners also might be prone to cramps more than professional runners.
Mcdavid Calf Compression Sleeve helps to reduce pain associated with calf strains, shin splints, and varicose veins. This can also be used to aid in recovery. It is easy to wear because they just have to slip it in. It is latex-free with soft tissue support.
2. CUTE MUG
This YouNique Designs Runner Coffee Mug is so adorable. Casual runners don't have strict diets like marathon and endurance runners which means they can drink coffee. And they are going to love the design on this mug!
3. RUNNING BELT
For fitness fanatics who need something for storing their belongings in, a running belt is a must-have gear. Belts, on the other hand, are ideally suited to running because most manufacturers have engineered them to enhance forward motion, reducing bounce, chafing, and riding-up during high-impact exercise.
This Nike slim waist pack will be a perfect gift to give! Other than its slick and stylish design, this running belt is adjustable and has a stretchy belt that fits securely and comfortably as you run, an expandable pocket that can hold all their essentials, a reflective swoosh logo for low-light conditions, and most importantly it has a lightweight design for comfort and less bouncing.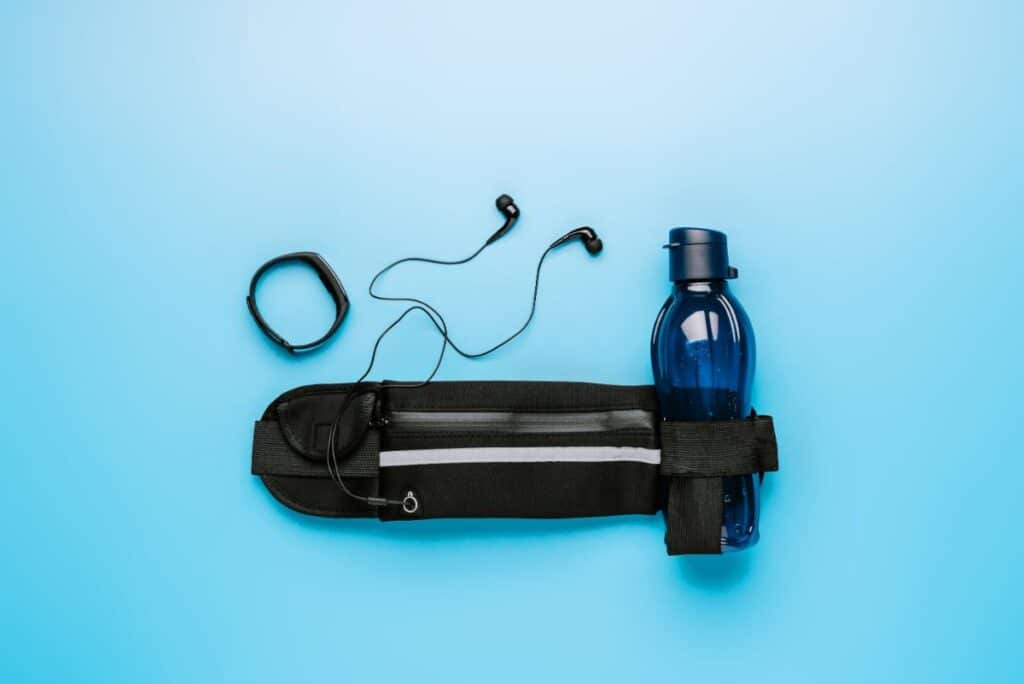 4. HANDS-FREE DOG LEASH
A hands-free leash makes it simple for runners to accompany their four-legged companion on their run. It is attached to the runner's waist so that it does not interfere with their pace. This would be perfect for runners that can't leave their dogs at home.
5. LEGGINGS
Some runners do not like wearing running shorts, instead, they use leggings. And most women know that we have our favorite pair of leggings, LOL! However, it never hurts to have one more. For the best comfort, these Nike Womens Pro Training Tight Fit Athletic Leggings will do the job!
It is made of Dri-fit fabric that can wick sweat quickly, it has a snug elastic waistband that holds the pants in place, and like other leggings, it has a four-way stretch fabric that lets you move easily. These leggings are also made with mesh fabric that enhances breathability and a comfortable flat seam that moves smoothly against the skin.
6. GYM BAG
For days they don't go for runs, they might be at the gym. Athletic people always love things that they can use a lot, like a gym bag. Doesn't matter if it is for a boy or a girl, they both need one when going for a workout.
7. ROAD ID
Keep an eye on your runner loved ones no matter where their running adventures take them. If your beloved runner gets hurt or injured, a Road ID offers key info. You can choose what information to provide on the Road ID, such as their name, address, allergies, and also emergency contact phone numbers.
Road IDs come in different types, sizes, and colors – there are ones that they can put on their shoes, wear as a bracelet or a necklace, and one that can be placed on their watch strap. It is always nice to be ready just in case but hopefully, they will not need it.
8. RUNNING STROLLER
There might be a reason why they only run a few times a week. One reason maybe, is that they couldn't leave their baby at home alone. Guess what, that doesn't have to be a problem anymore because there are baby strollers made for a parent runner.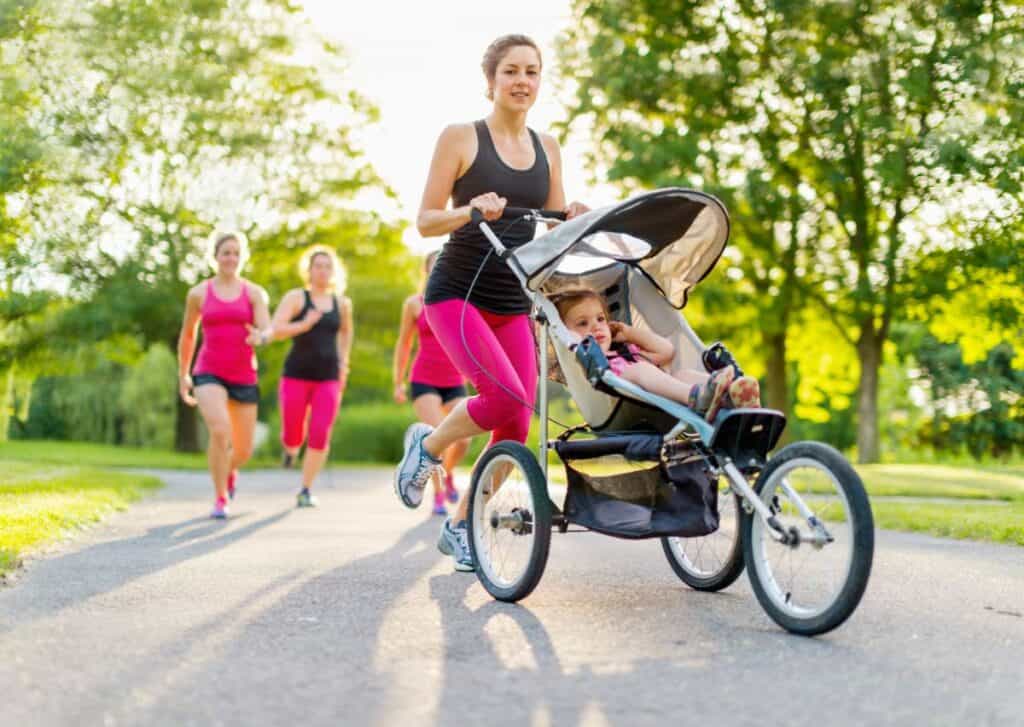 9. JOURNAL
Since casual runners only run for a couple of times a week or a few times for the whole month, it is harder to remember when they went for a run. A journal is nice to have to keep track of all their run information such as distance, calories burnt, speed, heart rate, and whatnot.
Having a journal can also be a fantastic way for them to get motivated and do more runs. This 2022 Running Journal will be a terrific present to give! They can log down everything here – pace, time, date, and add some notes too.
10. PLANNER
I know what you're thinking, they already have a journal, why would they need a planner? They can use this to plan out the days they can go for runs. They might be busy and have a lot on their plate and can't go for runs more often. A planner can help them plan their days better!
BEST GIFTS FOR NEW RUNNERS
If they are just starting out and want to try out running, chances are their equipment is not yet complete. So, Christmas presents for runners who are just about to begin their running adventure will be more on the basic things that a runner is going to need.
1. RUNNING SHORTS
Janji offers some of the greatest running shorts for both men and women, so they won't be disappointed with a pair as a present for any runner in your life. These athletic shorts are not only super comfy, but they also have a form that won't get in the way or create irritation no matter how many miles they have planned for the day.
The brand offers a variety of short selections in various lengths. All of the choices include four-way flexibility, dry rapidly, wick humidity away, and are suitable for running as well as weight lifting or cycling. They will be thrilled to receive this as a gift!
2. TOP FOR RUNNING
A shirt for running might be easier to give if you aren't entirely sure of what size they wear. With shirts, you can estimate and tell from their body frame.
3. WATER BOTTLE TUMBLER
Avana Ashbury insulated water bottles are the best tumbler to give. This tumbler comes in 2 different sizes and there are 22 cute designs to choose from as well. The designs can be for both men and women. It is easy to bring or carry around and to drink from.
4. RUNNING SHOES
New runners tend to start with what they have. If they don't have a great footwear to use when they are running, this is the best gift that they will receive. Wearing perfectly comfortable running shoes can have a huge effect on their performance.
5. ANTI-SLIP SUNGLASSES
If it is always hot in the area that they live in, they are going to need sunglasses. However, ordinary sunglasses wouldn't do since they might fall off while they run. These Tifosi sunglasses are perfect for running! They're stylish, really lightweight so they won't have a hard time, and these are affordable compared to other running sunglasses.
6. HEADBAND
This can be for either men or women. This helps runners so much since it prevents hair from going to their faces or catch sweat and avoid it from dripping all over their faces. If they don't like wearing caps, headbands are a great alternative!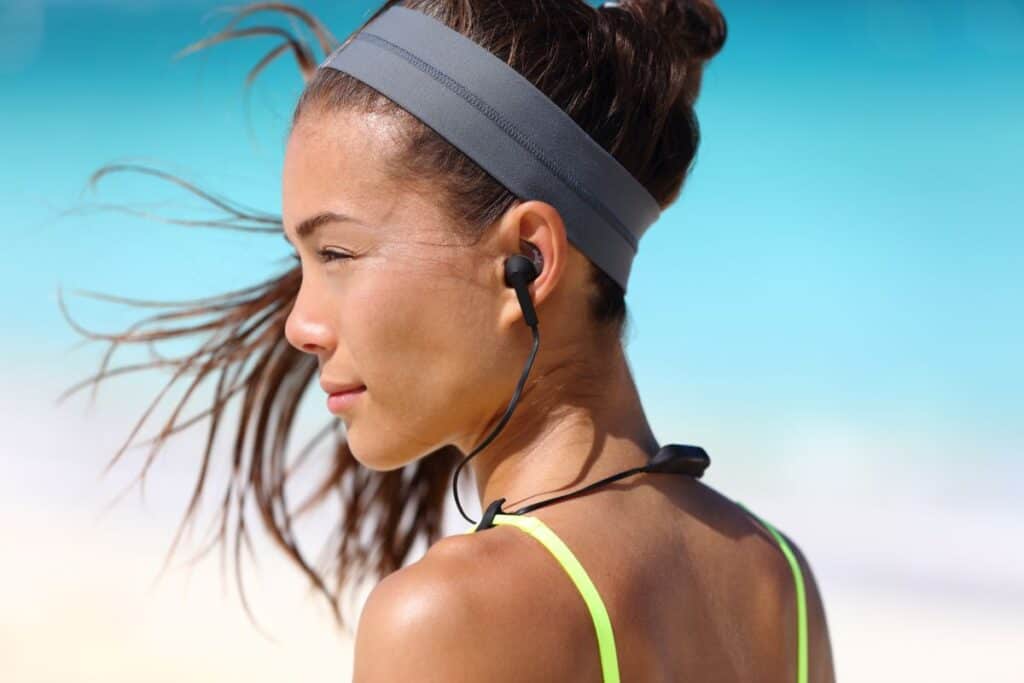 7. YOGA MAT
When just starting to run and doing exercises, they tend to have a lot of sore muscles in various areas of their body. Giving a yoga mat as a Christmas present will be a great help to them. They can use this before or after a run.
If you don't have any idea of what type of yoga mat to give, check this Amazon Basics 1/2-inch extra thick mat. It is non-slip and has beautiful color selections available. They will enjoy and feel very comfortable using this yoga mat.
8. PHONE ARMBAND
With a phone armband, they won't worry about where to put their phones anymore. Some sportswear doesn't have pockets on them and instead of bringing along a bag with them, they can just use an armband when going for a quick run.
9. RUNNING CAP
Runners like sportswear that does not aggravate them when they are running. As a result, caps aren't a must-have for us all, but for those of us who value a wide brim to block the sun at bay, protection is almost as vital as comfort.
With this Nike aerobill tailwind hat, they will be comfortable and protected at the same time. There are lots of colors to choose from great for men or women. And it is lightweight and adjustable so they wouldn't feel that they are really wearing a hat at all.
10. SHOE DEODORIZER
Remodeez Shoe Deodorizer is something that they might need. This removes odor and absorbs moisture. It will be useful since runners sweat so much.
PERFECT GIFTS FOR ENDURANCE RUNNERS
These types of runners run the longest, toughest, and endure it. That is why they are called endurance runners. These Christmas presents for runners in this category will help them more with their runs. Here is a list of perfect gifts for endurance runners:
1. MAGNESIUM FLAKES
Add these to the mix, whether it is in an ice bath or a warm bath after a run. Magnesium flakes can really help ease muscle tension and aid recovery. This pack of Ancient Minerals Magnesium Bath Flakes will be a good substitution for Epsom salt.
2. MASSAGE BALL
This small TriggerPoint massager is perfect for working out difficult knots and aching muscles, especially when they travel a lot and don't want to bring a huge foam roller with them. It's particularly effective at targeting stiff regions in runners' calves and feet.
3. COLLAPSIBLE LIGHTWEIGHT BOTTLE
When you are doing endurance runs you wouldn't want to carry around big and heavy bottles of water, correct? Nathan Handheld ExoDraw is easy to carry and is very light. Choose between the ExoDraw which is 18 oz or the ExoShot which is 14 oz based on what they need.
Both options are BPA-free and are made with a soft flask with a bite valve. It also has a built-in strap that they can hold with their hand while running. The design is ideally made for runners because it can easily be gripped.
4. RUNNING GLOVES
Runners always value an additional pair of running gloves to carry in their running jacket, gym bag, or car, even if they already have a pair. These New Balance lightweight running gloves are an excellent complement to winter running gear because they are comfy, stretchable, and easy to wash. They also offer practical characteristics like sticky palm traction, touchscreen-compatible fingertips, and reflective components.
5. RESISTANCE BANDS
It's critical to gain strength and muscle, not merely pound the ground if you want to get stronger and quicker as a runner. With small and lightweight dumbbells, there's only so much you can gain, and that's not much, but buying a full set of weights is expensive and takes up a lot of space.
A set of resistance bands is the way to go because it is a budget-friendly option and it does the job. Whatafit Resistance Bands are the best ones to use. It has different colors depending on the weight you want to purchase.
6. BLISTER PREVENTION PATCHES
Give the gift of a pain-free run to your beloved runner with these patches that stick to their shoe to reduce friction and prevent feet from blistering. Engo Oval Blister Prevention Patches can be cut to fit any shoe size or shape, and they're small enough to carry in a pocket or a running belt for use mid-run.
7. NIP PROTECTOR
There are times that runners get irritated nipples and some also bleed. With all the rubbing from their clothes during runs, that's when they get sore nipples. It is also needed to be protected. There are a lot of nip patches that can be bought in stores or pharmacies. Endurance runners will very much appreciate this gift idea!
8. HEADLAMP
This PETZL rechargeable headlamp is designed to help runners see and be seen in low light settings, so ensure your favorite runner's safety by getting them one. It features a variety of modes and brightness, making it ideal for camping, trekking, and other outdoor activities.
9. CHAFING STICK
Running might not be a contact sport with other people but it can still be a contact sport with yourself. There are times that anti-blister socks won't be enough, that is why runners also need chafing sticks. This Body Glide Balm is a lifesaver for runners!
10. CHARCOAL BAGS
The charcoal bags are ideal for gym bags, sneakers, vehicles, and any other location where foul odors are an issue for runners. Activated charcoal absorbs scents rather than masking them.
11. SWEAT-PROOF EARPHONES
Good music is always nice during runs. But, wearing earphones for endurance runners can be difficult because they sweat a lot. Good thing there are earphones made for running like this Jaybird Vista. Just a heads up, if you are planning to give earphones, they are going to be pricey. At least you will be sure that it will be used a lot and won't go to waste.
12. SLIDES
It is important that they also have soft slip-ons for days that they don't go for a run or for when they need recovery. Some of the ones you can check out are from Nike or Adidas, they have soft cushioned slippers available.
13. ENERGY BARS
For runners, energy bars can be a kind of secret cheat code. An energy bar is the simplest and fastest method to power up whether they are short on time before a morning run, or if they want something more appealing than gels on the road or track.
There are a lot of types and flavors of energy bars that you can get. It will just depend on what they need and prefer. You can get assorted ones if you are not sure or maybe one of each kind.
14. MOTIVATIONAL BOOK
There are so many books to choose from but one of the best ones is The Perfect Mile. If he or she hasn't read it yet, now is the perfect time to introduce this book to the person you are giving a gift to. This book will surely be an inspiration to them to be better at what they do.
15. MASSAGE GIFT CARD
Since they run super long tracks their body must be aching from all the workouts and training they do. This might just be the best gift that they will ever receive, anyone for that matter. Look for amazing massage gift packs in your area that you can give them because they are going to need them!
16. ENERGY GELS
Are you giving a gift to an endurance runner? It's likely that they currently consume energy gels already. These help them to get through their roughest training sessions and long races, making it a terrific present choice because you know it won't go to waste.
17. SUBSCRIPTION BOX
Instead of figuring out what the perfect gift to give is, why not try getting a subscription box for them. This way you won't worry about whether the present you got them is ok or not. All you have to do is look for subscription boxes made for runners.
If you loved this Christmas presents for runners post, be sure to check out these other great posts:
Be sure to PIN this for later and SHARE on Facebook!