This best Christmas presents for dogs list is so exciting. Not only for our dogs but for the fur parents out there as well.
SHOULD DOGS GET CHRISTMAS PRESENTS?
There is nothing wrong with giving our dogs Christmas presents. Kids love presents, so do adults, and it won't be much of a surprise if dogs do too. They get excited about anything really. Dogs love feeling that they are also part of the celebration.
WHEN SHOULD I GIVE MY DOGS THE GIFTS?
You can give them at the same time as when you are starting to distribute gifts. This way they know they are also involved and included. However, if your dog gets too excited and becomes hyper, you can give them their gifts later on.
SHOULD I WRAP MY DOG'S CHRISTMAS GIFTS?
From experience, dogs have fun when they open up gifts. They are probably more excited about opening them rather than getting what's underneath the wrapper. Once you have picked the best Christmas presents for dogs…you have to decide if you want to wrap the gifts or not.
If you choose to wrap the gifts for your dog, be sure that it would be easy for them to open them. Here are a few tips when wrapping your Christmas gift for your dog:
Don't use a lot of tape – this way they can rip off the wrapper without too much effort.
Loosely wrap the gift
If in any case, they are having a hard time opening their present, you can rip a small portion so they can start from there.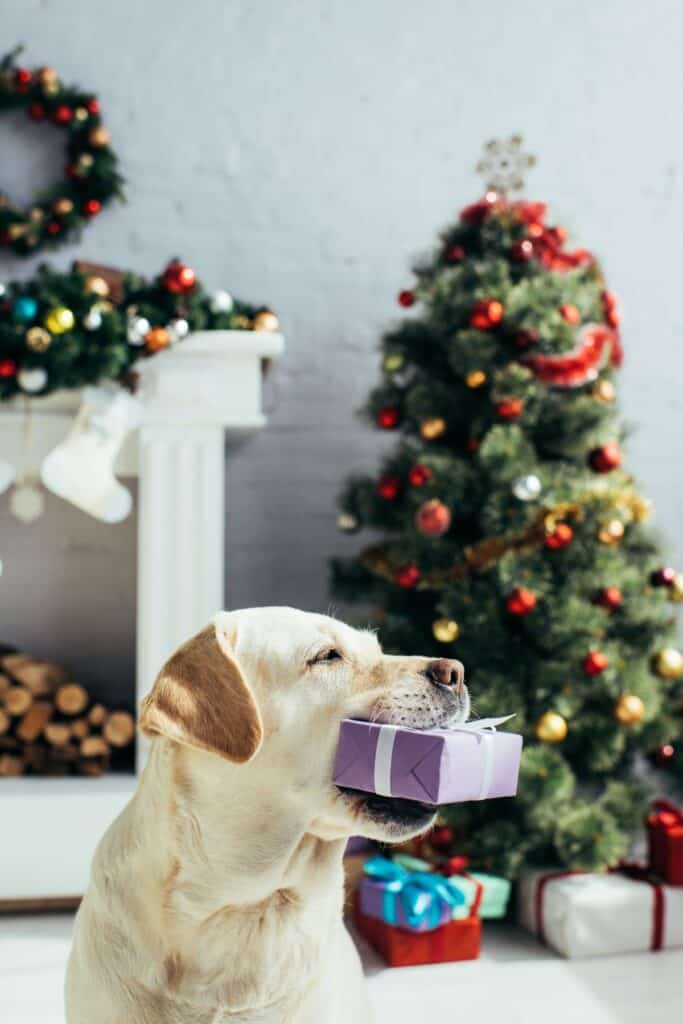 BEST CHRISTMAS PRESENTS FOR DOGS
Your dog will adore everything you get them, without a doubt. But there's never any harm in mixing their usual enrichment with new ideas. Don't worry about what you are going to give them, I've got you covered! Here is a list of the best Christmas presents for dogs:
FOOD & TREAT GIFT IDEAS
Dogs pretty much eat everything we will hand out to them – even food that they shouldn't be eating. They love food that much! Food is honestly one of the best Christmas presents for dogs…every dog loves to eat!
It wouldn't be hard to pick which food or treat you'll be giving them. Not unless your furry pet is a picky eater. But, whether he or she is, here are some ideas of food & treats for you to choose from that they will definitely like!
1. ZIWI GOOD DOG REWARDS TREATS
These dog treats are air-dried and very nutritious. It comes in 3 different flavors – lamb, beef, and venison. These Ziwi treats can be given to dogs of all ages – puppy, adult, or senior. And for any kind of dog breed. Face it, we love to spoil our fur babies. But, why not spoil them with healthy treats?
Ziwi dog treats can boost their mobility and vitality. This treat is packed with omega 3 and 6 fatty acids. Plus, it also has glucosamine and chondroitin. With all that nutrients, your dog will stay strong and fit while enjoying these yummy dog reward treats!
2. POOCH CREAMERY ICE CREAM MIX
Who knew that there was such a thing as ice cream for dogs? Let them have a taste of this grain-free doggy ice cream made with just 5 premium ingredients. It's easy to make this pooch creamery ice cream, just add water to the mix and then leave it in the freezer for at least 8 hours.
They'll be so thrilled with this tasty ice cream! For every scoop you give, your pooch will be wagging its tail! This can also be stored in the freezer for up to 6 weeks.
3. BONDVET LUCKY DOG CHICKEN JERKY
These are thinly sliced dehydrated chicken breast jerky pieces that dogs will love. There are dogs that are allergic to chicken, good thing there are 2 more other flavors for this scrumptious treat – beef and turkey. This treat is a hundred percent pure meat and has no additives whatsoever.
It is a high-quality protein treat, lean, and low in fat. This bond vet treat can be given to either small or large dog breeds. It's best to reward their good behavior with an all natural treat!
4. WELLNESS CORE DIGESTIVE HEALTH DOG FOOD
A healthy gut means a healthy dog! Check this Wellness Core dry food for your dog. This dog kibble is highly digestible and coated with probiotics. It is made with digestive enzymes, a mixture of prebiotic fibers, and guaranteed levels of probiotics to support intestinal health for general wellness.
Eating this dry dog food will improve your pet's hair coat and skin too! It is packed with grain, chicken, and brown rice. That will sound delicious to them.
5. JIMINY'S CRICKET PROTEIN PUMPKIN AND CARROT CHEWY DOG TREATS
If you are looking to try something new and unique, this chewy treat should do the trick! These cricket protein pumpkin and carrot chewy treats are high in digestibility just like chicken and beef. This treat is perfect for dogs that are allergic to many things like beef, chicken, lamb, soy, and even fish.
Cricket protein is hypoallergenic, easier to digest, works as prebiotics, and has more omega 3 and B12 than salmon. With this, you can be sure of what you feed your doggy!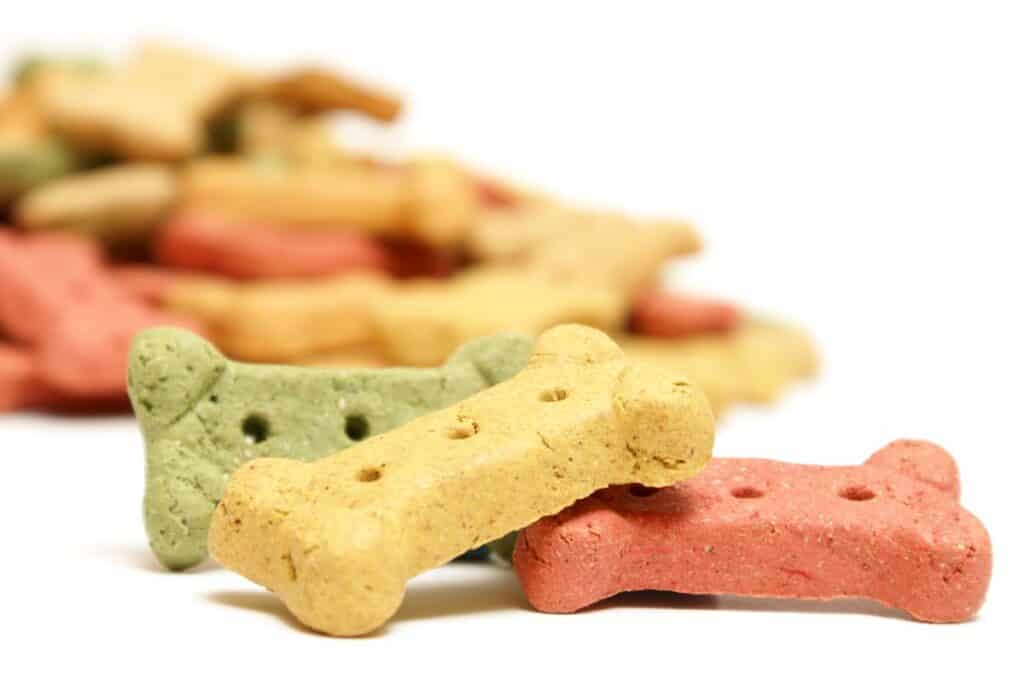 6. STELLA & CHEWY'S DINNER PATTIES
This freeze-dried raw dog food has plenty of great benefits for your dog – relieve them from allergies, give them vibrant skin & coat, make their teeth & gums healthy, and have a healthy immune system. Dogs love meat, they are going to be excited about this dog food!
7. PEDIGREE DENTASTIX
This is probably the best dental care doggy treat out there. It is no secret that it really helps in removing odor and reducing your pup's tartar buildup. Oral care is very important even for dogs. We all know that toothaches hurt so bad. The feeling is also the same for them.
There is a wide variety of Pedigree Dentastix flavors – mint, bacon, chicken, and many more. This also comes in different sizes depending on your dog's weight. Be sure to watch them eat these just to be safe because these are tough since it is made to strengthen and clean their teeth.
8. JUSTFOODFORDOGS FRESH DOG FOOD
This is not some typical dog food, it's basically human food that dogs can eat. All the ingredients used in making their food blends are fresh and can be eaten by humans as well. That's what makes it so healthy and high quality.
9. GREENIES PILL POCKETS
A lot of dog owners have likely tried giving pills to their pets and know how hard it is. To make it easier for you, these Greenies pill pocket treats will change everything. It's simple, just place the pill or tablet inside the hole of the treat, seal the top by pinching it, and then give it to your dog. Easy as that!
You can also choose from different flavors depending on what your dog likes the most. The flavors include peanut butter, chicken, hickory smoke flavor, and cheese. Also, it is low in fat and made with natural ingredients.
10. DASH DOG TREAT MAKER
If the food and treats above weren't the ones you were looking for, maybe this Dash dog treat maker is! Make your own ingredients and experiment with different mixes at home. Your pup won't definitely run out of treats!
CLOTHES FOR DOGS
Dogs are not just pets they are also part of the family. With that being said, they should also be given the same amount of attention and protection. A popular trend today is clothing dogs in different styles. But, that's not the only reason to dress your dogs in clothes.
Not all pets do well all year round, some have sensitive skins that must be protected. In addition, small dogs are vulnerable and are at high risk for exposure to cold and sunburn. So, if you are going to clothe your dog might as well pick out cute clothes! Clothes can be one of the best Christmas presents for dogs because it gives you a good excuse to buy your dog more clothes!
Here are some ideas for you to check out:
1. PET ONESIES
They will look so cute with this on when they are about to sleep. There are different designs to choose from also. These onesies are soft, your dog will surely have a good night's sleep with these onesies.
2. KURGO STEP N' STROBE DOG SHOES
These sturdy Kurgo boots will protect your dog's paws. This can be worn no matter what the season is. Their paws are safe from snow, salt, and ice during the winter season. When it's summertime their paws won't get burnt by the hot pavements.
Plus, they'll be safe from asphalt, sharp objects, or uneven terrain during walks, runs, and hikes. Keep their paws soft and smooth with these Kurgo dog boots. These shoes are lightweight so their feet will be comfortable. Not to mention, it also has an anti-slip bottom.
3. SPARK PAWS COTTON CANDY DOG HOODIE
This dog hoodie is so adorable! You can even get one for yourself to match with your doggie. It has a soft fleece interior that your pet will love. Other dogs will get jealous of this cute hoodie.
4. CHRISTMAS DOG TEE
Your dog should also be wearing a Christmas outfit. This "Sorry Santa I ate your cookies" tee will be a cute and funny attire for your dog.
5. DENIM VEST HOODIE
Your dog will look so cool wearing thing denim vest! This also comes in different sizes. You might have a denim top too so you can both match!
6. NAUGHTY / NICE SHIRT
You can get both of these shirts so you can change what your dog is wearing when he or she behaved naughty or nice.
7. PLAID POLO TOP
This plaid polo top comes in 3 different colors – red, green, and blue. These are very stylish. The red or green one will also be perfect for them to wear on Christmas!
8. JUMPSUIT FOR DOGS
If you love styling your dog's outfits, you are going to want to add this to their wardrobe! These lovely overalls will have heads turning!
9. FITWARM TURTLENECK
This knitted sweater will keep them warm while looking fab! This can be for both female and male dogs. They will love this sweater's soft fabric.
10. WASHABLE DOG DIAPERS
This is a pack of 3 washable diapers. You won't have to spend so much on diapers any more. Some malls require dogs to wear diapers, this is good to have just in case.
11. PAWZ DOG BOOTS
These dog boots are great for short walks, it's easy to put on and remove. They're easy to wash as well. If your dog stays inside the house, this will be perfect to wear outside to keep their feet clean when coming back inside the house.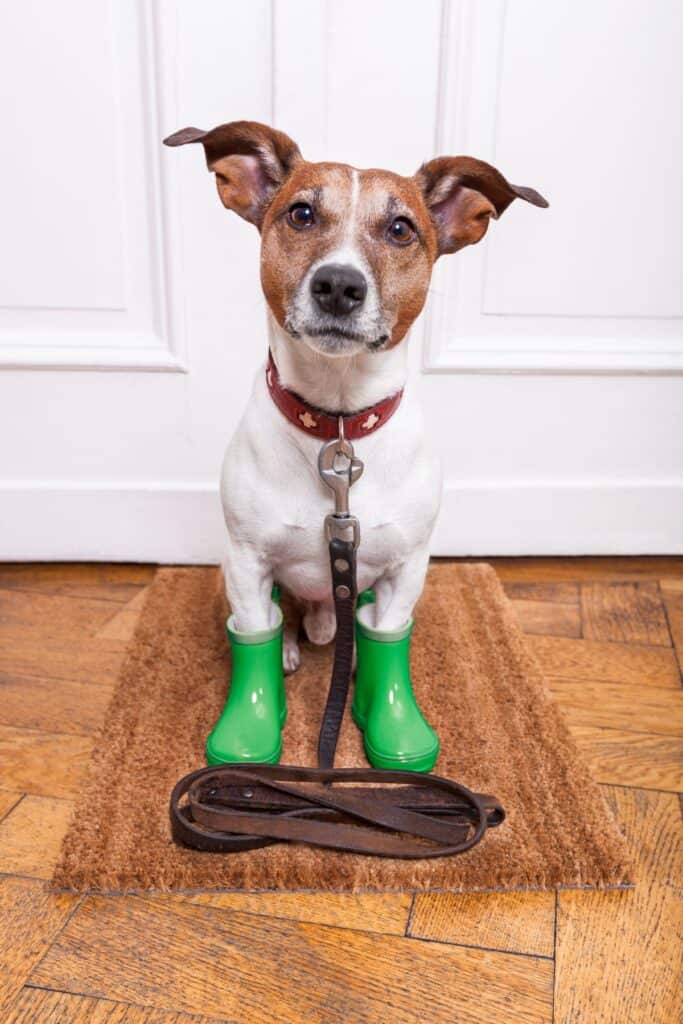 TOY GIFT IDEAS
Your dog might have a lot of toys already but try sorting through them to check which ones are broken or maybe something they don't really play with. This way you can throw out the old ones that are broken and donate the unused toys to a shelter.
After that, there will be more space for new ones. Scroll down to see the list below for the best Christmas presents for dogs:
1. PET ZONE IQ TREAT BALL
This is an adjustable treat dispensing toy ball great for dogs. This pet zone IQ treat ball will keep them busy for hours. They will enjoy this toy because treats will automatically fall out from the toy. This is also a great way to keep them mentally and physically active for a long time.
What's great about this toy is that you get to adjust the difficulty level of the ball. Your fur baby will get smarter as they play with this interactive toy. And, don't worry this toy is easy to clean as well. You can disassemble this IQ treat ball and clean it with warm water & soap.
2. KONG BABBLER
This toy is very unique, dogs will be curious about it while playing with the babbler. This makes things more interesting for them. They will get excited with the babbler because the rolls and bounces of the toy are unpredictable.
It's also squishy which most dogs love. In addition to that, it has motion activated babbling sounds and it squeaks too. They will surely love this toy!
3. DR. CATCH DOG PUZZLE FEEDER
Instead of a regular slow feeder, use this fun interactive puzzle toy feeder. This can also prolong their eating time which helps their stomachs by improving their digestion. Not only that, with this puzzle feeder, the dog's brain gets exercised as they solve and figure out the puzzle.
This educational toy will also train their sense of smell. This dog feeder is perfect for puppies or small breed dogs. The dog puzzle feeder has 14 holes that you can use to put different kinds of food in and has 8 movable slides to hide food in. Plus, it comes in different sizes, colors, and shapes too.
4. HUNGER FOR WORDS TALKING PET STARTER SET
Teach your pet how to talk with these cool recordable buttons. Your dog will be able to learn different words with these. How great is that?! They'll be like Stella the dog in no time. Your pet will enjoy these as much as you would.
5. AWOOF PET SNUFFLE MAT
Dogs love sniffing everything and sometimes it gets their whole face dirty. Here's a way to fix that – snuffle mat. This will be a great boredom buster for them. They can sniff all they want with this mat and still stay clean. You can also hide treats for them inside to make it more fun for them.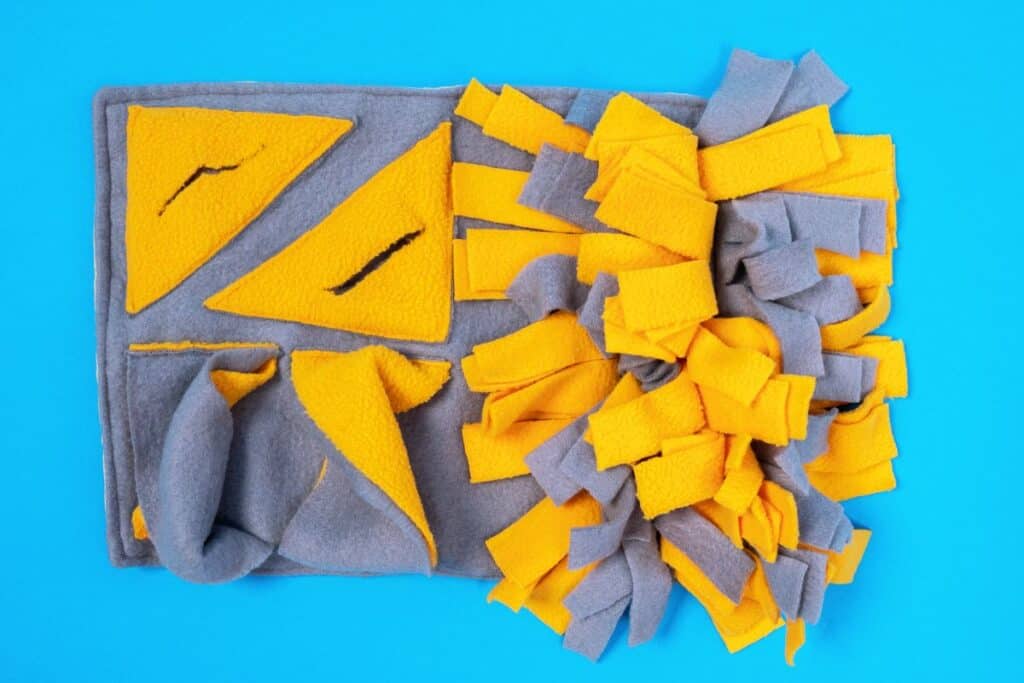 6. SMART PET LOVE SNUGGLE PUPPY
This adorable snuggle puppy reduces dogs' negative behaviors that result from anxiety, such as whining and barking, through natural instinct, not through medication. They will love having this new furry friend.
7. MULTIPET CHILLY BONE
This chilly bone is freezable. It's a perfect toy for a hot day out. They will feel less hot and thirsty with this toy bone.
8. KONG CLASSIC DOG TOY
This Kong dog toy will keep your dogs busy when you're out of the house. You can fill this toy with peanut butter so they can eat and be entertained while you're gone. They won't even notice that you went out.
9. CHUCKIT! AIR FETCH BALL
All dogs love playing fetch. This ball has air flows on them that will help your dog breathe better when they are holding the ball.
10. NYLABONE PUPPY PACIFIER
This toy is best for teething puppies. This will satisfy their urge to chew. Keep them busy with this toy rather than just chewing on things lying around the house.
11. WILD ONE TOY KIT
This toy set is just adorable! It's great for playing tug of war with your dog. There's also one for chewing. And of course, for playing fetch. They are going to enjoy this a lot!
ACCESSORIES FOR DOGS
Yes, dogs need accessories too! There are lots of different dog accessories on the list of the best Christmas presents for dogs. These aren't only items the dog will like…but they are practical too! You'll love these great ideas listed down below!
1. GAPZER DOG LICK MAT
Some dogs don't like taking a bath and it's very hard to bathe them when they are moving a lot. If your pooch is one of those, this dog lick mat will be a lifesaver. This will calm them down during bath time! Surprisingly, there are some benefits to having a lick mat – it can soothe their anxiety, it can clean their tongue & remove odor-causing bacteria, and it can help improve their digestion.
Lick mats are best when used for vet visits, bath time, and nail clipping. Plus, it is a great boredom buster for them. This GAPZER lick mat is simple to use, it has a strong suction on the back which makes it easy for you to stick on the wall or a flat surface.
2. K&H PET PRODUCTS THERMO SNUGGLY SLEEPER
Christmas time is a cold season. It's not just us that gets cold, there are times that our doggos feel cold. When they do, they snuggle up beside us on the bed or on the couch which is cute and sweet. However, if there isn't enough room anymore, you might want to consider this.
This thermo-snuggly bed will be their perfect cuddle buddy. This bed is safe for them to use because it heats up to just the right amount of temperature that our pets need. It will give them the warmth and comfort they are looking for.
3. RAYCO PET FIRST AID KIT
Are you always traveling with your dog? If yes, it's best to have this pet first aid kit with you. This kit contains all your essential items in case something happens to your pet. Just like with humans, it is always better to be prepared.
This customized pet bowl is so cute. You can have your pet's name placed on their food bowl. This will come in 2 pieces – the outer shell which is 3D printed, where your pet's name will be placed and the food bowl itself.
The food bowl is stainless steel so it can be easily cleaned and washed. The food bowl is safe to be put inside the dishwasher. While the outer shell is not. This can be cleaned by hand only and with cold water. You can also choose from different colors!
5. WHISTLE GO EXPLORE
If your dog likes running out to go around the neighborhood and keeps escaping, you should probably get one of these. This Whistle GO explore has a GPS tracker which you can put on your dog's collar so you see where they go.
That's not the only cool feature it has, it can also monitor your dog's health & fitness. With the Whistle GO explore, you are able to track the distance they've walked or run, the calories they've burned, as well as activities they did like licking, scratching, and sleeping. It's kind of like their own apple watch, LOL!
This will be a fun activity for both you and your dog. Spending quality time with them is important to them too. This journal will help you try out new things with your fur baby! This will be a wonderful experience that you should definitely try.
Okay, this is probably more beneficial for you, LOL! Some dog owners get tired and have sore arms from holding a leash. This hands-free leash will make it easier for you to keep your dogs close to you at all times without even holding a leash.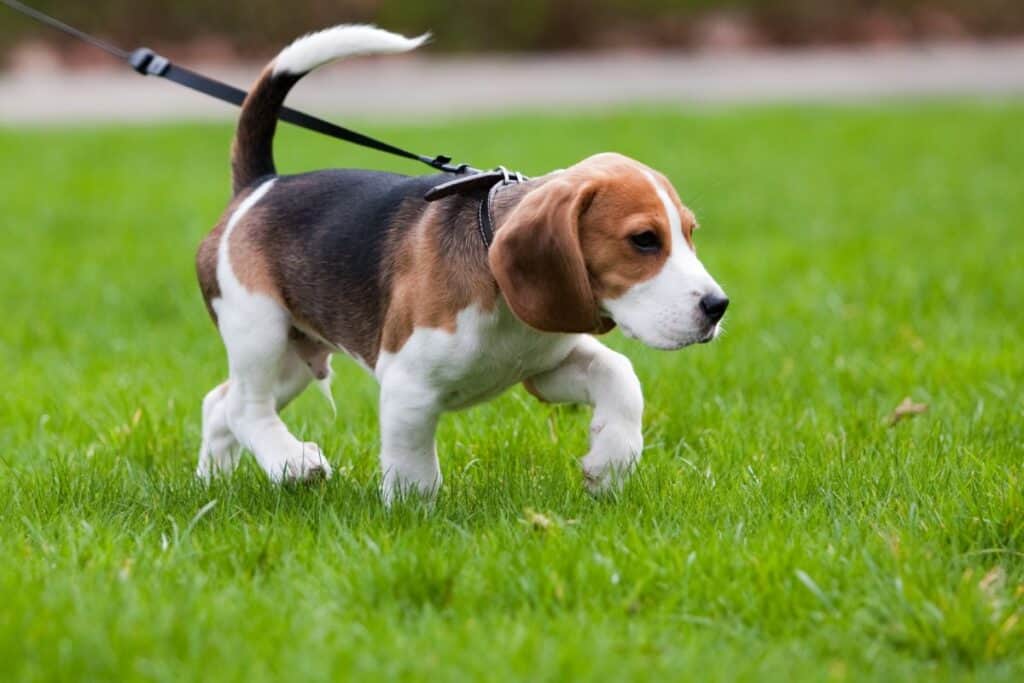 You are going to love the modern look of this canister. It's perfect to store dog food or treats. It will keep the food fresh and secure. You can also have your dog's name engraved on it. It comes in 2 different colors – ivory and charcoal.
9. INSPECTOR TAIL SELF COOLING MAT
This self-cooling mat can be extremely helpful during summer. Dogs are so uncomfortable when it's hot out. If you live in an area where it's always hot, you should think about getting this cooling mat.
10. PORTABLE DOG WATER BOTTLE
A portable dog water bottle comes in handy when going out with your dogs. It also comes with detachable storage for food or treats.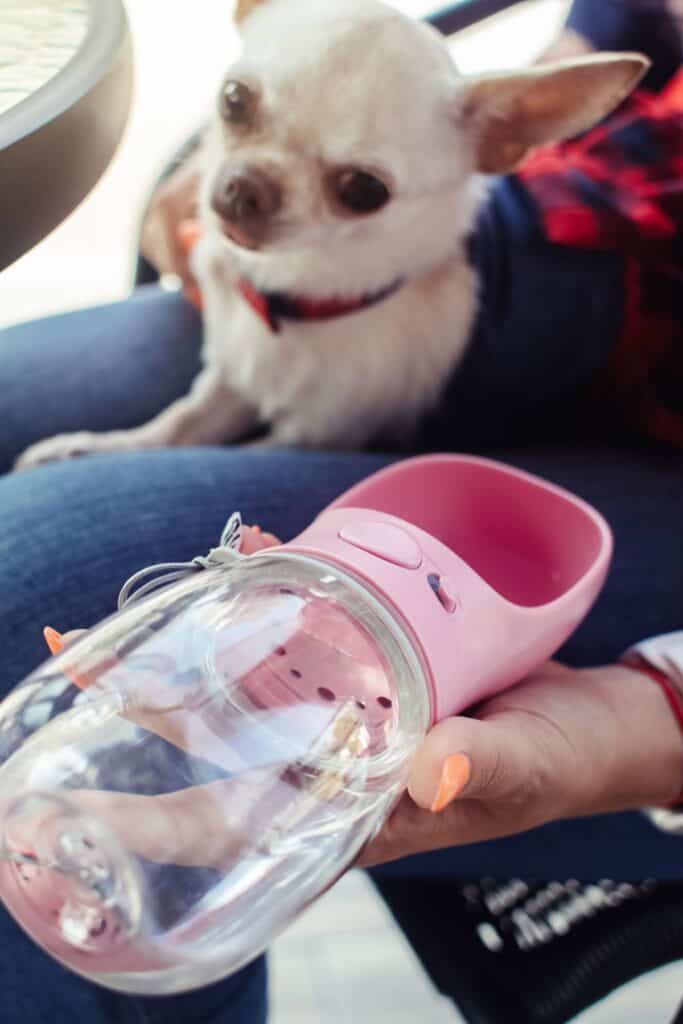 SUBSCRIPTION GIFT BOXES FOR DOGS
Christmas may come only once a year…but if you want to give one of the best Christmas presents for dogs…do something EVERY MONTH and start it at Christmas!
Your little furball will feel extra special every month with a monthly dog subscription box. Check out these great subscription boxes below. You can choose how often you want the gift boxes to come.
1. MONTHLY DOG TREAT BOX
These treats are like surprise boxes, it's different every month. Your dog will get excited with a new treat shape and flavor each month. These treats are made with all natural ingredients too.
2. FRENCHIE BOX
This gift pack is specially made for french bulldogs. Its contents were hand-picked just for Frenchies. Your dog will find toys and treats inside the box. Plus, each box also includes a cool Frenchie-themed item for you to enjoy.
3. CAREME BOX
This gift box is great because not only are you buying for your dog, but you also get to help a homeless dog. WIth your purchase, CareMe donates a percentage to a dog shelter.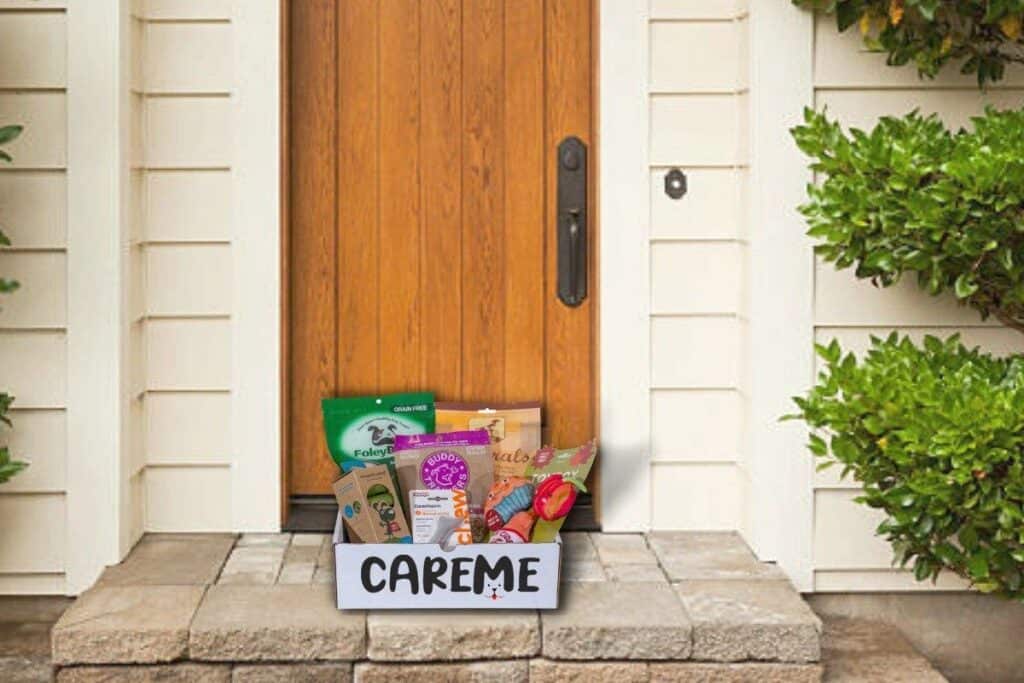 4. PUG BOX
Some pugs can be choosy when it comes to treats and toys. That's why they have their own subscription gift box. The toys and treats included in this pack have been pug tested – surely your pug is going to love what's inside the box!
5. AL'S PALS MONTHLY DOG BOX
These gift boxes are made personally by a down syndrome entrepreneur. This box is filled with healthy & tasty treats, fun toys, and a special surprise for your furry baby.
GROOMING ITEMS FOR DOGS
Another way of showing our pets we care is by pampering them and making sure they are clean. These things will be a great grooming item gift to them that surely won't go to waste.
1. DOG BATHROBE
This bathrobe is made with a super absorbent microfiber fabric. Meaning, this can make your pets dry quicker than usual. Your dogs might not love taking a bath but they will be relaxed and feel comfy when they put this on.
Because this bathrobe is soft, this can also be used as a blanket or a doggie nightgown. All 3 colors are so cute it's hard to choose just one!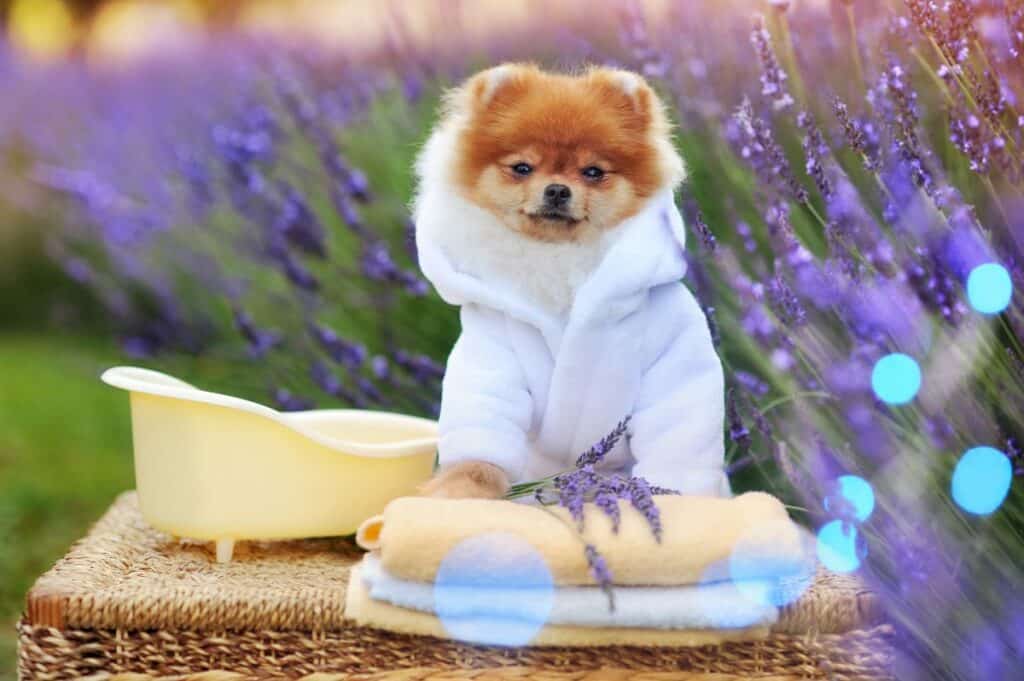 This shampoo will be great for those dogs that have sensitive and dry skin. Using this will make their coats look healthier and fluffy. The scent of the oatmeal smells terrific too! Restore the shine and health of your pet's coat by using this natural oatmeal shampoo.
If your pet is hairy like Shih Tzus or Golden Retrievers, this is a must-have! This will avoid hair matting and will keep their coats looking fresh. This grooming brush removes excess hair before it falls everywhere around the house.
4. BODHI DOG PET COLOGNE
We want our dogs to smell great all the time. Try out this pet cologne, they will smell fresh even if they haven't had a bath yet. This Bodhi dog pet cologne comes in 11 different scents to choose from. A quick spray of this cologne will remove the unpleasant smell without it being too overpowering.
5. NATURAL COMPANY PAW SOOTHER
This paw balm moisturizes, softens, and soothes dog paws for immediate relief. It's easy to apply this on your dog – just make sure to clean their paws before application then gently rub the balm on their paw pads. Your dog's paws will be slick right away.
BEST CHRISTMAS PRESENTS FOR DOGS…WHAT WILL YOU BUY?
Now that you have some ideas for the best Christmas presents for dogs…lots of ideas…which gifts will you get your dog and when will you give them the gifts? Comment and share how you celebrate your best friend during the holidays! It may give another reader an idea they haven't thought of before!
Be sure to check out these posts while you are here:
Be sure to PIN this for later and SHARE on Facebook!