These cake recipes for Christmas will be a great addition to your holiday meals. These are the most delicious cake recipes you have ever tried. Trust me; these are cakes you should serve on the dessert table. Check your soon-to-be favorite Christmas cake recipes down below.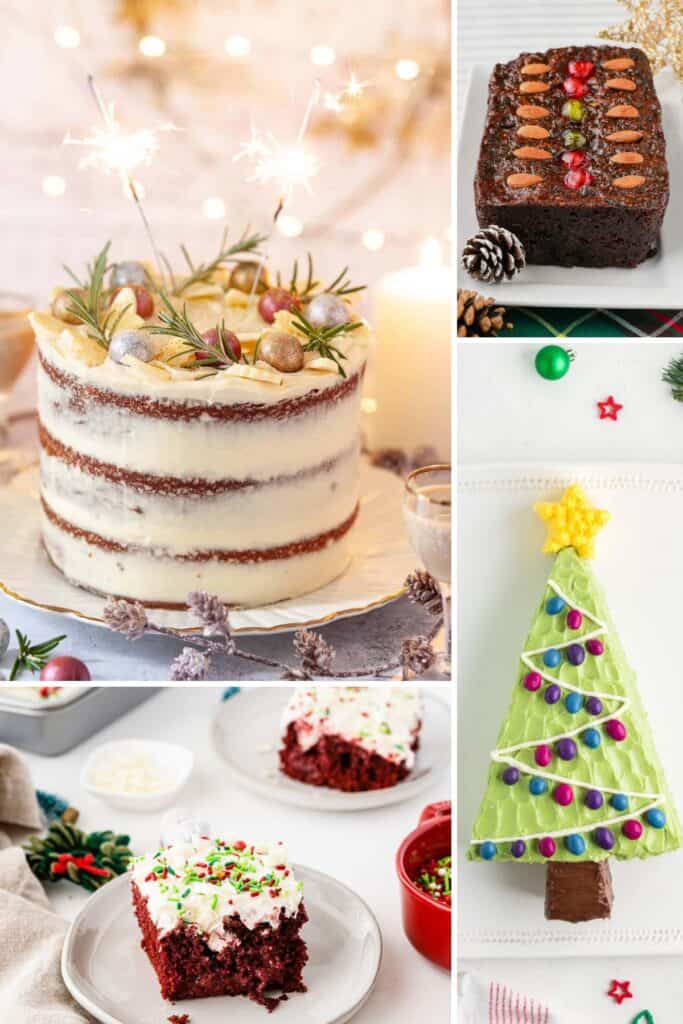 CAKE RECIPES FOR CHRISTMAS
The holiday season will not be complete without Christmas desserts, don't you agree? It's the best part of the holiday. You might wonder why a festive cake is so essential for this holiday. A whole cake can be the best way to show some holiday spirit.
It is also a great representation that people celebrate special occasions. Christmas is not just another holiday; this is the most special one because it is the day Jesus was born. Let us not forget that. So, like most birthdays, there is cake.
And let's be honest, the perfect way to end a Christmas party is by getting a bite of your favorite Christmas dessert. Whether it may be a gingerbread cake for Christmas eve or a moist cake on a wonderful Christmas morning, your sweet tooth will be satisfied with this awesome list of cake recipes for Christmas.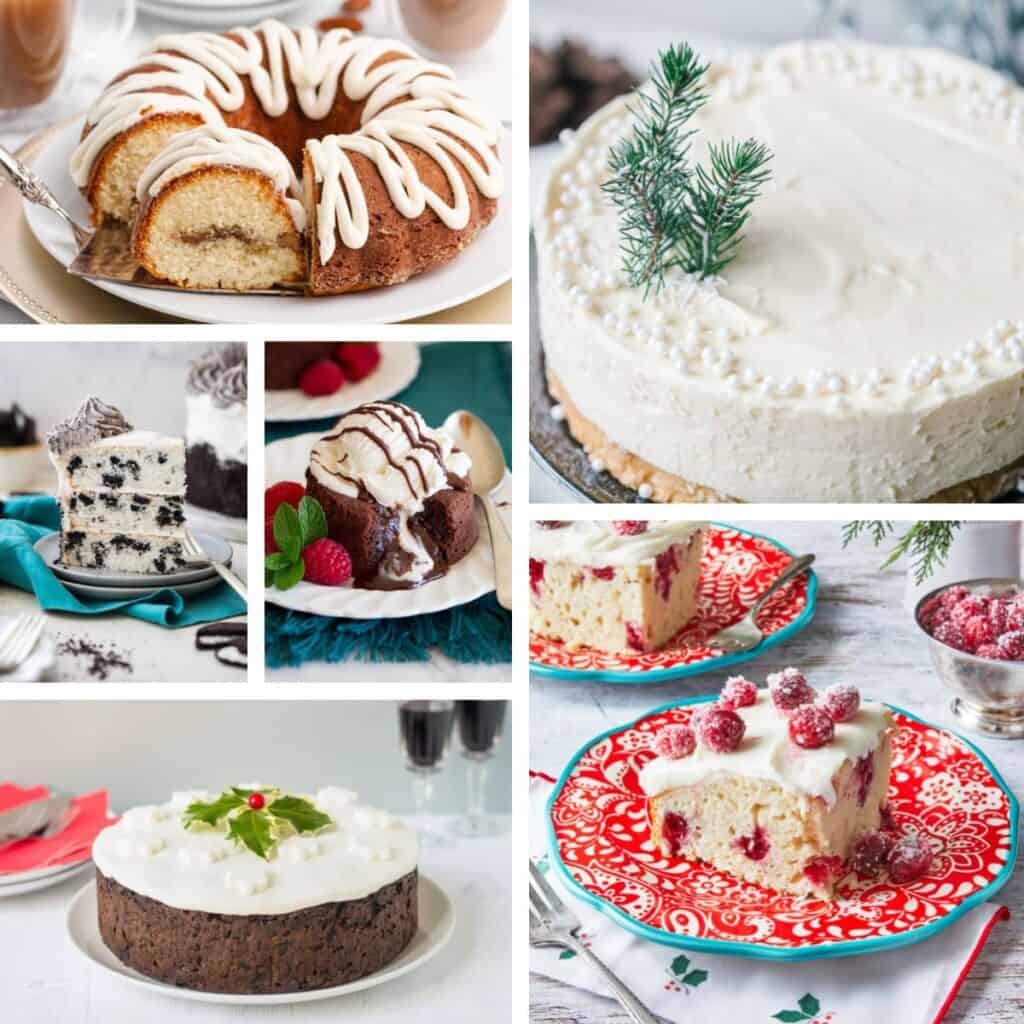 TRADITIONAL CHRISTMAS CAKES
Serving cake on Christmas days has been a tradition for so long already. This fun tradition dates all the way back to the 16th century. There are different types of recipes available. This depends on what families from different parts of the world hand down to a family member. And each time a cake recipe is passed down, these get modified making them more delicious. There are many versions with frosting, blended spices, powdered sugar, orange zest, and much more.
Did you know that the first traditional Christmas cake needed only 3 simple ingredients – eggs, butter, and wheat flour? These components contributed to the consistency of the batter and the creation of the boiled plum cake. Those people that lived in elegant mansions were wealthy. And this meant that they owned ovens. Around Easter, they began making fruit cakes containing marzipan, almond sugar paste, or almond extract. When Christmas came, they made similar cakes with seasonal dried fruits and spices.
People returning from battle transported spices from Jerusalem throughout Europe and Britain. The seasonings in the cake served as a representation of the exotic Eastern flavors that the three wise men presented to the birth of Christ. And from that, people came up with a name for it "Christmas cake." Isn't it amazing that a simple recipe can result in a traditional cake? But there are other traditional cake recipes for Christmas you could try. Check out this great list to add to your holiday table:
This cake can look a bit complex at first glance since it appears to require a lot of components, but it is actually extremely simple to make. Before mixing, ensure all the ingredients are ready, weighed, and lined in the pan. Simple assembly is required. The cake has to bake slowly for the flavors to come together beautifully. It is loaded with brandy, fruits, and sugar.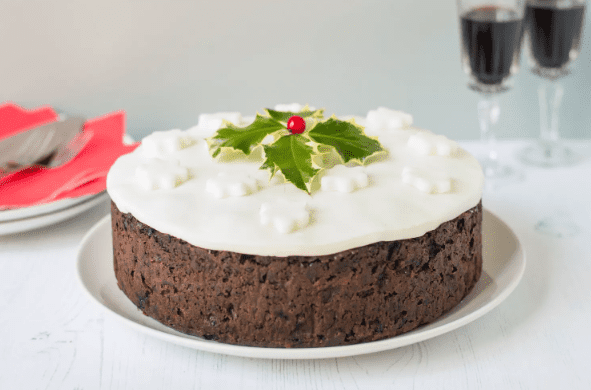 Typically, dried fruit must be soaked for hours or even overnight before it can be added to Christmas cakes. The good thing is, it does not need soaking. Fantastic when prepared immediately, retains for a very long time, and tastes great either way. Get creative with some sprinkles, nuts or any decoration. You can also keep it plain.
Enjoy this dark, moist, and spiced cake for the holiday. It can be topped with glazed fruits and some nuts. This cake can be prepared in a circular or rectangular shape. Click the link to learn how.
There is a pretty good reason why this cake has been around for so long, and a lot of people still love this. The warm spiced taste is just so amazing. This recipe can be done in 2 different ways – long and tasty or short and freshly delicious. Either way it would taste remarkable. Check out the recipe here.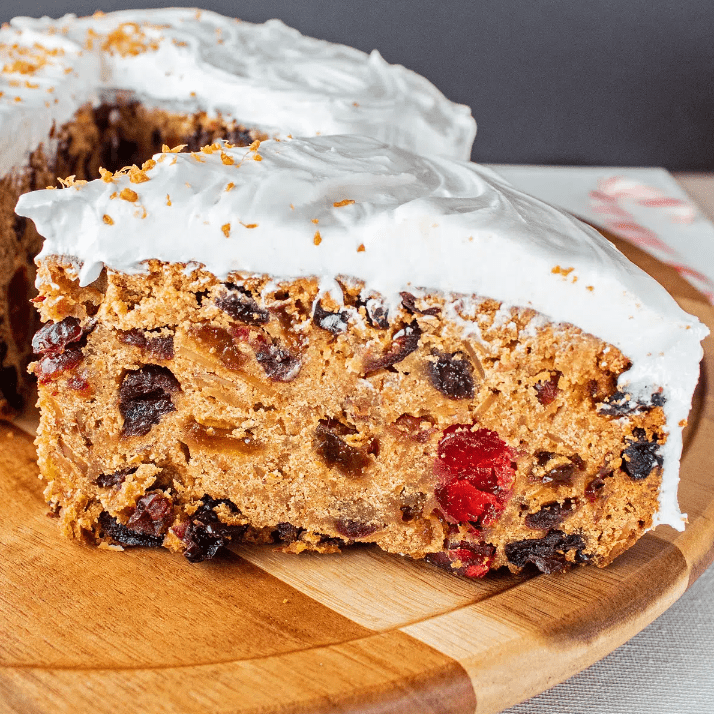 This is a cheerful, tasty, and moist fruit cake that the whole family will enjoy. This cake recipe is packed with your favorite holiday flavors. If you did not love fruit cake before, you will absolutely love them once you get a bite of this perfect dessert.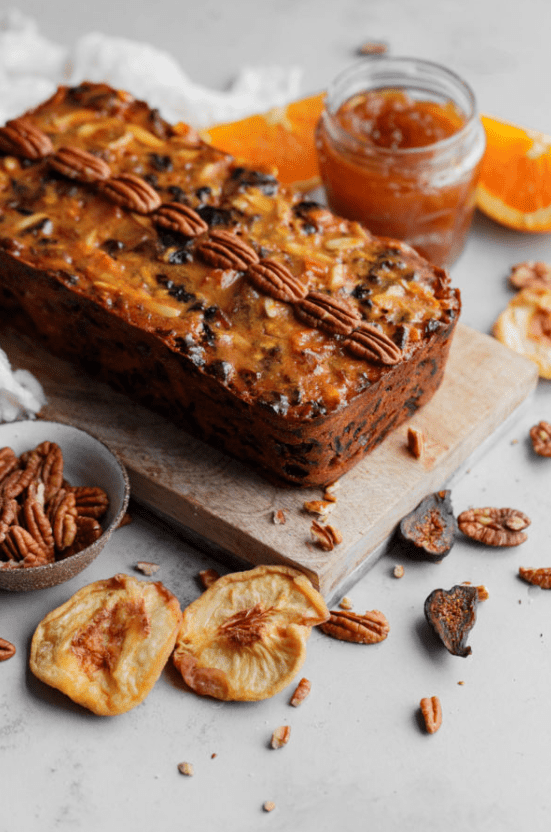 Having a winter wonderland themed party? This cake would be the perfect match. It is easy to make, and it will be a crowd-pleaser.
This white Christmas cake is to die for. Not only is it elegantly beautiful, it is also flavorful. Click the link below for the recipe card and enjoy this scrumptious dessert.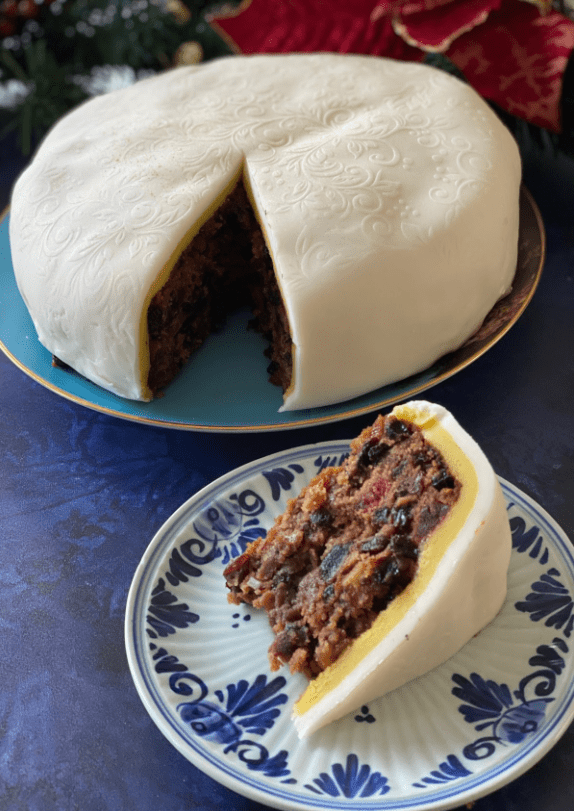 You will love this spiced cake with a hint of lemon zest, topped with chopped nuts and a splash of bourbon.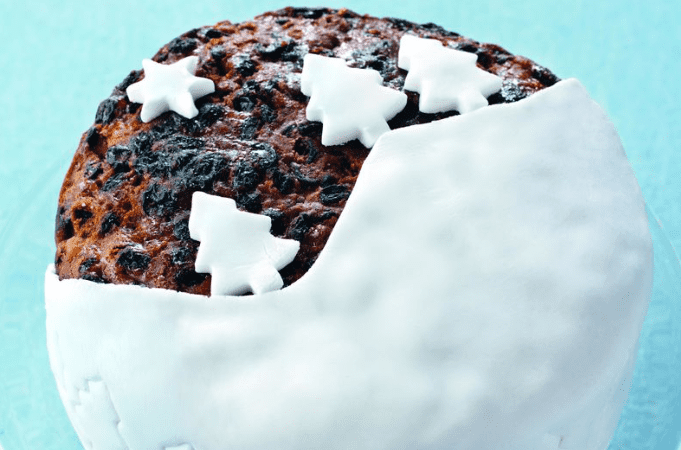 Not a big fan of fruit cake? This will change your mind about that. Hutzelbrot is a bread cake you can give your family and friends.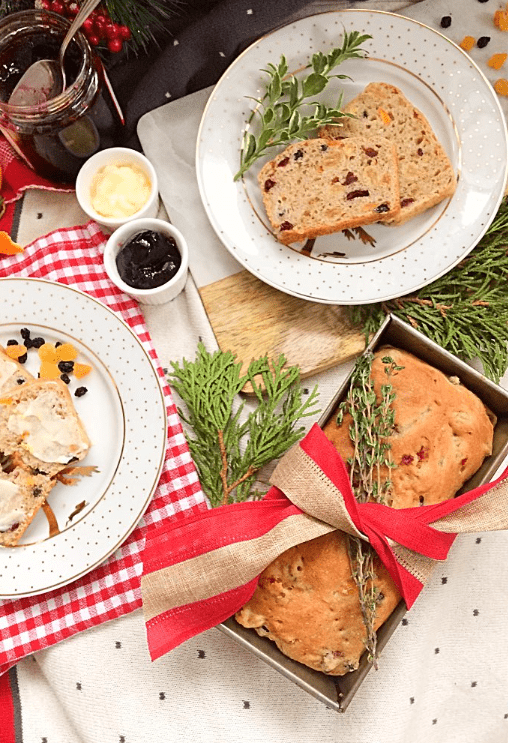 In search of a simple recipe for bread pudding? Fruit cake leftovers can be transformed into a delicious bread pudding in only a few minutes. It is one scrumptious mouthful that is pomegranate-studded and is topped with white chocolate bits.
UNIQUE CHRISTMAS CAKES
Now that you have seen the traditional cakes that are made in different countries, let us now take a look at some of the most unique cake recipes for Christmas they have. Here is an exciting list for you to check out:
Just by its name, you could already tell that this cake is unique. It makes you wonder what the taste of this cake would be. To give you a brief description of what to expect – this hummingbird cake is sweet and heavenly. A slice of hummingbird cake is a great option to pair along with a cup of tea. You will enjoy this during a cold weather because the taste is so comforting. Place some crunchy pecan on top and you are set.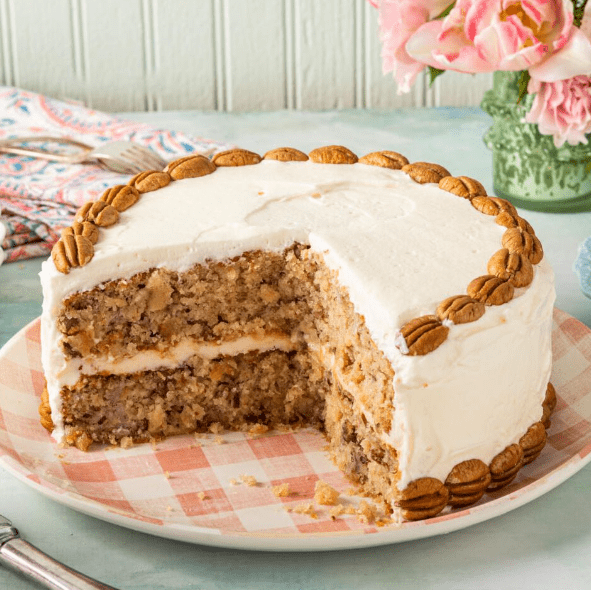 This is a sponge cake with mascarpone whipped cream that is wrapped with chocolate ganache. Both presentation and taste is unique.
If you like munching on some Ferrero Rocher chocolates, then you will surely have fun making this great recipe for everybody.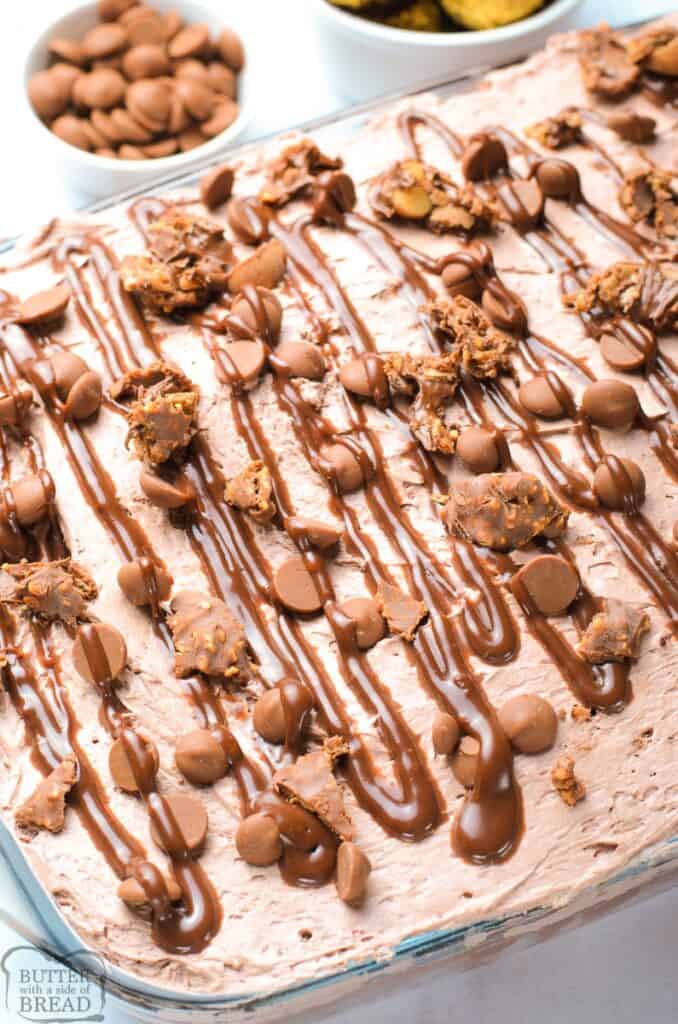 Traditional Yogurt Streusel Coffee Cake is the ideal treat to prepare ahead of time and serve with a hot beverage. It's a simple coffee cake dessert for socializing during the holidays.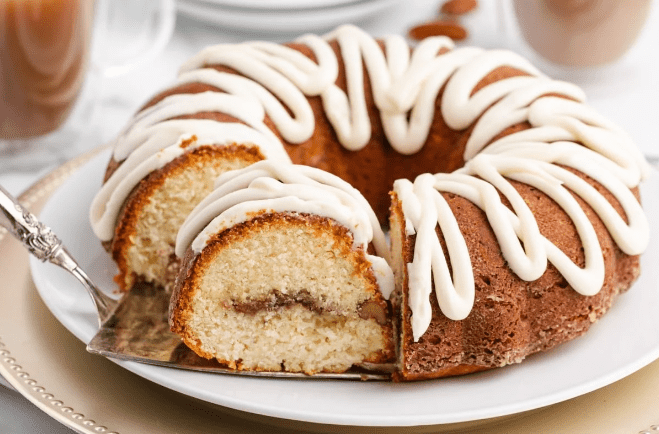 Before you react or skip this one, I know it sounds strange, but you have to try it. I know you are a little bit curious. Believe it or not, it is delicious.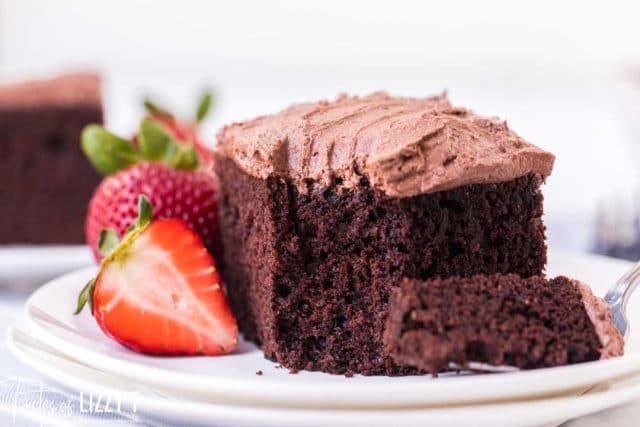 You won't find a better coconut cake recipe than this one. To make the coconut cake extra moist, this simple coconut cake recipe combines fresh coconut and a unique element.
This cake does not require many ingredients – if not all, most of it you probably already have in your kitchen. That's the magic to it; a wonderful cake can be done with such simple ingredients.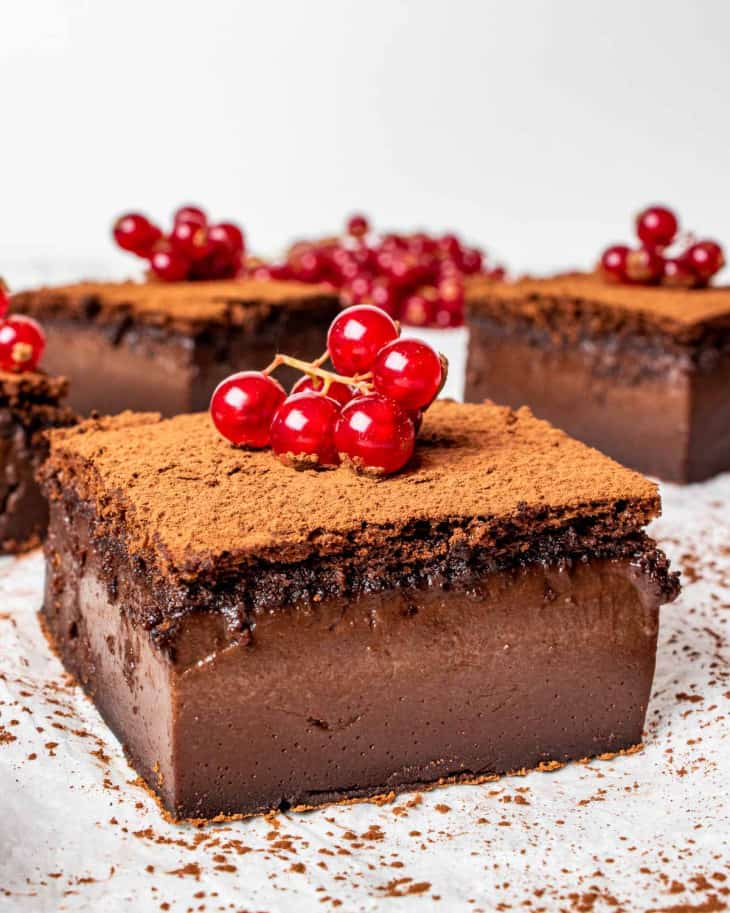 A cake fresh on the eyes, this summer fruit cake can be decorated however you want it. Pick out your favorite fruits for this awesome cake.
The white chocolate layers and underlying ganache are the ideal match for the smooth and supple mascarpone icing. This cake is excellent for any occasion and is easy to design.
The best thing about this cake is that you can put anything inside it – chocolates, surprise gift, nuts, and many more. It is up to you. Check this recipe out to get started.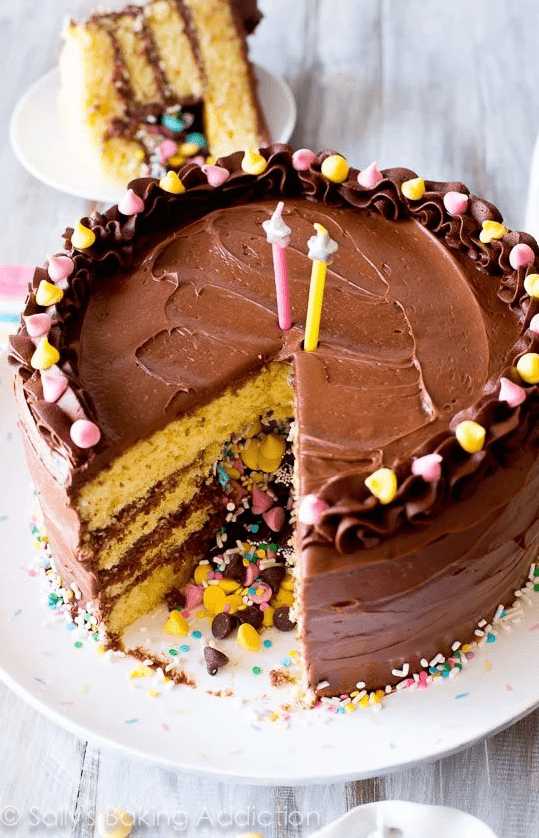 CHRISTMAS CAKES THAT KIDS WILL LOVE
Most kids can be pretty picky regarding food; we know that. So, this is a list that kids will surely love. These cake recipes pair really well with some hot chocolate.
It's quite easy to prepare this luscious gingerbread cake with brown butter cream cheese icing. It is a cheery holiday cake that the whole family will enjoy, embellished with a few glittering sugared cranberries.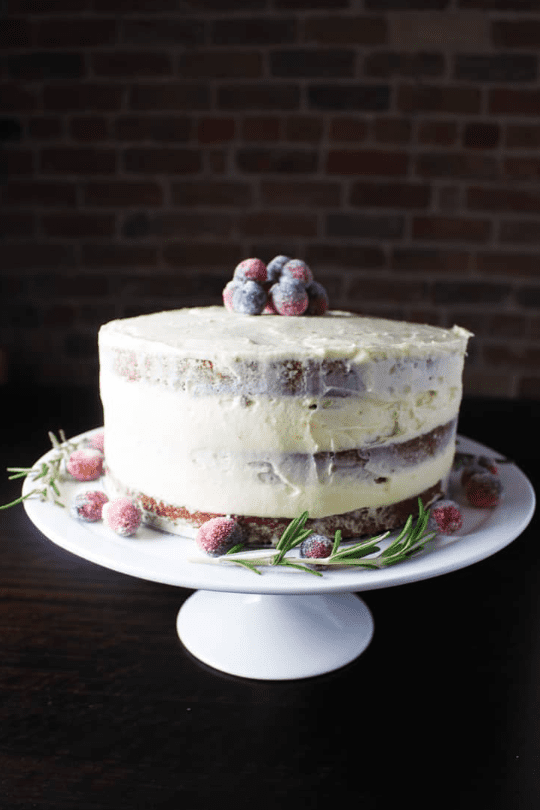 These adorable mini cakes are perfect for the kids. Not only will they enjoy eating these, they will also love the taste of these mini cakes. They can even design their own mini cake.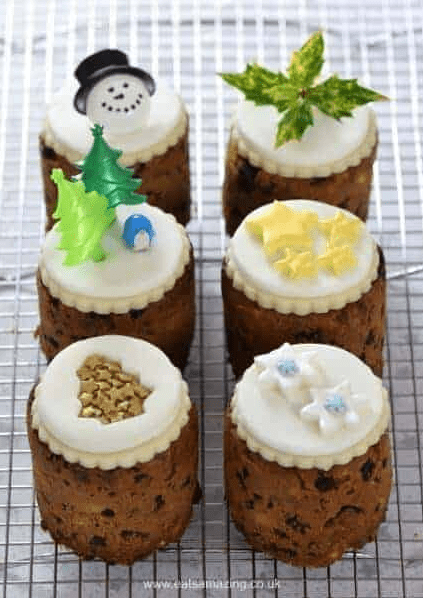 This decadent red velvet brownie and vanilla pudding layer cake for dessert is finished with a dash of zesty peppermint. It's a vibrant treat that will impress your loved ones.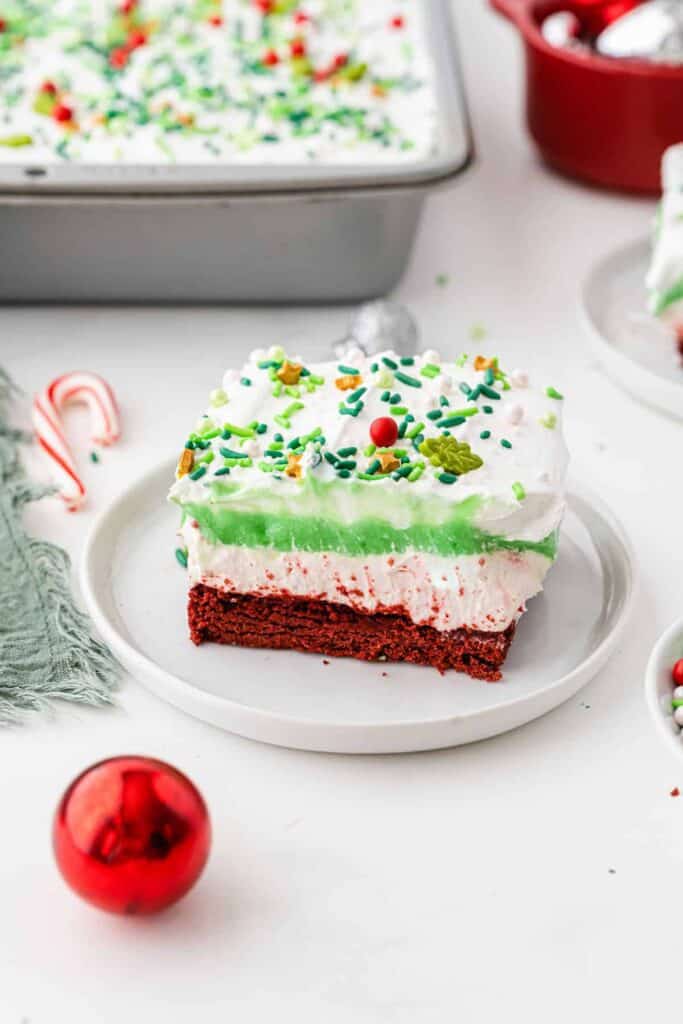 There is nothing more kids will love than chocolate. What are you waiting for? Go ahead and get this cake's recipe card. Your mouth will water once you see the gooey caramel filling in these.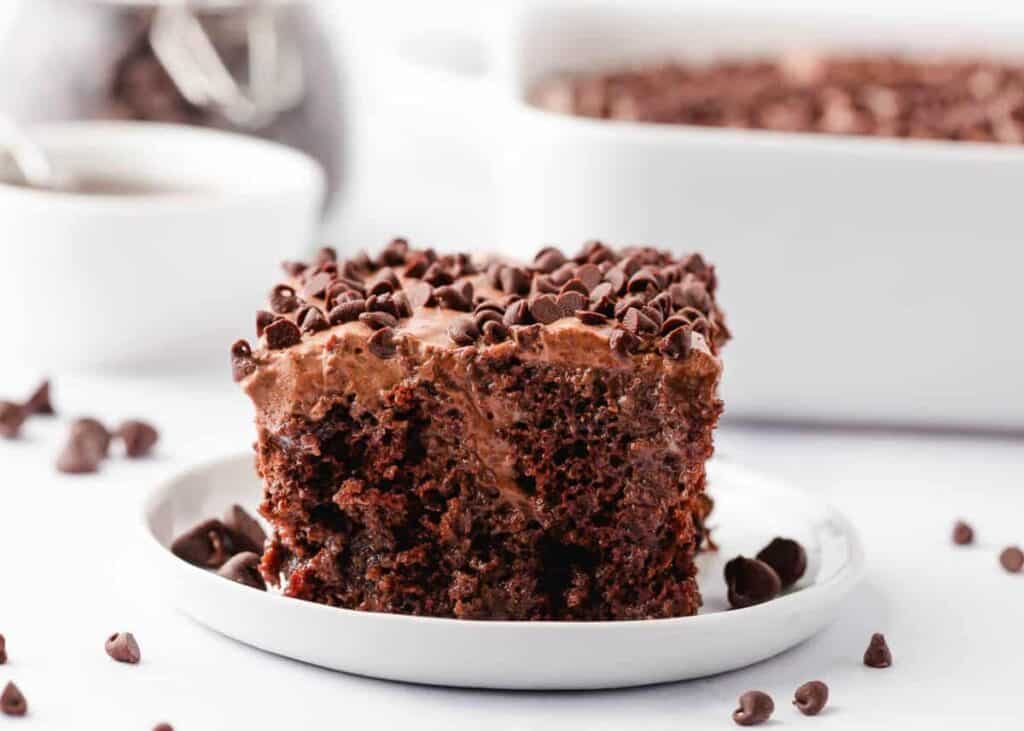 No one would ever believe how easy it is to make this jelly poke cake because it looks so elegant. Although you can prepare this cake in whatever color you like and serve it for any celebration.
Nothing says perfect combination than cookies and creamy cheesecake. You can customize it however you want to.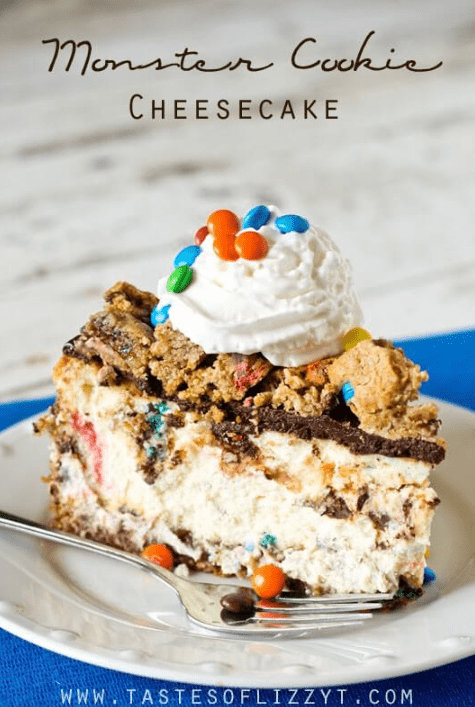 This is a simple, smooth, and fluffy cake that always look lovely on a dessert table during the holidays. Don't miss out and try this recipe at home.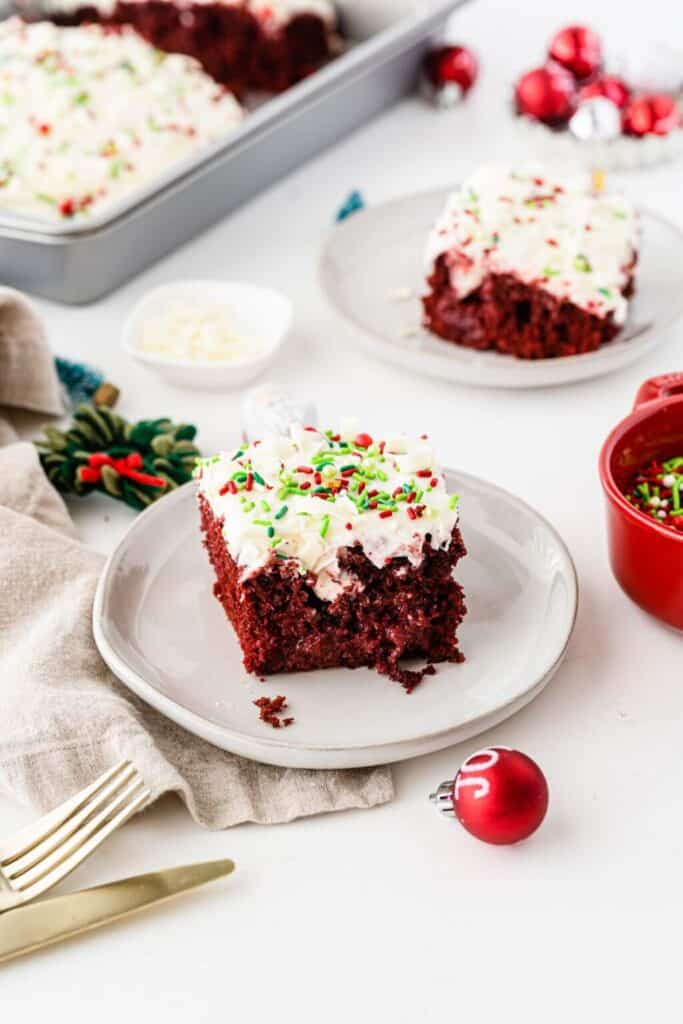 You can never go wrong with Oreos. Whether it be for kids or adults, this Oreo cake will be a hit.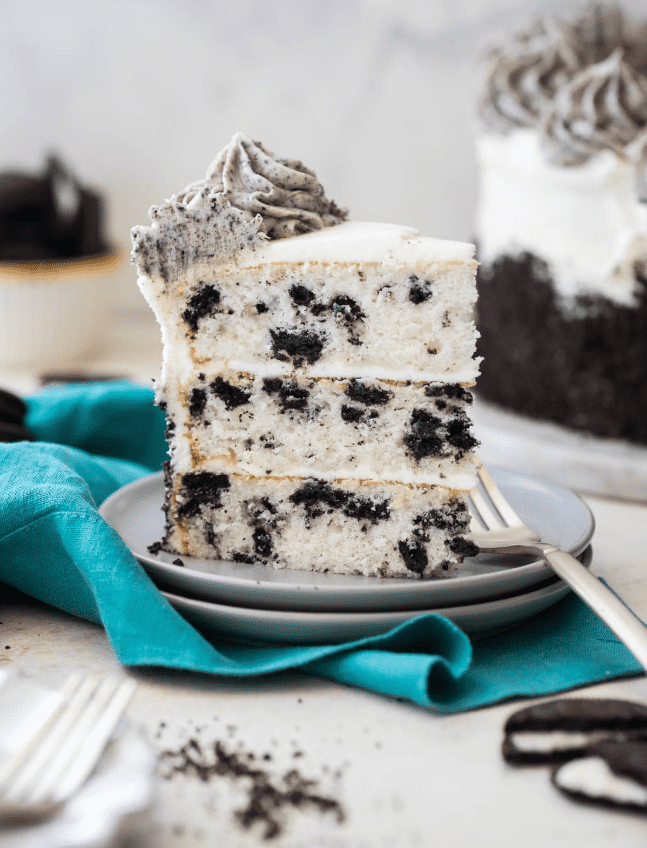 It's a simple but ultimate dessert for kids. They will love the molten lava chocolate plus they get to put any topping they want – like ice cream.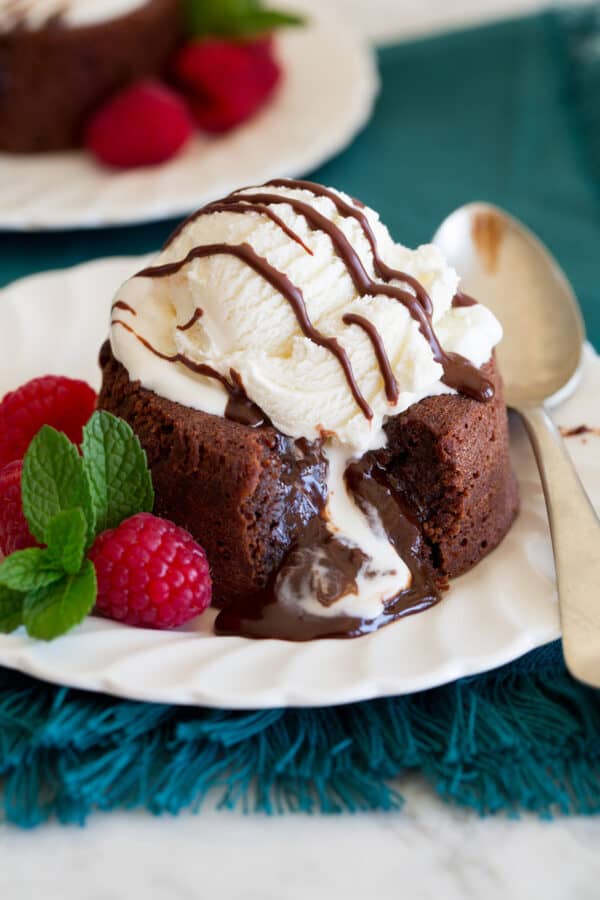 Get creative with this Christmas tree cake recipe. Finish it off with the toppings you love and the kids can help out making it.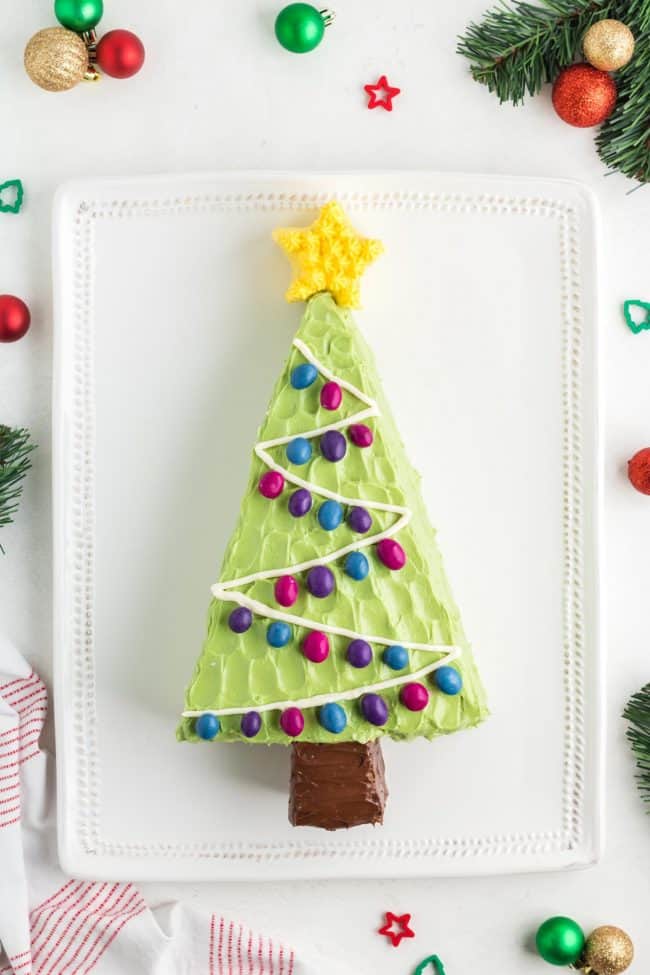 SHOW-STOPPING CAKE RECIPES FOR CHRISTMAS
If you want a cake that Christmas guests will be talking about for a long time, this is the way to go. These are some fancy cakes for you and the family to enjoy.
A light sponge layer and white chocolate truffle make up the stunning holiday treat. It may look simple, but that's the beauty of it. You would be surprised that a layer of this cake is a mixture of only eggs, sugar, and flour.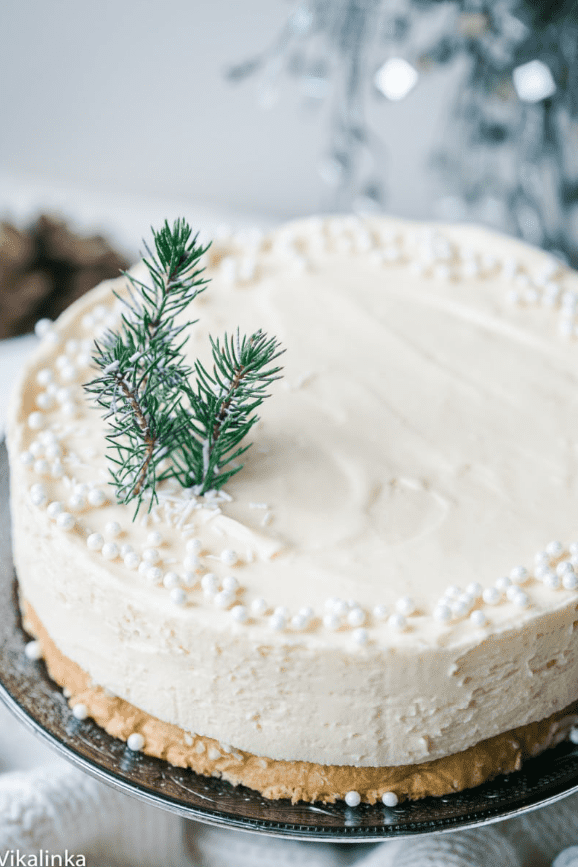 With its thick mascarpone whip cream, luscious blueberries, and lemon cream-filled pandoro cake, this eagerly awaited magnificent Christmas dessert beams only goodness on the joyful Christmas table.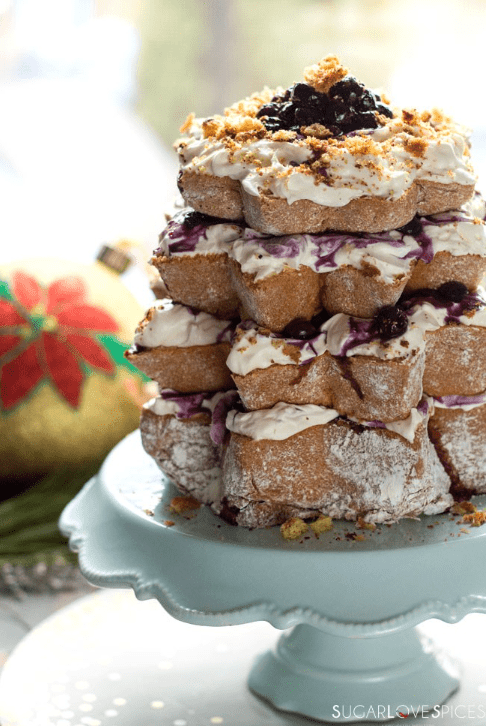 Typically cooked for Christmas, traditional Italian panettone is a thick and dense sweet pastry. This fluffy and delicate panettone has just three teaspoons of butter. Take a look to see for yourself.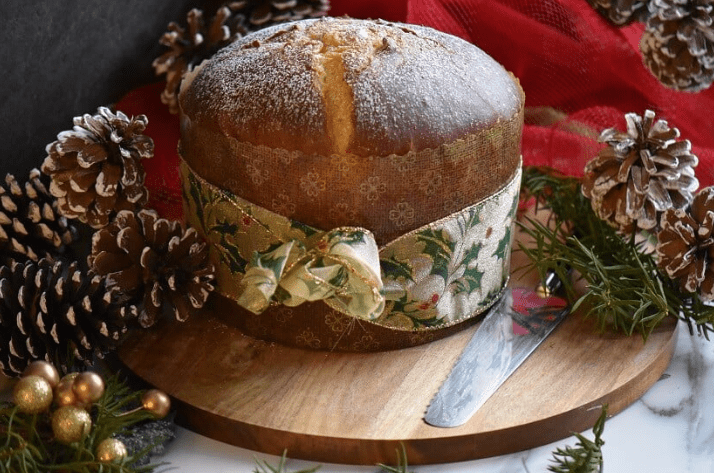 This Swedish Princess Cake has layers of vanilla custard, whipped cream, raspberry jam, and sponge cake, making it a traditional Scandinavian torte. It has a classic spherical form with a coating of green-tinted sweet marzipan on top.
You wanted a show-stopping cake, you've got it. Looks complicated but it really isn't. Design it however you want or serve it as it, it will look great either way.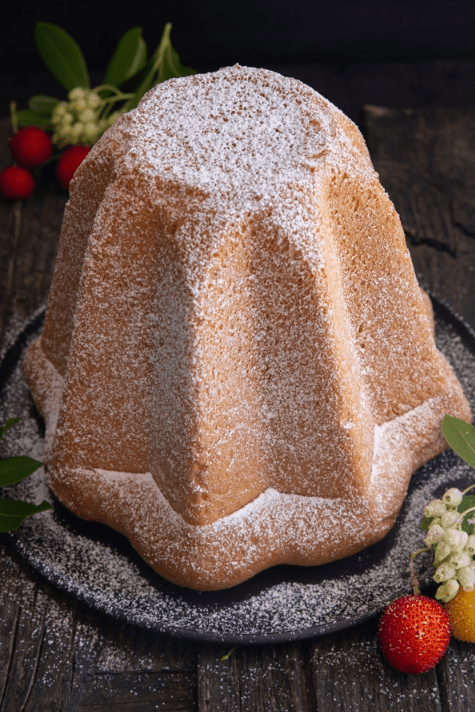 Which cake will you make for Christmas? After seeing these yummy cake recipes, which one caught your eye the most? I know all of them are so mouthwatering, but I'm sure you have a favorite that you are dying to try. Check each one out, and let me know which cake you will make for Christmas.
If you liked these cake recipes for Christmas, better check out these other great recipes as well:
Be sure to PIN this for later and SHARE it on Facebook!