This eggnog bundt cake recipe is to die for! Enjoy eating this flavorful dessert anytime since it is simple to make at home! It's a festive, enjoyable dessert for the holidays!
DIFFERENCE BETWEEN POUND CAKE AND BUNDT CAKE
Before we get into that, let's first answer the question, what is a bundt cake? To simply put it, a Bundt cake is a dessert cake made in a Bundt pan, which is a round baking pan with a tube in the center and fluted, decorative sides.
A shortened cake is typically used to make bundt cakes. It is specifically for rich cake recipes, such as pound cake, or cakes that are often made using butter or shortening. Bundt cakes can be used in a variety of ways. Plus, it can easily be stored well.
They are simple dessert cakes that can be served with fruits on top or on the side, drizzled with a delicious glaze, or they can also be topped with some powdered sugar. Only a small percentage of bundt cakes have frosting or have filling in them.
H. David Dalquist, the creator of Nordic Ware Bundt Pans, designed the aluminum bundt pan in 1950 – at the request of members of the Minneapolis Center of the Hadassah Society because they were looking for a pan to prepare kugel, a traditional Jewish delicacy. But only had several old ceramic cake pans with similar designs, and they wanted one made of aluminum.
To make the cake easier to cut, Dalquist designed a new shape and added regular folds. The pans were named "bund pans" by the women of the society because "bund" is German for "gathering." Dalquist then trademarked the word by adding a "t" to the end of "bund."
Cakes are available in a variety of shapes, sizes, flavors, and baking methods. Bundt cake and pound cake are two of the more popular cake types. But what distinguishes these cakes? What is the difference between a bundt cake and a pound cake?
Bundt cakes are cakes with a specific shape – depending on what bundt pan you are using. Through their names, both cakes reveal their mystery. Bundt cakes get their name from the unique shape that each has. They have a spherical shape with a hole in the middle and are beveled or grooved over the surface. So, when viewed from above, it appears to be like a huge donut.
Pound cakes, like Bundt cakes, do not have a single recipe. The measurement of its ingredients is the most important distinction here. Pound cakes were traditionally created with four basic ingredients: flour, sugar, butter, and eggs. With each component having one pound of measurement. As a result, the recipe became known as Pound Cake.
Both cakes can be done in so many ways and it is possible to make a bundt cake with one pound of each ingredient and also a pound cake in the shape of a bundt cake.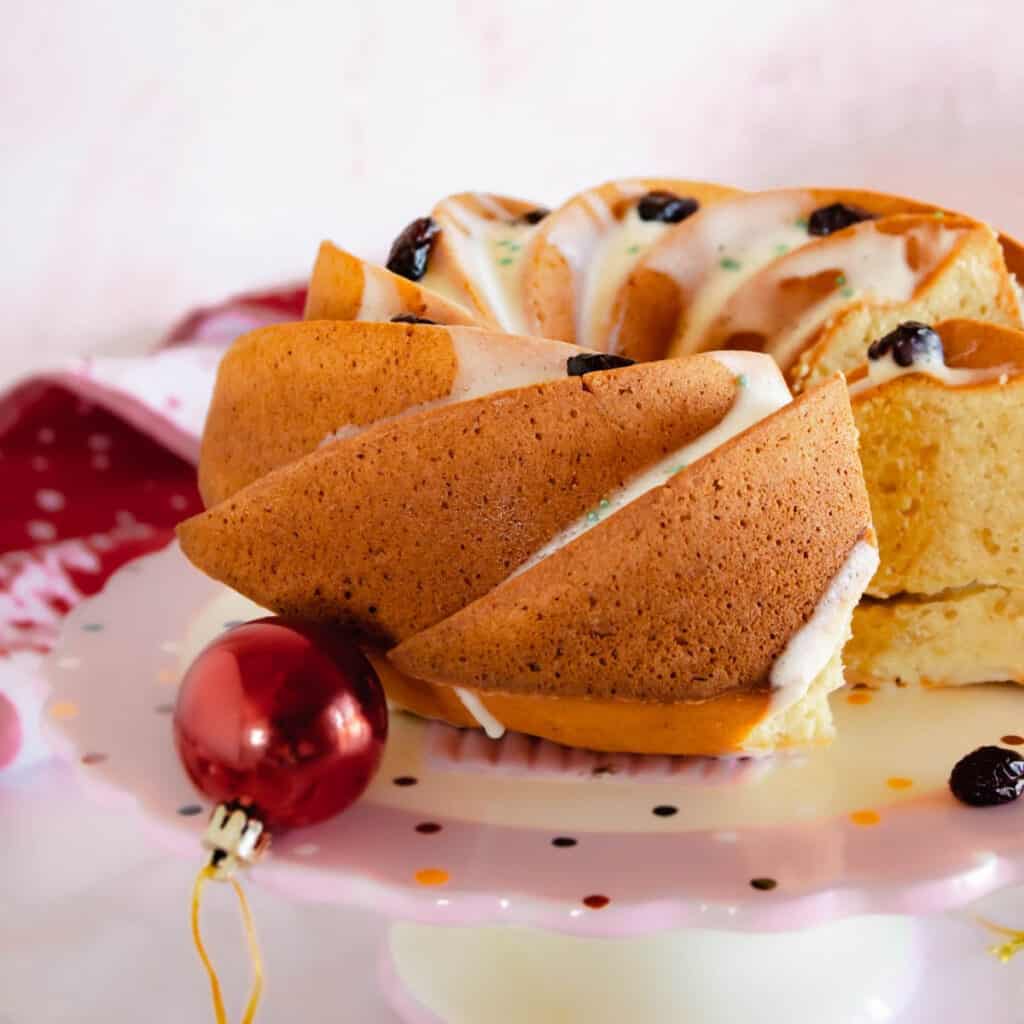 DOES THIS CAKE TASTE LIKE EGGNOG?
This eggnog bundt cake has all the flavors of the traditional Christmas drink. It has a thick creaminess to it with a tinge of nutmeg and rum. It has a gorgeous golden color and is exceptionally moist and soft. If you love drinking eggnog, you will love this cake even more!
But it does not stop there, a delicious frost icing is poured over the whole cake. While the eggnog flavor is delightful, it isn't overwhelming.
TIPS FOR A MOIST AMAZING EGGNOG BUNDT CAKE
Do your bundt cakes always end up dry? Here are some helpful tips for you to try that will make your bundt cakes baked and moist to perfection:
DO NOT OVERMIX (but also don't undermix)
It's crucial to beat the butter and sugar together for long enough for it to become creamy and rehydrated. Also, when adding in the eggs, do it one at a time and mix it with other ingredients just until the yolk is no longer visible.
This phase is vital because air is beaten into the cake mixture, which causes the cake to rise as the air bubbles expand during baking. Mix only long enough to incorporate the flour when adding the flour. Gluten will form if you mix for too long or at a high speed, resulting in a tough cake.
ROOM TEMPERATURE INGREDIENTS
Be sure to check all of the ingredients are at room temperature – the butter, eggs, and eggnog. These should be at least at a 65 to 68 degrees Fahrenheit temperature. This will guarantee emulsification.
Carefully and properly measure each of the components. Follow the recipe card and the measurements for the ingredients.
PREPARING AND TRANSFERRING TO THE BUNDT PAN
Make sure that you grease every corner of your bundt pan. Then, when transferring, slowly spoon the batter into the prepared bundt pan to avoid air bubbles.
Just a reminder, only open the oven door when the bundt cake is ready to be checked for doneness. After that is done baking, take out the eggnog cake and allow it to cool in the pan for exactly 15 minutes before you transfer it to a cooling rack.
The cake will stick to the pan if you leave it longer than 15 minutes and if you transfer it before the said time, the cake is going to break. It's best to time the cooling in the pan, not more than or less than 15 minutes. You will be glad of how it turns out after!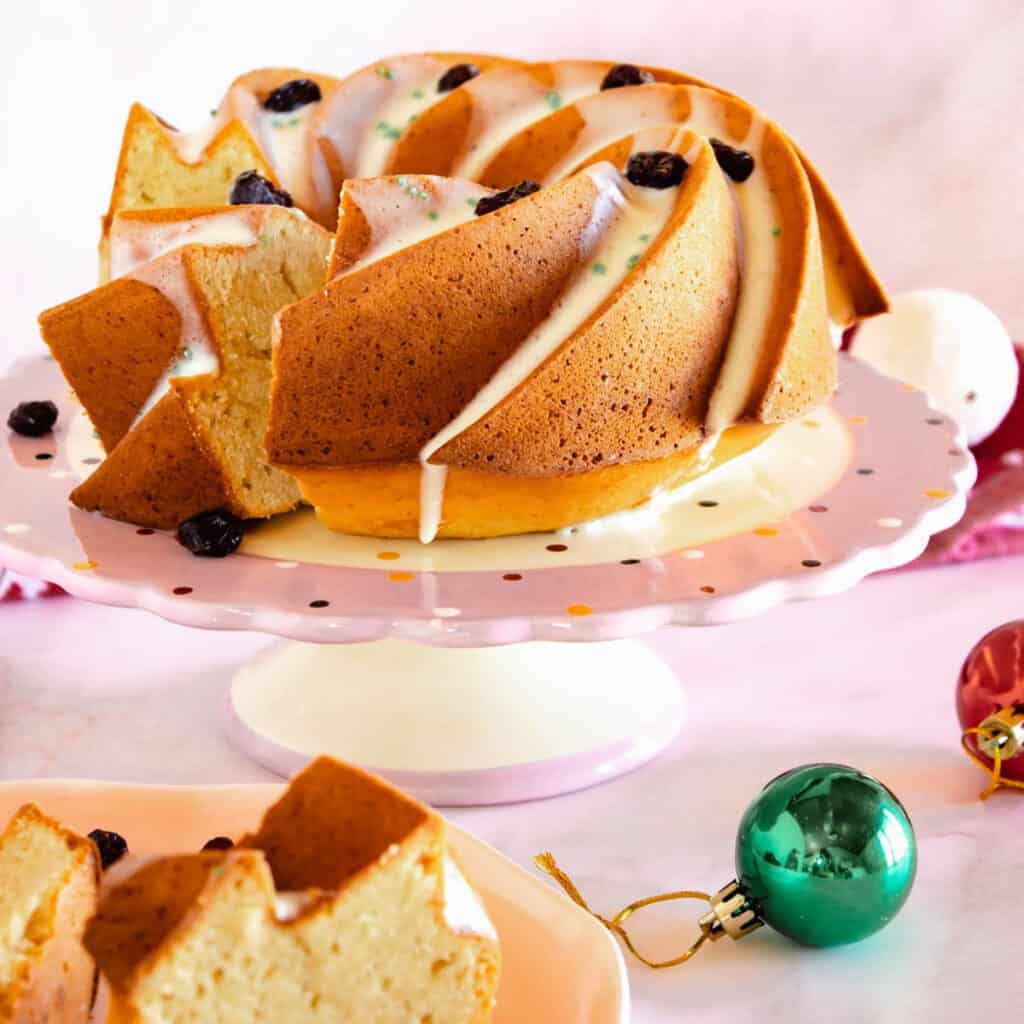 DO I HAVE TO USE REAL RUM?
You can either use rum or rum extract for this recipe. Rum extract is a rum-based cooking ingredient. It has a strong rum flavor without the high alcohol concentration of traditional rum. This ingredient normally contains a slight quantity of alcohol, depending on the manufacturer.
However, if you don't like the alcohol content there are also alcohol-free versions that can be bought from the grocery store. The rum or rum extract is also optional, so if you don't want to add it to your eggnog bundt cake that's fine. It will still taste amazing!
WHAT ARE THE INGREDIENTS TO MAKE EGGNOG BUNDT CAKE?
For this recipe, you are going to need the following ingredients:
Flour
Baking Powder
Ground Nutmeg
Ground Cinnamon
Unsalted Butter (room temperature)
Olive Oil
Light Brown Sugar
Granulated Sugar
Eggs (room temperature)
Eggnog (room temperature)
Rum or Rum Extract (optional)
And for the frosting, here are the ingredients: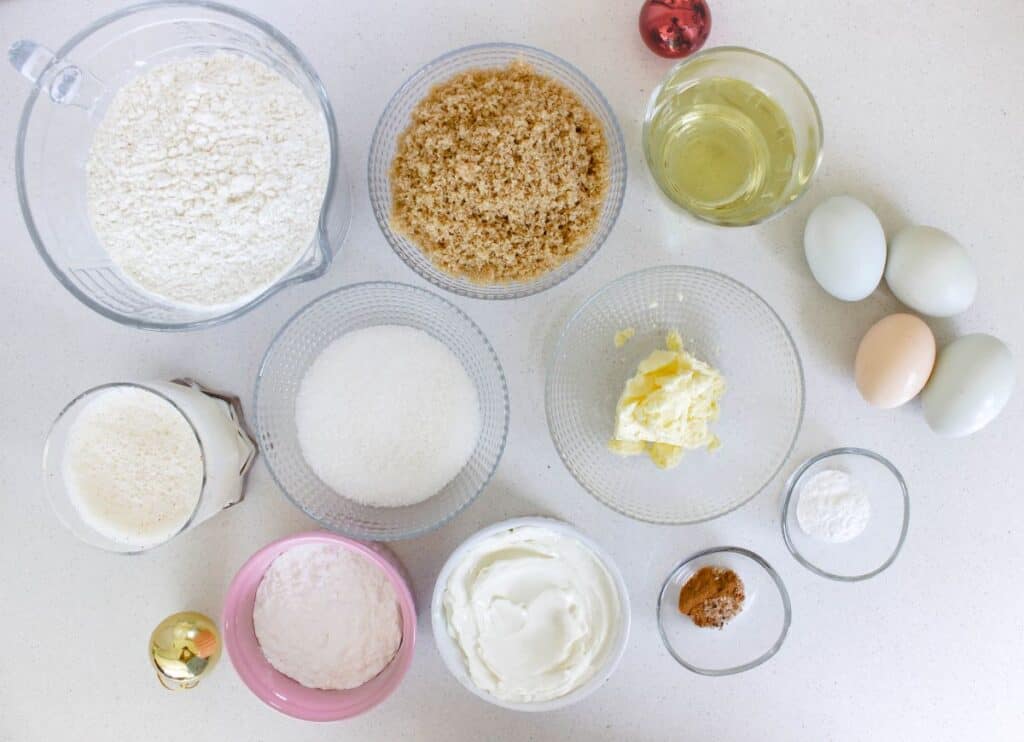 HOW TO MAKE EGGNOG BUNDT CAKE?
Now that you have gathered all of your ingredients for this eggnog bundt cake recipe, it is time to make this yummy dessert. Follow the instructions below for the best results!
STEP ONE: PREPARE OVEN AND PAN
Before anything else, preheat your oven to 350° F first. Then, grab your bundt pan – preferably a 10 or 12-cup size. Grease this with some cooking oil spray and set it aside.
STEP TWO: PREPARE THE MIXTURE
Whisk the flour, baking powder, salt, nutmeg, and cinnamon until they are all fully combined together.
After that, beat the butter and the sugar till they become smooth. Add some olive oil and continue whisking the mixture.
STEP THREE: ADD OTHER INGREDIENTS
When you are done mixing those, add the eggs one at a time and fully blend together after each addition. If you are planning to add rum to your cake, you can do so at this point along with the vanilla.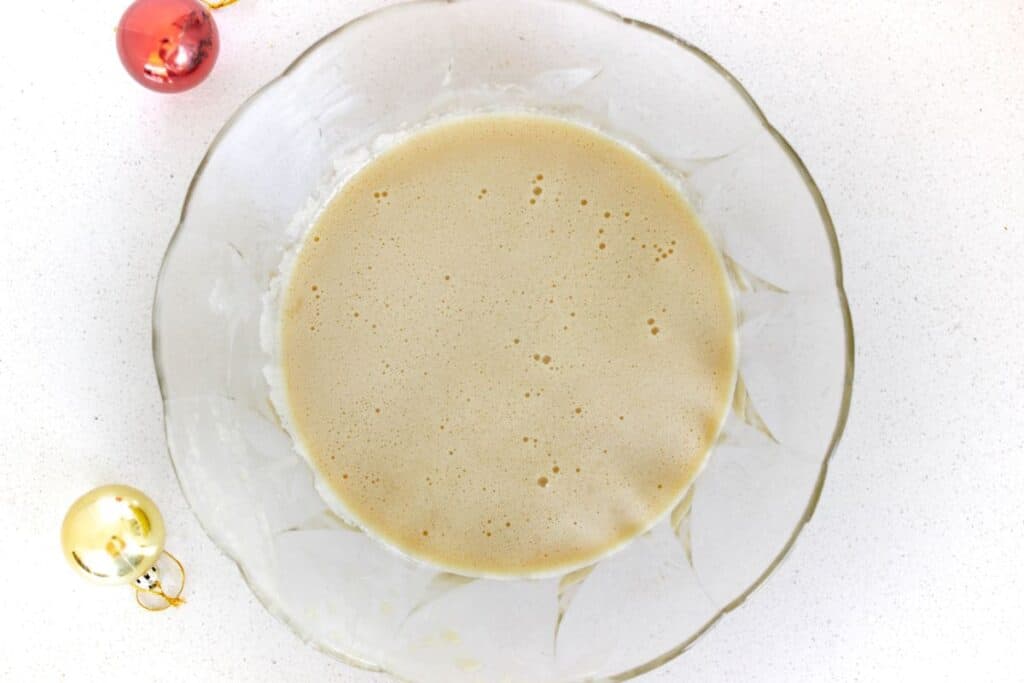 STEP FOUR: ADD EGGNOG
Grab your spatula to combine the dry and wet mixture together.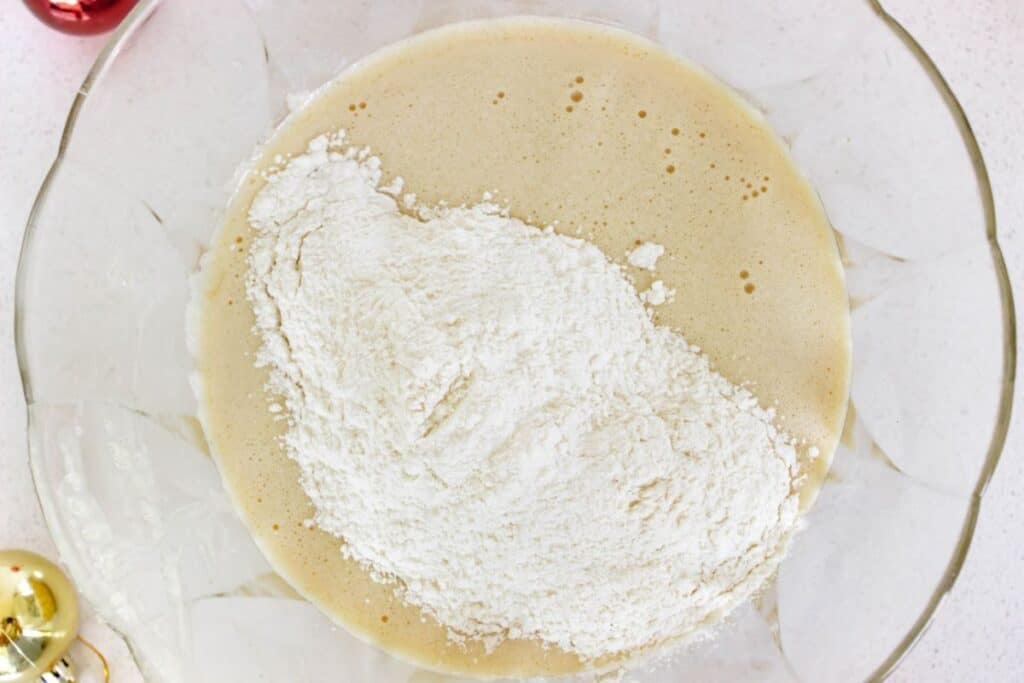 After that's completely blended together you can now add in the eggnog. Be sure not to overmix it.
STEP FIVE: BAKE THE CAKE
Transfer the eggnog bundt cake mixture to your pan then bake this for about 45 minutes or just until a toothpick inserted into the center comes out mostly clean.
STEP SIX: COOL AND SERVE
Once it's cooked, take it out from the oven and place the cake on a wire rack for it to cool. While waiting, you can prepare the icing. Beat the cream cheese with milk until it reaches your desired consistency. Top it on the bundt cake, serve, and enjoy!
EGGNOG BUNDT CAKE RECIPE CARD
Now that you know all about eggnog cake it is time to print the recipe or save the recipe. You can print off the complete ingredients and instructions for eggnog bundt cake via the recipe card below.
If you don't have time to print it off right now, no worries! Just save the pin to your Pinterest account by clicking the pin button located in the recipe card below.
If you make this recipe and LOVE it…please come back and leave a 5-star rating. It would mean so much to me!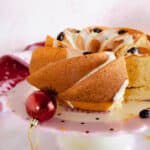 Print Recipe
DELICIOUS RUM EGGNOG BUNDT CAKE
This eggnog bundt cake will make your mouth water! It is easy to make too!
Ingredients
2

Cups

Flour

2

tsp

Baking Powder

1

tsp

Nutmeg Ground

1 1/2

tsp

Cinnamon Ground

1/3

cup

Unsalted Butter

room temperature

1/2

cup

Olive Oil

1

cup

Light Brown Sugar

packed

1/2

cup

Granulated Sugar

4

Large Eggs

room temperature

1

cup

Eggnog

room temperature

2

tbsp

Rum or Rum Extract

optional
FROSTING
1/3

cup

Cream Cheese

2

tbsp

Milk
Instructions
Preheat oven to 350F.2.3. 4. 5. 6.7. 8.

Grease a 10 or 12-cup Bundt pan with cooking spray.

In a medium bowl, whisk flour, baking powder, salt, nutmeg, and cinnamon until well combined.

Beat butter and sugar until smooth. Add olive oil, and keep whisking. Then, add eggs one at a time, fully incorporating after each addition. Add rum and vanilla at this point if using.

Using a spatula, stir in dry ingredients first and then eggnog. Do not over-mix.

Bake for 45 mins or until a toothpick inserted into the center comes out mostly clean.

Place cake on a wire rack to cool.
Icing
Beat cream cheese with milk until it reaches the desired consistency.
If you liked this delicious recipe, be sure to check these other great recipes out:
Be sure to PIN this for later and SHARE it on Facebook!