The kids will have a blast with this Elf on the Shelf Coloring Page. This is the perfect way to help them have some creative holiday fun!
FUN IDEAS FOR ELF ON THE SHELF ACTIVITIES
If you're a household that does Elf on the Shelf every year, you're going to want to add these fun activities to the list! Don't stress yourself out trying to rack your brain when you can just print off these free elf printables! Not only does this give the kids something to do but it helps them with their creativity as well!
ELF OF THE SHELF TIPS FOR MOMS
Since setting up the elf on the shelf and moving him or her every night is a holiday tradition, it just makes sense that I pass along some tips to keep you sane!
How to stress less when it comes to the elf on the shelf
Relax and have fun – If you stop having fun, the process stops being fun!
If you forget to move it, roll with it. Say that the elf overslept or that he was needing a rest day.
Search online for ideas. Who says that you have to come up with ideas on all your own? The internet is full of fun tips that will bring new elf on the shelf fun.
As you can see, there are ways to relax and have just as much fun as the kids! And if all else fails, ask your family and friends for some tips! If they're part of the elf crew, they'll have some new ideas to toss your way.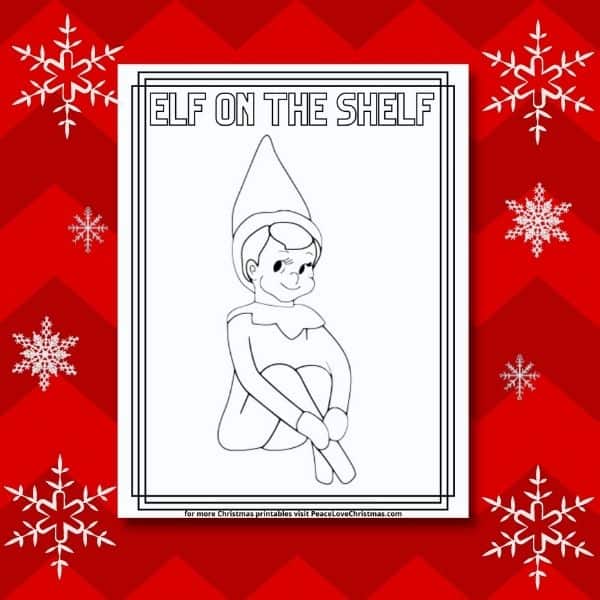 Elf on the Shelf Coloring Page
The best part about this elf on the shelf coloring page printable is that it's totally free for you to download. Just click on the link below and you'll be ready to print and have the kids start coloring right away!
Grab the markers, crayons, paint, or anything else that they want to use to decorate their elf page and get started. This is a fun way to get home homemade holiday decorations to hang up on the fridge, too!
Be sure to sign up for my EMAIL SUBSCRIBERS LIBRARY OF FREE PRINTABLES. I have a lot of awesome Christmas printables you can have for free just by signing up!
If you like this fun elf on the shelf activity, make sure to check out some of my other fun ideas!
Be sure to PIN this for LATER and SHARE on FACEBOOK!