This Christmas printable gingerbread man is a fun activity for the kids during the holiday season! They can color their own gingerbread man however they want to. Plus, these are not just for the kids to enjoy, us adults can join in the fun activity as well!
You can also print these in different sizes and use them in lots of fun ways like make gift tags out of them or hang them on your Christmas tree. Learn more about these gingerbread printables down below.
WHY ARE GINGERBREAD MAN COOKIES ASSOCIATED WITH CHRISTMAS?
For many people, gingerbread house and cookies continue to be an essential part of Christmas holiday tradition. They have been around for tens of thousands of years. A large group of baked products collectively referred to as "gingerbread" is often spiced with ginger, cloves, nutmeg, or cinnamon and flavored with honey, sugar, or molasses. But how did it come to play such a significant role in the cherished holiday?
There are different ways to make gingerbread, including delicious consumable houses and candy-decorated small gingerbread men. These make it the dessert that best embodies the holiday season. Did you also know that the phrase "gingerbread" in ancient times merely stated "preserved ginger," and it wasn't until the 15th century that it was used to refer to the familiar treats.
A little fun fact, Russian bakers would make gingerbread men as well as gingerbread women that were typically recreations of the guests at gatherings.
Germans introduced the practice of building gingerbread houses in the early 1800s. Lebkuchen houses with ornaments were first baked by German bakers. Moreover, bakers would create them in the forms of hearts, stars, animals, and more. As well, it would be lavishly ornamented.
Europeans used to hang the festive loaves of bread from trees in the wintertime by dipping them in wine. They became well-known around Christmas, a custom that Pennsylvanian German immigrants brought to America.
THINGS TO DO WITH A PRINTABLE GINGERBREAD MAN CRAFT TEMPLATE
There are loads of craft projects that can be done with this gingerbread coloring pages. This is a great activity for the Christmas season. And not only is it for younger kids or older kids… it's for kids of all ages! Plus, the whole family is welcome to do these too! Here is a list of craft ideas to make with this Christmas printable gingerbread man:
These can be made as ornaments. This can be done by printing the template on a much sturdier paper like a card stock – you can either use brown cardstock or white cardstock, it is up to you. Once that's printed, kids can start decorating their ornaments and hang it on the Christmas tree.
There are tons of fun crafts that people love doing – card making is sure to be one of those! A great way to decorate these printable gingerbread man templates is to put pom poms on their nose or maybe a bow tie on them. You can even make a gingerbread woman and put a cute hair bow on it. Be creative and you are going to have so much fun!
For gift tags, you might want to print it a bit smaller than the actual size. Print these out using sturdy paper then cut around the gingerbread outlines. Have the kids color the gift tag then you can hang it on gift paper bags or you can use these along with some gingerbread cookies to give out to friends or family for Christmas!
PRINTABLE GINGERBREAD MAN COLORING PAGE
Get this free gingerbread man coloring page down below for the kids! It might be challenging to entice kids away from electronic devices and towards simple hobbies like coloring because there is so much technology available. But because it has so many advantages for their growth, you should make sure to consistently support these types of exercises.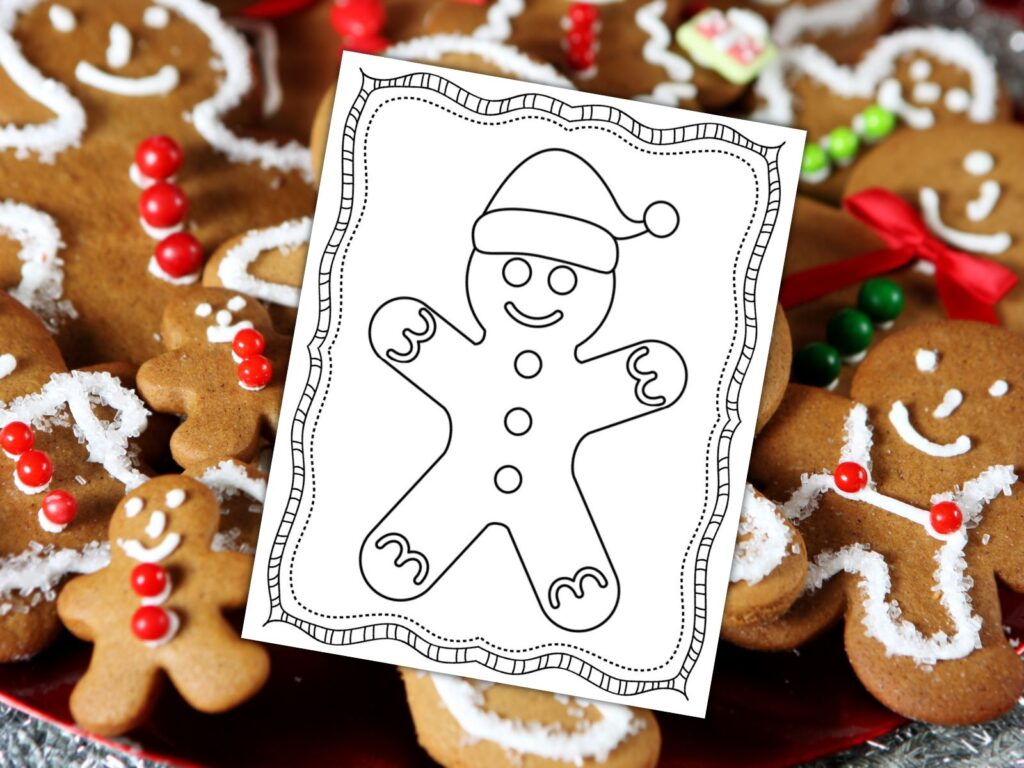 HAVE A GINGERBREAD MAN PARTY
Christmas time is such a wonderful season. Having a party is a must! It will be fun for both you and the kids! Check these ideas out when you plan to have this party and have a great time:
Make the cookies with the kids from start to finish. Grab some sprinkles, mini candies, or chocolate chips to top the cookies. Here is a delicious gingerbread cookie recipe for you to try! Once the treats are baked, have the kids decorate their own cookies.
GINGERBREAD TEMPLATE DECORATING CONTEST
This is an activity for the kids to do at the party. They can have a contest for decorating the templates. Of course, to make it more exciting, get some cool prizes to get them pumped up for the contest! You are definitely going to need a list of supplies for this one – glue sticks, colored pens, markers, crayons, and anything you have for decorating.
FREE CHRISTMAS PRINTABLE GINGERBREAD MAN
I know you are excited to get this Christmas printable gingerbread man. Please remember that this is for your own personal use, and the download file cannot be shared or altered. Feel free to share the link to this post with friends so they can download and use the printable too!
Click the button below to download the printable now.
If you loved this Christmas printable gingerbread man, be sure to check out these other great posts too:
Be sure to PIN this for later and SHARE on Facebook!