This chocolate pecan pie is not your typical pecan pie with bourbon. It's better! This is the perfect recipe for a Christmas pie and it doesn't have any alcohol in it.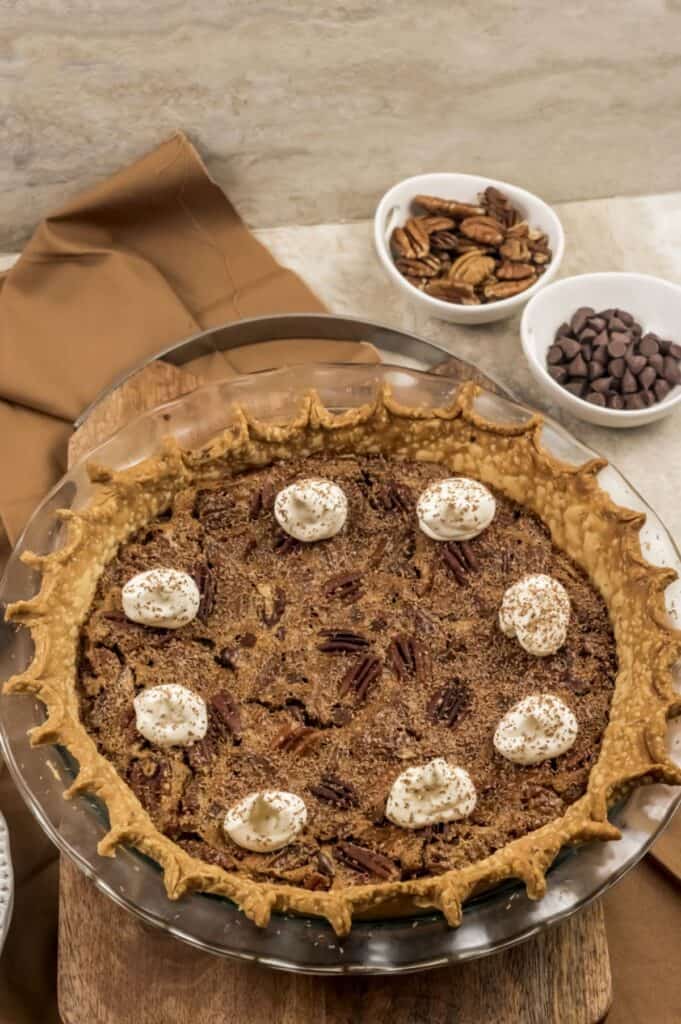 WHY IS MY CHOCOLATE PECAN PIE RUNNY?
There is only one answer as to why your chocolate pecan pie is runny, it most probably wasn't baked long enough. But, with this recipe, you won't have to worry about your pie being runny. Here are also some tips to help avoid them from getting runny:
You can check your pie once in a while if it's already done cooking. To check if the pie is ready, you can get a spoon and try pushing the pecans down. If the pecans come back up, your pie is done baking. If not, it is still runny and you have to bake it for a little longer then you can check again.
After baking the chocolate pecan pie make sure to let it cool and settle first. Allow the pie to cool down to room temperature. This way, it can harden to the right texture.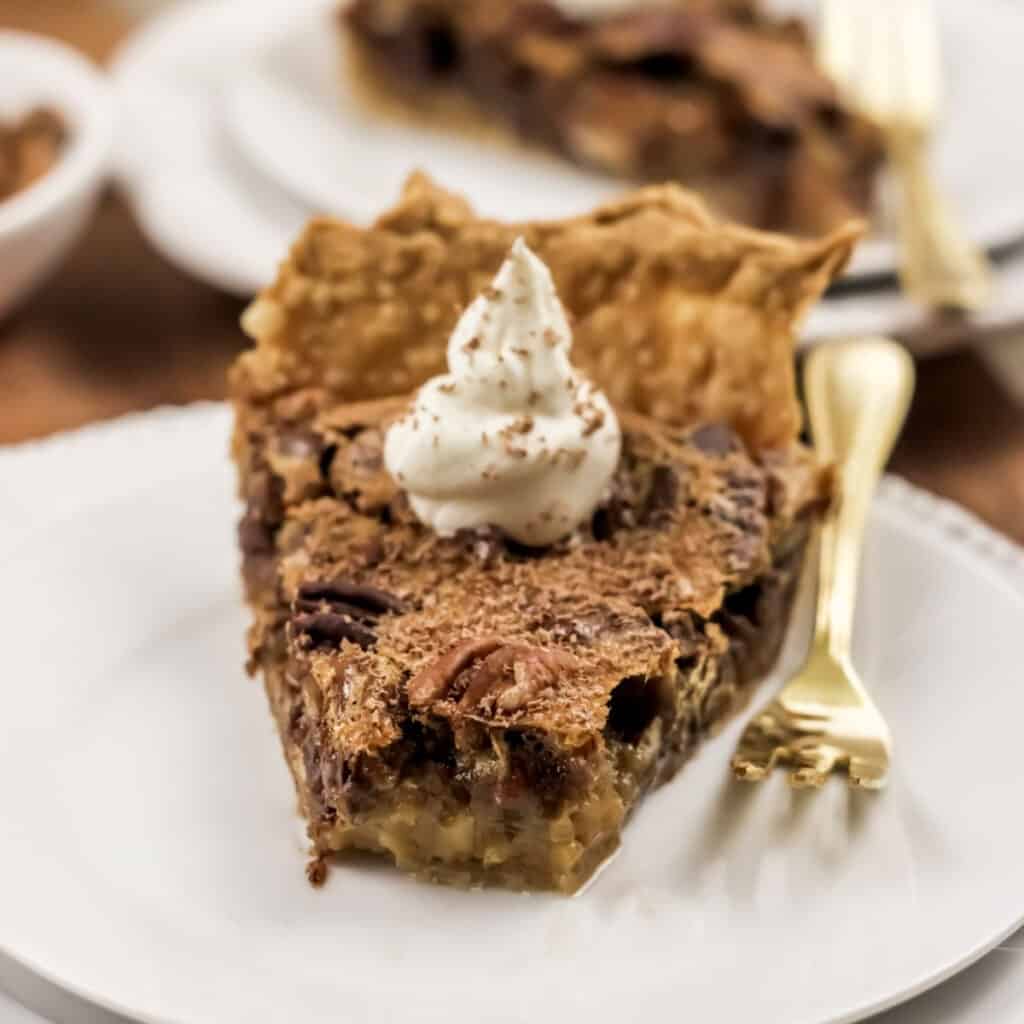 DOES MY CHOCOLATE PECAN PIE NEED TO BE REFRIGERATED?
Since this pecan pie has eggs included in the recipe, yes you need to refrigerate it. And it isn't just me saying this, the U.S. Department of Agriculture recommends that pecan pies and other pies that have eggs in them should be kept in the fridge.
This is only applicable to homemade pies and some store-bought pies. Other pies you get from the grocery are fine to not be kept in the fridge. And keep in mind, before you do refrigerate your pie, let it cool on the countertop first.
WHAT IS A GERMAN CHOLATE PECAN PIE?
A German chocolate pecan pie is a delicious combination of German chocolate cake and pecan pie. If you're wondering what a German chocolate cake is – it is a layered cake filled with rich chocolate, sticky-sweet custard, and topped with coconut flakes and chopped-up pecans.
The German chocolate cake is purely made with melted chocolate, that's why the chocolate flavor of the cake is rich. This cake was kind of named after a man that introduced a mild dark baking chocolate bar for a company, Baker's Chocolate Company. This company then named the chocolate bar after him – "Baker's German's Sweet Chocolate."
With that, a variety of Sam German's chocolate was made into a cake – German chocolate cake. To simply put it, this cake was not made in German, it was made by an American that had "German" for his last name. 🙂
INGREDIENTS TO MAKE A CHOCOLATE PECAN PIE
For this recipe, you are going to need the following ingredients:
Pie Crust
Semi-Sweet Chocolate Chips
Eggs
Dark Corn Syrup
White Sugar
Dark Brown Sugar
Vanilla Extract
Whipped Topping
Grated Chocolate
HOW TO MAKE CHOCOLATE PECAN PIE (WITHOUT BOURBON)
Now that you have gathered all of your ingredients, it is time to make this yummy recipe. Follow the instructions below for the best results!
STEP ONE: PREPARE PIE CRUST
Grab your pie crust from the fridge and thaw according to the directions from its package. If you prefer to make a homemade pie crust…feel free! I am sure you have a family recipe you always use!!
While your crust is thawing, preheat your oven to 325°F.
STEP TWO: TRANSFER PIE CRUST
Once your pie crust is done thawing, place it on a lightly floured surface and drape it over a 9-inch pie plate. Then, fold the edges of the crust and crimp.
STEP THREE: ADD BASE FILLING
At your pie crust base, spread in 1 and a half cups of pecan halves and 3/4 cup of chocolate chips.
STEP FOUR: MIX INGREDIENTS
Get a large bowl to put your eggs, corn syrup, white and brown sugar, and vanilla extract in. Whisk them together until fully blended.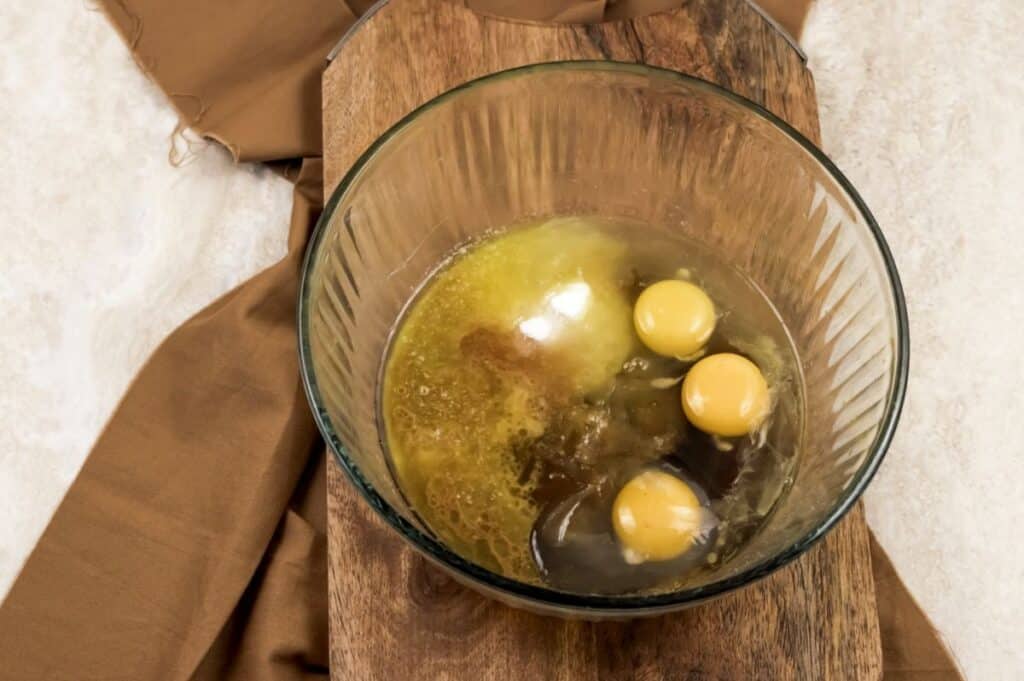 After that, pour this filling into your pie crust. Then, place the remaining pecan halves and the chocolate chips on top of the filling.
STEP FIVE: BAKE
When your pie is fully assembled, you can bake it at 325°F for 1 hour or just until the filling sets.
STEP SIX: SERVE
After baking, cool your pie to room temperature. Chill and serve with whipped topping and grated chocolate. You can grate your own chocolate from a chocolate bar or you can buy some AMAZING already grated chocolate. I love American Heritage Chocolate…it saves time and is decadent.
CHOCOLATE PECAN PIE RECIPE CARD
Now that you know all about chocolate pecan pie (without bourbon) it is time to print the recipe or save the recipe. You can print off the complete ingredients and instructions for chocolate pecan pie via the recipe card below.
If you don't have time to print it off right now, no worries! Just save the pin to your Pinterest account by clicking the pin button located in the recipe card below.
If you make this recipe and LOVE it…please come back and leave a 5-star rating. It would mean so much to me!
Yield: 1 (9-inch Pie)
Chocolate Pecan Pie (without bourbon)
This chocolate pecan pie is yummy even without the bourbon! You'll love the sweet and nutty taste of this recipe.
Total Time
1 hour
45 minutes
Ingredients
1 Refrigerated Pie Crust, softened as directed on box
2 cups Pecan Halves
1 cup Semi-Sweet Chocolate Chips
3 Eggs
1 cup Dark Corn Syrup
¼ cup White Sugar
¼ cup Dark Brown Sugar
1 tablespoon Vanilla Extract
Whipped Topping to Garnish
Grated Chocolate to Garnish
Instructions
1. Thaw the pie crust according to package instructions. Then, preheat the oven to 325F.
2. Slightly roll out the pie crust on a lightly floured surface and drape it over a 9-inch pie plate. Fold the edges and crimp.
3. Spread 1½ cups of pecan halves and ¾ cup of chocolate chips at the base of the prepared pie crust.
4. In a large bowl, add the eggs, corn syrup, white and brown sugar, and vanilla extract. Whisk well. And pour the filling into the pie crust.
5. Arrange the remaining pecan halves and the chocolate chips on top of the filling. Bake at 325F for 1 hour or until the filling sets.
6. Chill and serve with whipped topping and grated chocolate.
Notes
Dark Corn Syrup and Dark Brown sugar give a more intense flavor. Light corn syrup and light brown sugar can also be used.
If you liked this delicious recipe, be sure to check these other great recipes out:
Be sure to PIN this for later and SHARE it on Facebook!