This Eggnog Trifle is going to be the star of your holiday meal! Anyone who loves the taste and flavor of eggnog will be asking for seconds of this delicious holiday dessert!
HOW MANY LAYERS DOES A TRIFLE HAVE?
While there are no set "rules" about how many layers a trifle should have, the rule of thumb is typically that there are three layers, at least. In my opinion, the more layers that you can add to your trifle, the more flavors and taste that you're going to have. Plus it just looks pretty!
INGREDIENTS
All you need to make this homemade trifle is the simple ingredients listed below.
Pound Cake
Eggnog (check out my homemade eggnog recipe that would be perfect for this!)
Instant Vanilla Pudding
Whole Milk
Whipped Topping
Mandarin Orange
Maraschino Cherries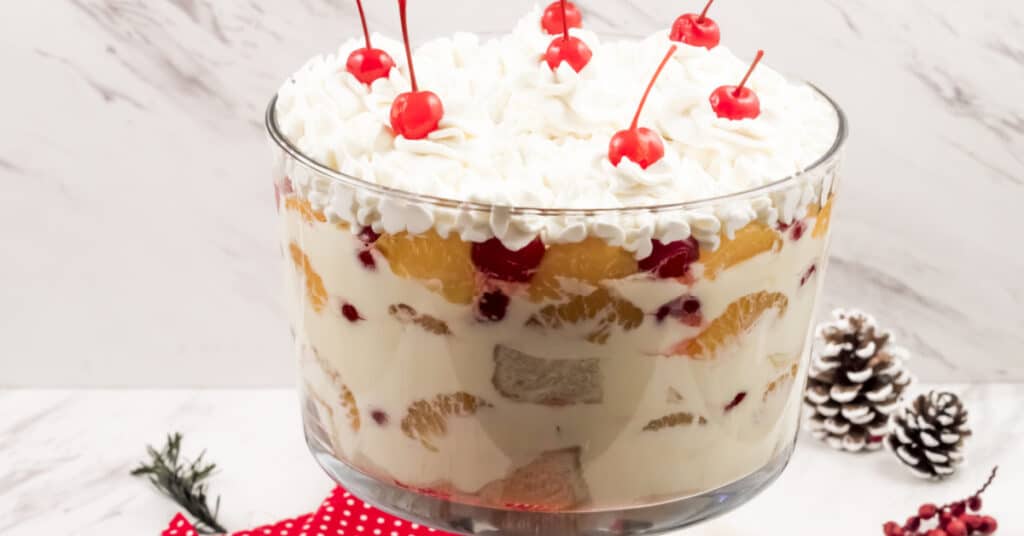 HOW TO MAKE HOLIDAY EGGNOG TRIFLE
You're going to love how simple it is to make this eggnog dessert. So many layers of flavor! The following directions are a snippet of the full directions. For exact measurements and directions, scroll down to the bottom of the post for the printable recipe.
Step One: Prepare the trifle
Grab a large bowl and mix the milk and eggnog. Add the pudding and whisk it all together. Let it chill in the fridge for 5 minutes. Add the whipped topping and pop in the fridge for 30 minutes.
Step Two: Trim the pound cake
Trim the two pound cake edges. Cut the loaves into slices and then cut those slices into cubes.
Step Three: Drain the fruit
Drain the liquid from the mandarin oranges and the cherries and set aside.
Step Four: Layer the trifle
Grab your trifle bowl and start layering. Start by adding a layer of the cubed pound cake, followed by a drizzle of eggnog. Let it soak in the eggnog. Next, add pudding and spread it out. After that, add oranges and cherries. Repeat this layering method twice.
Place the bowl in the fridge to chill.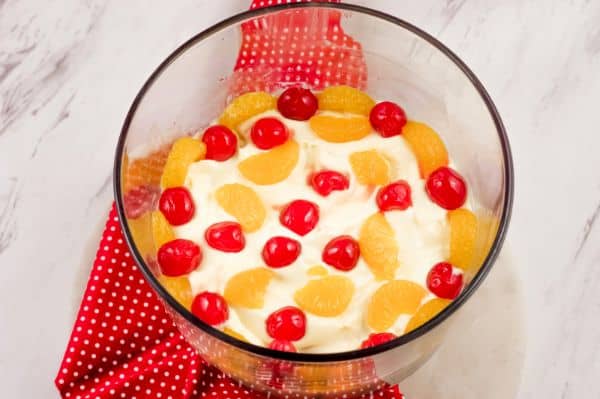 Step Five: Decorate the top of the trifle
Before serving, add the whipped topping to a pastry bag and add to the top of the trifle. Add more cherries on top and enjoy.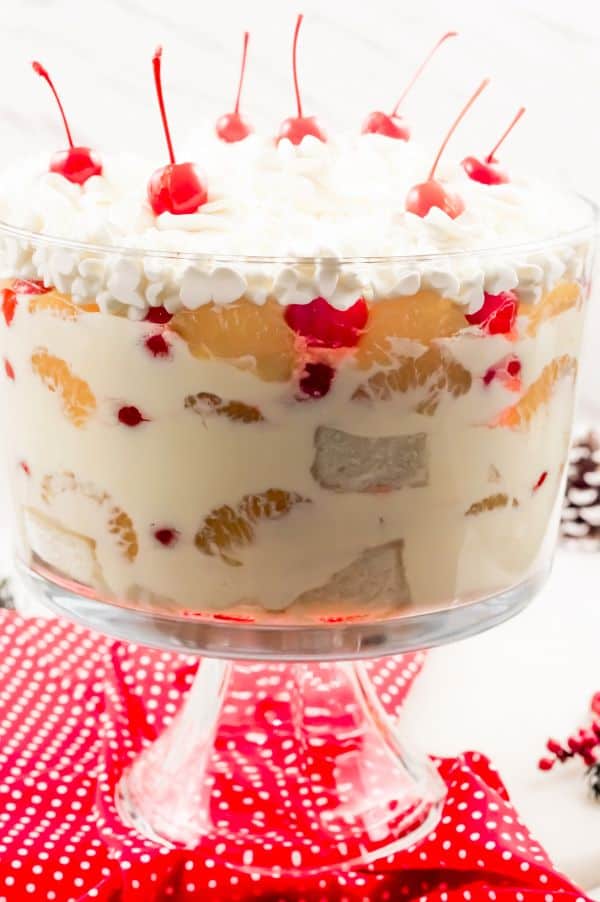 WHAT IS A TRIFLE CALLED IN AMERICA?
Fun fact – not everyone calls this dessert a trifle. You may hear it being referred to by some of the other names it's known for such as Tipsy Cake, Tipsy Hedgehog, or Tipsy Squire. Who comes up with these names, LOL!!
WHAT KIND OF DISH SHOULD I USE FOR THE TRIFLE?
The layers of a trifle are lovely to look at and the only way for people to see the pretty layers is to serve it in a clear glass dish.
You can actually buy large glass trifle bowls that are made just for showing off the trifle dessert.
Don't worry about only using the bowl for trifles…they also work great for showing off salads or any side dish!
Easy No Bake Christmas Eggnog Trifle Printable Recipe
You can print off the complete ingredients and instructions for this yummy Eggnog Trifle via the recipe card below.
If you make and love this recipe it would mean a lot if you gave it a 5-star rating!
Yield: 10-15 servings
Easy No Bake Christmas Eggnog Trifle
This fun Eggnog Trifle is such a delicious holiday dessert!
Additional Time
2 minutes
Ingredients
Cake Layer
2 loaves Pound Cake, cubed (10.75 ounces each)
¾ cup of eggnog
Pudding Layer
1 labox of Instant Vanilla Pudding
1 cup Milk
2 cups of eggnog
1 (8oz.) tub of whipped cream
Fruit Layer
1 15-ounce can of Mandarin Oranges
1 16-ounce jar of Maraschino Cherries
Whipped Topping Layer
1 tub of whipped cream
1 jar of Maraschino Cherries, with stem (10 ounces)
Instructions
Mix 1 cup of milk and 2 cups of eggnog in a bowl. Add the pudding mix in and whisk. Put in the fridge and let it chill for 5 minutes. After that time has passed, add a tub of whipped cream and fold it in. Place the mixture in the fridge for 30 minutes.
Trim off the edges of the pounds cakes and cut them into slices that are 1/2 inch thick. You will then cut them into cutes that are 1/2 inch in size.
Drain the liquid from the oranges and the cherries and set it aside.
Layering the Trifle
Grab your trifle bowl and put the cubed pound cake at the bottom. Drizzle 1/4 cup of eggnog on top and let it soak up for 5 minutes.
Add 1/3 of the pudding and spread it out evenly on top.
Add a layer of the oranges and cherries.
Repeat these three laters two more times. This will give you three layers of cake, 3 layers of pudding, and 2 layers of oranges and cherries.
Put the trifle in the fridge to chill for 2 hours.
Before serving, add whipped cream on top. You can make it pretty by using a pastry bag to decorate.
Garnish with the stemmed cherries and serve.
If you loved this delicious Eggnog Trifle Recipe be sure to check out these other great recipes:
Be sure to PIN this for LATER and SHARE on FACEBOOK!