This best Christmas gifts for basketball players post is perfect when you are looking for the perfect present to give a basketball fan! Find an exciting and cool list of gifts down below. You don't have to worry about brainstorming for a gift because we have this totally covered for you!
MEANINGFUL GIFT GIVING
The best gifts to give are those that are very meaningful. I am super sure that they will love the items on this list and will truly value them. A great way for them to cherish this special holiday is to give them the perfect gift!
Basketball fans or players can be a bit hard to give gifts to at times – you can't give them a ball every year, am I right? Check out this gift list full of the most meaningful gifts you can give them this Christmas:
1. BASKETBALL SHOES
Giving shoes as a gift can be a bit difficult since you should know a couple of things – the style they want, the color, and most especially, you have to know what shoe size they wear. One tip if you want to give them shoes if you know their favorite basketball player, then picking which to give would be easier. Just get a pair endorsed by that player.
2. BASKETBALL NECKLACE
The shape of the cross pendant on this necklace is filled with a basketball pattern on one side. And a beautiful engraving and filling design of an inspirational Bible verse from Philippians 4:13 "I CAN DO ALL THINGS". Aside from its innovative design, this can also be something that they can look at to do better and be motivated in anything that they would do.
3. OFFICIAL WILSON LEATHER NBA BALL
Having this ball will make them feel like they are also playing on an official NBA basketball court. There's more; this ball is available in 7 different colors. The gift recipient is going to love this! It might be just a ball to some people, but to big basketball fans and even kids will truly appreciate receiving this as their Christmas present.
4. BASKETBALL CARDS
This pack includes 40 assorted hall of famer, greatest players, and superstar basketball cards. They will find all of their favorites in this awesome pack!
5. SPORTS MEMORABILIA
A perfect way to give them a holiday season they will never forget, get them memorabilia. Check and visit some pawnshops near you to find some great basketball memorabilia!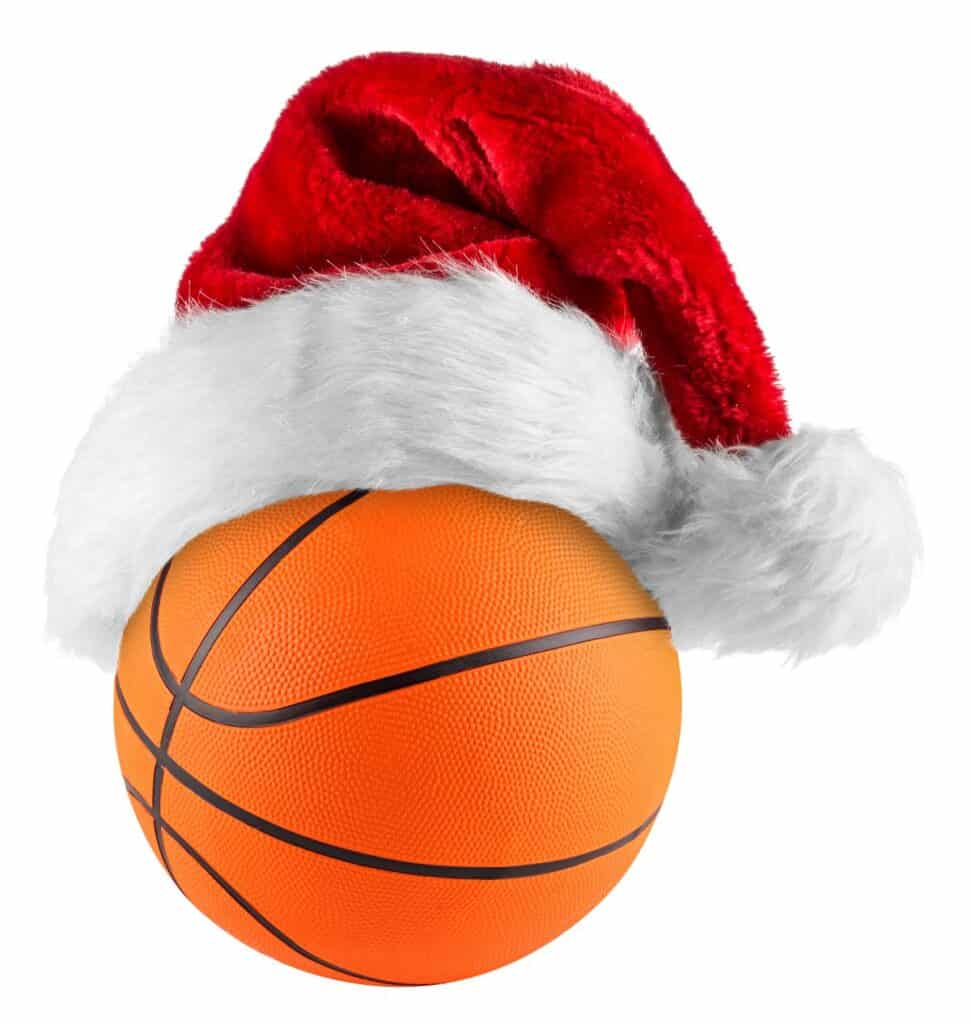 BEST CHRISTMAS GIFTS FOR BASKETBALL PLAYERS
Whether they play college basketball, high school basketball, or maybe they are even in the NBA, I bet they still love receiving gifts. These best Christmas gifts for basketball players list will surely be a perfect choice! Looking for something to give your baller friend or family member? Look no further! Here is a list of the best gift ideas out there:
1. DRIBBLE STICK
This is the most versatile and fully adjustable training tool there is. This dribble stick can be adjusted to various heights to make workouts dynamic and mimic a defender guarding you. It can also be broken down to fit into a backpack for easy transport anywhere.
2. BALL PUMP
An electric ball pump will come in handy for players. This pump is designed with intelligent pressure detection and stop function – just preset the correct ball PSI, press to start, and it will automatically stop inflating once the preset pressure is reached. It also has a built-in digital pressure gauge and an LCD display.
3. BASKETBALL GEAR
This set package includes a shooting strap, silicone wrist and finger trainer, and a pair of dribble goggles. This basketball gear will train younger kids to be better. Encourage them to train harder with this cool useful gear. In a way, it is also a form of support for them. Tools like these are more suitable for kids since they get to improve their hand-eye coordination more when they are younger.
4. AGILITY LADDER
This agility ladder set makes an excellent gift for your family and friends. Suitable agility ladder for kids, adults, athletes, as well as basketball coaches. It is constructed of nylon with durable plastic rungs for training and workout ladders.
5. BALL RETURN SYSTEM
With this handy tool, basketball players can easily practice their free throws on their own. No need to run after the ball every time they make a shot because this ball return system will, without effort, just roll the ball back to the player.
BEST CHRISTMAS GIFTS FOR BASKETBALL FANS
Big fan of pro players? Michael Jordan… Kobe Bryant… Lebron James… Whoever it might be, basketball enthusiasts out there will love these as a present. Plus, these gifts are perfect for NBA fans of all ages. Pick an awesome item from this list below:
1. GAME TICKETS
Tickets to the game can be pricey, but it is definitely worth it. Game tickets are for sure on every fans' wish list! These are also a once-in-a-lifetime thing for them. Make sure to check the schedules earlier since some tend to go higher when nearing the game date.
And also so you can buy and be able to choose the best seats, you are going to want to be fast – depending on which basketball game they are hoping to see. A lot of games sell out fast too.
2. BASKETBALL BOOKS
There are lots of great books, but here are two of the best ones to get – The Mamba Mentality: How I Play, a book by none other than the great Kobe Bryant. It is about his personal perspective of his life and career on the basketball court and his exceptional, insightful style of playing the game. It is a fitting legacy from the late Los Angeles Laker superstar.
The second one is Shoot Your Shot, an inspirational book that identifies the key principles that the world's most elite basketball players have applied to their lives. It also explains in detail how you can use those same exact principles to help you navigate through life, accomplish your goals, and realize your dreams.
3. MINI BASKETBALL HOOP
This slam dunk basketball hoop does not need any assembly. All you need to do is stick the backboard, pump some mini rubber balls, and you are ready to play. The receiver will be so excited to use this in their room!
4. BASKETBALL PLAYER BOBBLEHEADS
Fans love collecting, which is why I think bobbleheads are one of the best gifts to give them. If you can't find any bobbleheads of their fave player, you can also check Funko pops. They can display this in their office, room, or even inside their car.
5. POSTER
These graffiti posters will look cool in their bedrooms! This design is really nice. It has some of the greatest players in the NBA. One thing you can do if you are trying to save money is you can print one at home. You just have to buy a frame for it if you are going to use regular print paper.
If you plan to do the poster on your own, it would also be a great idea since you get to design it yourself. But, if you don't have the time to do that, I would suggest just buying one.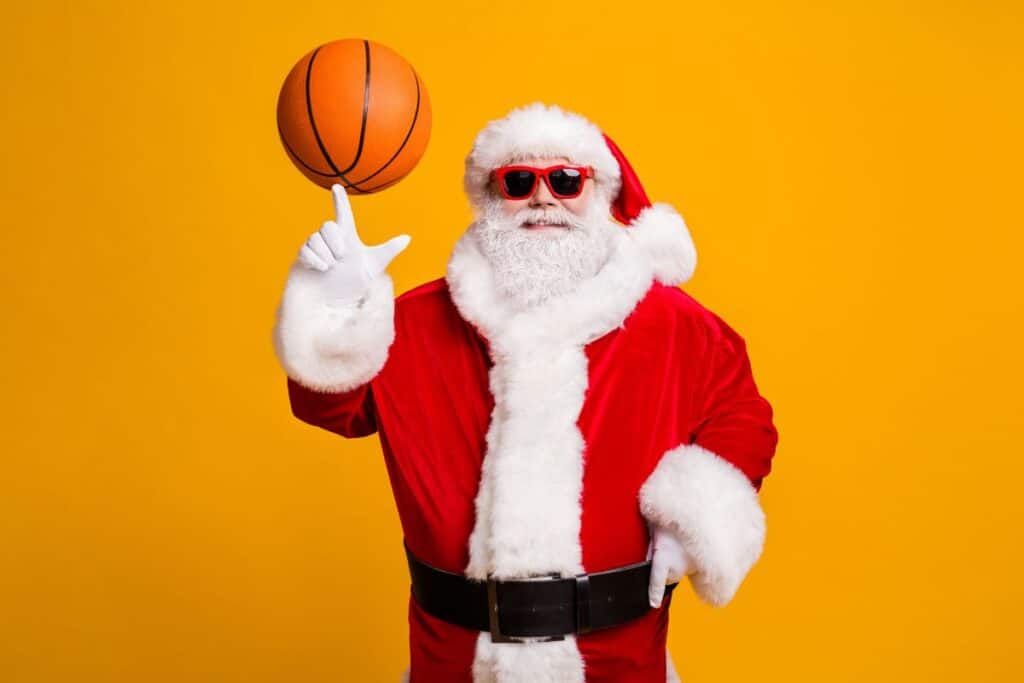 PERSONALIZED BASKETBALL GIFTS FOR CHRISTMAS
Giving something to someone that strikes a chord with them personally elevates the gesture beyond that of a simple gift or expression of gratitude. It turns into a representation of your bond and your unique connection. All individuals want in this world is to be recognized and loved for who they are, and this action demonstrates that you value what makes them special.
You can never go wrong with personalized gifts. It is the best way to show them you appreciate them! If you want to give a unique basketball gift, then a customized item should do the trick! These custom-designed presents develop deeper meaningful relations. Take a look at this fun and great gift idea:
1. WATER BOTTLE
It might sound like a common gift, like a cup or mug. However, having it personalized gives it a whole different vibe. This stainless steel water bottle can be customized with any design you want. There are also different sizes and styles available! This water bottle fits any age range too.
2. WRISTBAND BALLER
Most players wear baller bands. There's a big chance that their wristband is a team baller. Write the recipient's name on this baller or maybe send a short message to them. There are over 10 different colors to choose from, as well as hundreds of different fonts. This way, they would have something on them that would remind them of you!
3. HEADBAND
You can create your very own customized headband to give to that special someone. Choose the text or short message you wish us to print. In fact, you can even send a picture that you want to put on the headband. The headband is made of polyester, which is super soft, breathable, and stretchy. The soft fabric on this can perfectly absorb all the sweat during sports activities like yoga, running, and of course, basketball. They can use this during their trainings or their ball games!
Not only does it add comfort to their workout, but it can also match their clothes. It is a practical and stylish item if you ask me. Another choice you have is this Nike Dri-Fit Head Tie which comes in 4 various colors. This head tie has a sweat-wicking material with Dry-Fit technology to help keep them dry and comfortable at the same time.
Plus, it is an adjustable tie for a custom fit. You can also have this customized if you want since it only has a minimal design of the Nike swoosh.
4. BASKETBALL SHIRT
Turn a plain shirt into the perfect gift for your family and friends for the special occasion. These shirts are super soft and have a crewneck design that is hundred percent cotton. They are pretty comfortable and are made to last as they are pre-shrunk! A couple of design proposals for you: basketball quotes from movies, saying from their favorite player, or could also be a fun parody phrase like – eat, sleep, basketball, repeat.
Print the design on either the front or back, or you can even have it printed on both sides. There are tons of nice layouts or styles you can do. Your choices are unlimited! That's what makes the customized gift so interesting and enjoyable.
5. TROPHY
This is a premium acrylic award that you will be proud to present and that your recipient will display with pride for years. Have their name engraved on it. It is a great gift to show them that you value them.
TEAM GIFT IDEAS FOR BASKETBALL LOVERS
Each person is into different sports, but one thing I am sure of is that everybody has a team they are routing for. What better to do that than to show some team pride? Here are the top basketball gifts that basketball lovers will be thrilled about:
1. TEAM JERSEY
Visit a sports shop near you to check out if the store has the jersey of their favorite team available. Be sure to check which jersey colorway or style they have so you can get them a different one. There are different jersey styles – old team colors, away jerseys, or home jerseys.
2. BALL BEDSHEETS
All pieces are made of 100% brushed microfiber, offering the soft and cozy touch they need for a good night's rest. There are tons of designs to choose from. Be able to choose from various sizes – twin, full, queen, or king. The prints are very cute and can be for either boys or girls that love basketball.
3. BASKETBALL STICKERS
Each sticker is made out of PVC material which gives them sun protection, and the stickers are waterproof. The size is about 3 to 6 inches per sticker. There are 50 pieces of sticker decals in this pack. It has cool designs and has no duplicates. They can stick these on their laptop, water bottle, tab, smartphone, notebook, or anywhere they want to.
4. BALL FLOOR MAT
This rug does not collect dirt easily. And can be cleaned effortlessly and quickly. This can be used for their office, living room, dining room, kitchen, bedroom, entrance, or hallway, it is up to them!
5. HEADWEAR (CAP or BEANIE)
Just like with the team jersey, sports shops should have stocks of types of headwear like caps and beanies. Search for sporting goods or NBA store near you. You can also check some Walmart or Target branches; they should have a sports section too!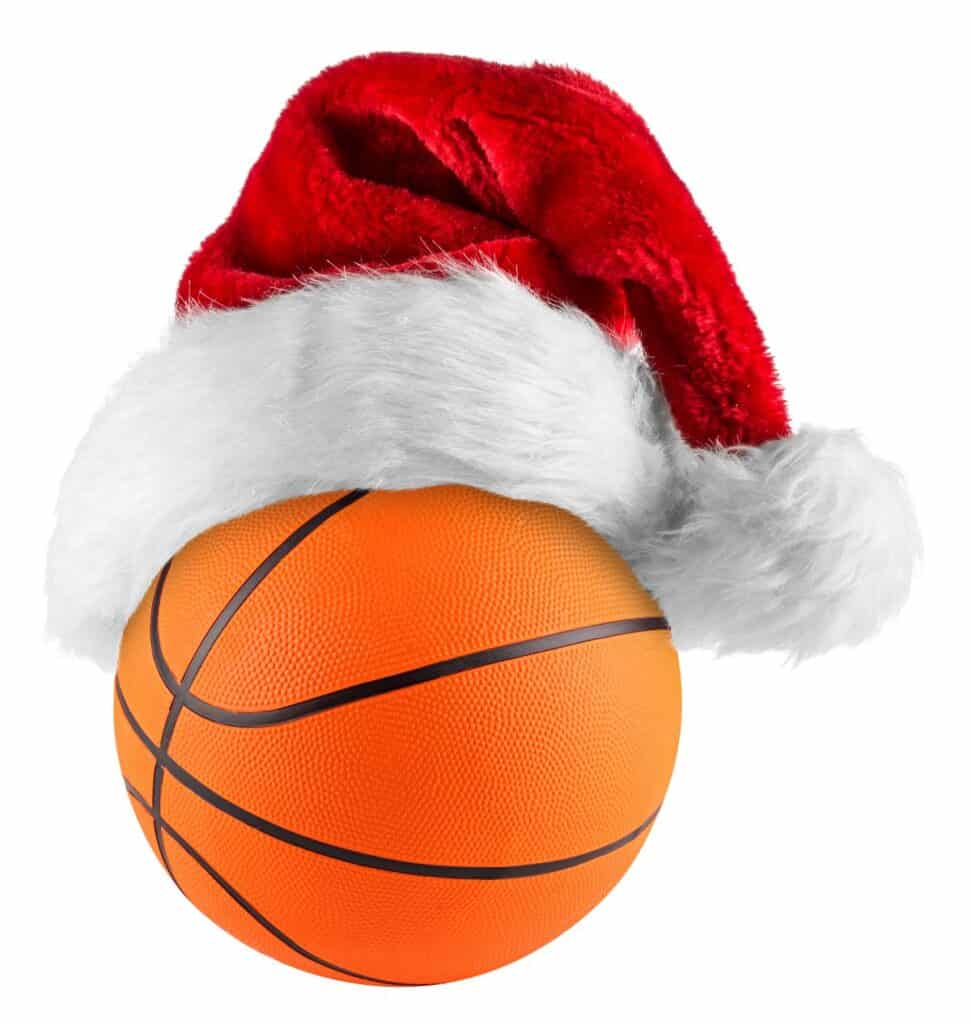 UNUSUAL GIFT IDEAS FOR BASKETBALL PLAYERS
Some basketball players don't always like receiving basketball-themed gifts. They might have lots of it already or just want something else for a change. Here are a couple of ideas for unusual gift ideas for them that they would definitely need as basketball players:
1. HEADPHONES
Bluetooth headphones or earphones are a must-have for athletes. Music is their best friend when they are working out, running miles, or doing some training. A wireless set will be very convenient for them since players move around so much when training and whatnot.
It is better not to have that wire blocking their way. All you have to know is whether they want big headphones or something smaller, like earphones or earbuds.
2. FACE TOWEL
Basketball players are going to need a handy towel for when they are on the court or hitting the gym. These are not just ordinary face towels; these are cooling towels. They are hyper-evaporative and are designed to help regulate body temperature.
The mesh towels' fabric technology allows moisture and heat to transfer into the towel, away from the body. The heat is then lost through evaporation, thus giving instant cooling relief. Help them feel refreshed and stay fresh with these amazing towels!
3. BATH BOMB
After a long tiring day, players just want to rest and have a relaxing bath. This is why bath bombs are a wonderful present to give them for Christmas. These nourishing bath bombs are infused with essential oils for the ultimate spa-like experience. Each bath bomb contains ingredients full of antioxidants that cleanse, detox, and nourish as they soak and relax, providing relief to muscle aches and joint pain.
This specially curated set includes 12 unique scents, each designed to turn bath time into spa time. Each bath bomb is handmade, natural, and free from harsh chemicals and additives.
4. FOOT CREAM
This Majestic Pure Cosmeceuticals foot cream with tea tree oil, aloe vera, and spearmint will for certain hydrate, soften, and soothe their skin. It is made with 100% pure and natural tea tree essential oil and other beneficial ingredients to promote soft, moisturized, and clean skin.
Wonderful foot care for women and men. Being an athlete or player comes with great responsibility too! They need these, too, in order for them to keep going.
5. HOT K CUP DRINKS
Going home after a big basketball game during the cold Christmas season to a cup of hot drink would sound incredible. Hot chocolate, coffee, or tea K pods are the in thing. It is hassle-free and there are lots of flavors to choose from – like this variety pack of coffee pods.
Find lots of interesting flavor pods in this set! There are 40 K pods in this package. They will be able to enjoy a new intriguing drink each day that is going to make the receiver of this gift thrilled!
That is it for the Best Christmas Gifts for Basketball Players! I hope you enjoyed going through this list as much as I did. If you loved this post and would want to see other interesting ones, be sure to check these posts out:
Be sure to PIN this for later and SHARE on Facebook!