These angel coloring pages are a great way for young kids to improve their motor skills while coloring a holiday design. Older kids can enjoy these cute angel coloring sheets to keep them out of boredom. But of course, this free printable is not only limited to kids because adults can use them too.
Don't miss out on the fun, and be sure to download this printable for your own personal use. You can print off these unique pages as much as you need. Read more and know more about how to get this cute printable down below.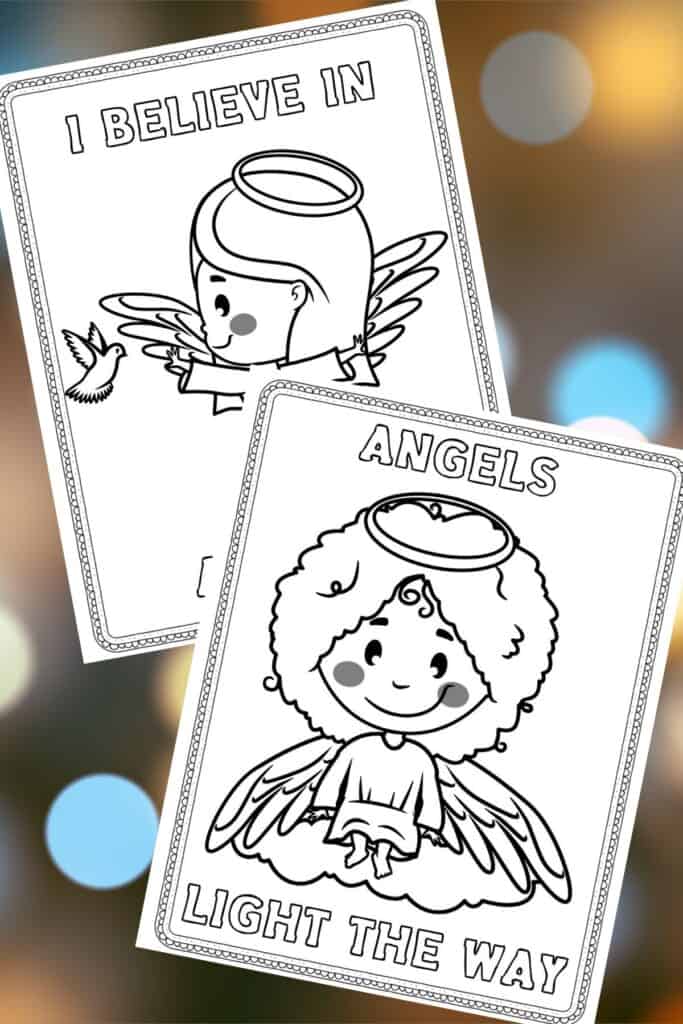 WHY DO KIDS OF ALL AGES LOVE ANGELS?
Angels are protectors of children. We often refer to them as guardian angels.
Angels are messengers of God. They are very powerful. Children from any age group love them because of what they represent, which is God's power and protection.
TOP 3 BIBLE VERSES ABOUT ANGELS
Here are some Bible verses about angels.
1.Matthew 18:10
See that you do not despise one of these little ones. For I tell you that in heaven their angels always see the face of my Father who is in heaven.

Matthew 18:10
2. Psalm 91:11-12
For he will command his angels concerning you
    to guard you in all your ways;
they will lift you up in their hands,
    so that you will not strike your foot against a stone.

Psalm 91:11-12
3. Hebrews 13:2
Do not forget to show hospitality to strangers, for by so doing some people have shown hospitality to angels without knowing it.

Hebrews 13:2
WHAT THE BIBLE TEACHES ABOUT ANGELS
It is important for us as adults to learn about angels so we can assist our children in understanding these spiritual beings. The Church believes that angels have intelligence and will.
The Bible uses terms including "legions," "armies," and "multitudes" to identify them, which seems to suggest that there are thousands and thousands of them.
God made angels to aid in the carrying out of His will.
Angels were put through a period of testing by God, just like humans. As a parent, you may know that it is a bit challenging when we explain complicated things to our children. However, with the use of visual aids or maybe angel-themed toys as well, it can make it a bit more simple.
Children will be able to visualize an image of a beautiful angel, although remember that throughout the Bible we see angels in different circumstances, such as speaking to Mary about the coming of Jesus or guardians of the throne of God in Revelation.
ANGEL-THEMED GIFT IDEAS FOR KIDS
Here are some angel gifts for children.
1. Angel Plush Toy Doll
While the children enjoy these coloring pages, they can have this plush toy doll beside them. Stuffed toys are a very likable thing to kids. They will love having this anywhere they go. This toy doll has lots of designs for you to choose from. You can even pick whether the angel be a girl doll or boy doll.
2. Talking to My Guardian Angel: A Kids Bedtime Story
This book, Talking to My Guardian Angel, is a short bedtime story for children ages 0 to 5 years old. It has sweet, simple rhymes and full-color artwork that introduces guardian angels as forever companions and benevolent celestial beings.
This picture book has vivid colors and hand-drawn Illustrations, including cute boys, girls, angels, and fictional characters such as animals and unicorns with wings and halos in situations that help instill concepts like optimism, kindness, and confidence.
3. Angel Costume
This angel costume accessories set includes 1 feather angel wings and 1 halo headband. The wings are made out of feathers that are easy to wear with elastic straps on them. Ideal for any type of occasion really – Christmas, birthday, costume party, or Halloween. Kids will look so cute wearing this angel costume.
4. Bear Angel Stuffed Toy
It is a suitable size for hugging, snuggling, and carrying around, which can bring your kids more happiness and love. The wings are designed to make it a lovely companion friend too. Isn't it nice to know that they like angels?
This cream-white bear is made out of plush and stuffed with polypropylene (PP) cotton, which makes it really skin-friendly, soft, safe, and suitable for most people. They are going to love snuggling with this stuffed angel bear plush toy.
5. Angel Wind Chimes
This solar wind chime is made of weatherproof and durable ABS plastic. Will not deform or fade; it can be used normally in rain or snow. It uses solar energy to charge. It takes 6 to 8 hours to fully charge under sufficient light and can work for 8 hours.
You only need to turn on the switch, hang it in your yard, and it will automatically glow at night. This would be a great gift to give that can work as a night light for the kids.
FREE PRINTABLE ANGEL COLORING PAGES – PDF Instant Download
I know you are excited to get these angel coloring pages. Please remember that this is for your own personal use, and the download file cannot be shared or altered. Feel free to share the link to this post with friends so they can download and use the printable too.
Click the button below to download the printable now.
If you loved these angel coloring pages, be sure to check out these other great posts too: