Here are my choices for the worst Christmas movies of all time. These are the holiday films that made me wince, shrug, throw popcorn at the screen and basically threatened to ruin my yuletide cheer.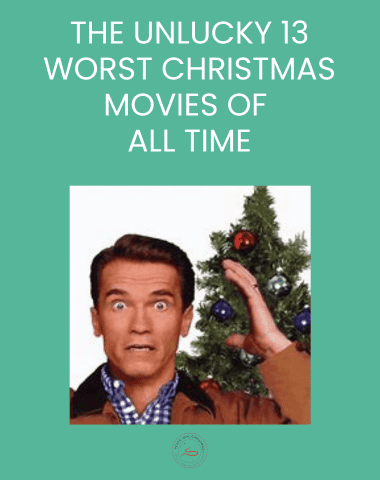 Seriously Bad Christmas Movies
The holiday movies on our list are not good. Some of them really stink. Most of my choices are big Hollywood films with people who should have known better. It's no fun to pick on small movies with limited resources.
What makes a bad movie? There is no definitive answer. Sometimes there is an element or two that sinks the whole ship. Sometimes the heart of the movie gets lost in the minutiae. Sometimes all the ingredients seem to be there, but it's just unlucky and doesn't work. And every once in a while, it seems doomed from the start.
It's bound to happen that a title or two on my list may actually be among your favorites. Remember, this is just one guy's opinion, although a couple of my choices deserve to be FACTUALLY awful, if I do say so myself. Share your opinion about my choices in the comments.
Top 13 Absolutely Awful Christmas Movies
So, without further ado, I present my choices for the 13 worst Christmas movies ever. They are listed in alphabetical order and not in order of quality.
1) A BAD MOM'S CHRISTMAS
STARRING: Mila Kunis, Kristen Bell and Kathryn Hahn

PLOT: Under-appreciated and overburdened moms rebel against the challenges and expectations of Christmas. As if creating the perfect holiday for their families isn't hard enough, they'll have to do it while hosting and entertaining their own respective mothers when they come to visit.

THOUGHTS: While I certainly don't consider myself a prude, the type of humor in this movie does nothing for me and often comes close to being offensive. I have not seen the original BAD MOMS movie, but I'm going to assume its probably the same raunchy humor mixed with attempted pathos.
Hahn is an actress I have admired in the past, but her character here is absolutely repugnant. I cringed every time she came onscreen. Christine Baranski as Kunis' mom is unbearable and made me want to pull my hair out. Susan Sarandon as Hahn's mom looks embarrassed to be part of these proceedings.
2) CHRISTMAS WITH THE ANDERSONS
STARRING: George Stults, Christy Carlson Romano and Julie Brown
PLOT: Drowning in tinsel and lights every Christmas, Michael and Caroline Anderson throw the year's biggest party at their house. But this year, with Michael jobless and Caroline's store struggling, that tradition may end.
The Andersons decide to host a very different kind of party, which helps them rediscover what's most important about the holiday.
THOUGHTS: Here we have yet another Christmas movie about truly horrendous people who magically turn their lives around just in time for the holidays. You know, when done right, movies like this can be quite effective.
The key to its success (or failure) is the belief that the person or people in question truly have an epiphany that makes the significant difference. In this case, everything feels rather phony, and the change of spirit doesn't feel believable whatsoever.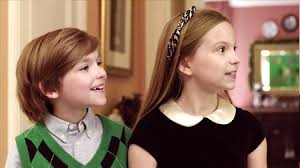 For some reason, everything feels rather insulting here because it's very materialistic – had the main characters not faced a great loss of revenue, there's no doubt in my mind they wouldn't have changed at all. Everything about this screams bottom-level D-list production.
3) CHRISTMAS WITH THE KRANKS
STARRING: Tim Allen, Jamie Lee Curtis and Dan Aykroyd

PLOT: Finally alone for the holidays, Luther and Nora Krank plan to eschew the Christmas traditions and take a cruise in the Caribbean. This doesn't sit well with their Christmas-obsessed neighbors who are determined to win the annual street decoration competition.

THOUGHTS: I hear this movie mentioned so often when friends and acquaintances talk about their favorite Christmas movies, and I have to simply smile and nod or momentarily excuse myself and scream into a pillow. I don't think this is just bad – it's shockingly, mind-numbingly bad.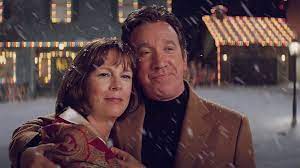 It's a movie about which I don't want to discuss a lot because, well, life is short, and I try to be positive whenever I can. I felt bad for the cast who, I guess, try to do their best, but even Santa himself doesn't have enough magic to make this a decent holiday picture.
You can also find CHRISTMAS WITH THE KRANKS here: 8 CHRISTMAS MOVIES LIKE NATIONAL LAMPOON'S CHRISTMAS VACATION
4) FALLING FOR CHRISTMAS
STARRING: Lindsay Lohan, Chord Overstreet and George Young
PLOT: A young, newly engaged heiress has a skiing accident in the days before Christmas. After she is diagnosed with amnesia, she finds herself in the care of a handsome cabin owner and his daughter.
THOUGHTS: Nothing would make me happier than a Lindsay Lohan comeback movie that would propel her back at least somewhat close to where she was before all her shenanigans began. This ain't it. In fact, at times, it can be quite painful to watch – I mean sub-par Saturday morning live-action kids show bad.
You can't help but convey apologetic vibes to everyone involved. And Lohan feels uncomfortable and distracted throughout. It feels as though she has difficulty expressing facial emotions. Every time she smiles, you imagine miniscule elves are pulling the sides of her mouth up with invisible string. The whole thing feels surprisingly cheap and uninspired.
5) FOUR CHRISTMASES
STARRING: Reese Witherspoon, Vince Vaughn and many others who should have known better
PLOT: When their plans for an exotic vacation fall apart, unmarried couple Brad and Kate must spend Christmas Day trudging around to a quartet of family get-togethers. While Brad counts the hours till he can escape the onslaught of crazy relatives, Kate begins to wonder about her own choices and ponders whether her family members are so crazy after all.
THOUGHTS: No less than FIVE Oscar winners apparently needed a paycheck badly enough to become associated with this mess. It's complete failure on every level almost becomes awe-inspiring after a while, and you begin to question if this is supposed to be some sort of parody.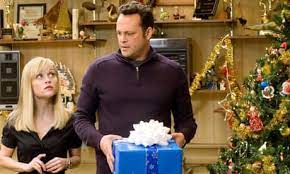 Rumor has it that Witherspoon and Vaughn weren't exactly best friends off-screen and judging by their performances and lack of chemistry here, I am inclined to believe it. This is a truly big disappointment and feels as stale as a three-month-old fruitcake.
You can also find FOUR CHRISTMASES here: 8 CHRISTMAS MOVIES LIKE NATIONAL LAMPOON'S CHRISTMAS VACATION
6) HEART OF THE HOLIDAYS
STARRING: Vanessa Lengies, Corey Sevier and Maria Ricossa
PLOT: After her life in New York unexpectedly falls apart, powerhouse stockbroker Samantha Wallace returns to her small town for the holidays and reconnects with her high school sweetheart who helps reignite her humanitarian spirit just in time to help their community on Christmas.
THOUGHTS: This is without a doubt the low point in my admittedly brief adventure through the land of Hallmark Christmas movies. In fact, this features pretty much every characteristic I feared and dreaded would be a staple of most if not all of the Hallmark movies. Every generic cliche you can imagine is alive and well here.
The two leads have zero chemistry whatsoever, and I actually was hoping for a twist at the end in which they didn't end up together. Alas, SPOILER ALERT, my hopes were dashed.
Ricossa has the unenviable task of portraying one of the most irritating meddling mothers I've ever seen captured on celluloid. Her insistence on making hot cocoa for her daughter in every scene became a true thorn in my side. There's not a single supporting character that contains an ounce of originality. Even the Christmas cookies didn't look appealing.
7) HOLIDATE
STARRING: Emma Roberts, Luke Bracey and Jessica Capshaw
PLOT: Fed up with being single on holidays, two strangers agree to be each other's platonic plus-ones all year long, only to catch real feelings along the way.
THOUGHTS: At the core of its being, this is simply a Hallmark or Lifetime Christmas movie event with more naughty words and sexual innuendo. I've said it before, a romcom is only as good as the chemistry between its lead actors – sadly Tom & Jerry had more sexual chemistry than Roberts and Bracey here.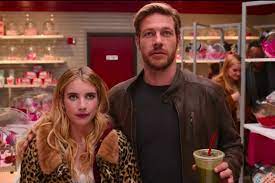 I haven't seen Roberts in that many projects, but she comes across to me as someone who has trouble projecting warmth onscreen. She has the brittle and obstinate parts down pat, but when the obligatory moments come when she is supposed to be reduced to romantic Jell-O, she doesn't have any charm or affection.
Bracey is just another personality-free stud, and Kristen Chenoweth is saddled with a character that is such a waste of her talent that it becomes almost offensive. The holidays can be tough enough for many of us without bad movies like this stressing us out even more.
8) IF I ONLY HAD CHRISTMAS
STARRING: Candace Cameron Bure, Warren Christie and Chris Gauthier
PLOT: At Christmas, a cheerful publicist teams up with a cynical VP and his eclectic team to help a charity in need.
THOUGHTS: Bah humbug! What a lifeless and uninspired excuse for a Christmas movie! I've seen Viagra commercials with more depth of character and insight into humanity.
There's nothing obscene or disgusting about it – it's just like reaching for a handful of Cheetos and getting Styrofoam packing peanuts instead. If I didn't know any better, I'd think this to be a satire of nearly every other Hallmark movie ever made.
Bure is a cream cheese sculpture of an actress, and she handily runs the gamut of emotions from A to B. There is not a single inspired moment here, and I literally forgot every performance 20 minutes after it was over.
9) JINGLE ALL THE WAY
STARRING: Arnold Schwarzenegger, Sinbad and Phil Hartman
PLOT: Workaholic Howard Langston wants to make things up to his son Jamie by promising to get him the hottest toy of the season, Turbo-Man. Unfortunately, it's Christmas Eve and the toy is practically sold out.
As Langston hunts down the elusive gift, he runs into mailman Myron, another father on the same quest. With the clock winding down, Langston's moral code is tested as he starts to learn the real meaning of Christmas.
THOUGHTS: Watching Arnold try to be funny is truly one of the most excruciatingly uncomfortable things in movie history. This is the cinematic equivalent of getting burnt fast food after waiting in line for an hour next to a really smelly and talkative guy named Zeke.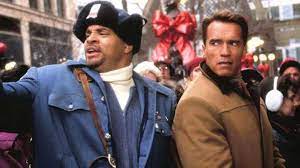 The exaggerated physical comedy is not only unfunny but almost offensive in its lack of tact. If you find stuff like this funny, more power to you, but I just don't get it. I can't think of one inspired moment that made me even crack the faintest of grins. Were it not for the atrocity to mankind that is coming up next, this could very well have been the worst holiday movie ever made.
You can also find JINGLE ALL THE WAY here: 8 CHRISTMAS MOVIES LIKE NATIONAL LAMPOON'S CHRISTMAS VACATION
10) KIRK CAMERON'S SAVING CHRISTMAS
STARRING: Kirk Cameron, Darren Doane and Bridgette Cameron
PLOT: Kirk's sister's annual Christmas party is about to be ruined by Christian, his brother-in-law, and Kirk realizes he has to show Christian how important Christ is to the holiday season.
THOUGHTS: The worst holiday movie ever made. Boring, sanctimonious, amateurish, insulting, totally uncinematic in every way, shape, or form. I don't say this lightly, but this may very well be the worst film I've ever seen.
Truth be told, I expected this to be bad. After all, it won four Razzie Awards including Worst Picture and Worst Actor. But the sheer ineptitude in concept and execution is almost staggeringly unbelievable.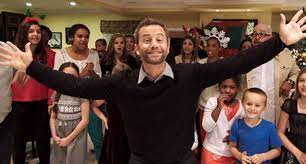 It almost reminds me of one of those horrid Super-8 educational movies we had to watch in middle school like YOU, ME AND THE HONEYBEE. Avoid this film like the plague, like all the plagues put together.
You can also find KIRK CAMERON'S SAVING CHRISTMAS HERE: 10 POPULAR CHRISTIAN CHRISTMAS MOVIES & SPECIALS
11) MY DAD IS SCROOGE
STARRING: Christian Laurian Kerr, Eva Greig and Brian Cook
PLOT: "A Christmas Carol" turns into "A Christmas Corral" as the animals of Woodsley's Farm help Oliver and his little sister June stage the classic tale to shock their Dad into embracing the spirit of the holidays.
THOUGHTS: Where do I even begin? Let's just say there are a lot of nominees for all-time worsts here. Forgive me for picking on a youngster, but Greig gives one of the most awful child performances I've ever seen.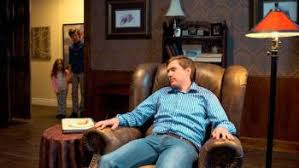 Clark the Dog, voiced by someone named Joe Marth, give the single worst animal performance I've ever seen. And I dare you to watch this and tell me otherwise.
Commercials for Wendys have better acting and production values. The whole enterprise is simply appalling.
You can also find MY DAD IS SCROOGE here: 10 CHRISTMAS MOVIES INSPIRED BY DICKENS
12) OFFICE CHRISTMAS PARTY
STARRING: Jason Bateman, T.J. Miller and Jennifer Aniston
PLOT: When the CEO tries to close her hard-partying brother's branch, he and his chief technical officer must rally their co-workers and host an epic office Christmas party in an effort to impress a potential client and close a sale that will save their jobs.
THOUGHTS: I really expected to enjoy this movie, at least on a mindless fun angle. But what a disappointment! How can so many talented and funny people produce a movie that didn't provide me a single laugh? Not a single, solitary, isolated little laugh. Not a chuckle. Not a grin.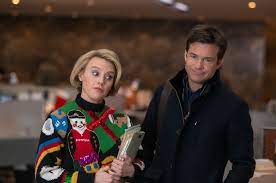 Maybe it's just me, but outrageous behavior isn't necessarily humorous behavior. I didn't like a single character, I wasn't interested in anything going on, and I became more and more irritated that actors I enjoy and respect were being wasted on this nothingness. As for me, I'll stick to Christmas episode re-runs of THE OFFICE on TV.
13) SAVING SANTA
FEATURING THE VOICES OF: Tim Conway, Tim Curry and Joan Collins
PLOT: A stable elf is the only one who can stop an invasion of the North Pole by using Santa's sleigh and a time globe to go back in time to save Santa.
THOUGHTS: I love a good English accent – it makes me happy. So listening to Curry and Collins voice characters here kept me from wanting to inflict pain on myself and those around me. Because the rest of this is torture!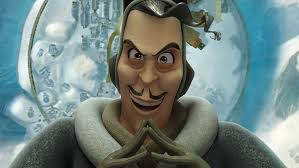 I would have rather spent 83 minutes in anesthesia-less surgery. The plot is incomprehensible for an adult let alone the young target audience. The late Conway was a comic genius but an uninspired choice to voice Santa. The songs are forgettable, the animation mediocre, and I have no desire to watch Old Saint Nick being kidnapped and tied up using Christmas lights.
5 Runner's Up and Further Holiday Movie Disappointments
Although I didn't feel strongly enough to include them in my bottom 13, there are a few titles that deserve a dis-honorable mention – and a friendly warning from me to avoid during your holiday downtime.
CHRISTMAS BREAK-IN is an unfunny comedy about a young girl who tried to rescue her school's custodian after he is taken hostage. Basically, HOME ALONE in the public school district.
A CHRISTMAS STORY CHRISTMAS is the disappointing sequel to one of the true modern holiday classics of the past 50 years. Not horrendous, but certainly nowhere near its predecessor.
A MERRY FRIGGIN' CHRISTMAS is one of Robin Williams' last movies – and sadly one of his worst. A good cast is wasted in an often shrill and dull comedy.
MY DAD'S CHRISTMAS DATE is a well-meaning but routine and uninspired dramedy about a teenage girl playing matchmaker for her widowed dad.
12 DAYS OF CHRISTMAS EVE is basically GROUNDHOG DAY in a holiday setting but without an ounce of that film's wit or imagination. The very definition of a bland comedy.
So, what do you think? Do you agree with my choices, or do I deserve a lump of coal in my stocking this year? Please comment below, and feel free to share some of your biggest holiday viewing disappointments.
More Christmas Movie Posts for You
15 Free Romantic Christmas Movies on YouTube
25 Free Hallmark Christmas Movies on YouTube
10 Popular Christian Christmas Movies & Specials