Here are ten Christian Christmas movies & specials to enjoy this holiday season. If you are looking for movies to show at your church, Sunday School, or to watch together with your children, this list will guide you to the most popular options that are currently available.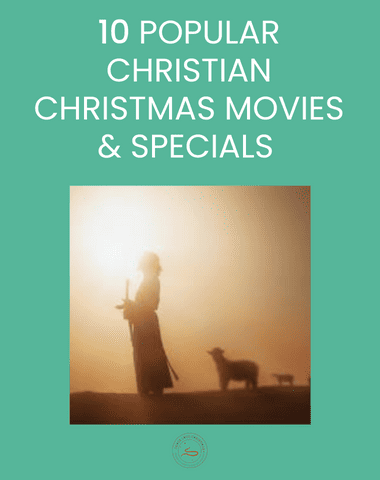 How to Find Faith-Based Christmas Movies
Finding quality Christian Christmas movies and specials is harder than you might realize – the keyword being QUALITY. Faith-based films, from an artistic perspective, tend to be less well produced, acted and written than more mainstream fare. And that's too bad!
I would love nothing more than to give you a list of movies and specials that I whole-heartedly endorse. That just isn't going to happen. Instead, I am providing you some titles I have seen along with plot descriptions and my brief reactions.
Some may find these reviews a bit harsh, but I am not judging the good intentions of the filmmakers but the films themselves.
10 Christian Christmas Movies & Specials for All Ages
Here are my recently-viewed Christmas Christmas Movies and Specials in alphabetical order, along with a brief review of each one.
1. BY GOD'S GRACE (2014)
Starring: Cameron Deane Stewart, Savannah McReynolds and John J. York
PLOT: Chris has everything until a Christmas tragedy leaves him lonely and empty. As he is show his past, present and future, Chris learns God is there in the darkest of times.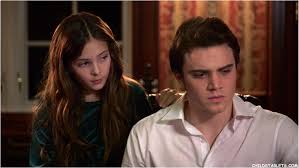 THOUGHTS: This is yet another in the endless variations on Dickens' CHRISTMAS CAROL, albeit with a more Christian slant. The film is poorly acted and utterly predictable. The main character of Chris is so broadly written and portrayed that his transformation feels more schizophrenic than epiphanic.
2. CHRISTMAS ANGEL (2012)
Starring: Della Reese, Izabela Vidovic and Kevin Sorbo
PLOT: Wishes are coming true in Olivia's class and she wishes for a dad of her own. She thinks a mysterious woman is an angel granting the wishes, but she learns she is a normal person who knows how the wishes come true.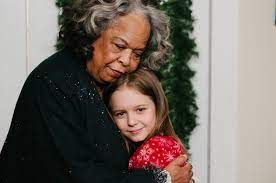 THOUGHTS: This has a wonderful message and a heart as big as Della Reese's hair; unfortunately, it's not really all that great. There's too much going on here – single parenthood, bullying, cancer, kidney transplants, parent/child estrangement, foster kids, and tabloid journalism. But the movie's message is delivered beautifully, and it's not afraid to preach the reason for the season, which itself is cause for celebration. A definite A for effort!
3. THE CHRISTMAS BUNNY (2010)
Starring: Sophie Bolen, Florence Henderson and Colby French
PLOT: A lonely foster child finds an injured rabbit on Christmas Eve and brings it to the Bunny Lady to nurse it back to health.
THOUGHTS: Though not an overly religious movie, this pleasant little family film manages to bring in moments of Christianity and may even warm a few hearts and possibly bring a tear or two to those easily moved by somewhat manipulative movies about little girls and their pets. The late great Florence Henderson is fun to watch in a role light years away from Carol Brady. If you don't enjoy overly sentimental movies, you might want to give this one a pass.
4. CHRISTMAS CHILD (2004)
Starring: William R. Moses, Steven Curtis Chapman and Megan Follows

PLOT: Hoping for a respite from his shaky marriage, a Chicago journalist travels on an assignment to a small town in Texas to investigate a mysterious nativity scene.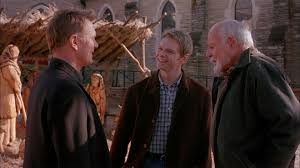 THOUGHTS: This is based on Max Lucado's THE CHRISTMAS CROSS, and while it's not perfect, there's lots to recommend here. Moses is quite good here, and his performance feels authentic and relatable. He makes the search for details of his own birth during the celebration of Christ's birth compelling. Chapman is awkward as a friendly pastor, and the character of a town sheriff who hates Moses is abysmal. But this is a movie I wouldn't mind watching again during the holidays.
5. CHRISTMAS DRESS (2016)
Starring: Steve Luna, Tiffani DiGregorio and Ariana Bagley
PLOT : A letter carrier and his son brave a fierce blizzard to deliver Christmas packages to a family.
THOUGHTS: This is a lovely little short film that packs quite an emotional wallop in less than half an hour. In fact, it's one of the few titles on this list that had me fighting back tears at the end. It feels very small scale, obviously made on a meager budget, but that works here considering the nature of the story and its message. I've never seen THE WALTONS, but I imagine this would be in the same vein as that 1970s classic television show. Both heartbreaking and uplifting, this is a keeper.
6. THE KING: A CHRISTMAS STORY FROM A HEAVENLY PERSPECTIVE (2021)
Starring: Josilyn Campbell, Anakay Hanold and Rachel Mather
PLOT: Two young angels discover the mission of their beloved King. Once disillusioned, they soon learn His mission of mercy and forgiveness is the world's only hope.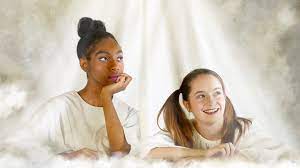 THOUGHTS: This feels like someone filmed a really cheesy Christmas program at a small church filled with very enthusiastic participants who have never acted a day before in their lives. Bed sheets are hung to replicate the clouds of heaven – that's the kind of production values here. It's one thing to watch something like this at your local church with your friends and family involved. Watching it on TV not knowing anyone involved, well, it's very awkward and uncomfortable. And I have to admit I groaned a lot. But God bless everyone involved for obviously giving it their all.
7. KIRK CAMERON'S SAVING CHRISTMAS (2016)
Starring: Kirk Cameron, Darren Doane and Bridgette Cameron

PLOT: Kirk's sister's annual Christmas party is about to be ruined by Christian, his brother-in-law, and Kirk realizes he has to show Christian how important Christ is to the holiday season.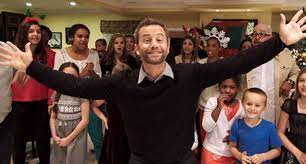 THOUGHTS: Boring, sanctimonious, amateurish, insulting, totally uncinematic in every way, shape, or form. The sheer ineptitude in concept and execution is almost staggeringly unbelievable. It almost reminds me of one of those horrid Super-8 educational movies we had to watch in middle school like "You, Me, and the Honeybee". Avoid this film like the plague, like all the plagues put together.
8. THE LEAST OF THESE: A CHRISTMAS STORY (2018)
Starring: Tayla Lynn, G. Michael Nicolosi and Emma Faith

PLOT: Homeless single mother Rose and her young daughter Katy discover hope in a small-town diner. They are befriended by a feisty waitress, a big-hearted short-order cook and a storefront Santa who gets served a valuable lesson in forgiveness.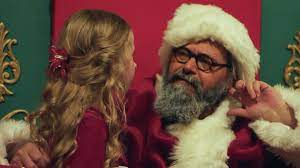 THOUGHTS: Critically, I can't quite give this a recommendation. As a human being, I think the values portrayed here are perfect for Christmastime viewing. I'm all for a motion picture with good family values, but there's a fine line between screenplay and sermon. Had the story been less meandering and production values a bit more inspired, this could have been something more special. As it is, it's a safe, mediocre movie that won't offend anyone – and I suppose that isn't all that bad nowadays. You'll appreciate the message but you won't remember the movie.
9. NO ORDINARY SHEPHERD (2014)
Starring: Jacob Buster, Darin Scott and Jacque Gray
PLOT: A young shepherd boy, crippled in an accident, considers the significance of the anniversary of the night the Messiah was born. A gentle stranger appears, and the boy encounters miracles of his own.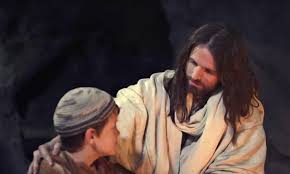 THOUGHTS: This short film (less than 30 minutes) is absolutely gorgeous both aesthetically and in its content. The cinematography is breathtaking – there are scenes so beautiful that you could have them framed. And the story itself is incredibly moving and inspiring. Scott has to be one of the best cinematic Jesuses I have ever seen – his presence feels very spiritual, and his scene with the wonderful young Buster as the titular shepherd is gently powerful. I watched it twice in a row just to take it all in, and this will become a traditional staple of my holiday viewing. I can't think of one negative to say about it.
10. THE PERFECT GIFT (2009)
Starring: Christina Fougnie, Jefferson Moore and Matt Wallace

PLOT: A spoiled schoolgirl, her overworked executive mother and a disillusioned young minister each receives an uplifting message about friendship, commitment and the truest meaning of Christmas from a friendly but mysterious drifter named Jess.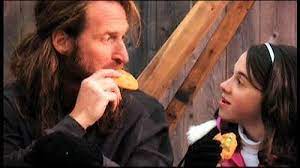 THOUGHTS: This one started out really rough. I mean REALLY rough. From Fougnie's excruciatingly bad performance to infomercial-level production values. But somehow, over the course of the film, things begin to improve. Not enough to recommend it, but enough not to hate it. There are definitely a couple very memorable scenes, the best being a recitation of Jesus' birth in place of TWAS THE NIGHT BEFORE CHRISTMAS. It deserves to be read every Christmas Eve.
More Christmas Posts You Will Love
100+ Hilarious Christmas Movie Quotes
10 Easy Elf on the Shelf Ideas for Tired Parents
101 Christmas Traditions to Consider Starting with Your Family
What is your favorite Christian Christmas movie? Did it make our top 10 list? Share in the comments below.