Here are 25 Hallmark Christmas movies available for free on YouTube. For those of you who like a little romance during the holiday season, you might find quite a few titles here to enjoy during your Christmas break. And, best of all, they are all free!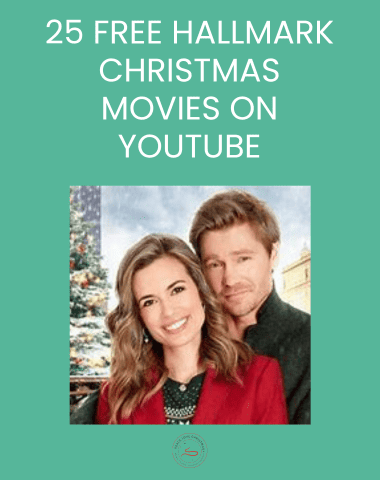 ABOUT THE HALLMARK CHANNEL
The Hallmark Channel began in August of 2001, but the very first Hallmark movie was actually made decades prior. It was called AMAHL AND THE NIGHT VISITORS and came out way back in 1951.
As of this writing, Hallmark has nearly 300 Christmas movies in its library. CHRISTMAS UNDER WRAPS, starring Candace Cameron Bure and David O'Donnell, has the distinction of being the highest rated Hallmark Christmas movie of all time. It was released in 2014.
And do you have any idea who has starred in the most Hallmark movies? As of this writing, actress Lacey Chabert has appeared in an astonishing 32 Hallmark original movies, the first of which was a 2010 film called ELEVATOR GIRL.
Top 25+ HALLMARK MOVIES AVAILABLE FOR FREE ON YOUTBUE
Listed below in alphabetical order are 25 free Hallmark Christmas Movies available on YouTube. I have to be honest – I did not watch any of these, so I cannot comment on their quality. I will leave that up to you Hallmark lovers to leave your comments below. Maybe you'll convince me to check out a couple of your favorites.
1) A BELGIAN CHOCOLATE CHRISTMAS
STARRING: Jaclyn Hales, Zane Stephens and Sarah Pribis
PLOT: A photographer takes her best friend's place at a Belgian culinary school during the holidays and connects with the chocolatier leading the class. A case of mistaken identity impacts their blossoming romance.
CLICK HERE TO WATCH A BELGIAN CHOCOLATE CHRISTMAS
2) A BRUSH WITH CHRISTMAS
STARRING: Joseph Cannata, Jillian Murray and Farrah Aviva
PLOT: Disheartened and struggling to find time for her art, Charlotte throws out her latest painting, only to discover that it has been anonymously submitted to the Christmas art festival.
CLICK HERE TO WATCH A BRUSH WITH CHRISTMAS
3) A BRUSH WITH LOVE
STARRING: Nick Bateman, Arielle Kebbel and Matthew Dowden
PLOT: A discouraged artist is convinced by her best friend to paint the perfect man, hoping it will attract love. When the portrait is finished, they discover that he's a real-life Prince Charming, and the artist embarks on a whirlwind romance with him.
CLICK HERE TO WATCH A BRUSH WITH LOVE
4) CHRISTMAS ON MY MIND
STARRING: Ashley Greene, Donna Benedicto and Andrew Walker
PLOT: Lucy wakes up with a wedding dress in hand and thinks she's late to her wedding with her ex-boyfriend Zach. However, she has no recollection of the past two years, including the fact that she's engaged to another man.
CLICK HERE TO WATCH CHRISTMAS ON MY MIND
5) THE DATE WHISPERER
STARRING: Jenna Michno, Rib Hillis and Sascha Knopf
PLOT: Date whispering is the hottest new trend in dating – a personal love coach right in your ear as you date your ideal match. And of all the date whisperers in LA, Sam is one of the best.
CLICK HERE TO WATCH THE DATE WHISPERER
6) FARMER SEEKING LOVE
STARRING: Donna Benedicto, Jesse Hutch and Tanya Clarke
PLOT: TV producer Claire goes to Jersey to meet farmer Joe, hoping he will be the perfect bachelor for her reality show. He soon realizes that there is more to Claire than meets the eye.
CLICK HERE TO WATCH FARMER SEEKING LOVE
7) FASHIONABLY YOURS
STARRING: Kendrick Sampson, Kat Graham and Jordan Claire Robbins
PLOT: After three years of organizing fashion collections at a top magazine, Lauren is passed up for a promotion and decides it is finally time to throw in the towel and move home.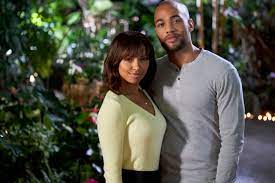 CLICK HERE TO WATCH FASHIONABLY YOURS
8) A HARVEST HOMECOMING
STARRING: Trevor Donovan, Jessica Lowndes and Sarah Fisher
PLOT: A teacher returns home to help at the family cider mill, where he meets the new marketing manager and finds a new class of students to mentor.
CLICK HERE TO WATCH A HARVEST HOMECOMING
9) IN MERRY MEASURE
STARRING: Patty Munn, Brendan Penny and Jennifer Robertson
PLOT: When pop star Darcy returns home to spend Christmas with her sister and niece, she unexpectedly finds herself coaching the high school choir with her onetime rival Adam.
CLICK HERE TO WATCH IN MERRY MEASURE
10) IVY & MISTLETOE
STARRING: Julianne Michelle, Cody Calafiore and Carrie Genzel
PLOT: A young woman is determined to get home for Christmas, but gets stranded in a small town during a snowstorm. Little does she know that she is exactly where she is supposed to be.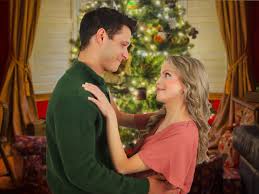 CLICK HERE TO WATCH IVY & MISTLETOE
11) JOY & HOPE
STARRING: Cody Calafiore, Ashley Brinkman and Alix Karmes
PLOT: Joy and Hope McGregor run Two Sisters Ranch in upstate New York with their dad and longtime friend. When a handsome stranger comes to town to find inspiration to get over writer's block, he learns how special Christmas on the ranch really is.
CLICK HERE TO WATCH JOY & HOPE
12) LOVE AFLOAT
STARRING: Alanna Smith, Travis Bravo-Thomas and Demi Castro
PLOT: When Lorelei inherits a shabby sailboat from a distant relative, she hires Rob to help clean, fix and sail it from its present location at a Caribbean island to Miami. The two will have to work together as romantic sparks start to fly.
CLICK HERE TO WATCH LOVE AFLOAT
13) MAGIC IN MOUNT HOLLY
STARRING: Cody Calafiore, Taryn Hacker and Andrea Boehlke
PLOT: A new gallery owner discovers that she can paint the future using a paintbrush left by Santa. As she discovers the true magic within herself, she also learns to love and be more confident.
CLICK HERE TO WATCH MAGIC IN MOUNT HOLLY
14) THE MALTESE HOLIDAY
STARRING: Ashley Brinkman, Cody Calafiore and Clayton Snyder
PLOT: Two single travelers travel to Malta in search of adventure and end up finding find love along the way.
CLICK HERE TO WATCH THE MALTESE HOLIDAY
15) A MAPLE VALLEY CHRISTMAS
STARRING: Peyton List, Ella Cannon and Andrew Walker
PLOT: Erica is a rancher who's spent her whole life working the family farm with her mother and sister. When Aaron arrives and disrupts her plans, she starts to question what it is she actually wants.
CLICK HERE TO WATCH A MAPLE VALLEY CHRISTMAS
16) NATURE OF LOVE
STARRING: Christopher Russell, Emilie Ullerup and Erin Boyes
PLOT: City girl Katie, who is supposed to write a magazine feature on a glamping resort, faces her fears by trying the camp's activities with a rugged outdoorsman and nature guide.
CLICK HERE TO WATCH NATURE OF LOVE
17) NEVER BEEN CHRIS'D
STARRING: Janel Parrish, Tyler Hynes and Pascal Lamothe-Kipnes
PLOT: Home for the holidays, BFFs Naomi and Liz reconnect with high school crush Chris Silver. A complex love triangle forms, forcing them to take stock of their lives and find the value of friendship.
CLICK HERE TO WATCH NEVER BEEN CHRIS'D
18) ONCE UPON A HOLIDAY
STARRING: Briana Evigan, Greg Evigan and Paul Campbell
PLOT: When a royal princess runs away from her official obligations and duties, she starts to fall in love with a good Samaritan who is unaware of her real identity.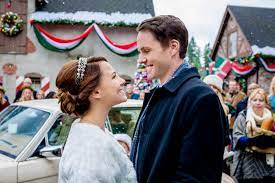 CLICK HERE TO WATCH ONCE UPON A HOLIDAY
19) OPEN BY CHRISTMAS
STARRING: Erica Durance, Alison Sweeney and Michael Karl Richards
PLOT: When Nicky finds an unopened Christmas card from an old secret admirer, she and her best friend embark on a quest to find the anonymous author.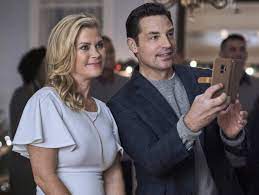 CLICK HERE TO WATCH OPEN BY CHRISTMAS
20) A PERFECT CHRISTMAS
STARRING: Dillon Casey, Susie Abromeit and Erin Gray
PLOT: Newlyweds Steve and Cynthia have a few secrets to keep as their families arrive for the holidays: he's just been laid off, and she's pregnant.
CLICK HERE TO WATCH A PERFECT CHRISTMAS
21) A PRINCE IN PARADISE
STARRING: Rhiannon Fish, Naomi Sequeira and David Hooley
PLOT: Struggling with writer's block after a breakup, Olivia takes a tropical holiday in hopes of some inspiration and meets Prince Alexander, who needs some distance from his upcoming duty to marry royalty.
CLICK HERE TO WATCH A PRINCE IN PARADISE
22) THE PRINCESS AND THE BODYGUARD
STARRING: Emily Alatalo, Ryan Bruce and AnnaMaria Demara
PLOT: On her 35th birthday, Lexi is told she must give up her normal life in New York City and take her rightful place as a royal princess.
She has two weeks to come to terms with this, reveal her true identity to her best friend and find a suitable date for the royal gala, where she'll be introduced to the world. She must do it under the watchful eye of her handsome, but infuriating, bodyguard Noah.
CLICK HERE TO WATCH THE PRINCESS AND THE BODYGUARD
23) A ROYAL CHRISTMAS MATCH
STARRING: Jordana Largy, Matthew MacCaull and Patti Allan
PLOT: Princess Camille travels to America to create a college exchange program and falls for a handsome professor. When she discovers he was hired by her father to watch out for her, she wonders if he cares more about her or his career.
CLICK HERE TO WATCH A ROYAL CHRISTMAS MATCH
24) THE SOULMATE SEARCH
STARRING: Alexandra Harris, Jonathan Stoddard and Alexis Baca
PLOT: When Elen gets the chance to sign up to the notoriously exclusive dating service Eternity, she clashes with Will, her first date. They mutually agree this dating service has been a complete bust and make a deal to get their money back.
CLICK HERE TO WATCH THE SOULMATE SEARCH
25) TIME FOR HIM TO COME HOME FOR CHRISTMAS
STARRING: Holland Roden, Tyler Hynes and Tenille Townes
PLOT: Four days before Christmas, Elizabeth Athens receives a voicemail from a number she doesn't recognize. On the message, a man she doesn't know makes one final plea for the love of his life to give him a second chance.
CLICK HERE TO WATCH TIME FOR HIM TO COME HOME FOR CHRISTMAS
Have you seen any of these Hallmark movies? Are there other Hallmark favorites not on this list that you would like to recommend? Please feel free to comment below.
More Christmas Movie Posts for You
8 CHRISTMAS MOVIES LIKE NATIONAL LAMPOON'S VACATION
10 CHRISTMAS MOVIES INSPIRED BY DICKENS