If you have been wondering how to decorate kitchen cabinets for Christmas, you have come to the right place. Most people only concentrate on the Christmas tree and the main living space when decorating for the season. However, there is something very magical about bringing the festivities into the kitchen as well. After all, the kitchen is the heart of the home and it should also look festive.
Today, we'll see all the different ways you get creative in the kitchen. We'll go over some kitchen cabinet Christmas decorating ideas, how to hang up fairy lights and wreaths, and even how to clean up after some of the suggestions. Let's go.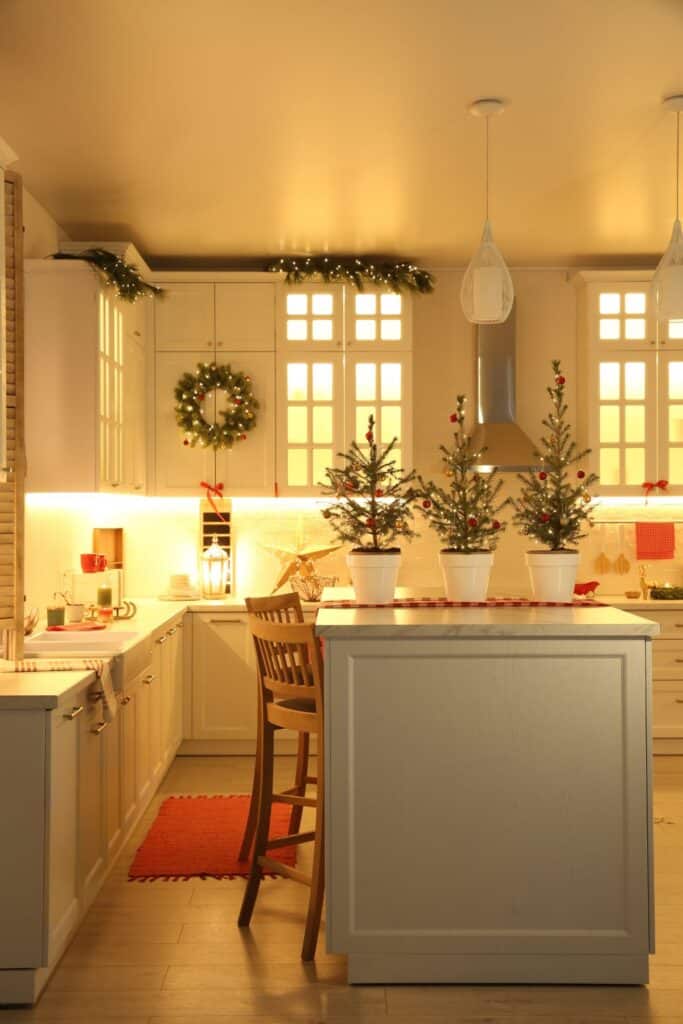 HOW TO DECORATE KITCHEN CABINETS FOR CHRISTMAS
I have a whole page of ideas on how to decorate kitchen cabinets for Christmas. Not every idea will work perfectly with YOUR kitchen space, but I think you will find an idea that appeals to you in the list below.
DECORATE KITCHEN CABINETS WITH MINI WREATHS
Stock up on mini wreaths next time they are on sale. You can do so much with them. Since they are small, they can be used to decorate almost any space or item you can think of. You can even add the wreaths to the Christmas tree if you wish.
I love the look of kitchen cabinet mini wreaths. It is a quick and elegant way to bring holiday spirit to your kitchen space.
As for the kitchen cabinet decoration, you can simply secure them to the cabinet knobs. You can also turn them into a garland by dotting them around the area and connecting them with some red ribbon.
Also, you can attach them to some kitchenware and appliances to make them appear more Christmasy.
Grab some red ribbon and hang the small wreaths on the front of the kitchen cabinet doors by the ribbon. You simply attach the ribbon on the top inside of the cabinet door with tape.
Or, if your ultra-modern kitchen doesn't agree with festive decor, hide a few of them inside the cabinets so they can brighten your mood whenever you reach into them for something.
MISTLETOE
Traditionally mistletoe would hang in a doorway so that couples could stop for a kiss underneath. This green plant can be used in many ways in your Christmas decor.
Not only is this a great piece for decorating a kitchen. In fact, as you are learning how to decorate kitchen cabinets for Christmas…keep mistletoe in mind. Bunches of mistletoe can be tied with a ribbon and hung on the fronts of cabinet doors for a beautiful, natural look. This will be a beautiful and natural focal point in the room.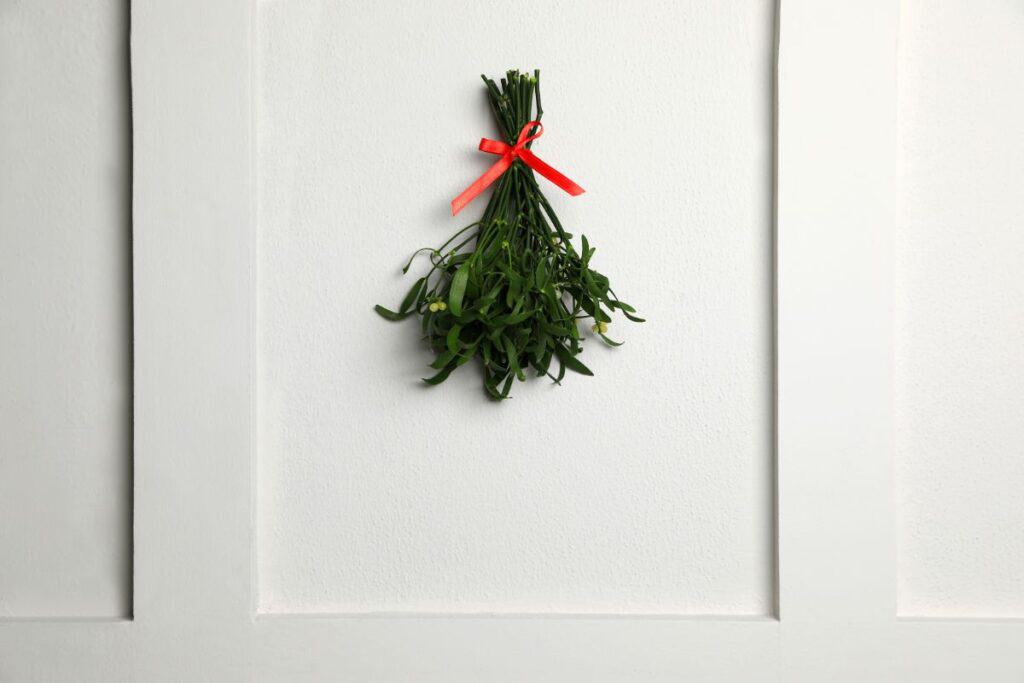 KITCHEN CABINET CHRISTMAS CARD DISPLAY
If you've received a lot of Christmas cards this year, why not put them on display? They will make for lovely decorations in your kitchen.
You'll need some string, twine, or ribbon and a few command hooks for this project. It's simple, just place the hooks where you want them, then tie the string.
When you have the string in place, hand the cards by securing them with wooden clothespins or dowels, or by simply hanging them over the string.
Feel free to add small baubles, some tinsel and candy canes, and even fairy lights to make everything look even more festive. This is such a great idea and it is nice to be able to see the cards you receive every time you are in the kitchen.
HOW TO DECORATE KITCHEN CABINET DOORS WITH WRAPPING PAPER
This is the easiest way to transform your kitchen into a colorful winter wonderland (as well as use up old scraps of wrapping paper).
The design and placement are up to you. Have fun and be creative. However, let's talk about tools, techniques, and cleanup.
Grab some scissors, scotch tape, and possibly double-sided tape. Pick out the wrapping paper you think will look great in your kitchen space.
Cut the paper down to the size of your cabinet doors and leave a little extra. The extra paper can fold over the cabinet doors so that you can take it on the inside of the cabinets. This will keep the paper that people see looking nice and smooth.
When Christmas is over, just be sure to get all the tape off the inside of the cabinets. If you have any sticky residue…I love using Goo Gone to get rid of it!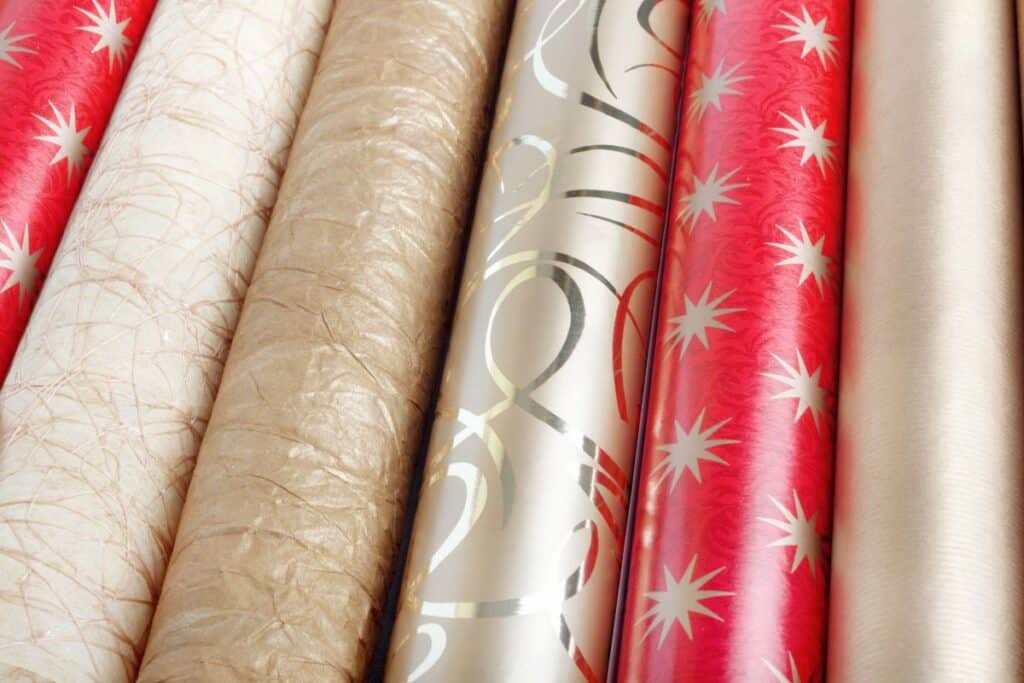 HANGING FAIRY LIGHTS IN THE KITCHEN
When you want to do just something a little special but are not in the mood to go crazy with decorating, some fairy light under the kitchen cabinets and around the windows will do the trick.
Fairy lights work with almost any kitchen decor. Whether you have a rustic farmhouse kitchen or a modern, elegant kitchen…Christmas lights will bring holiday cheer.
Your best friends in this project are command hooks and command strips. You can dot them all around the kitchen, in the places where you want the lights to be. Easy to install, easy to remove, and no holes or mess left behind. If there is some sticky residue left, you can wipe it away with a cotton pad soaked in acetone.
The only thing you should pay attention to when hanging fairy lights in the kitchen is how close to the stove and the oven the lights are. Avoid getting them too close because the heat could damage them or even cause them to catch fire.
WHITE KITCHEN CHRISTMAS
Learning how to decorate kitchen cabinets for Christmas is especially easy if you have a white kitchen. These tips will get you a look that is very posh and expensive…while actually not costing much!
Start by stashing away anything that is not white, cream, wood, or stainless steel. Switch out all drapes and textiles for something in white, cream, or silver.
All you need to complete the look is some light and sparkle. The light can come from either white or warm fairy lights. Install some under the kitchen cabinets or hide them behind the curtains for a more subdued look. You can also dot out numerous candles around the kitchen if you wish. It's fine if they are electric, we won't tell anyone.
The sparkle can come from crystal garlands, silver and mirror baubles, snowflakes, tinsel, etc. Add just enough to mimic the shine of the fresh snow, or as much to rival the stars in the sky. These can be attached to the tops of cabinet doors and hang down for a simple, elegant look.
A metal tiered tray, glass jars, and pinecones will add sophistication to the space.
SETTING UP A SMALL CHRISTMAS TREE
Who says that you can have only one tree for Christmas? You should have another one in the kitchen, especially if the kitchen is the place you and your family spend quality time over the holidays.
You can go about this in several ways.
One, buy a finished tree and simply plug it in.
Two, buy a smaller tree and use the same baubles and tinsel as on the main one to create its mini-me.
Three, get your hands on a metal wire tree and use it to hang edible decorations (ie Christmas cookies in the shape of baubles or hard candy).
Get some small tabletop mini trees and place them on the tops of your kitchen cabinets if you have space between the cabinets and the ceiling. Add some greenery to the bottom or fake snow…it is a lovely look!
If you have open shelving in the kitchen it will be simple to add a small Christmas tree to a shelf.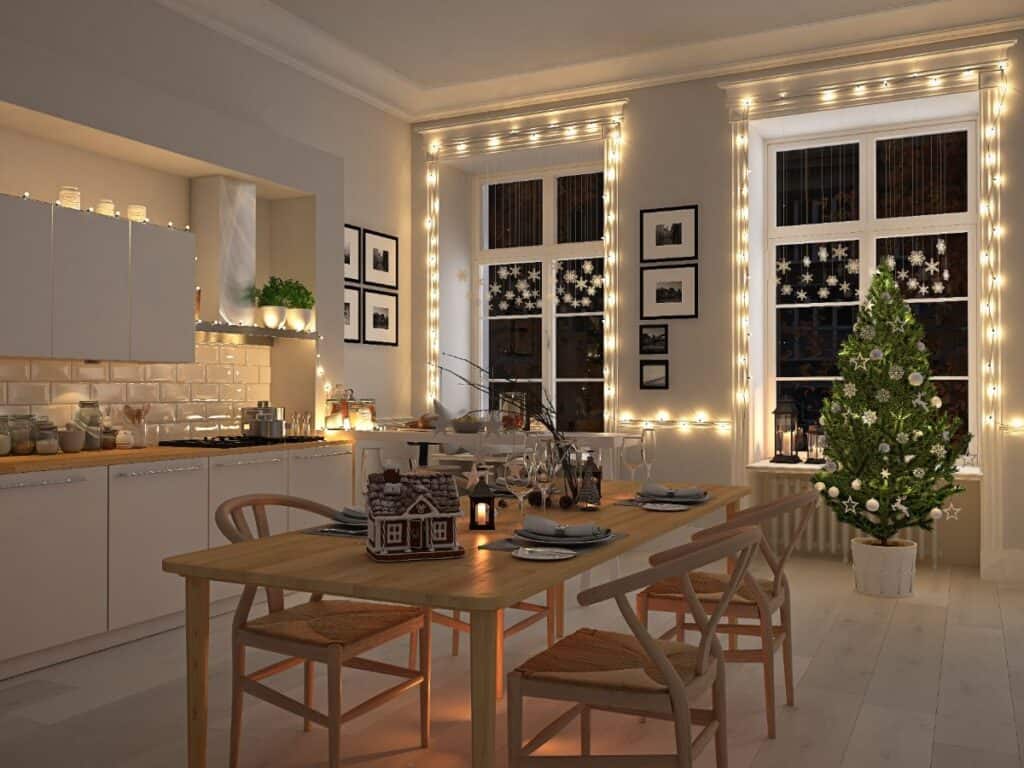 BRING THE OUTSIDE IN
One of the more traditional decor pieces from the old world is pine and fir tree branches. If you live in an area with a lot of evergreen trees, you're in luck since you will be able to find these for free. If not, your local florist or garden center should have some.
Wrap them in some ribbon and maybe add some candy canes or cinnamon sticks. They will not only look lovely but smell fantastic too. Pine cones are also a fantastic choice. You can add them to displays as they are or paint them to resemble miniature Christmas trees. That's also a fun project if you have children.
You can hang greenery from the kitchen cabinet doors with a pretty ribbon. You can add fresh greenery to the tops of kitchen cabinets also. Did I mention how amazing fresh greenery will smell??
CHRISTMAS KITCHENWARE
The easiest way to bring the festivities into the kitchen is to pick up a cookie jar in the shape of a gingerbread house. But it doesn't stop there. These days, you can get almost any piece of Christmas kitchenware you can think of.
You may have even received a few in the years prior. If you didn't, don't run to the shops just yet. There's so much of this stuff laying around in other people's homes. You can either borrow some from friends and family, or you can go online and see who is looking to beef up their gift budget by clearing out their stash.
These items can sit on countertops, on the top of kitchen cabinets, in a glass hutch, on the dining table, on the kitchen island, or even just on the kitchen counter. A Christmas vase can be filled with poinsettias for a beautiful look. Here are some items to be on the lookout for at yard sales, thrift stores, and sales:
Christmas mugs
Christmas cookie jars
Festive plates
Holiday-themed tiered trays
USING WHAT YOU HAVE
Everyday items can turn into Christmas decorations with just a little bit of work. It can be as simple as swapping things that are on display. The easiest way to recreate Mrs. Claus' kitchen look is to stash away more modern-looking cookware and appliances and bring out anything with a vintage or worn-out look.
You probably have a few mason jars laying around. You can fill them with decorative items like tinsel, pine, candy canes, cookies, Christmas tree decorations, etc. Add some ribbon, and you're done.
Speaking of, if you add some red ribbon to almost anything in the kitchen, you can amp up the festive mood. This is such a simple way to decorate your kitchen cabinets!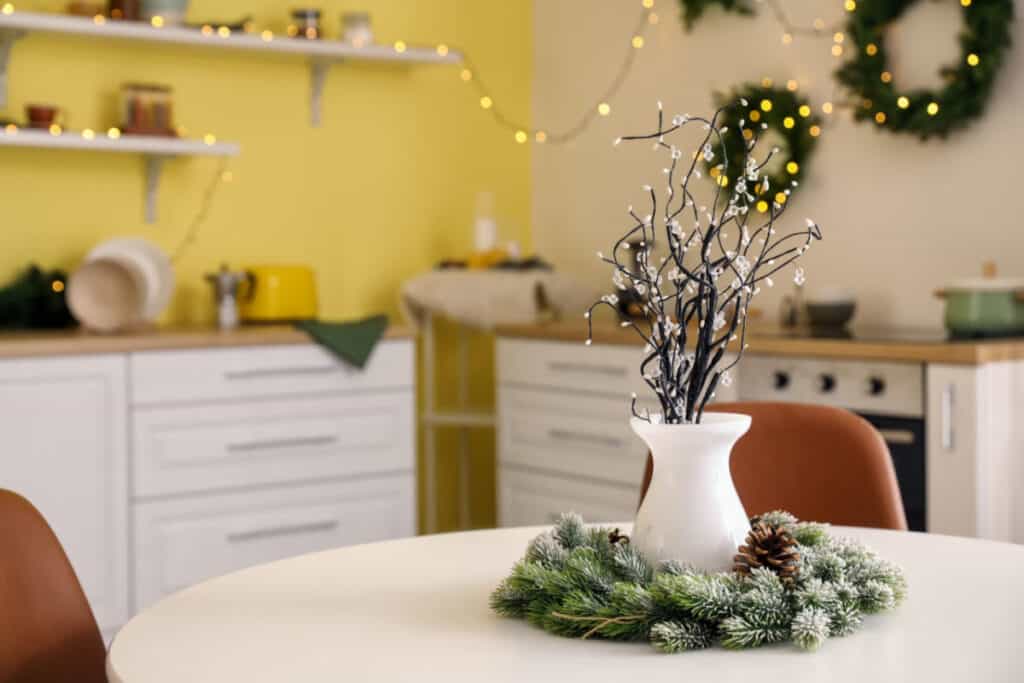 DECORATING WITH FOOD
Let's wrap everything up with an obvious choice. A lot of Christmas decor is made to resemble food, so why not use food to decorate your kitchen?
The previous segment touched upon this a little. By filling clear mason jars with cookies, candy canes, and homemade hot cocoa mix you can create a perfect festive look. But let's take it even further.
If you are in the habit of keeping flowers in the kitchen, you can liven up the bouquet by sticking a few candy canes in. If you are not too keen on that idea, you can wrap a red ribbon around the vase and add the canes to the bow.
You don't have to keep the Christmas cookies in jars only. Pick up one of those cardboard cupcake displays and turn them into the focal point of the room. Add some green icing as glue and decoration, and you'll end up with an edible Christmas tree.
For the last one, you will have to plan a little. Food gifts are always a great idea Homemade spiced rum makes for a great Boxing Day gift, and the same goes for jars of homemade orange curd or mint jam. But, before they are given away, they can sit on the counters and play another role as Christmas decor. These can also sit on kitchen cabinet shelves that have glass doors as display items.
HOW WILL YOU DECORATE YOUR KITCHEN CABINETS THIS CHRISTMAS?
I have given you a variety of ideas on ways to decorate kitchen cabinets for Christmas…which ways sound the best for your space? Do you have an idea for festive kitchen Christmas decorations that I haven't covered? Be sure to leave a comment and share!
Check out these other great Christmas articles while you are here:
BE SURE TO PIN THIS FOR LATER AND SHARE IT ON FACEBOOK!