These fun facts about Christmas in Italy are so interesting. Once you hear about it, you are going to want to go to Italy and experience Christmas there!
HOW DO THEY CELEBRATE CHRISTMAS IN ITALY?
Christmas in Italy is celebrated for roughly a month. The day of the Immacolata begins on December 8th. The Immacolata is when the presepe or the Nativity scene and Christmas tree are regularly put up. The decorations and Christmas trees stay up until January 6th. This day is the Epiphany, which commemorates the Magi's visit to the baby Jesus.
St. Francis of Assisi enlisted Giovanni Vellita, a resident of Greccio in the region of Lazio, on December 24, 1223, to design what would become the first Nativity scene ever seen. It was produced in a cave of the nearby monastery.
The floor of stone had been covered with a bed of straw, and a rustic crib had been set up in a corner. A donkey, an ox, and a dozen villagers were gathered around it. From that point forward, the making of figurines, or pastori, became into a highly well-liked style of Italian folk art.
Nowadays, the Presepe consists of tiny, hand-carved figurines placed in scenes depicting Jesus' birth. These figurines are typically manufactured in the Naples region. The Italian presepe, however, frequently includes other elements in addition to the Holy Family and the infant Jesus in the stable in the classic nativity manger.
Italian families frequently construct a full scene or village with handcrafted houses, bridges, and shops. Mountains are commonly built from cork, and wells and lights supplied by electricity are attached. Caricatures of politicians and celebrities are a typical addition to shops and booths, as well as household goods, exotic animals, and other add-ons.
On Christmas Eve, Baby Jesus is the sole new addition to the scene. One of the most cherished and treasured emblems and practices of the Holiday season.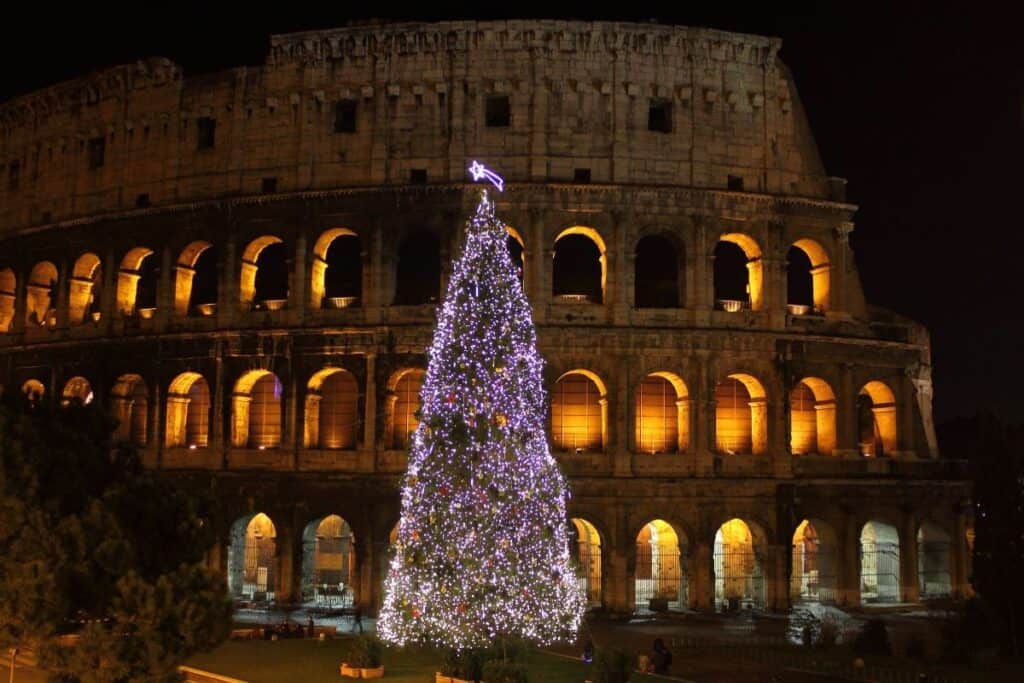 WHAT IS UNIQUE ABOUT CHRISTMAS IN ITALY?
Italy is one of the most scenic nations in Europe, and around Christmas, it is, of course, even more stunning. Even if it doesn't snow very often, the festivities are nonetheless enjoyable. Here are some fun facts about Christmas in Italy and the reasons why it is different from other celebrations:
LONGER PERIOD OF CELEBRATION
The fact that Italians celebrate Christmas for a lot longer than other nations is one of the best Christmas practices. The Immaculate Conception Feast Day, which is observed on December 8, marks the official commencement of their holiday season. It continues all the way up until January 6, or the Epiphany, which is the 12th day of Christmas.
You can blend seasonal activities and tourism in December. Take a visit to the Catacombs of Rome, followed by all the holiday fun you can handle, or take a city tour through Rome to see the fascinating norms in reality.
THEY DON'T EAT MEAT ON CHRISTMAS EVE
The Italians have a very old-fashioned custom way of not consuming meat on Christmas Eve or as they call it, la Vigilia. Rather, they consume a diverse range of seafood meals — up to seven courses altogether usually!
This happens frequently the day and night before any religious festival since you are meant to eat lean and cleanse your body in preparation for the event. Different fish recipes are popular around the nation.
Pezzetti is a traditional Roman meal of fried artichokes, zucchini, and broccoli. And also popular in Naples, where fish and broccoli are sautéed.
MIDNIGHT MASS AT THE VATICAN
Visiting the Vatican on Christmas Eve for a midnight mass with the Pope is a well-known Christmas ritual for individuals who reside in or are visiting Rome. It actually starts at 9:30 in the evening instead of midnight. Plus, the admission is free. For those who are unable to enter the basilica to witness the Pope and take part in the mass up close, they also have it broadcasted on television in St. Peter's Square.
If you have ever taken a guided Vatican tour, you are aware of how large the plaza is. At Christmas, when it is decorated with a massive tree and nativity scene and filled with revelers, it takes on an even more spectacular feel.
One fun fact about Christmas in Italy is something many people are not aware happens. While some Italians celebrate Christmas Eve by attending midnight mass, others spend Christmas Day skiing or snowboarding. A lot of people ski down the mountains as well. This happens in northern Italy at midnight. They do this while carrying torches as a festive celebration!
Men playing bagpipes in the nearby squares are common in many Italian cities, but especially in Rome, the Eternal City. They go by the name "zampognari" and wear shepherd-style clothing because, historically, it was the shepherds who traveled from their mountainside houses into the piazzas to play the bagpipes for tips to passersby.
This was inspired by the legend of the shepherds who played bagpipes for Jesus on the night of his arrival. It's so much joy to watch the zampognari ritual, which originates back to the Roman era, still being practiced in Italian cities and hillside communities today.
The pipers also wore a peaked cap in addition to short breeches with leather leggings, a sheepskin vest, and a woolen cloak. On a walking tour of Rome, you might even see the pipers live in action!
Christmas gifts are not only brought by Santa Claus. On January 6, which commemorates the closing of the holiday season, La Befana pays a visit to all of Italy. This literally means "the good witch," and according to folklore, on this day she would stuff stockings with candy for the kids on the nice list and coal for the naughty ones.
She was an excellent housekeeper by nature. It is believed that she would also sweep the floor, clearing away any issues from the year before to give the family a clean slate for the new year. According to the story, she was unable to accompany the three kings on their nighttime search for infant Jesus because of housework. Later, she left on her own, carrying a bag filled with presents for the newborn king.
Italians love sweet dishes, especially during the holidays. Of course, it differs from city to city across the nation, but they all have a common sweet craving over the holidays! Both pandoro and panettone are types of sweet bread that are loved by people all throughout the land.
However, cavallucci, which are biscuits decorated with a picture of a house, are sold in Siena. While mostaccioli, spicy nut pastries, are a common sight in Rome.
During the holiday season, a ceppo is probably on display in most Italian homes. A ceppo is a framework in the shape of a pyramid made out of wood. This can be approximately up to a few feet high and is thought to have its origins in the Tuscan region.
Within the frame are shelves that will hold candies, fruit, and small gifts on the shelves above. Then, there is a spot for a little Nativity scene on the bottom level. Everyone makes their ceppo slightly differently, but the essential idea is the same.
They are a common Christmas ornament in Italian houses. A star or tiny doll may be put on top, and occasionally candles are affixed to the corners.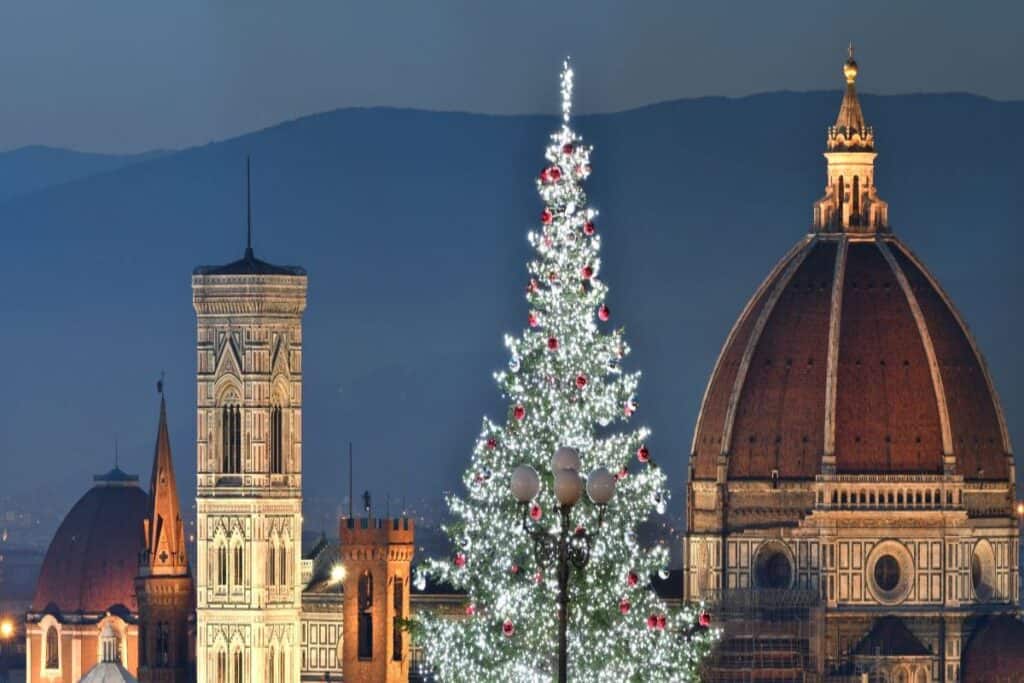 IS CHRISTMAS POPULAR IN ITALY?
Although the holiday season actually begins on December 8th, the Day of the Immaculate Conception, Italians have been feeling the spirit throughout late November. Numerous Italian families decorate their homes and trees, bake cookies, and wrap gifts on this day, which also sees the obligatory closing of businesses and schools. From this day forward, through December 26th, the festive spirit intensifies.
Italy has many significant holidays but Christmas is a big one for them. Thus there are many wonderful, distinctive Christmas traditions practiced there. Natale is typically a family-oriented holiday in Italy, a time to spend at home and eat with friends and family.
However, local traditions also differ from city to city, making every location a unique place to celebrate the holidays. These traditions range from what foods are offered to when presents are opened. Christmas is definitely a fun season to experience in Italy.
The Novena, or eight days before Christmas, are jam-packed with Christmas carolers singing age-old carols all throughout the neighborhood. And again you will also spot some bagpipe players everywhere playing some Christmas carols.
On Christmas Day, Italians invite their family and friends to a huge lunch that typically lasts the entire day. This is done following the light and no meat Christmas Eve feast they've had. Many people set aside money to have the most extravagant celebration imaginable, dishing classic traditional foods like roasts, panettone, and pasta in brodo or pasta in broth.
With the national holiday of Santo Stefano, celebrations frequently continue into December 26; families gather together and share remaining Christmas meals and treats. On January 6, which is also known as the Day of the Epiphany and the twelfth day of Christmas, the Christmas season officially ends.
Families typically cook a lavish feast on the eve of the Epiphany to signify the conclusion of the holiday season. Christmas markets will close and holiday decorations will begin to come down after January 6.
When lunch is over on Christmas Day, presents are frequently exchanged. And occasionally with the conviction that Jesus has delivered the gifts himself. However, some minor cities in northern Italy hold the belief that on December 13, the blind Saint Lucia provides gifts for children, thus they open them that morning.
Other households would postpone giving children gifts until the good witch arrives on January 6th. Most Italians place their wrapped gifts on display, together with candles and other decorations, atop the pyramid-shaped ceppo, regardless of when they open their gifts.
Since 1981, Italy has been home to the largest Christmas tree on earth. It is a Christmas tree-shaped light display that is constructed yearly on the foothills of Mount Ingino or Monte Ingino outside of Gubbio, Umbria. The tree is made up of 3000 lights in various colors and has dimensions of 650 meters or 2,130 feet high and 350 meters in width.
Every single year for around three months, a team of volunteers known as the Alberaioli devotes their spare time so that on December 7, Gubbio's Christmas tree can illuminate the Umbrian countryside. This illuminated Christmas tree was recognized as the "World's largest Christmas tree" by the Guinness Book of Records in 1991. Since 2010, a photovoltaic system has produced the electricity needed to power the holiday lights.
Pope John Paul II, a Polish-born leader, established the ritual of placing a Christmas Tree exhibited beside the Nativity Crib in St. Peter's Square at the Vatican in 1982. Christmas trees are widely used in Italy as well, but only actually since the end of World War II. Nine of the seventeen life-size statues depicting the cradle scene at the Vatican were created in 1842. Every year, a new Italian area or nation in Europe donates a tree to the Vatican.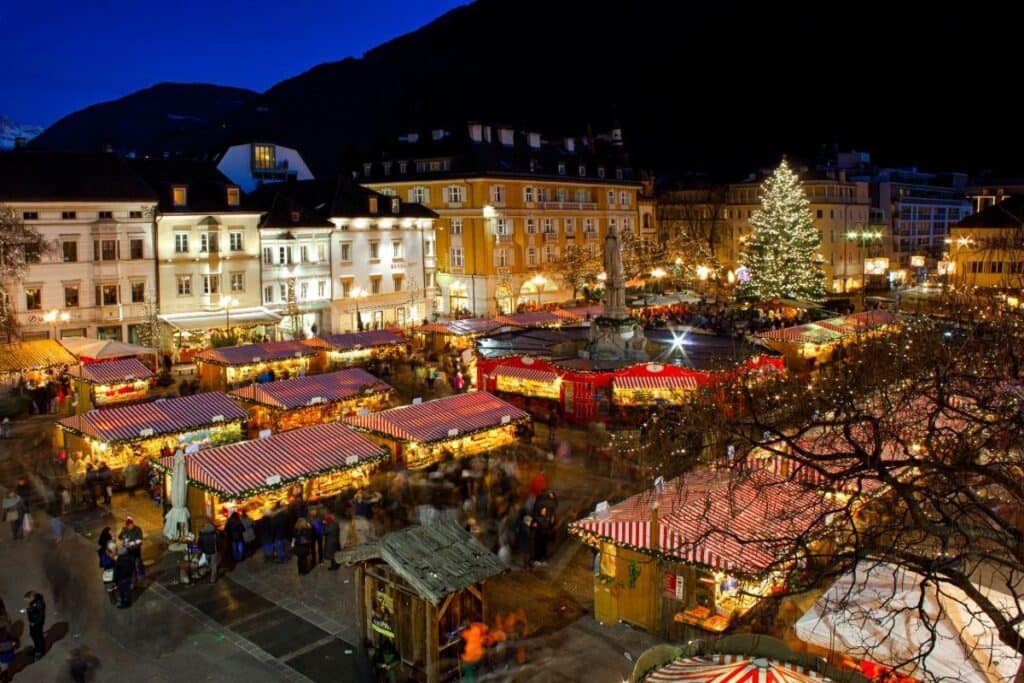 Everyone is aware that the month of December is the best time to have fun. The following date is December 31st after the three days of celebrating Christmas. This is yet another great chance to get together with friends & family and party all night long.
Capodanno or New Year's Eve typically begins late in the afternoon with the famous aperitivo, accompanied by a traditional big meal which is generally referred to as cenone. It is the appropriate party to ring in the new year!
The following day, if you still feel like eating and have the strength, it's time for another heavy lunch. On January 1, they just unwind, spend time with their loved ones, eat some traditional dishes, and indulge in some classic desserts. That's how important and popular Christmas is to Italy.
If you loved this fun facts about Christmas in Italy post, be sure to check out these other great posts:
Be sure to PIN this for later and SHARE on Facebook!