Once the holiday season is over people are wondering what to do with old Christmas trees. This question gets asked by people with real Christmas trees every year. There are actually several different options for real trees and artificial trees that you may not have thought about before.
WHY RECYCLE MY OLD TREE?
Taking all the decorations off the Christmas tree is always a little sad for me. It is nice knowing that it isn't forever…and that next year I can decorate all over again.
Whether you have a real tree or an artificial Christmas tree…you may need to get rid of it after the holiday season. Real trees become a fire hazard once they dry out and can't stay forever in your home. Sometimes artificial trees are just too old and worn out to keep using.
Everyone can practice creative ways to repurpose or recycle their old trees during this festive season. It is good for our communities and our earth.
CREATIVE IDEAS ON WHAT TO DO WITH OLD CHRISTMAS TREES
With the right tools, attitude, and purpose we can utilize one of these creative ideas on what to do with old Christmas trees. There are lots of options for families and I know you will find one that works for your specific situation.
1. RECLAIM FOR FIREWOOD
If a real tree graces your home at Christmas time…it can become firewood and can heat your home or others' homes after the season is over.
Breath new life into the tree by chopping it up for firewood. Use it in an outdoor fire pit if you don't have a fireplace or wood stove in your home.
This is a practical way to get rid of your tree and it will save you money too.
2. DIY SIMPLE FURNITURE
The DIY craze has been going on for a while and there is no end in sight. Take your real tree and think of creative ways to use the wood.
If building furniture, bird feeders, etc is something you enjoy doing then turn the tree into something completely different.
This idea will take tools and time, but you will impress your friends with the finished product.
Turning a once decorative tree into a decorative small bedside table for a personalized corner or nifty restroom organizer for toiletries is a very fun and entertaining activity to do and a creative idea altogether.
Using all the parts of the tree, such as the thickness of the body or sturdiness of the branches, for support as the structure of the table or organizer will add a piece of more personal and unique furniture that is part of the household and a great conversation starter for any guest that can see it.
3. WILDLIFE HABITAT
Another excellent way for a tree to be re-used that is creative and helpful to the ecosystem is having it become an animal sanctuary.
Take the tree outside to your back yard and you will be surprised how much the local birds and critters will love it. You can even decorate it with homemade bird feeders.
The trunk can be carved hollow in the middle and be stuffed with seeds that can now be a bird sanctuary. Even small nuts and fruits can be put inside of the dead tree for small animals like squirrels and eventually can be a safe wildlife habitat for them.
This can be of good use for the ecosystem hugely as endangered species all around are in need of protection from their ruined habitat and outside elements.
Some areas may have groups that will take old trees and use them for fish habitats in lakes, ponds, rivers, etc. The trees can also create soil erosion barriers in some areas that need them.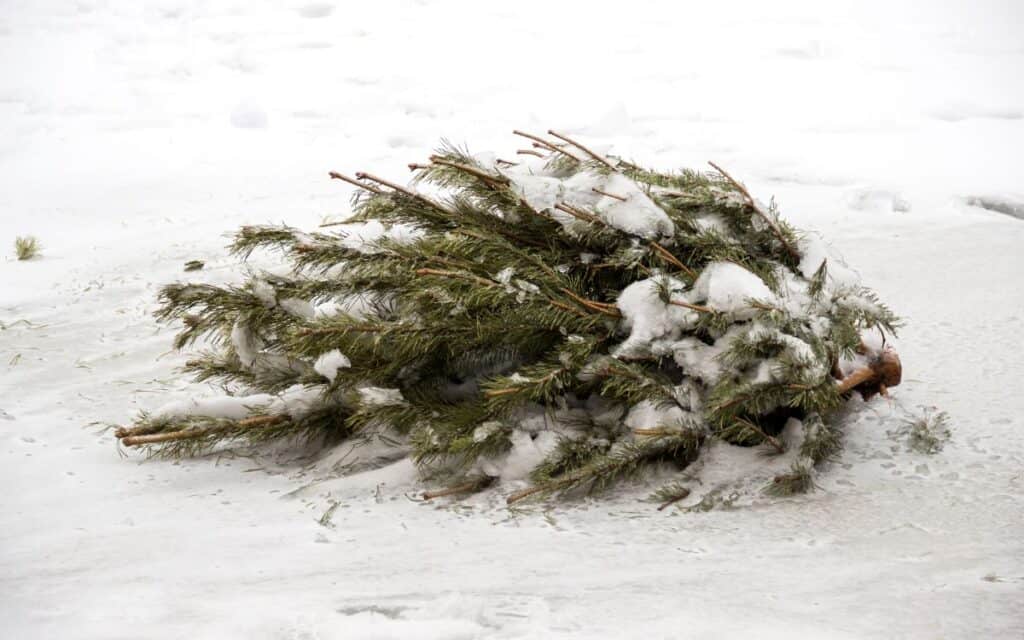 4. REPURPOSE FOR HOME DECOR
If building furniture with your dead Christmas tree sounds too difficult…then try your hand at making some home decor items with the wood.
Wood slices are all the rage and can be used as trays and coasters. Different sized slices can be used for different purposes.
Cut the wood into circular slices and sand it down smooth, leaving the bark on. Then paint the slice or add a clear varnish to protect the wood and seal it. Get even more creative and do some decoupage or use stencils. There are countless crafts you can do with wood.
Homemade coasters or wood ornaments make great Christmas gifts…you could get a start on gifts for next year!
5. USE AS COMPOST
If you are wondering what to do with old Christmas trees and want an easy solution….here it is. Use the old tree in your compost pile.
Live trees are biodegradable and it is an easy tree recycling idea. Over time the tree will become a wonderful compost for your garden.
If you don't have a compost pile then talk to friends or neighbors. I am sure you will find someone who would love to have the tree in their compost pile.
Whether to use the pine needles in the compost pile is a question that can go either way. Some people say NO and others say YES. It will be up to you to decide if you want to use the needles or not.
6. RECYCLE TREES LOCALLY
Most communities offer free drop-off locations for old dead Christmas trees. These recycling centers are usually located where the town allows for brush and yard waste. The trees will be recycled into mulch or compost.
Some towns even offer yard waste pickup for those who don't have a way to transport their tree.
Be sure to remove all Christmas lights, ornaments, garlands, etc before you dispose of the tree.
7. ARTIFICIAL TREES FOR DECOR
If your artificial tree is at the end of its life…you may be surprised by what you can do with the tree.
Use the branches to make centerpieces for the table. You can bend the branches to create greenery wreaths.
A pair of wire snips will make this easier. Get creative on how to use parts of an artificial tree for crafting.
8. PASS IT ON
Sometimes people want to get rid of an artificial tree that is still in good condition. Check with friends and family to see if you can pass the tree on to someone who needs a tree.
If you don't know anyone personally, then check on your local buy sell trade to see if anyone needs a tree. It is always nice to pay it forward during the holidays. Christmas trees are expensive and not in the budget for every family.
WHAT WILL YOU DO WITH YOUR OLD CHRISTMAS TREE?
No matter which option you choose…as you are deciding what to do with your old Christmas tree…just know that you are doing the world a favor by recycling the tree.
Be sure to check out these other Christmas tree ideas while you are here:
Be sure to PIN this for later or SHARE on Facebook!