Learning how to prune a Christmas cactus and how to care for it properly will keep your cactus looking great. The Christmas cacti are very popular during the holiday season and for good reason. It is a beautiful plant and will thrive with proper care.
WHAT IS A CHRISTMAS CACTUS?
The scientific name for the Christmas cactus is Schlumbergera x Buckleyi. Although this plant is a cactus it isn't a typical cactus that thrives in dry, arid, desert locations. This plant is native to rainforests and needs more watering than typical succulents and cactus.
When a Schlumbergera is in bloom it has beautiful, colorful tubular flowers in shades of pink and lilac. The plant is very popular during the holidays of Thanksgiving, Christmas, and Easter.
WHY BUY A CHRISTMAS CACTUS?
Christmas cactus plants are excellent potted plants you can introduce to your home. They are easy to care for. People who introduce them will enjoy the reddish-pink flowers when they bloom.
You can easily propagate them to have more plants through propagation. The Christmas cactus pruning process is also easy to follow. You will take a few steps to transform the plant into great-looking additions to your home.
HOW TO PRUNE A CHRISTMAS CACTUS
Christmas cactus plants can get VERY big over time. Plant owners may feel like the cactus is taking over their homes. Learning how to prune a Christmas cactus can keep the growth in check while still keeping the plant healthy.
Another reason to prune your cactus is this will help the plant grow fuller and it will have more blooms in the future.
The plant grows into segments that can be cut at specific points to bring about the pruning effects. After you have pruned the cactus, you will have to wait for the following year before you can prune the holiday cactus plants again.
WHEN DO I PRUNE MY CHRISTMAS CACTUS
Any time you prune a plant it is important to know the right time to prune it. The best time to prune your lovely Christmas cactus is right after it blooms.
This is a time of growth for the cactus and pruning will allow it to grow more stems. If you forget to prune after it blooms you can still prune it anytime until late Spring.
CUT 1 OR 2 SEGMENTS
If you are pruning your cactus so that it grows fuller it is best to only prune 1 or 2 segments off each stem. First, start by identifying the segments then cut about two segments from the plant. The segments have narrow sections, they can be cut along the narrow sections.
You can use a sharp knife to cut the sections. The plants are resistant. You will not have to worry about the plants rotting after you cut the sections.
TWIST BETWEEN SEGMENTS
The Christmas cactus blooms are easy to prune. Even if you do not have any tools, you can twist the segments to cut the branches. Some plant owners like to remove one or two branches that have overgrown their potted plant.
You can twist the branches at the narrow sections gently. The overgrown cactus will come into shape. You will enjoy the best looks at home. The cactus is a great plant to introduce to your home because it does not require a lot of care and it will grow all-round the year.
If you don't want to twist the stem segments for pruning, you can use garden clippers or a sharp knife instead. Learning how to prune a Christmas cactus will keep it looking great year to year.
WHERE TO PUT THE CHRISTMAS CACTUS?
Now that you have the cactus you may be wondering where to put it in your home. The name cactus generally implies SUNSHINE and lots of it. BUT…the Christmas cactus does best in bright, indirect sunlight.
The fragile leaves will be bleached out if the plant receives too much direct sunlight. If you have an east-facing window that is a great spot.
These plants do love a more humid environment. Many people choose to place the pot in the bathroom or kitchen where the air is a little more humid.
Temperatures ranging from 60°F to 70°F are preferred. If you have the plant outdoors, it will need to be brought inside if the temperature gets down to 50°F.
HOW TO CARE FOR A CHRISTMAS CACTUS
I like easy plants and the Christmas cactus plants fall into the easy category. One nice part of caring for your cactus is that it only requires water about every 2 to 3 weeks.
Feel the soil with your finger. If the top 1/3 of the soil is dry then it is time for watering. Be sure your Christmas cactus is in a pot with a drainage hole.
When it is time to water the cactus add water to the pot until the water starts running out of the pots drainage hole. Allow the plant to rest for 10 minutes or so. Then remove the pots drainage tray and dump out any excess water.
It is important to keep the plant watered properly when it is bloomed and flowering. This is such a beautiful blooming succulent!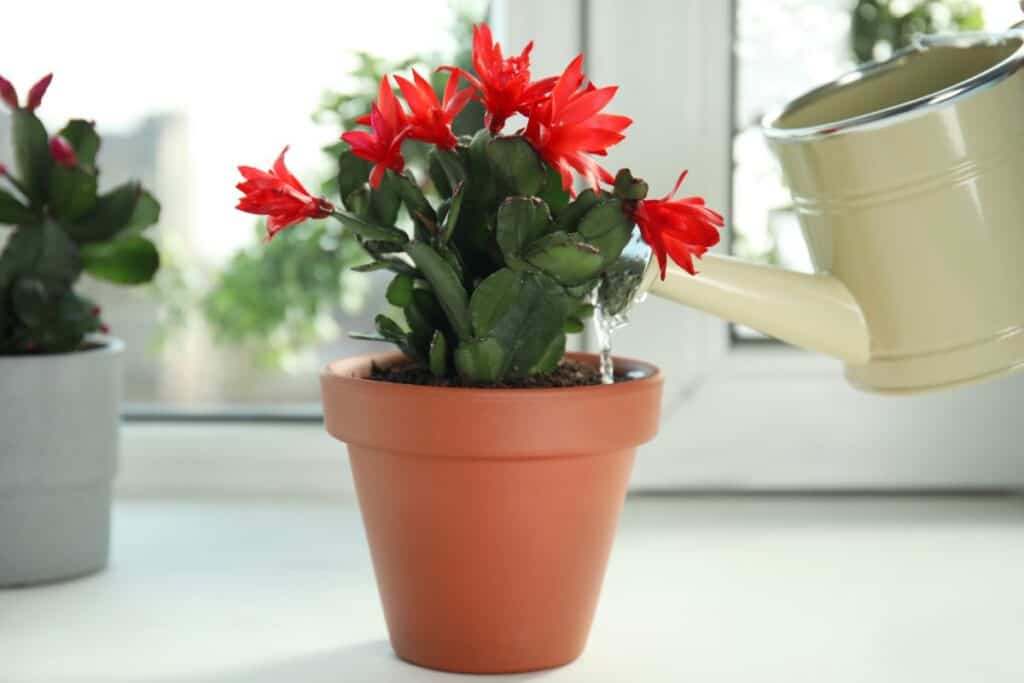 WHEN WILL MY CHRISTMAS CACTUS BLOOM?
Everyone loves a blooming plant. Especially one with the gorgeous blooms of the Christmas cactus. The question is…when will my cactus bloom?
Cooler temperatures and longer nights are what trigger a Christmas cactus to bloom. This means that typically the plant will bloom in early winter and continue blooming through to mid-winter.
The long tubular flowers are so colorful and pretty….it will make your guests smile. Did I mention that Christmas cacti make great Christmas gifts for family, friends and coworkers? It is a gift they can enjoy for years to come and they will think of you when they see it!!
WHY ISN'T MY CHRISTMAS CACTUS BLOOMING?
If you get to early winter and are not seeing any blooms on your Christmas cacti…there are a few things that could be happening.
The cactus may be getting too much light! Try covering your cactus for 14 hours each night and then uncovering it during the daytime hours.
Is the house too warm? Too much heat is not good for this particular plant. You will be more likely to get blooms if the plant is kept between 50 and 60°F.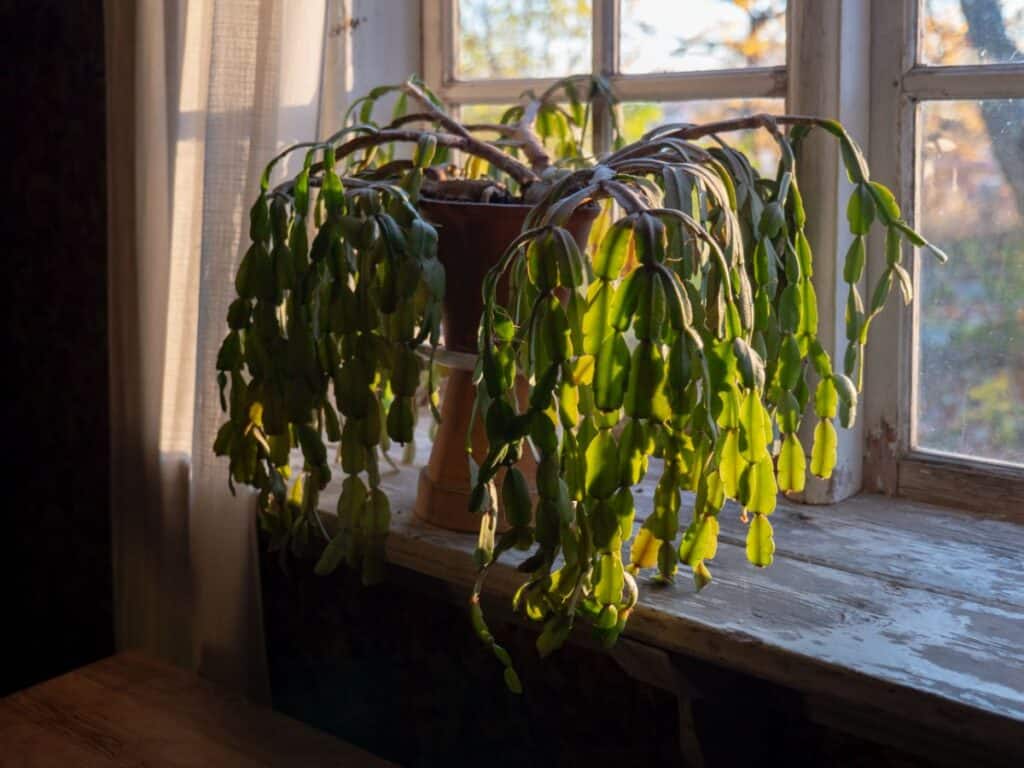 TROUBLESHOOTING ISSUES WITH YOUR CACTUS
Every type of plant has issues that can occasionally occur. Here are a few things to watch out for with a Christmas cactus.
Be consistent with watering especially while the plant is blooming. Otherwise it may drops blooms and you don't want that during the holiday season.
If you water too much or too often there could be issues with root rot.
Overall I think you will love this festive plant. It is so lovely during the Christmas season. Now that you know how to prune a Christmas cactus and how to care for one…you know it is a great gift to give friends too. If you have any tips and tricks be sure to drop them in the comments!
Check out these other Christmas posts while you are here:
Don't forget to PIN this for later and SHARE on Facebook!