A free printable Christmas memory game like this will surely be a fun way to test young children and also adults' memory skills! Playing games during the holiday season is a great way to celebrate. A Christmas memory match game can be for the whole family and of course for kids of all ages.
WHAT IS A MEMORY GAME?
Other mental processes, like focus, concentration, and attention, can be enhanced by playing memory games. Memory games allow for thoughtful evaluation, which helps kids develop their attention to detail. Playing memory games can enhance visual perception too. Children can develop visual discrimination skills by playing memory games that involve finding differences or connecting two images that are alike.
HOW TO PLAY MEMORY
If this is your first time with a free Christmas matching game, don't worry! The level of difficulty is easy. Here is a step by step instruction on how to play this fun game of memory cards:
1. GET THE PRINTABLE
So the first step would have to be is downloading the printable. Just scroll down below, you will see the download button. Click that in order to get this free fun game. The next thing you are going to see is a new window tab opening which will contain the printable cards. The file will be in pdf format.
2. PRINT IT OFF
Once you have the printable file, this can be printed off already. There are two ways this can be done. Either print from the browser or print by opening the file itself after downloading. Both are fine, it is just up to you which way is easier. To print from the browser, after clicking the download button, there is going to be a printer icon on the upper right side. Click that and print off as many as you need.
3. PREPARE THE GAME PIECES
When that is all done. Grab a pair of scissors and start cutting around the edges of the matching cards. Printing the game cards on a card stock would be great so that it would be longer lasting. Another option would be printing it on regular print paper and then just having them laminated. If everything is ready shuffle the cards and then lay them facing down to hide the images.
4. PLAY AND HAVE FUN
Now, it is time to play and have some real fun! Grab two players. The first player will flip 2 cards, if it is a matching pair they take out the cards and get a point. Same goes for the next player. Each of them take turns until there is no more cards left.
ARE MATCHING GAMES GOOD FOR KIDS?
The value of educational games grows as children get older and approach school age. The kids can foster their imaginations, listen skills, and other critical thinking skills by means of games and other activities that will help them in the years to come. And a key component of this is playing memory games. Everybody has at some point participated in a memory game. Whether it be playing crossword puzzles, simple games like "spot the difference," or even simple matching games. To win the game, players must use their memory in each of them. Users are also honing their essential skills in the process. In conclusion, games like this printable would be a great introduction to them.
FREE PRINTABLE CHRISTMAS GAMES
Other than this free printable Christmas memory matching game, there are a lot of different fun holiday activities that children of all ages can play. Here is a couple of fun holiday activity to try at holiday parties:
Most families now enjoy playing bingo at holiday gatherings as a fun tradition. You're going to have a great time assembling this Christmas Bingo set, I'm sure. The kids can play the game easily because it is entirely made up of pictures. Grab a few festive candy, print the bingo cards, and start playing!
One of the most effective ways to practice social skills and educational ideas like counting, number identification, and color recognition is by engaging in board games. From the favorite classic games from before to the new game available now, whether it be older kids, younger kids, small groups or even large groups – there will certainly be a board game perfect for everyone.
Board games are really fun especially during family parties. The number of games available is limitless. Some of the best games are Pictionary, monopoly, scrabble, and so many more. But, what would be lots of fun is having a printable board game to play for Christmas.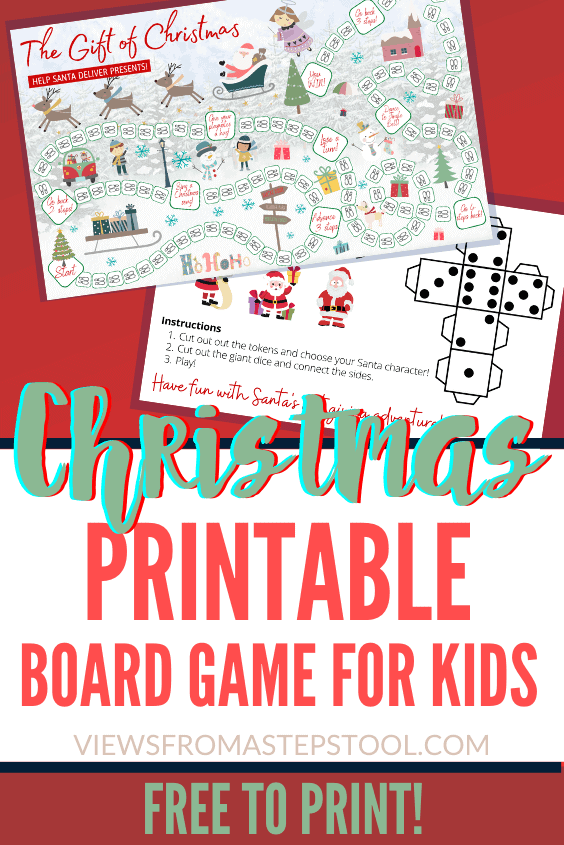 Your brain will benefit greatly from word search puzzles! Your brain processes words through cognitive activity to form easily identifiable sequences, enabling you to locate order and derive meaning from the information in your environment. Word searches are useful for teaching kids how to evaluate clues based on context, improve their vocabulary, and to enhance their spelling. Not to mention, how much fun they are.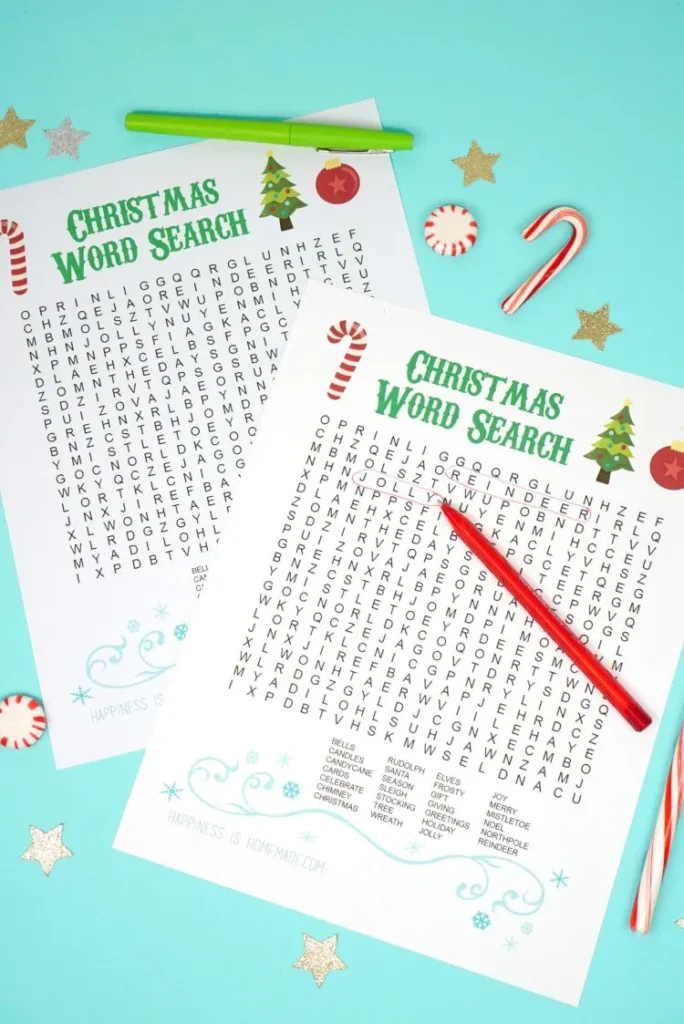 Kids will love playing this Christmas I Spy Printable Game over the holiday season! All you have to do is print it out and play! The kids will be thrilled to try out this game. They can also give their own items as they play throughout the game.
Of course to make it more interesting, you can act as Santa Claus for the day and also add prizes to the game to make them more engaged. A few ideas on what to give out as prizes are chocolates, freshly baked gingerbread man, pack of hot chocolate, or a candy cane.
The entire family will have a good time playing the festive game – Don't Eat Santa! To have fun with the free printable game for years to come, simply check out the link, download, and print it. That easy! The printable will also include the instructions to the game. It is pretty simple and you are going to love it!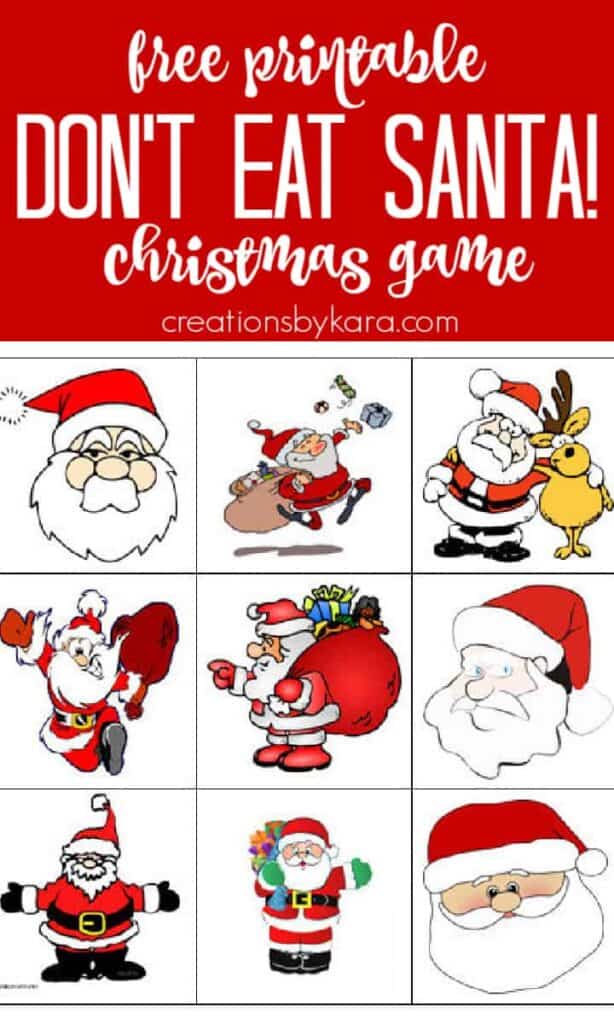 FREE PRINTABLE CHRISTMAS MEMORY GAME
I know you are excited to get these free printable Christmas memory game. Please remember that this is for your own personal use, and the download file cannot be shared or altered. Feel free to share the link to this post with friends so they can download and use the printable too!
Click the button below to download the printable now.
If you loved this printable memory game post, be sure to check out these other great posts too:
Be sure to PIN this for later and SHARE on Facebook!