This line tracing activity will be a great practice for your kids. They get to master their writing skills and exercise their hands while enjoying the holiday theme on this printable.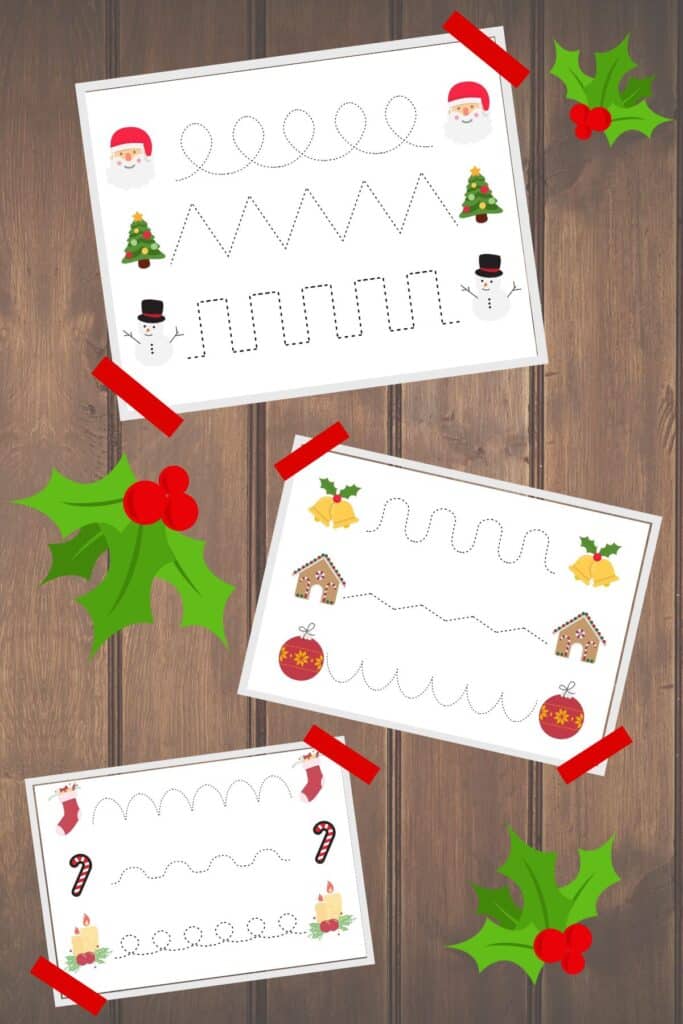 WHAT IS LINE TRACING?
Line tracing is one of those exercises that assists your kid to develop grip and coordination of his or her little muscles in their hands. These are sheets that have dotted or dashed lines that they will need to trace and connect together in order to complete the full line.
There are great benefits for kids when working on a line tracing activity – examples of which are, that tracing lines can teach your child how to make the accurate motions required for letter formation. Not to mention, these worksheets are also a way to improve their hand & eye coordination.
WHAT AGE GROUP SHOULD DO A LINE TRACING ACTIVITY?
There are different types of line tracing activity sheets that go well depending on the age of your kid. They are like levels, there are easy ones for the beginners or the advanced ones for the older kids. Here is a list to better understand it and which ones are best that you should let your kids work on:
For kids around the age of 2, it is best to start them off with simple tracing lines. This could be just straight lines that are horizontal, vertical, or diagonal. Whichever direction it goes, as long as it is a straight line, they can work on those.
Once they get older, they can work on something a little bit harder. They can work on straight lines too but with some motion, you can also introduce curved ones like a wave line, and kids at the age of 3 can also begin tracing zigzag lines.
As for kids that are between the age of 4 and 5, they can work on advanced line tracing sheets. Some examples of which are dotted or dashed lines that are formed into shapes and figures. This can be a circle, square, triangle, etc. These activities will also help them differentiate types of shapes and lines.
HOW TO PRINT ACTIVITY SHEETS AT HOME?
If this is your first time print off activity sheets at home, don't worry because it is very easy to get them. The first thing you are going to do is to download this line tracing activity. To do that, just click the button down below.
It is best to use cardstock paper when printing activity sheets then you can laminate them and let the kids use dry erase markers so you can use these printable sheets a lot of times. Once they work on them, you can simply wipe off the marker writings and let them try again. This way you do not have to print so much of it again and again.
If you don't have a laminator at home, check this Scotch Thermal Laminator out. It is a great investment too. This thermal laminator already has 20 letter-size laminating pouches included so you wouldn't have to worry about looking for some just yet. And it is pretty easy to use it.
When you are all set, have fun teaching your kids tracing these different lines, and remember to encourage them to start tracing from left to right. Don't be frustrated when they don't get it right away, they can practice it over and over again, that's what this printable is for, enjoy.
PRINTABLE LINE TRACING ACTIVITY
I know you are excited to get this printable line tracing activity. Please remember that this is for your own personal use and the download file cannot be shared or altered. Feel free to share the link to this post with friends so they can download and use the printable too.
Click the button below to download the printable now.
If you loved this line tracing activity printable, be sure to check out these other great printables:
Be sure to PIN this for later and SHARE on Facebook!